Oklahoma Football Recruiting: Grading the Sooners 2013 Class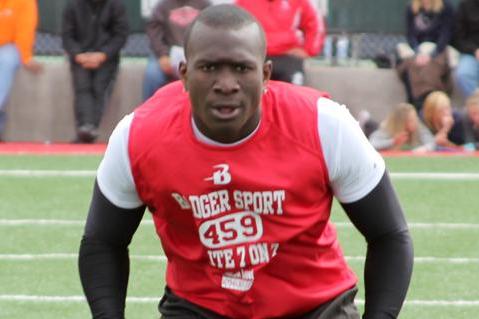 National signing day has now come and gone and the Oklahoma Sooners are wrapping up their 2013 class.
The Sooners have plenty of question marks going into the 2013 season, and they found a few answers with this year's recruiting class.
They needed to fill voids on the defensive line. So, they went out and signed six defensive line recruits. They lost their two starting safeties after the 2013 Cotton Bowl. So, they recruited four defensive backs.
Bob Stoops and the Sooners filled positions across the board and limped away from the team's signing day with the Big 12's top recruiting class according to 247Sports' composite rankings. They finished with the No. 15 class nationally.
Which position groups improved with the 2013 recruiting class? Where did the Sooners do the best job recruiting? How does Oklahoma's recruiting class stack up against the rest?
All of these questions will be answered as we take the next step in the offseason and grade Oklahoma's 2013 recruiting class.
Begin Slideshow

»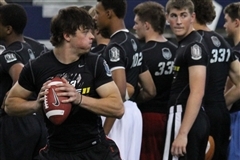 RECRUITS: Cody Thomas (PRO-Colleyville, TX)
The Sooners didn't need to do much at quarterback with Blake Bell, Trevor Knight and Kendal Thompson already on the roster and set to battle for the starting job.
However, Oklahoma did land Cody Thomas, a 4-star recruit from Colleyville, TX. Thomas is the No. 8-ranked pro-style quarterback according to 247Sports and the No. 13-ranked player from Texas. He has size at 6'5" and showed athletic ability with a 4.60 40-time.
According to a tweet from ESPN's Jake Trotter, Thomas reminds Oklahoma assistant coach Cale Gundy of Sam Bradford in high school.
GRADE: B+
Although Thomas likely won't get a chance to play early in his career, he still gives the Sooners highly ranked signal-caller to develop for the future.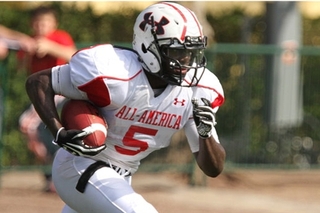 RECRUITS: Keith Ford (Cypress, TX)
Keith Ford is Oklahoma's lone running back recruit in their 2013 recruiting class. Ford is also the top recruit in the Sooners' 2013 class and ranks as the best player from Texas according to 247Sports. He is the No. 3-ranked running back in the nation.
Ford is not only the lone running back in the class, he is the lone 5-star recruit as well and according to ESPN's Jake Trotter's tweet, Cale Gundy thinks he's a great competitor.
GRADE: B+
The Sooners have plenty of power in their current backfield with Brennan Clay and Damien Williams returning in 2013, but their future also improved with Ford's signing. He may have been their only running back, but he could have plenty of impact down the road.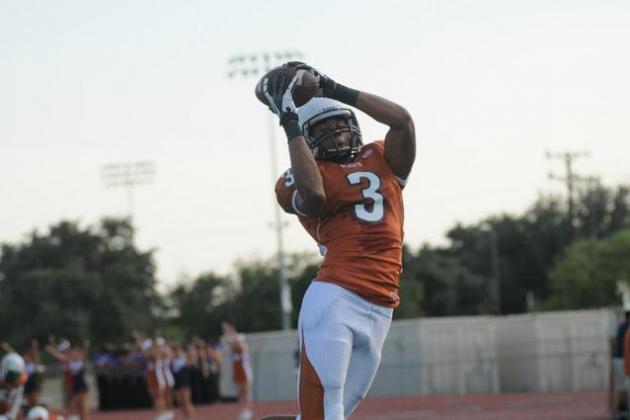 RECRUITS: Dannon Cavil (San Antonio, TX), Austin Bennett (Manvel, TX), KJ Young (Perris, CA), Jordan Smallwood (Jenks, OK), Dominique Alexander (Tulsa, OK)
The Sooners signed three receivers in 247Sports' top 80 including Dannon Cavil, Austin Bennett and Jordan Smallwood. KJ Young is the No. 84-ranked wide receiver and Dominique Alexander is the No. 143-ranked wide receiver.
Smallwood and Alexander are two of the top 10 players from Oklahoma.
GRADE: C+
Oklahoma didn't land any big fish at the position, but with plenty of depth on the current roster, they weren't in dire need of a big-time wideout. The Sooners will have plenty to work with now that they've added five more receivers, but with the team's experience, their recruits will likely gain their experience with the practice squad.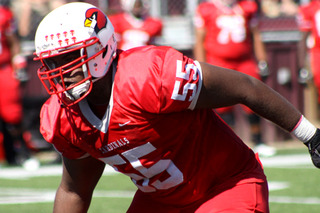 RECRUITS: Josiah St. John (JUCO OT-Athens, TX), Christian Daimler (OT-Houston, TX), Dionte Savage JUCO OG-Yuma, AZ)
Oklahoma signed two offensive tackles and an offensive guard in their 2013 recruiting class.
Three-star recruit Josiah St. John is Oklahoma's top offensive line recruit and is the No. 4-ranked junior college offensive lineman. He's 6'8, 280 pounds and 247Sports' Tyler McComas thinks St. John could see playing time in 2013.
Oklahoma's other offensive line recruits, Christian Daimler and Dionte Savage, will bring depth to a very seasoned offensive line.
GRADE: C+
The Sooners have plenty of experience returning up front. Oklahoma didn't need much at the position, but they could have added more depth. Offensive line is always a difficult position due to injuries. The Sooners could have done better at establishing a better future for their blockers.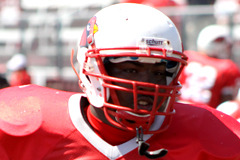 RECRUITS: D.J. Ward (DE-Oklahoma City, OK), Quincy Russell (JUCO DT-Athens, TX), Kerrick Huggins (DT-Dallas, TX), Matt Dimon (DE-Katy, TX), Charles Walker (DT-Garland, TX), Matthew Romar (DT-Port Arthur, TX)
Oklahoma signed six defensive linemen including Oklahoma's best player according to 247Sports, defensive end D.J. Ward. Ward, 3-star JUCO defensive tackle Quincy Russell and defensive end Matt Dimon will have the best chance to impact Oklahoma's defense in 2013 according to ESPN's Brandon Chatmon.
Russell is the No. 6-ranked junior college defensive tackle in 2013, and Dimon is the No.16-ranked strong-side defensive end according to 247Sports.
GRADE: B+
The Sooners desperately needed to add depth and talent to their defensive line. With their 2013 recruiting class, Oklahoma did just that. They signed players who can step in now, and they signed players for the future.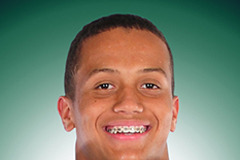 RECRUITS: Jordan Evans (OLB-Norman, OK)
Jordan Evans is Oklahoma's lone linebacker recruit in their 2013 class. He is the No. 96-ranked outside linebacker in the nation according to 247Sports and the No. 13-ranked player from Oklahoma.
Evans will stay home to play his college ball as his high school, Norman North, is just north of Oklahoma's campus.
GRADE: D-
Oklahoma has major holes to fill at the linebacker position, and they didn't improve much with their 2013 recruiting class. The Sooners are thin in the defensive backfield, and their future doesn't look much brighter after missing out on this year's crop of linebackers.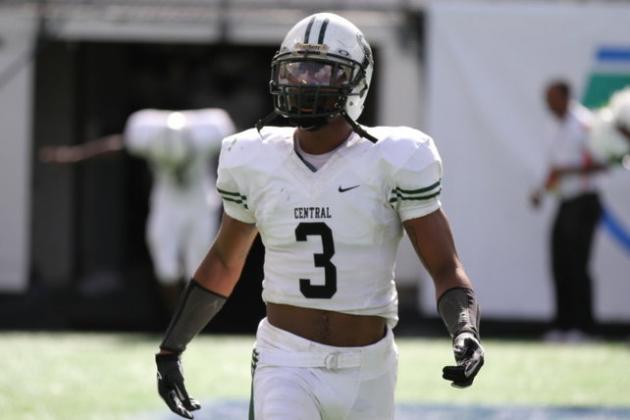 RECRUITS: L.J. Moore (CB-Fresno, CA), Ahmad Thomas (S-Miami, FL), Hatari Byrd (S-Fresno, CA), Stanvon Taylor (CB-Tulsa, OK), Dakota Austin (CB-Lancaster, TX)
Oklahoma signed five defensive backs in what was easily their best group of the 2013 recruiting class. 247Sports' No. 22-ranked cornerback L.J. Moore and No. 15-ranked safety Hatari Byrd lead a group that also includes 4-star athlete Stanvon Taylor and 3-star athletes Ahmad Thomas and Dakota Austin.
Byrd, Moore, Thomas and Taylor will likely compete for playing time in 2013 according to ESPN's Brandon Chatmon; and according to Jake Trotter, Mike Stoops thinks the new safeties are big, strong and can cover ground.
GRADE: A
The Sooners were in dire need of help in the defensive backfield, and they improved with their 2013 recruiting class. They landed multiple players who will have a chance to make an impact next season. Signing four top defensive backs was a major jolt for Oklahoma's defense.
USA TODAY Sports

2013 CLASS GRADE: B
Bob Stoops and the Sooners entered this year's national signing day looking to fill a number of positions. They needed help on the defensive line, at linebacker and in the defensive backfield. They filled a number of holes on the defensive line and in the defensive backfield, but failed to establish any kind of recruiting dominance at linebacker.
Offensively, the Sooners landed athletes that could impact the program down the road. Recruits Cody Thomas and Keith Moore could be big-time playmakers in the future.
Could the Sooners have done better? Without a doubt.
Is there class as bad as predicted? Not even close.
The Sooners made out well even though they only landed one 247Sports 5-star player (Moore). They stockpiled defensive backs, created depth on the defensive line and offensive line and signed a quarterback for the future.
Overall, the Sooners walked away with an above average class and look to carry the momentum into the 2013 regular season.