Tyler Skaggs vs. Danny Hultzen: Who Is Top MLB Left-Handed Pitching Prospect?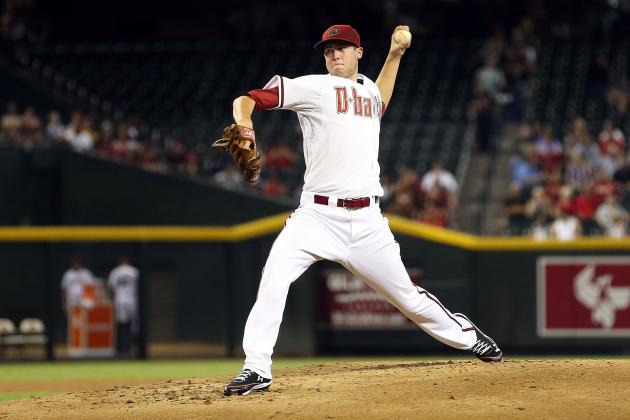 Christian Petersen/Getty Images

In addition to his ranking as the Arizona Diamondbacks' top prospect, left-hander Tyler Skaggs is also the top left-handed pitching prospect in the game.
Opening the 2012 season at Double-A Mobile, Skaggs registered a 2.84 ERA with 71/21 K/BB in 69.2 innings before receiving a promotion to Triple-A Reno. Despite the level jump to the hitter-friendly Pacific Coast League, the then 20-year-old posted a 2.91 ERA in just over 50 innings en route to six starts in the major leagues to finish the season.
However, not too far behind him on the list is the Mariners' Danny Hultzen, the second-overall selection in the 2011 draft. In his professional debut last season, Hultzen dominated at Double-A Jackson, as he registered a 1.19 ERA with 79/32 K/BB, and allowed only 38 hits in 75.1 innings.
His overwhelming success didn't translate following a promotion to Triple-A Tacoma, though, as he noticeably wore down and lost a feel for his release point. Having said that, there's no reason to be overly concerned with the fact that he posted a 5.92 ERA with 57/43 K/BB in nearly 50 innings.
So what makes Skaggs that much better than Hultzen? Here's a side-by-side look at how the two left-handers compare.
Begin Slideshow

»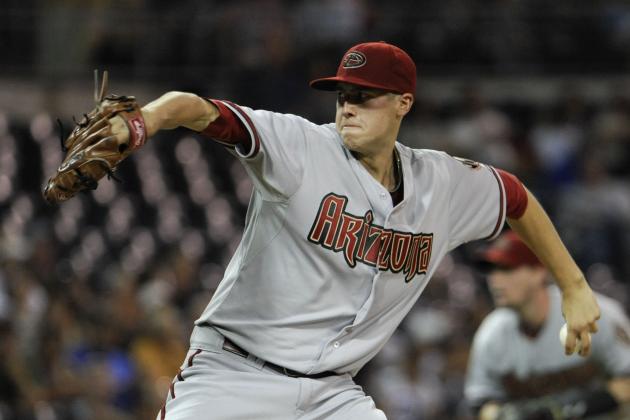 Denis Poroy/Getty Images

Skaggs: At 6'3", 195 pounds, Skaggs has a wiry and athletic frame that should allow him to add strength as he matures. His delivery is effortless and fluid, and he does a nice job of staying in line with the target. His arm action is clean and allows him utilize his height and work on a solid downhill plane. The only present issue is that he tends to fly open with his front side, which, in turn, forces him to get underneath the ball and push it high and away. But once again, that's something that should be ironed out with experience.
Hultzen: Like most University of Virginia products, Hultzen's mechanics are smooth and repeatable, and create an element of deception for his entire arsenal. However, his release point can be inconsistent—as it was following a promotion to Triple-A Tacoma last season—which, in turn, impedes his overall pitchability, as well as the crispness of his stuff.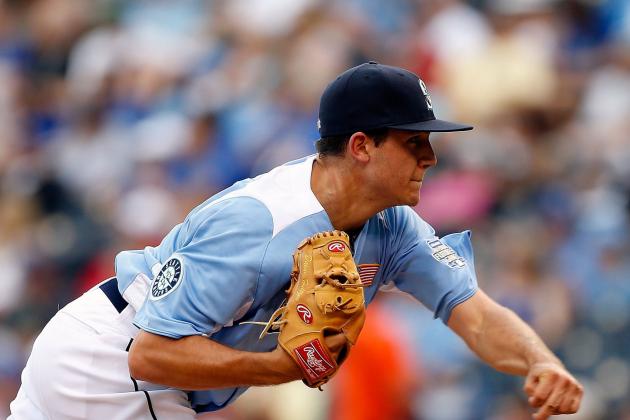 Jamie Squire/Getty Images

Skaggs: Skaggs' heater is far from overpowering at 88-91 mph, with the occasional climb to 91-92. However, given his lanky frame and quiet arm swing, it plays quicker and jumps on opposing hitters—especially when he's spotting it with confidence to the inner half. He'll occasionally pull open with his front side and lose the pitch high to the arm-side.
Hultzen: Hultzen features a fastball that works in the low-90s with plenty of arm-side movement, and he'll occasionally scrape 94-95 mph early in starts. Although he has advanced command of the pitch and is comfortable working in and out against right- and left-handed hitters, Hultzen has a tendency to lose a feel for his release point, which, in turn, affects his accuracy.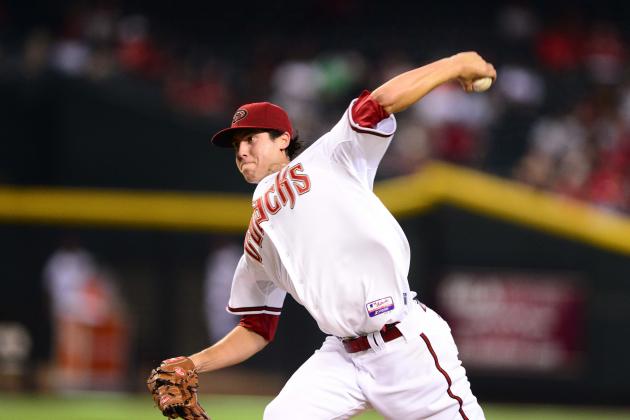 Mark J. Rebilas-USA TODAY Sports

Skaggs: The 21-year-old's curveball ranks as one of the best in the minor leagues. A legitimate out-pitch capable of missing bats at the highest level, he throws it with a tight rotation that creates a sharp, 12-to-6 downer shape. Once he settles into the Diamondbacks' starting rotation and establishes a true feel for his stuff relative to the competition, it has the potential to be one of the best in the majors.
Hultzen: Although it doesn't detract from his overall pitchability, Hultzen's slider is currently solid-average and his weakest offering. He throws the pitch with confidence, but it's far from a dynamic pitch and lacks late, swing-and-miss bite. However, with a more consistent release point next season (and beyond), it shouldn't be as flat as it was at times during his pro debut last season.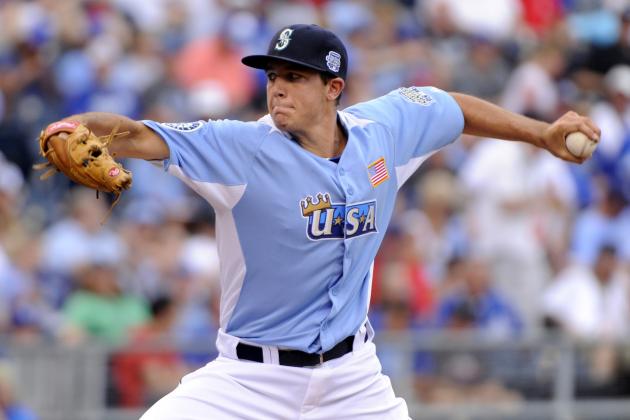 H. Darr Beiser-USA TODAY

Skaggs: The left-hander's changeup is the least advanced offering in his arsenal, as it's only solid-average at the moment. Although it's definitely usable, he noticeably lacks a feel for the pitch and has a tendency to overthrow it. Considering the effectiveness of his breaking ball, Skaggs' changeup has a chance to be an underrated weapon once its fully developed.
Hultzen: Hultzen's changeup grades as his best pitch, and is the only legitimate plus offering in his arsenal. Beyond its late sink and fade to the arm side, the left-hander sells the pitch with nearly identical arm speed to that of his fastball.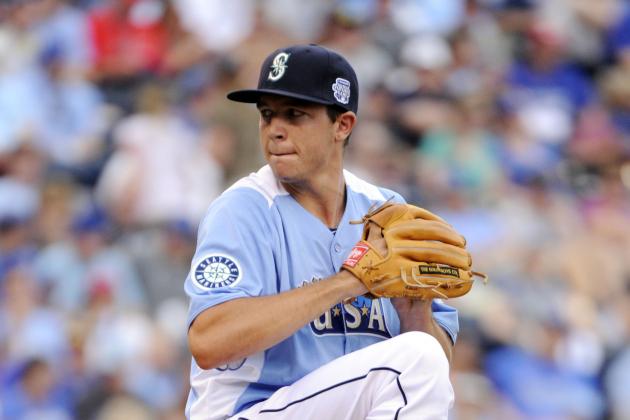 H. Darr Beiser-USA TODAY

Skaggs: For a 21-year-old, Skaggs' command is mature—though that wasn't necessarily reflected in his six big league starts last season. The key will be whether he can establish consistency with his fastball, which sets up the devastating curveball and flourishing changeup. He still has a few kinks to work out in his delivery that impede his command, but that should come with experience.
Hultzen: Until he reached Triple-A last season, Hultzen stood out for his pitchability and overall polish. Despite his late-season struggles, he still projects to have above-average command in the major leagues. And with a mix of average-to-plus offerings, Hultzen's success in the majors will always be dependent on his ability to locate each pitch.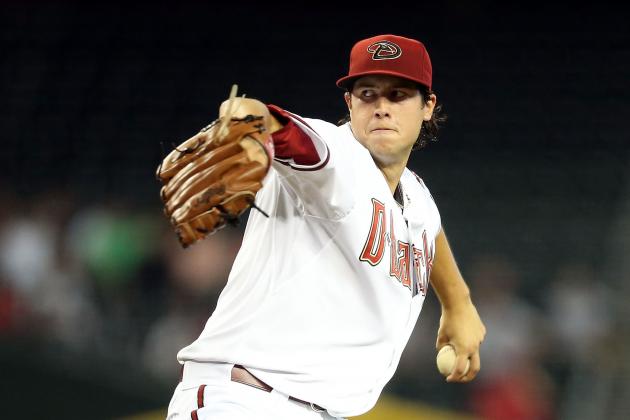 Christian Petersen/Getty Images

Skaggs: As the top left-hander in the minor leagues, it should come as no surprise that he also has the highest ceiling. After racing through the upper levels in the Diamondbacks' system last year, Skaggs reached the major leagues in late August and made six starts over the remainder of the season. In his peak seasons, Skaggs should reach his ceiling as a No. 2 starter. Although it's a long-shot, he could potentially see some time as a staff ace if his changeup jumps a grade.
Hultzen: Assuming that Hultzen works out the mechanical issues that led to his overwhelming struggles last season at Triple-A, he should be able to reach his ceiling as a mid-rotation (Nos. 3 or 4) starter in the major leagues.