Early Grades on the NHL's Biggest Trade, Free Agency Moves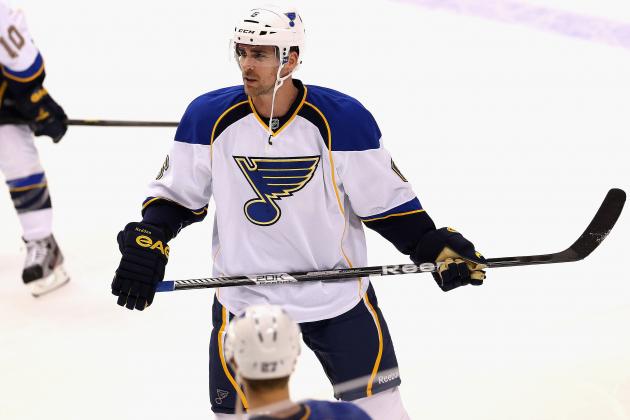 Ronald Martinez/Getty Images

In a shortened season, teams are going to more wary of losing streaks and eager to pull the trigger on trades or pick up a player to shake things up for a slumping team.
Some of these deals are game-changers for a team, others simply are a low-risk, high reward situation and some will actually hurt the clubs.
I used TSN's Trade Centre and CapGeek for this article.
Here is a legend for each grade:
A – The transaction will significantly improve their team
B – The transaction will improve the team
C – The transaction will marginally improve the team, or at least won't hurt them
D – The transaction will hurt the team or was not worth the money
F – Fire the GM
Begin Slideshow

»
Justin K. Aller/Getty Images

Contract info: 1 year, $600k
The Islanders know what they are getting with Martinek.
He's not going to score, but he will be responsible defensively and offer a couple assists.
The 36-year-old defenseman will be welcome on the Island after a one-year hiatus in Columbus.
Grade: C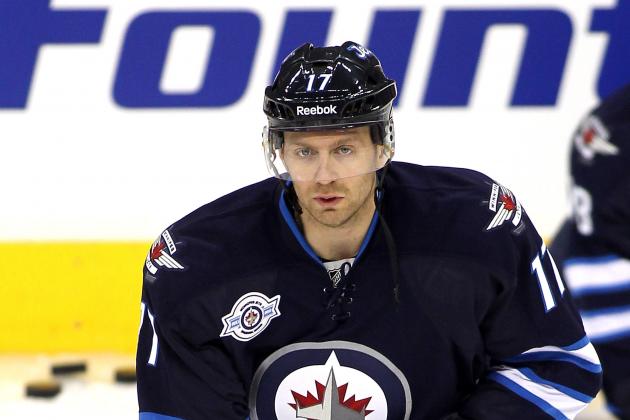 Marianne Helm/Getty Images

Contract info: 1 year, $600k
Another player that spent most of his career with one team but took a one-year hiatus last year, Fehr was a first-round pick by the Capitals in 2003 that never really panned out—especially compared to the other players drafted that year.
The 18th overall selection has only had one season where he scored 20 goals and spent the last year in Winnipeg.
Fehr is not a top-line player, but he should have a positive impact on the Capitals.
Grade: C
Rick Stewart/Getty Images

Contract info: 1 year, $650k
Ellis is ultimately a backup, but he has ample NHL experience and spent some time with the Predators—a team that always churns out great goaltenders.
Cam Ward is a stalwart in net, but it's always important to have a reliable backup, especially in a shortened season.
Grade: B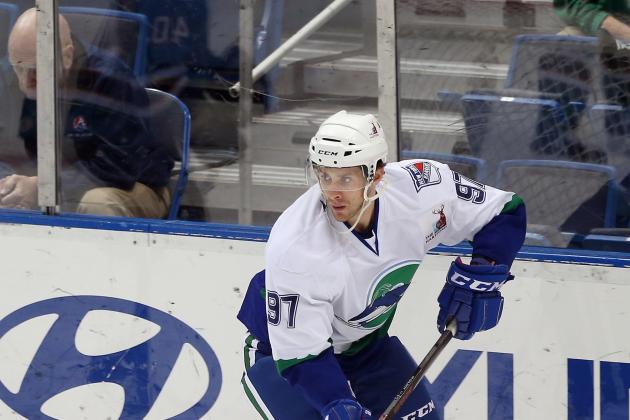 Bruce Bennett/Getty Images

Contract info: 1 year, $650k
A player with a heartwarming backstory, Gilroy wore 97 at Boston University to honor his brother and has donned the number ever since.
Originally a Rangers free agent signing that has played 127 games with the Blueshirts, Gilroy spent the last season with the Lightning and Senators.
The 28-year-old New Yorker will be returning home and should provide defensive depth in Manhattan this season.
Grade: B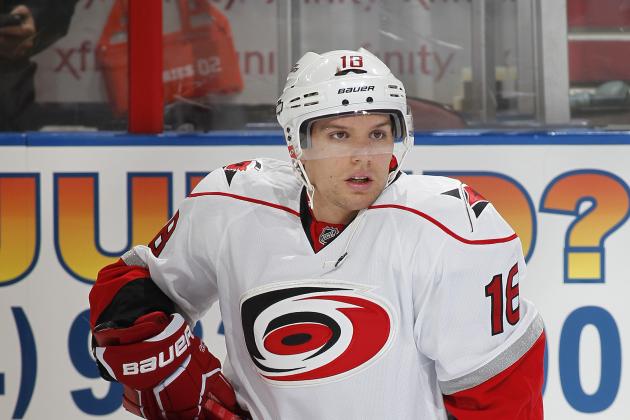 Joel Auerbach/Getty Images

Contract info: 1 year, $625k
Originally a Canes prospect that has split his time between AHL Charlotte and Carolina throughout his nascent career, the 23-year-old has been a Hurricane lifer—Boychuk played for the Lethbridge Hurricanes in the WHL.
A change of scenery (and team name) may do wonders for the young pivot, but right now it's too early to say he'll be an impact player this season.
Grade: C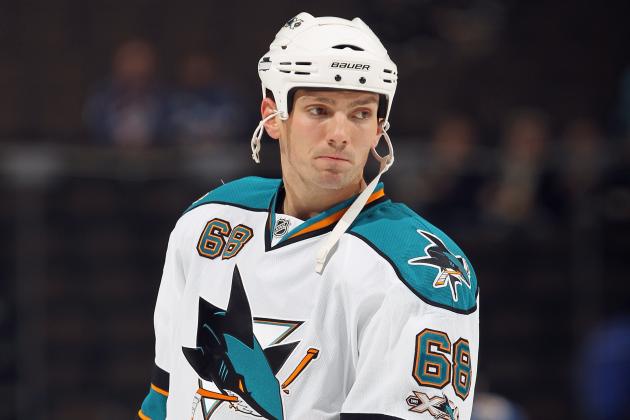 Doug Pensinger/Getty Images

Contract info: 1 year, $625.5k
A pugilistic Winnipegger that has spent the majority of his hockey career on the West Coast—he played for Portland in the WHL and San Jose in the NHL—he will be crossing the country this season. Not to play in Worcester, where the Sharks affiliate is located, but to Toronto to add a little muscle to the Leafs roster.
Don't expect this guy to score, assist or lead a rush. This man is in TO for one reason: protect the skill players.
Grade: B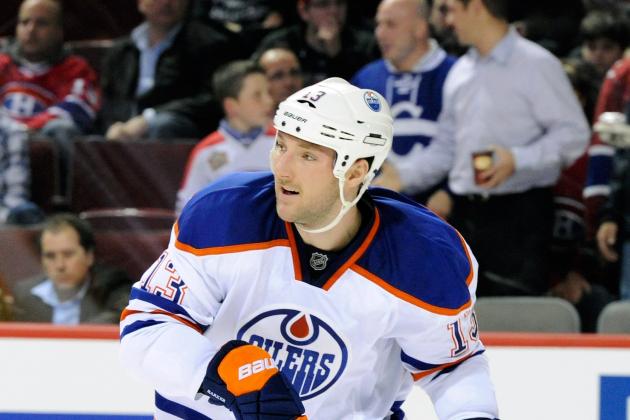 Richard Wolowicz/Getty Images

Contract info: 1 year, $700k
At one point, back in his days as a Chicago Blackhawk, people thought the 3rd overall pick was going to be something special.
He never really panned out in the Windy City, was dealt to Minnesota in a swindle that merited Nick Leddy and was released by the Wild after the 2010-11.
He played 25 games for the Oilers in 2011-12 and 23 games for the AHL's Texas Stars last season. At this point, he got a contract based off of potential and although he's only 26, it looks like Barker's time has passed him by.
Grade: D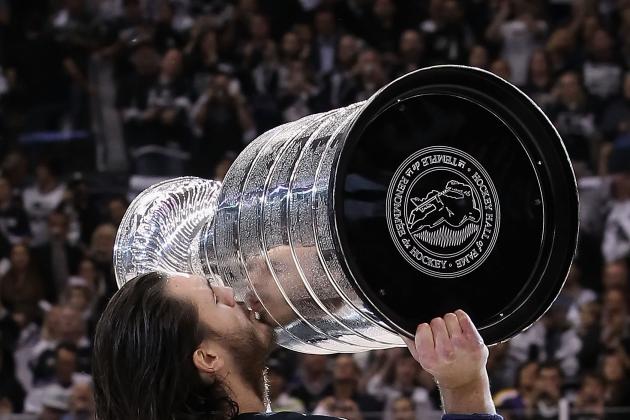 Christian Petersen/Getty Images

Carolina acquires: Kevin Westgarth
Los Angeles acquires: Anthony Stewart, 2013 4th Round Pick, 2014 6th Round Pick
Westgarth may be best known as the enforcer that interviewed a naked reporter. Seriously, this happened (it wasn't me).
Stewart may be best known as Chris Stewart's brother—although he's a good player in his own right.
In essence, both of these guys provide a needed role for their team—Westgarth as an enforcer and Stewart as a secondary scorer—but won't be big-time difference makers this year. Westgarth is needed a little bit more in Carolina and plays a little bit of a bigger role than Stewart will in LA.
Grades: B for Carolina, C for Los Angeles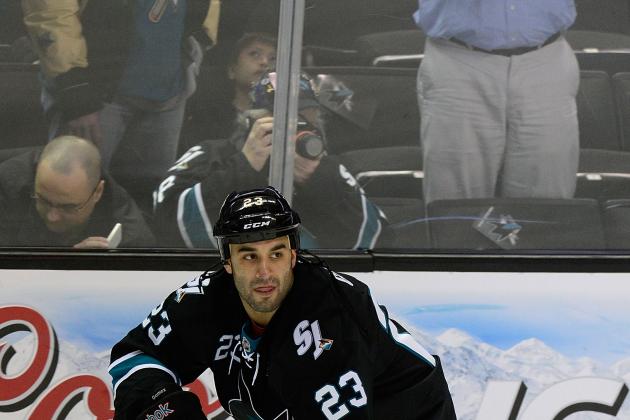 Thearon W. Henderson/Getty Images

Contract info: 1 year, $700k
In his heyday, Gomez was a great leader and an impact player.
As a member of the Devils and Rangers he was a 15-plus goal scorer that once broke the 30-goal plateau the year after spending the 2004-05 lockout season with the Alaska Aces.
This year the Anchorage native also spent the locked out portion of the year with the Aces, but he's probably not going have another breakout year. He was never really a great player in Montreal.
Grade: D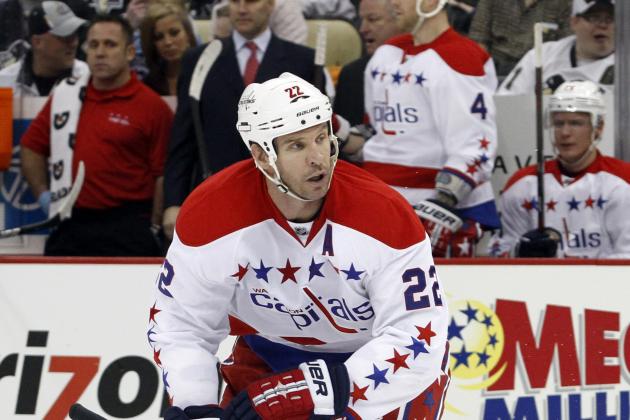 Justin K. Aller/Getty Images

Contract info: 1 year, $750k
Another one of those guys that the Wings grab in the middle of the draft and turn into a star, Knuble was a 4th round pick in 1991 by Detroit and spent four years across the state with the University of Michigan.
He never really broke out in the Wolverine State, however. It was more than 10 years after he was drafted, in 2002-03, when Knuble really hit his stride as a member of the Bruins.
He scored 30 goals that year and was a 20 to 30 goal scorer for the Bruins, Flyers and Capitals from then on out.
Then he fell off the map in 2011-12.
The Flyers are trying to see if there's a little magic left in this 40-year-old man's tank. My guess is he's running on fumes at this point.
Grade: C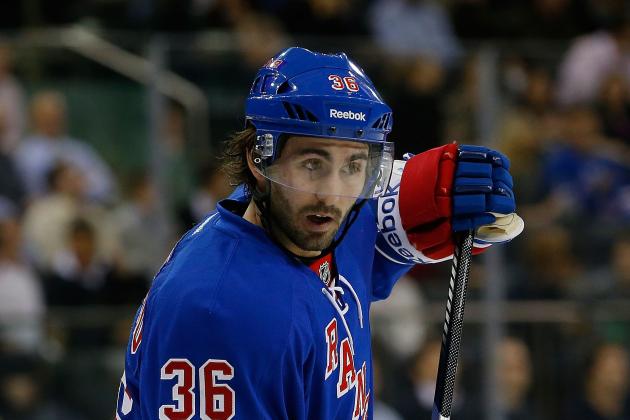 Paul Bereswill/Getty Images

New York acquires: Benn Ferriero
Pittsburgh acquires: Chad Kolarik
This is a deal involving two players that were selected late in the draft and have spent most of their careers floating between the major and minor leagues.
I see more potential in Ferriero, given that he got some playoff experience in San Jose, has spent more time in the NHL and because Kolarik tore his ACL last year.
Grades: B for Rangers, C for Penguins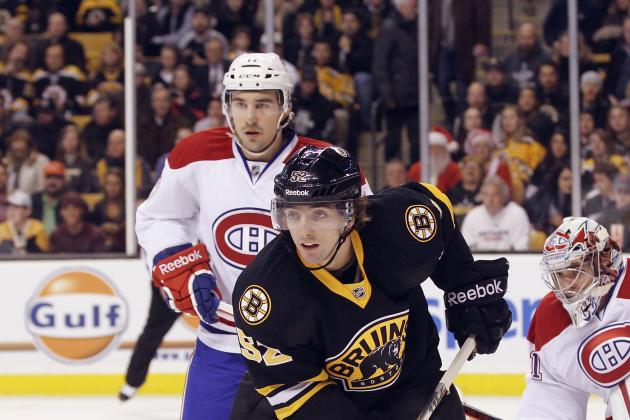 Bruce Bennett/Getty Images

Washington acquires: Casey Wellman
Florida acquires: Zach Hamill
Florida may have swindled division-rival Washington in this trade.
I like Casey Wellman. He was a great college player that was undrafted by highly sought after as a free agent when he joined the Wild in 2009-10. He hasn't really proven to be a great professional player, though.
Hamill was the first selection in Everett Silvertip history when they chose him 3rd overall in the 2003 WHL Bantam Draft. He still holds most of the club's records, including points and assists per season. Boston thought highly of him too, drafting him 7th overall in 2007.
To this day, Hamill has been a bust. He has only spent 20 games in the minors, never scored a goal and spent the entire last season in the AHL.
Having said that, he still has more upside than Wellman.
Grade: B for Panthers, C for Capitals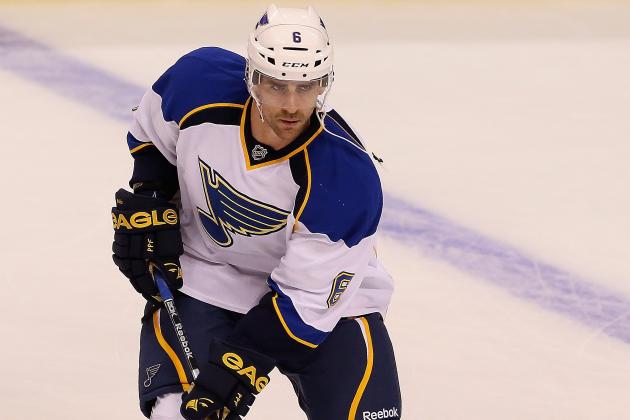 Ronald Martinez/Getty Images

Contract info: 1 year, $800k
An absolute stud in Ottawa, the Rangers gave Redden a six-year, $39 million deal in 2008…only to stuff him in the minors the past two seasons.
St. Louis picked him up off the bargain bin and he looks like the man he was in Ottawa again. Fair to say, the Blues pulled off the heist of the year so far.
Grade: A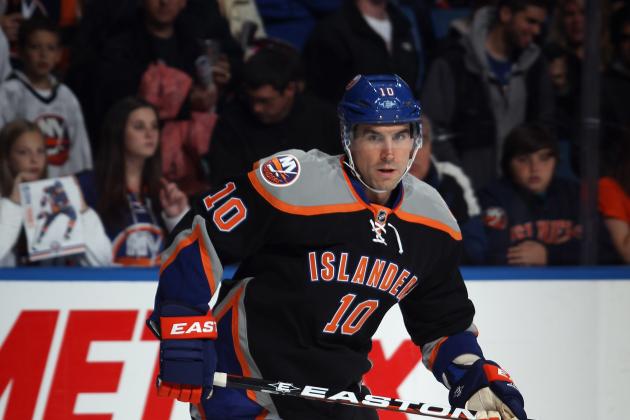 Bruce Bennett/Getty Images

Contract info: 1 year, $850k
The Leafs know what they are getting in Mottau: a veteran d-man that will be responsible in his own end, but probably won't chip in much offensively.
Grade: C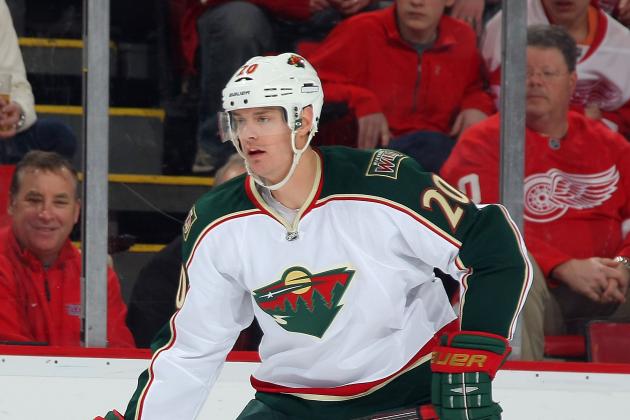 Dave Sandford/Getty Images

Contract info: 1 year, $950k
Known best for a gruesome injury he suffered in Minnesota that calls into question the NHL's current icing rules, Foster is a depth defenseman that has shown flashes of offense in his career.
At age 31, there is some question as to how much he has to offer, but he has a decent ceiling and certainly won't be a detriment to the team.
Grade: C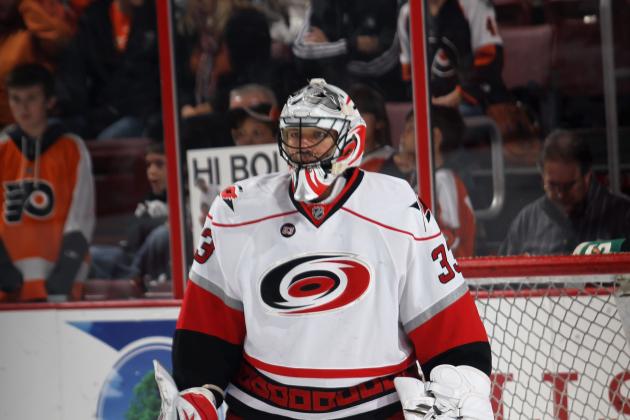 Bruce Bennett/Getty Images

Carolina acquires: Luke Pither
Philadelphia acquires: Brian Boucher, Mark Alt
First of all, we know what Boucher has to offer. He is a backup goaltender that provides some insurance for Philly when Ilya Bryzgalov takes a couple games off to travel the universe.
Alt is currently a defenseman for the Gophers whose father played for the Kansas City Chiefs from 1984 to 1996. A 2nd round pick in 2010, he has decent upside.
I'm not sure what Carolina sees in Pither. An undrafted player, he had a breakout season as an older OHL player with the Barrie Colts. He has yet to play a NHL game, however, and spent the beginning of this season in the ECHL.
Grade: B for Philadelphia, C for Carolina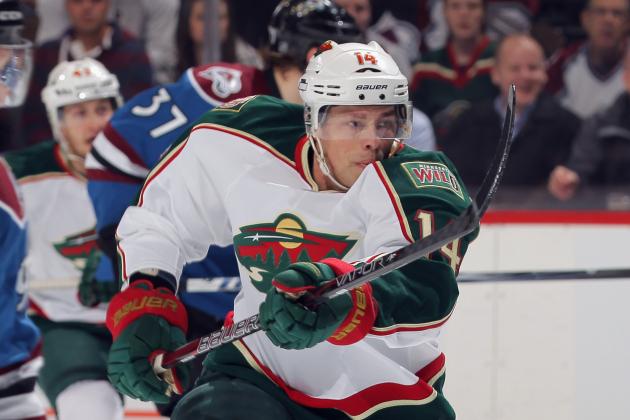 Doug Pensinger/Getty Images

NY Rangers acquire: Darroll Powe, Nick Palmieri
Minnesota acquires: Mike Rupp
One of very few players to be drafted twice, both times by New Jersey, Rupp brings size and experience to the Wild. The Clevelander returns to the Midwest knowing he will play for Mike Yeo, a former coach in Pittsburgh, and former teammate Zach Parise.
Don't let Powe's 5'11, 210 lbs. stature fool you, he plays big and is a locker room plus. The Rangers are familiar with this man from his time in Philadelphia and moviegoers will remember him from the Catalina Wine Mixer.
Palmieri was a toss-in in the Wild's Zidlicky trade and could use a change of scenery. Odds are he just ends up as an accessory here too.
Grade: B for both teams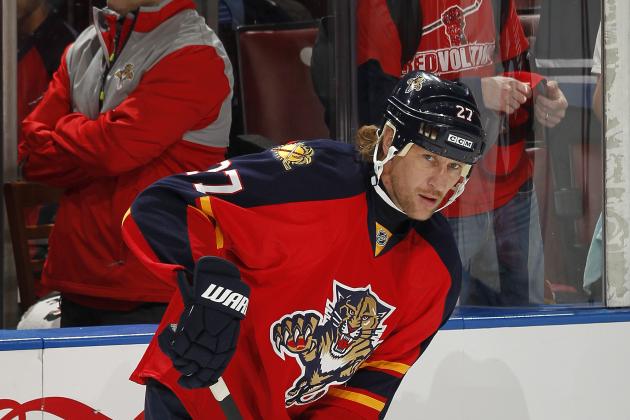 Joel Auerbach/Getty Images

Contract info: 1 year, $1 million
This isn't Kovalev circa 2000-01, at this point the only 40 next to his name will be under the age category, but what he lacks offensively is made up in the locker room.
The 39-year-old Russian should be a great influence on Jonathan Huberdeau and the rest of the Florida Panthers.
Grade: B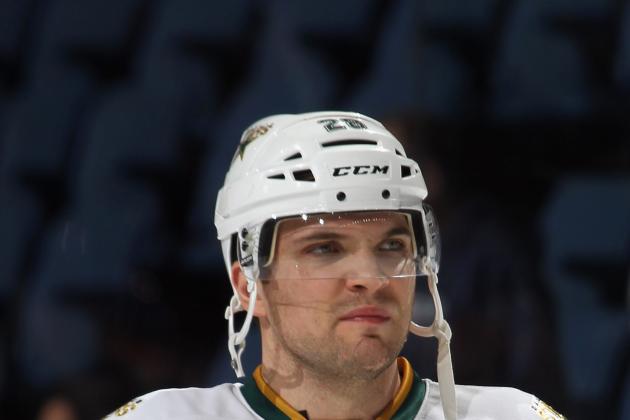 Bruce Bennett/Getty Images

Edmonton acquires: Marc Fistric
Dallas acquires: 2013 3rd Round Pick
Edmonton isn't getting a scorer here, but they don't need that. They need beef. They need meanness. They need a rouser. And Fistric is just that: He's physical without racking up insane penalty minutes.
At this point, it looks like he's worth a 3rd round pick.
Grade: B for both teams
Jonathan Daniel/Getty Images

Contract info: 1 year, $2 million
Almost like Scott Gomez-plus, Rozsival is another former Ranger that may have seen his best days pass him by.
He's still a serviceable NHLer, though, and has something to offer to Chicago this season.
Grade: C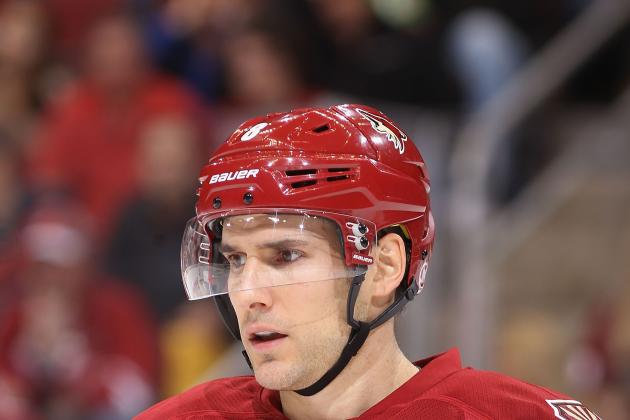 Christian Petersen/Getty Images

Phoenix acquires: Matthew Lombardi
Toronto acquires: 2014 4th Round Pick
If Phoenix gets the Matthew Lombardi they got in 2009-10, when he last played for the team, this is a bit of a swindle. He scored 20 goals that year.
Otherwise, this is a pretty fair deal.
Grade: B for Phoenix, C for Toronto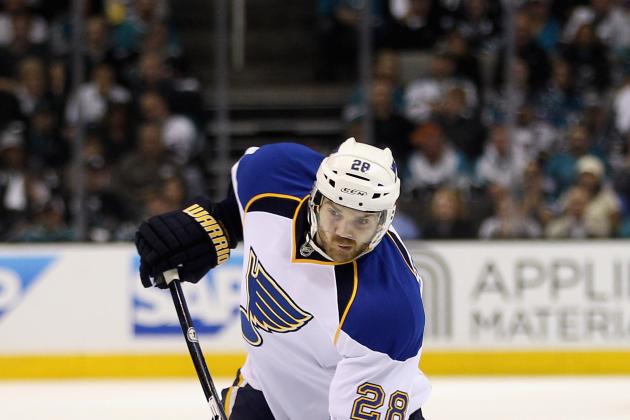 Ezra Shaw/Getty Images

Contract info: 2 year, $5 million
The man whose name is 73 percent C, A, L or O, Carlo Colaiacovo has a great Scrabble name and is an even better defenseman. At age 30, he's no young buck, but he's not old either—especially by Detroit Red Wing standards.
This looked like a mugging at the time it was made: Not only would Detroit add a solid defenseman, but they were taking him away from St. Louis.
The only thing that could change that is injury problems.
Grade: A
Tom Schreier writes a weekly column for TheFanManifesto.com and contributes to Hockey's Future and Stadium Journey.