4 Reasons Devan Dubnyk Is the Goaltender of the Future for the Edmonton Oilers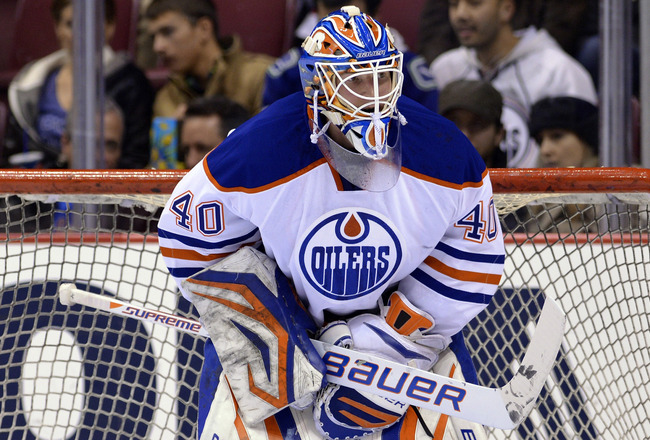 This is the season when the Oilers find out if Devan Dubnyk is a true No.1 goaltender.
Rich Lam/Getty Images
Perhaps the hottest commodity in the NHL is a legitimate No.1 goaltender.
This is a guy who can come in game after game and make the timely saves that allows a team to win some games that they otherwise would have had no business winning.
For the Edmonton Oilers, that No.1 goaltender could very well be Devan Dubnyk, a player drafted in 2004 who is finally getting his chance to stake his claim in the NHL.
After signing a two-year contract extension, Dubnyk will get all the opportunities to compete as the No.1 goalie in Edmonton during the lockout-shortened 2013 season.
Here are four reasons Devan Dubynk is the goaltender of the future for the Edmonton Oilers.
Time Invested in Development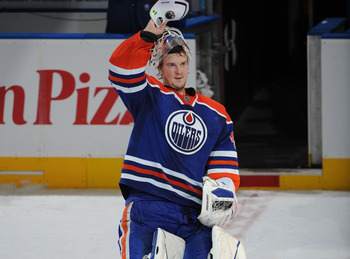 The Oilers have been patient with Dubnyk and look intent on giving him the opportunity to succeed.
Dale MacMillan/Getty Images
It has been almost 10 years since the Edmonton Oilers drafted Devan Dubnyk with the 14th overall pick in the 2004 NHL Entry Draft, and he is only now getting his shot at claiming the No.1 position with the team.
Like most goaltending prospects, Dubnyk has taken time to develop into a legitimate NHL-caliber goaltender, but he has done everything the Oilers organization has asked of him thus far.
Dubnyk has worked his way up from the Oilers' farm team affiliations and has also served as a competent backup while the aging Nikolai Khabibulin suffered from injury setbacks.
The Oilers rewarded this development with a two-year contract, but it will depend on Dubnyk's performances over the next two seasons if the Oilers will move forward with him in net.
Improvement in Performance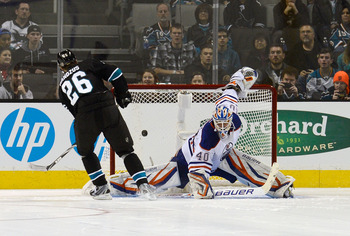 Dubnyk has continued to improve as he has been called upon more by the Oilers.
Thearon W. Henderson/Getty Images
Since cracking the Oilers roster during the 2009-10 NHL season, Devan Dubnyk has seen a gradual improvement in his performance in net for Edmonton.
There is little doubt that his improved performance coincides with the amount of time he spends in net, as the increase in games played has also resulted in improved statistics for Dubnyk.
In 47 games played last season, Dubnyk went 20-20-3-2 with a save percentage of .914 and a goals against average of 2.67. Though his save percentage dropped by .02, Dubnyk's GAA was up 2.71 from what he posted the year before.
If Dubnyk can continue to show improvements in his game and develop a level of consistency for the Oilers during this lockout shortened 2013 season, it should go a long way in helping him establish himself as the goaltender of the future in Edmonton.
He's Looked Extremely Solid so Far This Season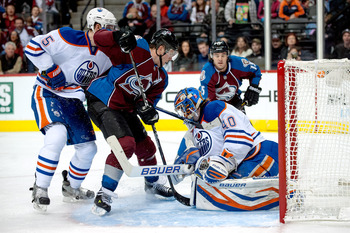 Dubnyk has kept the Oilers in many tight games this season.
Dustin Bradford/Getty Images
Aside from a forgettable first period against the San Jose Sharks during the second game of the shortened 2013 season, Devan Dubnyk has looked extremely solid in net for the Oilers thus far.
Dubnyk followed up this lackluster performance with a phenomenal game against the defending Stanley Cup Champion Los Angeles Kings, displaying amazing resiliency in the process.
Dubnyk has battled all season and is one of the main reasons that the Oilers currently hold the sixth best penalty killing unit in the entire NHL.
It has been Dubnyk's play that has allowed the Oilers a chance to win every game this season He has made timely saves to help bail out his young team.
Lack of Internal Options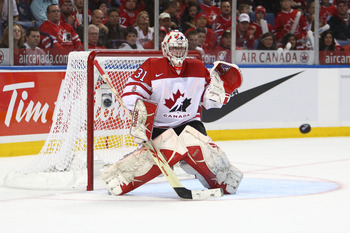 Olivier Roy has the pedigree to be considered in net for the Oilers but with no NHL experience under his belt, it will be awhile before he gets his chance.
Tom Szczerbowski/Getty Images
Barring a trade for an established No.1 NHL goaltender, Devan Dubnyk will be the Edmonton Oilers' goalie of the future because there is currently a lack of internal options in net.
Yann Danis is a veteran and provides stability to the Oilers' AHL affiliate in Oklahoma, but he is nothing more than a second (at best) string goaltender in the NHL.
Olivier Roy has perhaps the best chance to come in and compete at the NHL level, but inconsistent play has derailed any momentum the former Canadian World Junior goaltender had established.
Tyler Bunz is another interesting candidate to be promoted from within the Oilers organization, having posted very respectable numbers over the last two seasons in the WHL with the Medicine Hat Tigers.
Neither Roy or Bunz has seen any NHL action, so it is safe to say that they will not be making the jump any time soon.
Keep Reading

Edmonton Oilers: Like this team?