NBA Draft 2013: Grading Ben McLemore and Top Shooting Guard Prospects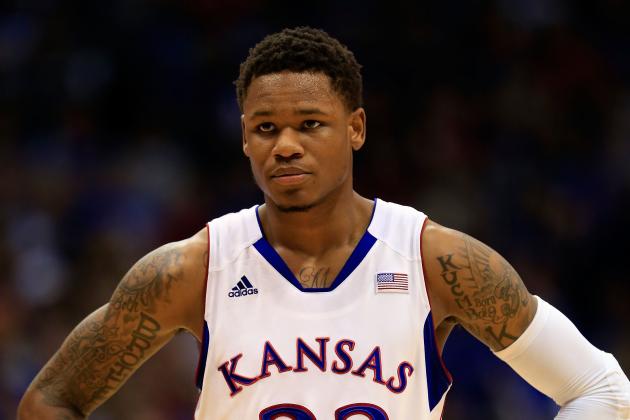 Jamie Squire/Getty Images

Kansas Jayhawks guard Ben McLemore is one of the smoothest NBA prospects you'll ever see. Of all the players expected to be in the 2013 NBA Draft, he may have the most superstar potential of anyone.
NBADraft.net has elevated him to the top spot in its mock draft.
At this point, the Charlotte Bobcats would be ecstatic if they continued to stumble through the rest of the regular season and landed McLemore in the lottery.
The way things are going for the freshman, the Bobcats will probably need the top selection to get him.
Here is a breakdown of the country's hottest prospect and grades for the other top shooting guards who should hear their names called during the June draft.
Begin Slideshow

»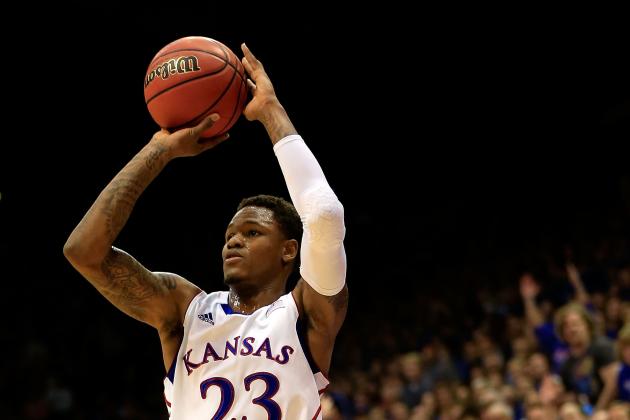 Jamie Squire/Getty Images

Shooting Grade - A
You won't find much better form on a jump shot. His feet are almost always aligned perfectly, he has balance and the angle of his right elbow is straight out of an instructional video.
It's not just about the form for McLemore, either. The results are there as well. He's shooting 51 percent from the field and 45.5 percent from beyond the arc.
He's also a dead-eye free-throw shooter at 87 percent.
Passing - C
He isn't horrible in this aspect, but it is an area where he can improve. He doesn't create for teammates off the dribble much, so when he passes it is usually from a stand-still position out of the triple threat.
His attempts to dish off the drive lack accuracy and timing to be effective feeds. He's currently averaging just 1.9 assists per game.
Ball-Handling - C+
McLemore can get his own shot, but this is another area where he stands to improve. If he were more adept at taking players off the dribble, he could get to the line more often.
He currently attempts four free throws per game. Being more effective on the drive and getting to the line is the only thing preventing him from being an elite scorer.
McLemore also averages 2.1 turnovers per game. This puts his assist-to-turnover ratio below one. He can certainly improve this with effort and maturity, but it may be his most glaring weakness.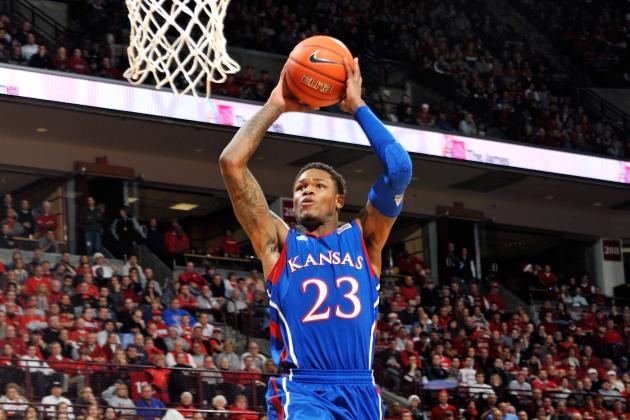 Jamie Sabau/Getty Images

Defense - B
Aside from the occasional and understandable lapse due to his age and experience level, McLemore gives good effort on defense. He will body up in one-on-one situations when need be, but he excels at playing the passing lanes.
He's also a factor as a help defender coming over to block shots from behind, or in chase-down situations.
This season he is averaging 1.1 steals and one blocked shot per game.
Athleticism - A-
Rarely will you see a more smooth and fluid basketball athlete. Almost everything he does on the court looks effortless.
McLemore simply glides off screens, out to contest shots on the perimeter and through the air to attack the rim.
He has a solid first step off the dribble, and possesses the lateral quickness to defend effectively on the perimeter.
Size - A-
From a size and strength standpoint, McLemore is close to the prototypical shooting guard. He stands a legit 6'5" and weighs 200 pounds.
He's strong enough to absorb some contact on drives, and shouldn't be bullied if a big guard tries to take him in the post.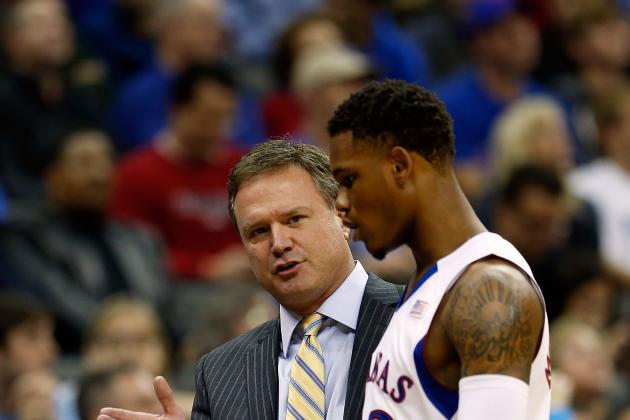 Jamie Squire/Getty Images

Intangibles - B-
Everything I've seen of McLemore would suggest he's very coachable and humble.
Kansas coach Bill Self said McLemore is the most talented player he's ever coached, per Sports Illustrated. Allowing himself to be molded is going to be key to his development.
He seems to have good poise and demeanor on the floor. If anything, I'd like to see him be more aggressive with the ball, but that could be a product of playing in a college offense that doesn't promote isolation like the NBA.
Upside - A+
McLemore has tremendous upside as a pro.
He could become an even more explosive scorer once he's turned loose in the NBA. His package of athleticism and shooting touch is a dream set of offensive tools.
The only thing he lacks is the ability to put it on the floor at an elite level, and that's an area he can definitely improve.
He has the tools to become a special scorer in the NBA.
Immediate Impact - A-
Because of his size, athleticism and shooting touch, McLemore could start for several NBA teams right away. Expect to see him win the Rookie of the Year award, or to be a strong contender for it when he makes the move.
He's ready to average 15 to 18 points per game in the NBA right now.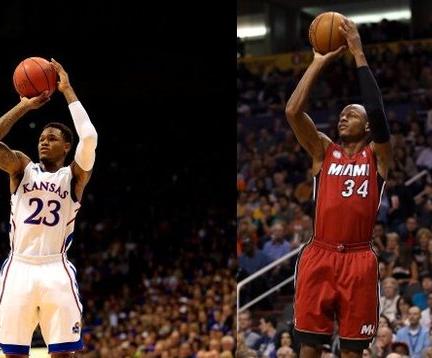 Getty Images Combined
More Athletic Ray Allen
The shooting stroke and fluidity of movement is very similar, but McLemore is a more explosive athlete than Allen ever was—and Jesus Shuttlesworth was never a poor athlete.
At this point in McLemore's development, a younger Allen was a bit more refined as a passer and ball-handler, but again, these are things McLemore could easily improve.
I'm comparing him to a future Hall of Famer, so this is high praise, but that's just how talented McLemore is.
Overall Grade: A-
Denny Medley-USA TODAY Sports

Marcus Smart, 6'4", 220 pounds, Oklahoma State - Freshman
Strengths
He's built like a running back, and he plays with the same ferocity. He has underrated leaping ability and quickness, and he brings true leadership to a team.
Smart is also a relentless and infectious defender. He's averaging 2.9 steals per game as a freshman.
Weaknesses
He's a little short for the shooting guard position, and he needs to improve his outside shooting to maximize his offensive potential.
NBA Comparison
Shorter Tyreke Evans
Overall Grade: B+
Victor Oladipo, 6'5", 214 pounds, Indiana - Junior
Strengths
Oladipo has a blazing fast first step and very good leaping ability. He has great shot selection, which is evidenced by his remarkable shooting percentages: 64 percent from the field and 51 percent from three-point range.
He also has good size for the position. Oladipo defends with good intensity and comes from a program that preaches effort on that end of the floor.
This is one of the most underrated prospects in the country. The league better hope the San Antonio Spurs don't get their hands on this kid.
Weaknesses
He doesn't display a willingness to take over, but that could be his deferment to Cody Zeller on the collegiate level. As of now, it could be seen as a lack of aggression.
NBA Comparison
Stronger, more well-rounded Leandro Barbosa
Overall Grade: B+
C.J. McCollum, 6'3", 190 pounds, Lehigh - Senior

Strengths
He's as pure of a scorer as there will be in the draft. McCollum can put the ball in the hoop. He makes a variety of runners, long-distance shots and he can finish at the basket with either hand.
Before he injured his foot, he was averaging 23.9 points per game on 49 percent shooting from the field and 51 percent shooting from beyond the arc.
Weaknesses
He's small for the 2-guard spot and physically fits much better as a point guard. However, his tendency is as a scorer.
He doesn't possess great athleticism, and that could become an issue on the defensive end in the NBA.
NBA Comparison
Shorter Jamal Crawford
Overall Grade: B+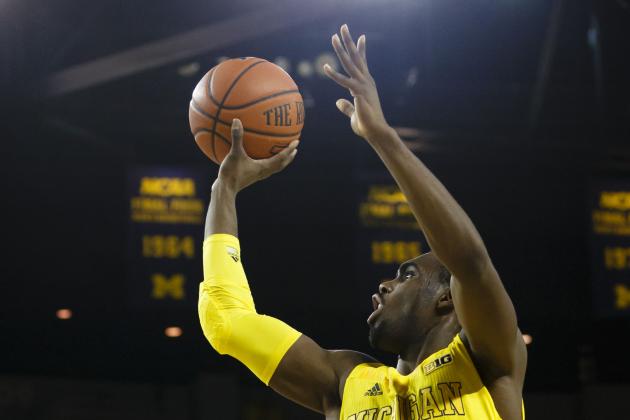 Rick Osentoski-USA TODAY Sports

Archie Goodwin, 6'5", 195 pounds, Kentucky - Freshman

He's a solid athlete and decent scorer, but his jump shot is too inconsistent. He is making only 26 percent of his three-point attempts. As far as his game is concerned, he would be better off staying another year.
NBA Player Comparison - Jordan Crawford
Overall Grade - B
Kentavious Caldwell-Pope, 6'5", 200 pounds, Georgia - Sophomore
KCP excels in transition and coming off screens as jump-shot shooter. He's also a very good on-ball defender. However, he doesn't create shots for himself or teammates, and it limits him offensively.
He'll need to play off a penetrating point guard or a dominant post player to shine in the NBA.
NBA Player Comparison - Kerry Kittles
Overall Grade - B
Jamaal Franklin, 6'5", 210 pounds, San Diego State - Junior
Franklin has big-time scoring potential, but he needs to improve his outside shooting and ball-handling. He's very streaky as a shooter, but he's a great rebounder from the guard position. He's currently grabbing 9.5 rebounds per game, and he excels on the defensive end as well.
Watch for Franklin to make a run up draft boards if the Aztecs play well in the NCAA tournament.
NBA Player Comparison - Smaller Paul George
Overall Grade - B+
Tim Hardaway, Jr., 6'5", 196 pounds, Michigan - Junior
Hardaway is strictly a spot-up shooter. He doesn't possess the quickness or ball-handling necessary to get to the basket consistently in the NBA.
That said, he is a very good shooter and a willing defender. He could be a solid role player for an NBA team.
NBA Player Comparison - Wesley Person
Overall Grade - B-
Follow Brian Mazique and Franchiseplay on YouTube and Twitter for reactions, analysis and news from the world of sports and sports video games