Indiana Basketball: 5 Improvements Hoosiers Must Make Before NCAA Tournament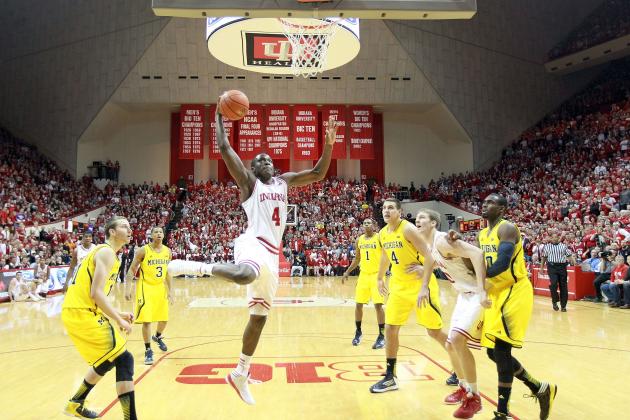 Andy Lyons/Getty Images
The Hoosiers have a few things they need to work on to become unstoppable.
The Indiana Hoosiers may be the top team in the country right now, but there are still a few things that they will need to work on in order to make a deep run in the NCAA tournament.
Cody Zeller and Victor Oladipo have had fantastic seasons up to this point, along with some big performances from other starters. Both Zeller and Oladipo are making strong cases for the Player of the Year, and will continue to prove themselves as the season winds down.
Tom Crean and company are coming off a big win against the Michigan Wolverines, and will need to ride the momentum for the rest of the season. There are a lot of things they did well in that game, but there a just a few things that need adjusting in order consistently beat elite teams like Michigan.
Here are five things that they could work on before March Madness begins.
Begin Slideshow

»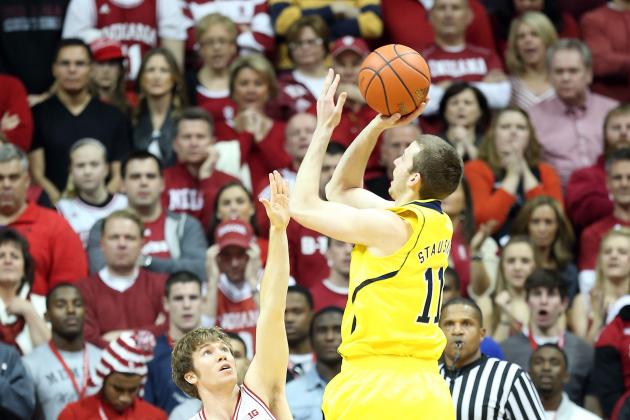 Andy Lyons/Getty Images
Jordan Hulls is a great shooter, but is struggling defensively.
There are few shooters from behind the arc that are as truly deadly as Jordan Hulls. His 49 percent shooting from long range is one of the best in the country.
Unfortunately, Hulls is also struggling defensively. This might have something to do with him often guarding shooting guards despite only being 6'0". Regardless, his defense has been a bit of a problem this year.
According to Sports-Reference.com, Hulls has the second worst defensive rating on the team for anyone who has played significant minutes. He has allowed an estimated 93.5 points per 100 possessions, only behind Remy Abell, who was at 95.1.
This is something that the Hulls will need to work on. He may be shorter than the players he is defending, but he should still be able to make a bigger impact on the defense.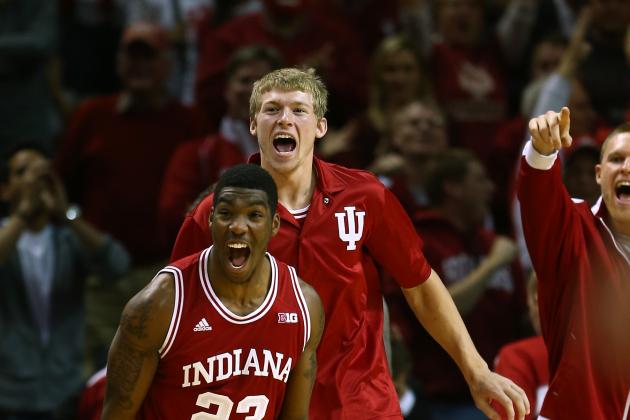 Elsa/Getty Images
The bench is the biggest weakness for the Hoosiers.
Despite having one of the most talented starting lineups in the country, the Hoosiers have very inconsistent play from their role players on the bench.
Besides Will Sheehey, no one else on the bench has been able to provide consistent scoring from the bench. Abell and Sheehey are the only ones that average at least five points per game.
The rest of the bench struggles to score. Jeremy Hollowell has had some very impressive games defensively, but his shooting has been a problem. He has shot under 14 percent from behind the arc, and is still trying to find his shot.
Both Derek Elston and Maurice Creek have been dealing with injuries over this season, and they are two of the more experienced players on the entire team. Both are still slowly getting back into the rotation, and they are needed pretty badly.
The Hoosiers will need some more consistent bench play, especially once the tournament begins. They will need to keep their starters rested, as they will be playing games very close together. If the bench can improve, the team will be much better off.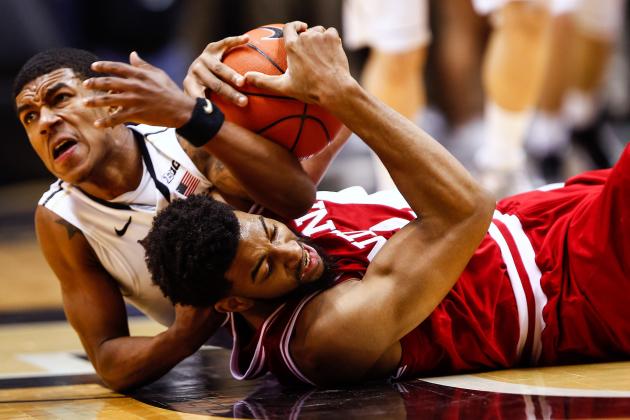 Michael Hickey/Getty Images
Turnovers are a problem for the Hoosiers.
The Hoosiers may be one of the highest-scoring teams in the nation, but they still have a lot of problems turning the ball over.
With 13.45 turnovers per game, the Hoosiers are 161st in the nation in that category. This is not a rank that a top team should have in almost any category, especially not turnovers.
What seems to give the Hoosiers the most trouble is the press defense. They try to make big plays, and end up with bad passes. The team will need to learn to be more patient against the press, as something will likely be wide open rather than making tight passes.
Turnovers happen in any game, but it's important for a team to limit them. The Hoosiers are giving the ball away too many times, and that could end up hurting them pretty badly later in the year.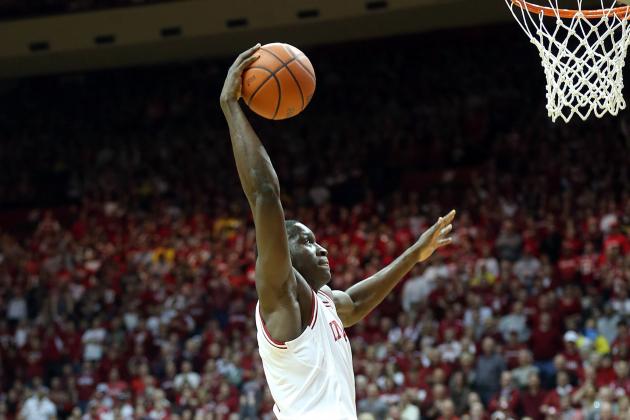 Andy Lyons/Getty Images
Assembly Hall went crazy after this dunk.
Assembly Hall is considered one of the loudest stadiums in college basketball. This gives the Hoosiers a huge advantage when at home.
Unfortunately, they can't play all of their games at home.
Despite their game against the Purdue Boilermakers, the rest of their games away from home have been close. When playing in New York, they held on after being down against the Georgia Bulldogs, and then they barely beat the Georgetown Hoyas in overtime.
The Hoosiers also lost against the Butler Bulldogs when playing in Indianapolis. The game was close, but they simply weren't able to pull it out.
Tom Crean needs to find ways to carry the momentum from home to the hostile environments. They will need to play well on the road since they won't be playing in Bloomington during the NCAA tournament.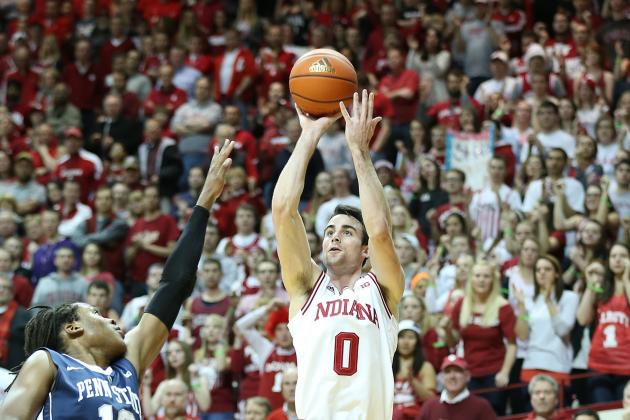 Andy Lyons/Getty Images
Sheehey can be a great sixth man when hot.
After starting the season off very well, Will Sheehey has struggled lately to be a scoring threat.
The Hoosiers' sixth man has hit a bit of a cold streak, scoring in double figures once in the last eight games. During this streak, he had two games without scoring a single point.
Something might be in Sheehey's head, as he proved earlier in the year that he is a great scorer. Despite any injury news, Sheehey was wearing a shooting sleeve for a few games, which happened to be during his positive stretch of games. Recently, however, the sleeve has been taken off.
Sheehey needs to become a consistent scorer once again for the Hoosiers, as they are struggling to find points off of the bench. Crean has to still be confident in his abilities, as he has had some great games this year. It might just be a cold streak, but Sheehey needs to turn it around before the big games begin.