Florida Football Recruiting: Grading the Gators' 2013 Class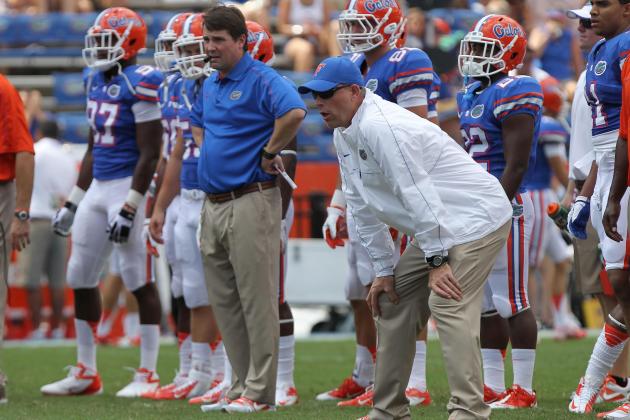 Kim Klement-USA TODAY Sports
The Gators coaching staff has to be excited about the 2013 recruiting class.
After striking out with eight uncommitted recruits on national signing day in 2012 some people began to question if Will Muschamp was capable of closing recruits. Scott Carter of GatorZone.com asked Muschamp about his closing ability today. Muschamp said:
People talk about closing—what's the difference between closing in March and closing on Signing Day? Does it lessen the player's value because you got him early? I think we're all pretty happy we got [defensive back] Vernon Hargreaves. We all think he is pretty good, whether or not we got him on Signing Day really doesn't matter. Here is a young man who could have gone anywhere in the country and he took one visit. He came to the University of Florida.
Muschamp has proven to be a relentless recruiter in his short time as head coach and the ability to put together such a talented class and not lose any of those commitments should be lauded as a great accomplishment.
Florida's recruiting class is not only filled with talented players on both sides of the ball but the Gators filled glaring holes on both lines of scrimmage, running back and wide receiver.
How good is this recruiting class you ask? Let's take a look at the 28 players that signed their national letter of intent to Florida and grade just how good the 2013 recruiting class is.
All player rankings are from 247Sports composite rankings unless noted otherwise.
Begin Slideshow

»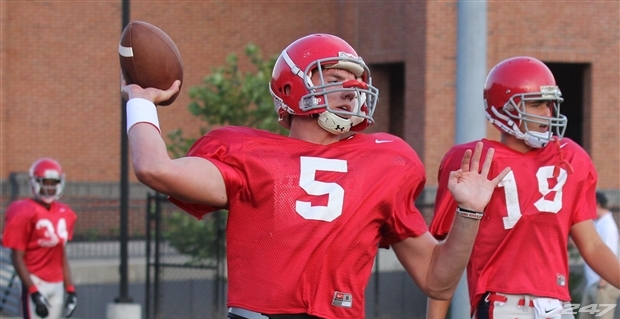 Max Staver is the lone quarterback in the class of 2013. Via 247Sports
The lone quarterback in the signing class, Staver gives the Gators much needed depth after the departure of Jacoby Brissett.
Staver is 6'6", 238 pounds according to 247Sports. A pocket-passer with a cannon for an arm, Staver will have an opportunity to compete with Tyler Murphy and Skyler Mornhinweg to backup Jeff Driskel in 2013. Staver will have a long way to go but even though he has still yet to graduate high school, he has as many collegiate pass attempts as Mornhinweg and Murphy combined. The backup quarterback job is wide open, and there is no reason Staver can't fill that spot.
Grade: C
Staver is a solid commitment who gives the Gators depth at a position of need.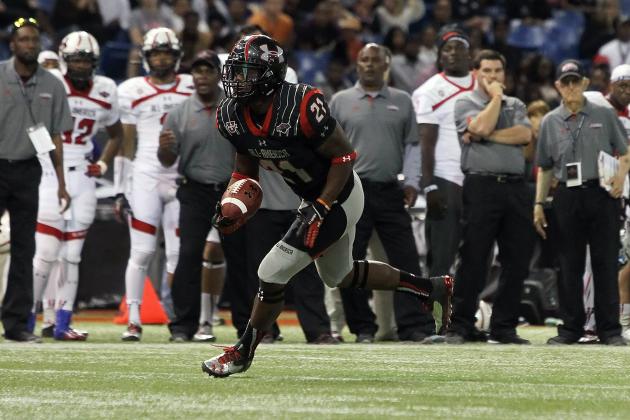 Kim Klement-USA TODAY Sports
Kelvin Taylor will receive plenty of playing time as a freshman.
Kelvin Taylor is rated the No. 2 running back in the 2013 recruiting class by 247Sports composite rankings. Taylor enrolled in January and is already working out with the team and learning Florida's playbook. Taylor will challenge Matt Jones for the role of starting running back. Regardless if Taylor can surpass Jones on the depth chart or not, he should get plenty of touches as a freshman.
Adam Lane is built in the same mold as Maurice Jones-Drew or Ray Rice. At 5'8", 214-pounds, Lane is tough to bring down when he gets going. Lane finished with 1,624 yards and 12 touchdowns during his senior season according to GatorSports.com.
Grade: A
Kelvin Taylor is as good as any running back in the class of 2013, and the fact that he was able to enroll early is a huge plus. Taylor will see extensive playing time as a freshman and will push Matt Jones for the starting spot. Lane gives the Gators great depth and will have a chance to earn playing time at some point in his career.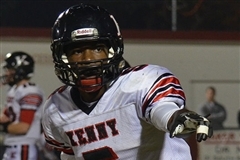 Ahmad Fulwood is recovering from a shoulder injury but he should be ready to play in 2013. Via 247Sports
The Gators have a serious need for offensive playmakers, and the coaching staff believes that have met that need with this recruiting class. The Gators signed five wide receivers in the recruiting cycle, and three of them should make instant impacts for the Gators.
Ahmad Fulwood and Demarcus Robinson are both big targets with the talent to play right away. Fulwood (6'4", 200 lbs) is instantly the biggest target Jeff Driskel will have next season. Fulwood is a crisp route runner who isn't afraid to go over the middle.
Robinson is a playmaker. He has break-away speed and can lineup all over the field. Robinson enrolled in January and is getting a head start in the playbook and in the weight room.
Alvin Bailey is a very interesting prospect for the Gators. Bailey is on the smaller side (5'10", 175 lbs) but his speed and quickness make up for his lack of size. Bailey is a good kick and punt returner and could find himself in that role for the Gators in 2013. He also played quarterback in high school, and the Gators could look to use him in a similar role to Trey Burton in a wildcat package.
Chris Thompson and Marqui Hawkins could use a redshirt in 2013 as they both need some time to develop.
Grade: A
The Gators had a glaring hole at wide receiver in 2012, and they went out and did the best they could to fix that problem. Signing five receivers gives the Gators depth, and there should be a heated competition for the starting spots this offseason.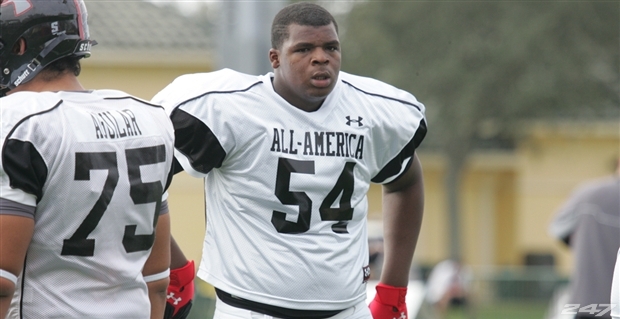 Rod Johnson gives the Gators much needed depth at offensive guard. Via 247Sports
The Gators lose the left side of their offensive line this offseason but help is on the way for the Gators. Florida signed two offensive tackles (Moore, Brown) and two interior linemen (Brown, Dillard). The Gators also received a transfer from Maryland, Max Garcia, who sat out last season and will be eligible in 2013.
Tyler Moore sat out last season but as a freshman at Nebraska started five games for the Cornhuskers. Moore is a big, physical mauler who can play either tackle position. While D.J. Humphries appears to be the future at left tackle, Moore could compete with Chaz Green for the starting job at right tackle.
Trenton Brown is a massive commit. At 6'8", 363-pounds, Brown is a tackle who could contend for a starting spot, and at worst gives the Gators much needed depth at offensive tackle.
Cameron Dillard will likely win the backup job at center behind Jon Harrison. Florida doesn't have a true center to backup Harrison, and Dillard has experience at the position.
Rod Johnson adds depth and can play multiple positions along the offensive line.
Octavious Jackson will give the Gators depth but still needs time to develop before he can be relied upon.
Grade: B+
Florida needed to add bodies to an offensive line that struggled to stay healthy in 2012. While Florida did that, they missed out on Laremy Tunsil (Ole Miss) and David Dawson (Michigan). Tunsil is from Lake City, just an hour north of Gainesville and was rated the No. 1 offensive lineman according to 247Sports composite ranking.
Back in November, Zach Abolverdi of the Gainesville Sun reported that David Dawson had silently committed to Florida. For whatever reason, Dawson dropped that commitment and returned to Michigan.
In his post signing day press-conference, Will Muschamp admitted that he would have liked to have added at least one more offensive lineman. (h/t Mike DiRocco)
Muschamp says he would have liked to have signed another OL or two this year. #Gators #signingday

— Michael DiRocco (@ESPNdirocco) February 6, 2013
Florida addressed some depth concerns but it could have been better.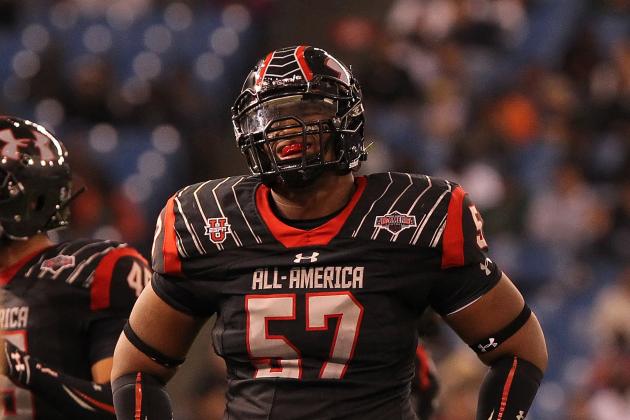 Kim Klement-USA TODAY Sports
Caleb Brantley will contend for playing time right away.
With the departures of Sharrif Floyd and Omar Hunter, the Gators had some big holes to fill heading into 2013. Will Muschamp was able to come through and signed four defensive tackles and three defensive ends.
Caleb Brantley's recruitment was a roller coaster ride but the talented prospect signed his letter of intent today and will arrive on campus this summer. Brantley is an explosive player who is equally as good against the run as he is at rushing the quarterback. Brantley will contend for serious playing time as a freshman.
Darious Cummings and Jarran Reed both transferred from East Mississippi Community College. If you include Damien Jacobs, Florida has signed three defensive tackles from the same community college in just two season. Both Cummings and Reed will be added to the Gators rotation of linemen and should play right away.
Joey Ivie will likely redshirt this season and a move inside could be in his future. Jordan Sherit is recovering from an ACL injury that cost him most of his senior season. He will likely redshirt in order to make sure he is completely healthy before beginning his career.
Antonio Riles is an underrated commit. Riles is a big, fast, physical end who can get after the quarterback. Riles has a long way to go to get ahead of Jonathan Bullard but he could see playing time as a freshman.
Grade: A
The signing day additions of Bostwick and Reed put this group over the top. As JUCO transfers Reed and Cummings are already physically ready to step in right away and should know what to expect at this level.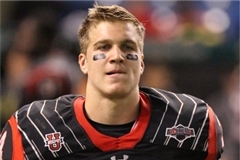 Alex Anzalone is a versatile athlete who can play all three linebacker spots or even some offense for the Gators. Via 247Sports
If you ever find yourself in an argument about how good of a recruiter Will Muschamp is, just point to the linebacker class of 2013. The Gators signed four linebackers in the class and Muschamp got three of the four to flip their commitments.
Alex Anzalone (Notre Dame) and Matt Rolin (South Carolina) were both set to enroll early at other schools but ended up flipping to Florida, and are both enrolled at the University of Florida. Jarrad Davis was committed to Auburn before flipping to Florida late in the recruiting cycle.
While all four players are listed as outside linebackers, Anzalone and Rolin both have the frame to add size and could potentially move inside if needed.
Daniel McMillian is an athletic pass-rusher who really improved his coverage skills during his senior year in high school. McMillian and Anzalone will look to fill the void that Jelani Jenkins' early departure and both should see plenty of playing time early. Matt Rolin is also enrolled but is still recovering from ACL surgery. Rolin could be healthy for fall practice but he will be behind physically.
Davis is the only linebacker who isn't already on campus, and for that reason, he will be too far behind the other prospects. Davis could take a redshirt in 2013.
Grade: A
You could argue that Will Muschamp didn't need to close on national signing day because he already closed back in January. Adding Anzalone and Rolin to the already committed McMillian was a huge score for the Gators.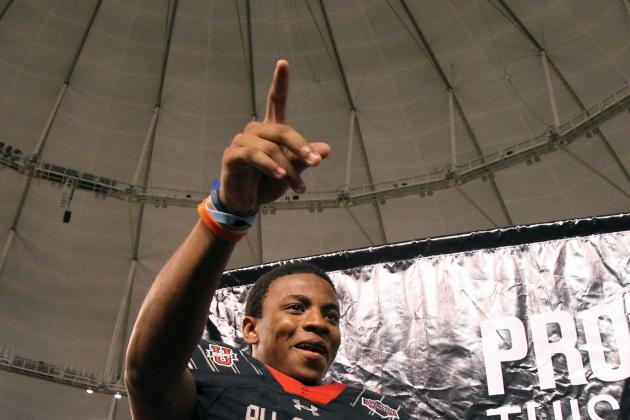 Kim Klement-USA TODAY Sports
Vernon Hargreaves is the cherry on top of a stellar recruiting class.
CB Vernon Hargreaves III, 5-star
Florida put together one of the most impressive secondaries in the 2013 recruiting class. So impressive that safety commit, Marcell Harris has said the group will create a "no fly zone" for years to come.
Vernon Hargreaves is the consensus No. 1 overall cornerback in the recruiting class. Hargreaves is as college-ready as any recruit in the country, and he should make a huge impact for the Gators this fall.
Harris, Neal and Washington will all compete for the two starting jobs that are left vacant by Matt Elam and Josh Evans. Washington will likely play more nickel than safety at first and is versatile enough to eventually make a move to cornerback.
Grade: A+
Will Muschamp hit this one out of the park. The talent that Florida has in this class will make things very hard on opposing quarterbacks. All four players should see playing time as freshman and all of them have the potential to start.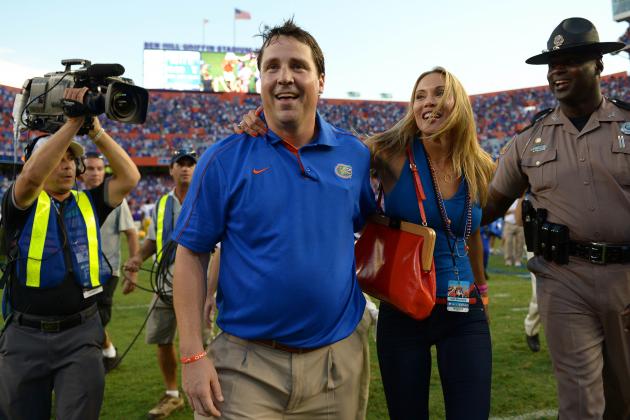 Jake Roth-USA TODAY Sports
Will Muschamp has to be very excited with the class he put together.
National signing day got of to a fast start as the Gators picked up a commitment from Jay-nard Bostwick. Things cooled off for the Gators, and they missed out on adding another receiver (James Clark) and another defensive end (Tashawn Bower), but they rebounded and added Jarran Reed to round out the class.
Will Muschamp and the coaching staff didn't have to worry on signing day because they had already put the work in and signed a truly impressive class. Not only did the Gators finish with a consensus top-5 class but they filled major needs along both lines of scrimmage, wide receiver and running back.
The 2013 recruiting class should help the Gators reload rather than rebuild. Florida is losing 11 starters from 2012 but this crop of freshman and transfers have what it takes to make an early impact and keep Florida trending up.
Grade: A