Projecting the Starting Lineup of Every MLB Team Entering Spring Training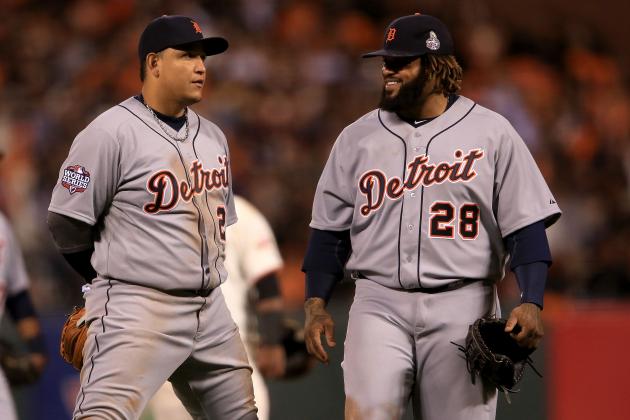 Doug Pensinger/Getty Images

As each MLB team gets ready to start spring training in less than a week, many of those teams will be working on tweaking their starting lineups.
With several free agents still out there for the taking, it's a fluid situation for some teams as they try to put the finishing touches on their rosters. In other cases, a spring audition could well determine an Opening Day starting lineup as well.
Here is a projection of what each MLB team's starting lineup will look like on Opening Day.
Begin Slideshow

»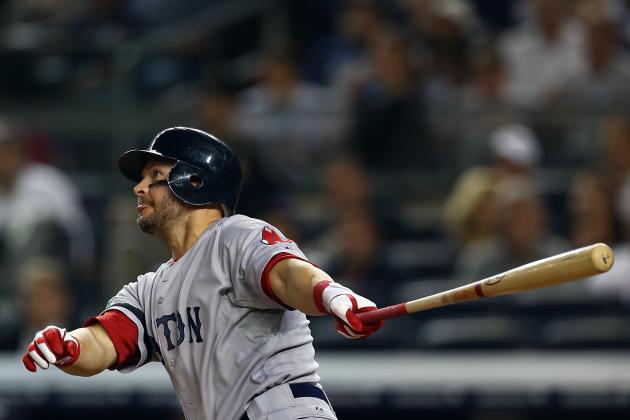 Elsa/Getty Images
New addition Cody Ross will help to replace the offense left behind by Justin Upton.
Projected Opening Day Lineup
1 Adam Eaton CF
2 Martin Prado 3B
3 Aaron Hill 2B
4 Miguel Montero C
5 Paul Goldschmidt 1B
6 Jason Kubel LF
7 Cody Ross RF
8 Cliff Pennington SS
9 Ian Kennedy SP
Unless Didi Gregorius has a huge spring, Pennington for now will be the shortstop for the Diamondbacks. Gregorius' glove is ready, but the bat may need a bit more seasoning.
The biggest question for the Diamondbacks is the outfield mix. No question that Eaton could be the answer in center field and in the leadoff spot—Eaton led off every game in which he started during his September call-up last season.
Manager Kirk Gibson will not fail to use Gerardo Parra often in an outfield somewhat compromised defensively in the corners.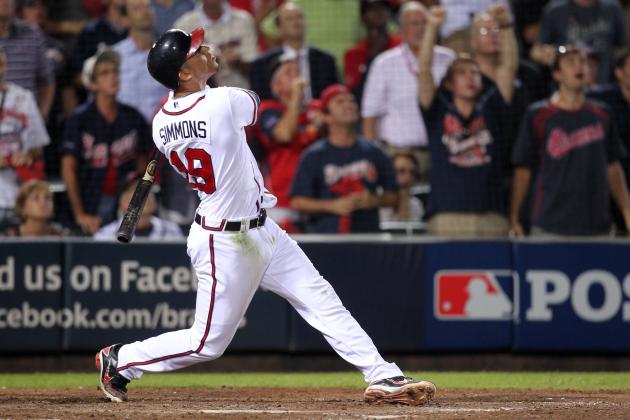 Daniel Shirey-USA TODAY Sports

Projected Opening Day Lineup
1 Andrelton Simmons SS
2 Jason Heyward RF
3 Justin Upton LF
4 Freddie Freeman 1B
5 B.J. Upton CF
6 Dan Uggla 2B
7 Gerald Laird C
8 Juan Francisco 3B
9 Tim Hudson SP
The Atlanta Braves don't have many questions to answer in terms of their starting lineup—but the batting order itself has questions.
Simmons hit .289 with a .335 on-base percentage last year. He has a chance to equal Michael Bourn's .348 OBP from a year ago, but the team would no doubt love to see Simmons pick up more walks (12 in 182 plate appearances).
Laird will fill in until Brian McCann is ready to go after offseason shoulder surgery. Francisco impressed during winter league ball and will likely get reps with newly-acquired Chris Johnson.
The Braves also lack a true No. 2 hitter with the departure of Martin Prado. Manager Fredi Gonzalez will likely have some tinkering to do to find the right fit there.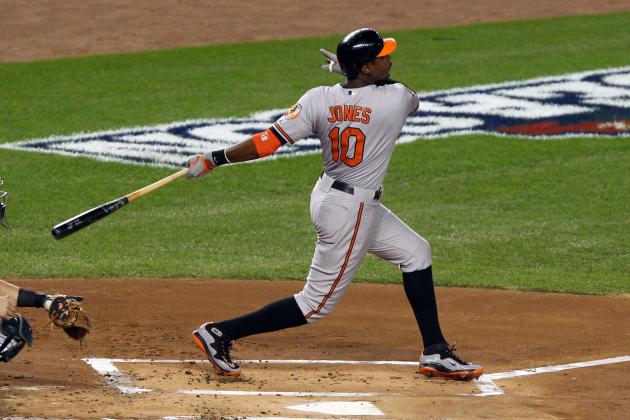 Debby Wong-USA TODAY Sports

Projected Opening Day Lineup
1 Brian Roberts 2B
2 J.J. Hardy SS
3 Nick Markakis RF
4 Adam Jones CF
5 Matt Wieters C
6 Chris Davis 1B
7 Wilson Betemit DH
8 Manny Machado 3B
9 Nate McLouth LF
The big question mark is Nolan Reimold, who had a herniated disc removed from his neck last June. McLouth projects as the everyday left fielder until Reimold can show he can handle the rigors of everyday play himself.
He's likely to get reps at designated hitter as well along with Betemit.
Roberts is also loaded with question marks. He hasn't played a full season since 2009 and failed to compile even a full season's worth of games in the past three years.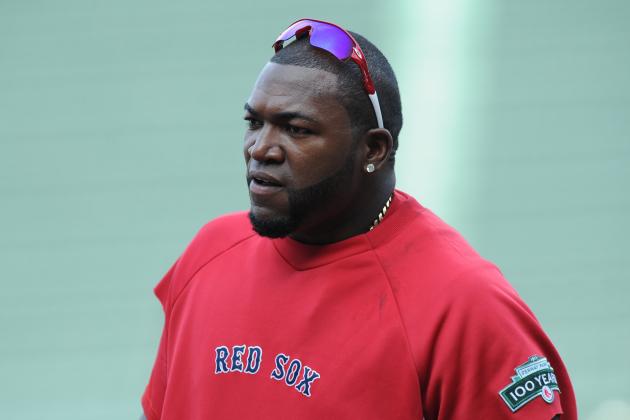 Bob DeChiara-USA TODAY Sports
The health of David Ortiz will be a huge factor for the Red Sox offense in 2013.
Projected Opening Day Lineup
1 Jacoby Ellsbury CF
2 Shane Victorino RF
3 Dustin Pedroia 2B
4 David Ortiz DH
5 Mike Napoli 1B
6 Will Middlebrooks 3B
7 Stephen Drew SS
8 Jonny Gomes LF
9 Jarrod Saltalamacchia C
New Red Sox manager John Farrell will likely platoon Saltalamacchia and newcomer David Ross behind the plate.
With Ryan Kalish likely out until at least August after shoulder surgery, Farrell will have to roll the dice with Gomes in left field against right-handed hitters.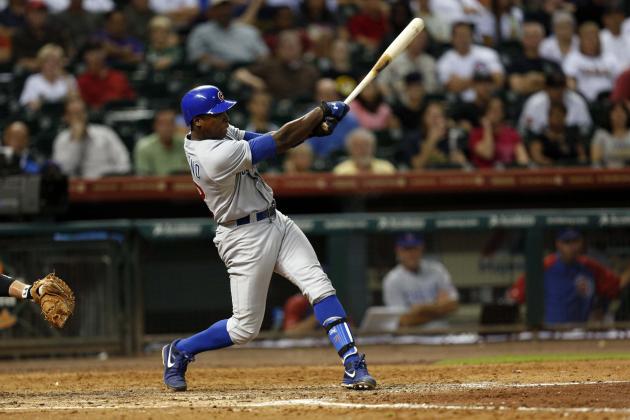 Thomas Campbell-USA TODAY Sports
Can Alfonso Soriano survive for another year in Chicago without the threat of a trade?
Projected Opening Day Lineup
1 David DeJesus CF
2 Nate Schierholtz RF
3 Anthony Rizzo 1B
4 Alfonso Soriano LF
5 Starlin Castro SS
6 Ian Stewart 3B
7 Welington Castillo C
8 Darwin Barney 2B
9 Matt Garza SP
The Cubs will be banking on the successful return of Stewart from left wrist surgery that limited him to just 55 games last season. Stewart showed flashes of power in 2009 and 2010 before nagging wrist injuries started dogging him.
Schierholtz will be out to prove he can be more than just a platoon player. He's likely just serving as a place-holder until prospect Brett Jackson is ready for prime time.
Rob Grabowski-USA TODAY Sports
Can first baseman Paul Konerko hold off the sands of time for one more season?
Projected Opening Day Lineup
1 Alejandro de Aza CF
2 Jeff Keppinger 3B
3 Adam Dunn DH
4 Paul Konerko 1B
5 Alex Rios RF
6 Dayan Viciedo LF
7 Alexei Ramirez SS
8 Tyler Flowers C
9 Gordon Beckham 2B
Konerko's production has declined each year since 2010—is it unreasonable to think that won't continue this season at age 37?
Dunn and Rios posted rebound seasons after dismal 2011 campaigns—the White Sox will need that trend to continue as well.
The wild-card could be Keppinger. He was a breath of fresh air in Tampa Bay for manager Joe Maddon last season, hitting a career-high .325 in 115 games.
Another wild-card will be Flowers, finally given the chance to prove himself on an everyday basis.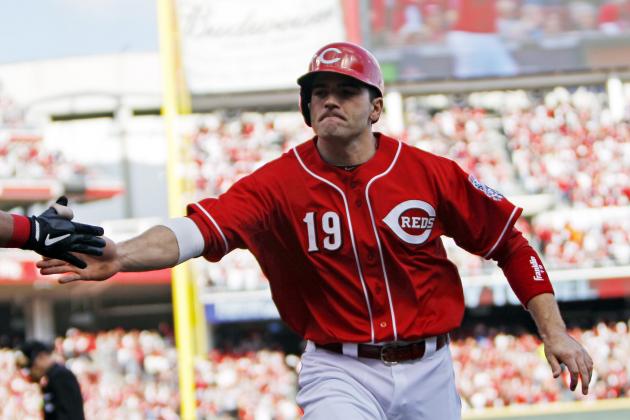 Frank Victores-USA TODAY Sports

Projected Opening Day Lineup
1 Shin-Soo Choo CF
2 Brandon Phillips 2B
3 Joey Votto 1B
4 Ryan Ludwick LF
5 Jay Bruce RF
6 Todd Frazier 3B
7 Ryan Hanigan C
8 Zack Cozart SS
9 Johnny Cueto SP
Ludwick could be the key to this lineup. If he struggles with plating runners in scoring position, opposing pitchers will happily pitch around the immensely talented Votto.
The Reds now have a legitimate leadoff hitter in Choo, who has posted at least a .375 OBP in four of the past five seasons.
Frazier will get his chance to shine in an everyday role in place of the departed Scott Rolen.
Devin Mesoraco figures to get more at-bats in 2013 as well—the Reds like Mesoraco's power potential despite just a .205 average in 72 major league games thus far.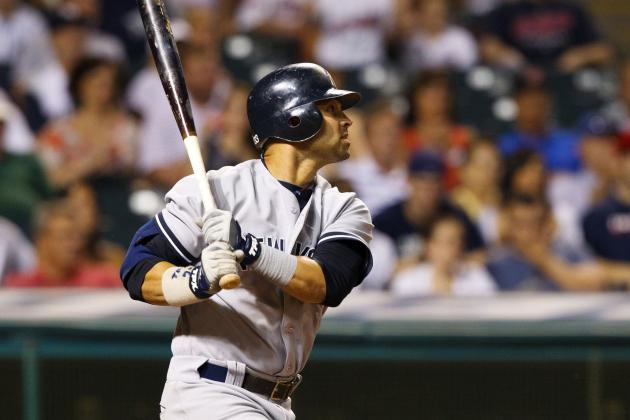 Rick Osentoski-USA TODAY Sports
New Indians right fielder Nick Swisher will bring consistency to the lineup.
Projected Opening Day Lineup
1 Michael Brantley LF
2 Jason Kipnis 2B
3 Asdrubal Cabrera SS
4 Nick Swisher RF
5 Carlos Santana C
6 Mark Reynolds 1B
7 Lonnie Chisenhall 3B
8 Drew Stubbs CF
9 Mike Aviles DH
Manager Terry Francona will definitely be tinkering with his lineup to find the best possible spot for Swisher, who is not a natural cleanup hitter. It's possible Reynolds could move into that slot in time if he can somehow manage to hit above .250.
Yan Gomes could factor into the lineup at some point as well—he hit .328 with a .938 OPS at Triple-A Las Vegas last season.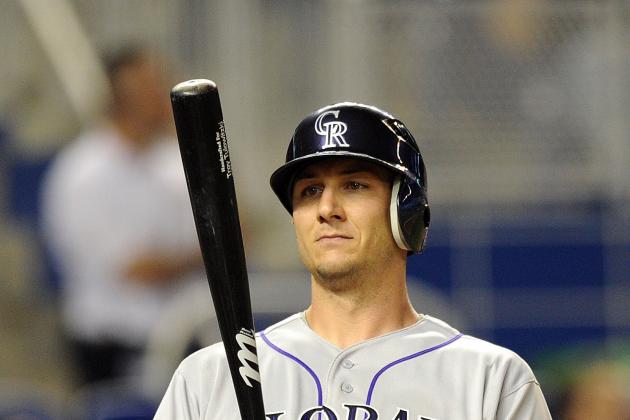 Steve Mitchell-USA TODAY Sports
Troy Tulowitzki will be primed to help carry the offense once again after playing in just 47 games last season.
Projected Opening Day Lineup
1 Dexter Fowler CF
2 Josh Rutledge 2B
3 Carlos Gonzalez LF
4 Troy Tulowitzki SS
5 Michael Cuddyer RF
6 Todd Helton 1B
7 Wilin Rosario C
8 Chris Nelson 3B
9 Jorge de la Rosa SP
Helton, arguably one of the greatest and most accomplished hitters in Rockies history, will start the season behind the 8-ball, courtesy of his DUI arrest early Wednesday morning. In addition to the fact that he's 39 years old and coming off hip surgery, it doesn't bode well for the Rockies offense.
Rutledge appears primed to take over full-time at second base for his first full season, but the offense will again rely on the bats of Gonzalez and a healthy Tulowitzki.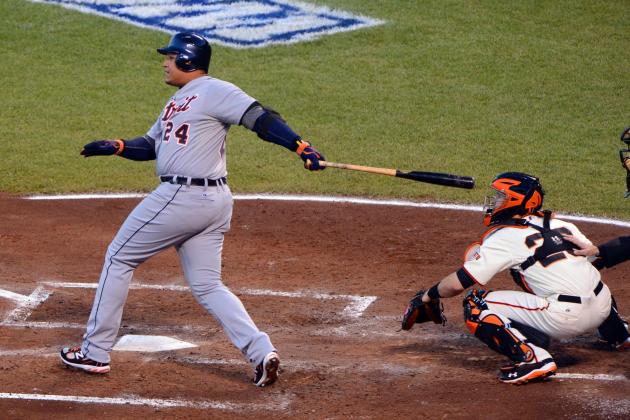 Kyle Terada-USA TODAY Sports

Projected Opening Day Lineup
1 Austin Jackson CF
2 Torii Hunter RF
3 Miguel Cabrera 3B
4 Prince Fielder 1B
5 Victor Martinez DH
6 Andy Dirks LF
7 Jhonny Peralta SS
8 Alex Avila C
9 Omar Infante 2B
The big unknown for the Detroit Tigers is in left field. Dirks would appear to have the upper hand after hitting .322 in 88 games last season. However, manager Jim Leyland will find ways to use the speedy Quintin Berry as well.
Hunter will add some pop and a .300-plus average in the No. 2 hole, and Martinez hopes to return to form after missing the entire 2012 season.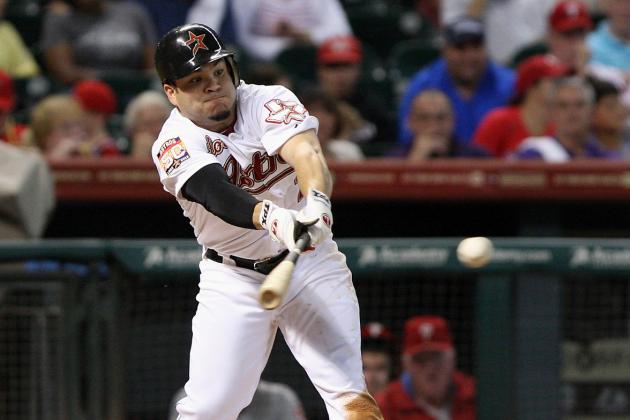 Troy Taormina-USA TODAY Sports
Jose Altuve will look to build on a solid 2012 season.
Projected Opening Day Lineup
1 Jose Altuve 2B
2 Fernando Martinez LF
3 Carlos Pena DH
4 J.D. Martinez RF
5 Brett Wallace 1B
6 Justin Maxwell CF
7 Jason Castro C
8 Tyler Greene SS
9 Matt Dominguez 3B
Newly-acquired right-handed hitter Chris Carter could split time with Pena at DH and Wallace at first.
Greene will be pushed by Marwin Gonzalez at shortstop with Jed Lowrie now out of the picture. The entire lineup at this point looks like a complete challenge for first-year manager Bo Porter.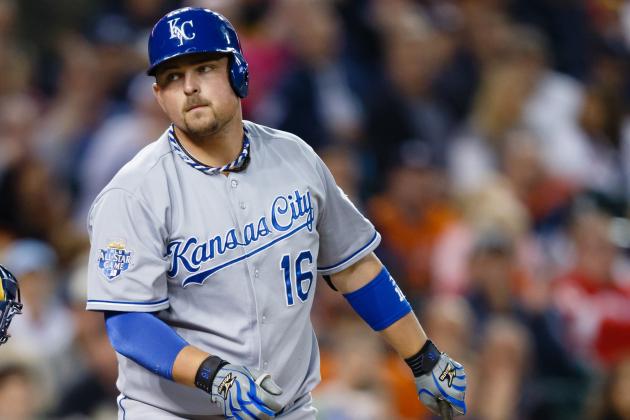 Rick Osentoski-USA TODAY Sports

Projected Opening Day Lineup
1 Lorenzo Cain CF
2 Alcides Escobar SS
3 Alex Gordon LF
4 Billy Butler DH
5 Mike Moustakas 3B
6 Salvador Perez C
7 Eric Hosmer 1B
8 Jeff Francoeur RF
9 Chris Getz 2B
Perez could well become one of the best hitting catchers in the majors. He certainly flashes of brilliance last year in hitting .301 with 11 HR in just 76 games.
Hosmer will look to bounce back from a disappointing sophomore season and Moustakas has 25 HR and 85 RBI potential.
Last season the Royals had the third-most hits in the American League, yet they were third-worst in the league in runs scored. The ability of their young position players to excel with runners on base will be a big key in 2013.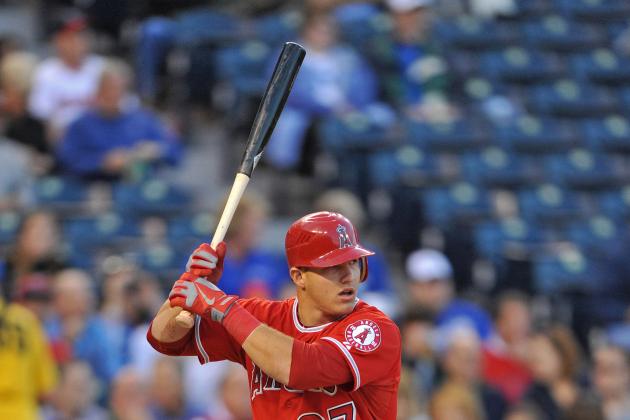 Peter G. Aiken-USA TODAY Sports

Projected Opening Day Lineup
1 Mike Trout LF
2 Erick Aybar SS
3 Albert Pujols 1B
4 Josh Hamilton RF
5 Mark Trumbo DH
6 Howie Kendrick 2B
7 Alberto Callaspo 3B
8 Chris Iannetta C
9 Peter Bourjos CF
To say this lineup can be scary good could just be a huge understatement.
Trout, Pujols and Hamilton alone gives this Angels offense something for every team to think about. If Trumbo can find consistency throughout the entire season, 900 runs for this offense isn't out of the question.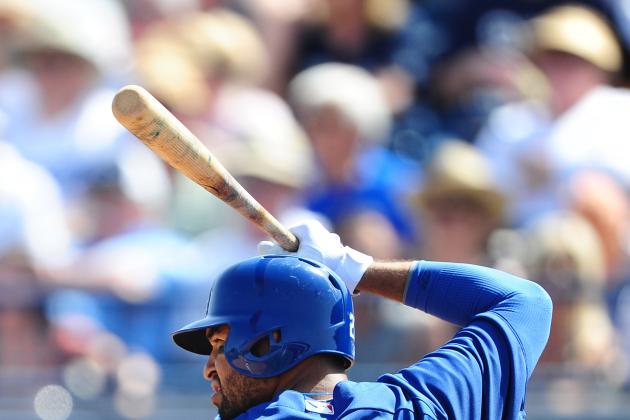 Mark J. Rebilas-USA Today Sports

Projected Opening Day Lineup
1 Mark Ellis 2B
2 Carl Crawford LF
3 Matt Kemp CF
4 Adrian Gonzalez 1B
5 Hanley Ramirez SS
6 Andre Ethier RF
7 Luis Cruz 3B
8 A.J. Ellis C
9 Clayton Kershaw SP
The leadoff spot remains the Achilles heel for the Los Angeles Dodgers. Manager Don Mattingly would prefer for Crawford to lead off despite the belief that he did not want to do so with the Boston Red Sox.
"He said he didn't know where that came from," Mattingly said. "He said he heard that on ESPN. He said he would do whatever we want him to do."
Second baseman Ellis could be an option—he led off 31 games last season.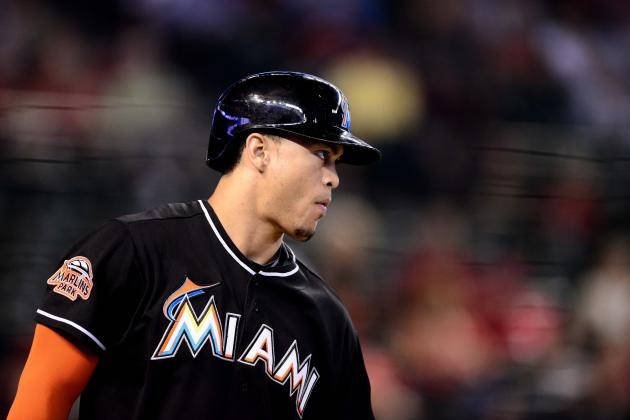 Mark J. Rebilas-USA TODAY Sports

Projected Opening Day Lineup
1 Juan Pierre LF
2 Placido Polanco 3B
3 Giancarlo Stanton RF
4 Logan Morrison 1B
5 Justin Ruggiano CF
6 Rob Brantly C
7 Donovan Solano 2B
8 Adeiny Hechavarria SS
9 Ricky Nolasco SP
It's not a certainty at this point that Morrison will be ready for the start of the season. Morrison underwent knee surgery in September and isn't expected to be at full strength when spring training starts.
New manager Mike Redmond will be tasked to score runs with an offense lacking in experience. Stanton and Morrison will be the main run-producing tandem—beyond that it's a crapshoot.
Frank Victores-USA TODAY Sports

Projected Opening Day Lineup
1 Norichika Aoki RF
2 Rickie Weeks 2B
3 Ryan Braun LF
4 Aramis Ramirez 3B
5 Jonathan Lucroy C
6 Mat Gamel 1B
7 Carlos Gomez CF
8 Jean Segura SS
9 Yovani Gallardo SP
With Corey Hart out of the lineup until at least late April, Gamel will get the opportunity to show his stuff at first base. Gamel played just 21 games last season before a torn ACL prematurely ended his year.
Manager Ron Roenicke will be counting on a bounce-back year from Weeks, and Gomez will look to build on a solid year that saw him hit 19 HR with 51 RBI.
Alex Gonzalez is back in the fold again as well—he'll serve as insurance for Segura.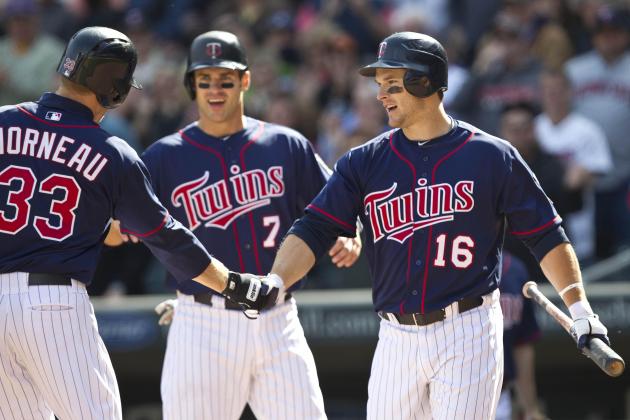 Jesse Johnson-USA TODAY Sports

Projected Opening Day Lineup
1 Darin Mastroianni CF
2 Jamey Carroll 2B
3 Joe Mauer C
4 Josh Willingham LF
5 Justin Morneau 1B
6 Ryan Doumit DH
7 Chris Parmelee RF
8 Trevor Plouffe 3B
9 Pedro Florimon SS
The Minnesota Twins offense will be contingent on the production in the middle of the order from Mauer, Willingham and Morneau. Mauer will get looks at DH and at first base as well, spelling both Doumit and Morneau.
Mastroianni can steal some bases, but he's likely just holding down the spot for Aaron Hicks, who could very well have impact on the Twins roster in 2013.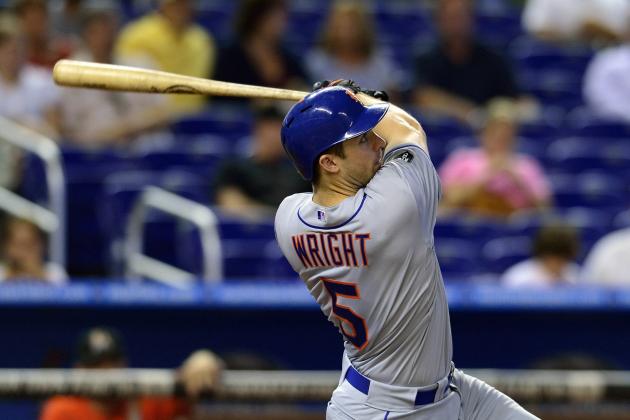 Steve Mitchell-USA TODAY Sports

Projected Opening Day Lineup
1 Ruben Tejada SS
2 Daniel Murphy 2B
3 David Wright 3B
4 Ike Davis 1B
5 Lucas Duda LF
6 Mike Baxter RF
7 John Buck C
8 Kirk Nieuwenhuis CF
9 Johan Santana SP
When you're faced with an offense in which none of the starting outfielders are run producers, you're in trouble.
That's currently what the Mets face with an outfield of Duda, Nieuwenhuis and Baxter. It's possible that Michael Bourn could still sign before spring training, but that won't help the run production much.
Manager Terry Collins is going to be inventing ways to manufacture runs with this group.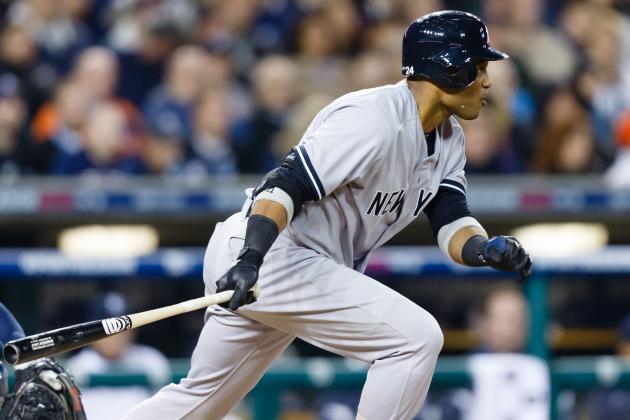 Rick Osentoski-USA TODAY Sports
What will Robinson Cano do for the Yankees in a possible walk year?
Projected Opening Day Lineup
1 Derek Jeter SS
2 Ichiro Suzuki RF
3 Robinson Cano 2B
4 Mark Teixeira 1B
5 Curtis Granderson CF
6 Kevin Youkilis 3B
7 Travis Hafner DH
8 Francisco Cervelli C
9 Brett Gardner LF
Cervelli will compete with Austin Romine and Chris Stewart for the everyday job behind the plate for the New York Yankees in what will no doubt be the most spirited positional competition during spring training.
They could all just be temporary until highly-touted prospect Gary Sanchez is ready to make his way to the Bronx.
Suzuki was comfortable in the No. 2 hole hitting behind Jeter and manager Joe Girardi will have to come up with options at DH against left-handed pitching.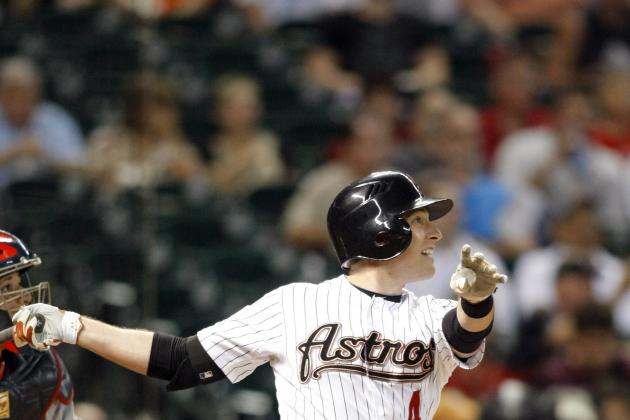 Brett Davis-USA TODAY Sports
The addition of Jed Lowrie to the A's offense is a major plus.
Projected Opening Day Lineup
1 Coco Crisp CF
2 Jed Lowrie 3B
3 Yoenis Cespedes LF
4 Brandon Moss 1B
5 Josh Reddick RF
6 Seth Smith DH
7 John Jaso C
8 Scott Sizemore 2B
9 Hiroyuki Nakajima SS
Josh Donaldson is the incumbent at third base for the Oakland A's, but the recent acquisition of Lowrie could very well change that. Much will depend on how Nakajima adjusts to American baseball.
With Chris Young in place, manager Bob Melvin will have plenty of lineup options. Young can DH or play center, Crisp can play center or left field, Cespedes can play left or DH. Melvin could play the matchup game in determining his optimal lineup each day.
The addition of Jaso behind the plate helps as well. A's catchers combined to hit just .204 with a .262 OBP last season.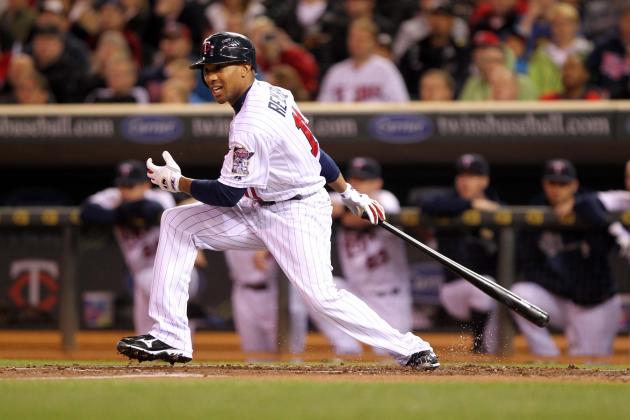 Brace Hemmelgarn-USA TODAY Sports
Ben Revere brings the potential of 50-60 stolen bases with him to Philly.
Projected Opening Day Lineup
1 Ben Revere CF
2 Jimmy Rollins SS
3 Chase Utley 2B
4 Ryan Howard 1B
5 Michael Young 3B
6 Delmon Young RF
7 Domonic Brown LF
8 Erik Kratz C
9 Roy Halladay SP
With Carlos Ruiz starting the season with a 25-game suspension, Kratz and Humberto Quintero will try and hold down the fort.
With 74 stolen bases in his last two seasons, Revere adds the element of speed to the top of the lineup. Utley and Howard will be counted on to stay healthy and wield the big bats in the middle of the order.
Newcomer Delmon Young will get a fresh start in Philly—whether or not his defense sees vast improvement is another story entirely.
Charles LeClaire-USA TODAY Sports
Garrett Jones' versatility in the field will be a plus for manager Clint Hurdle in 2013.
Projected Opening Day Lineup
1 Starling Marte LF
2 Neil Walker 2B
3 Andrew McCutchen CF
4 Garrett Jones 1B
5 Pedro Alvarez 3B
6 Russell Martin C
7 Travis Snider RF
8 Clint Barmes SS
9 A.J. Burnett SP
This is the lineup that should be out there every day—first baseman Gaby Sanchez will try to change that, however.
If Sanchez can wield a big bat in spring training, Jones will see more time in right field. Snider has the potential, but has yet to fully realize it through parts of five seasons.
Manager Clint Hurdle also has Jose Tabata and Alex Presley at his disposal. Tabata's streaky nature of play keeps him behind Marte on the depth chart.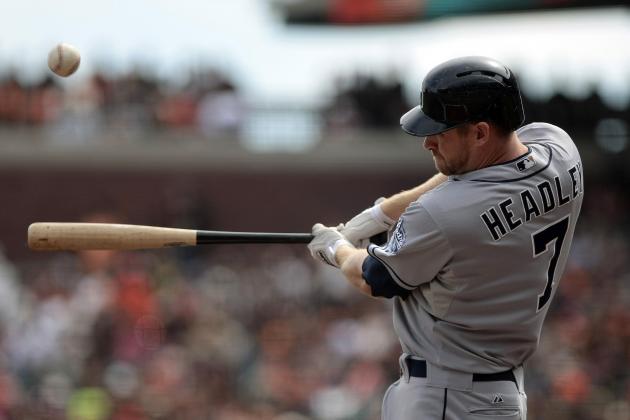 Kelley L Cox-USA TODAY Sports

Projected Opening Day Lineup
1 Everth Cabrera SS
2 Logan Forsythe 2B
3 Chase Headley 3B
4 Carlos Quentin LF
5 Yonder Alonso 1B
6 Will Venable RF
7 Cameron Maybin CF
8 Nick Hundley C
9 Edinson Volquez SP
Bringing in the fences at Petco Park may not help the Padres pitching staff, but it will be of great benefit to Headley and Quentin. Their production in 2013 will be a major factor in the success of the Padres offense.
Hundley takes over behind the plate while Yasmani Grandal serves out his 50-game suspension, a definite downgrade offensively.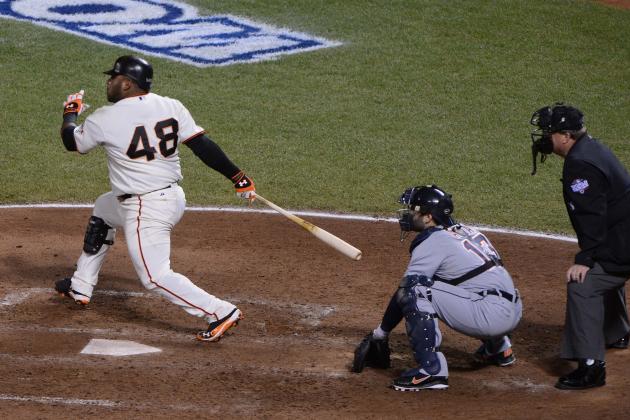 Kyle Terada-USA TODAY Sports

Projected Opening Day Lineup
1 Angel Pagan CF
2 Marco Scutaro 2B
3 Pablo Sandoval 3B
4 Buster Posey C
5 Hunter Pence RF
6 Brandon Belt 1B
7 Brandon Crawford SS
8 Gregor Blanco LF
9 Matt Cain SP
The exact same offense that won the World Series for the San Francisco Giants in 2012 is back in place again this year.
Old friend Andres Torres was brought back to help out Blanco in left as well.
Jayne Kamin-Oncea-USA TODAY Sports

Projected Opening Day Lineup
1 Dustin Ackley 2B
2 Franklin Gutierrez CF
3 Kyle Seager 3B
4 Michael Morse LF
5 Kendrys Morales DH
6 Jesus Montero C
7 Justin Smoak 1B
8 Michael Saunders RF
9 Brendan Ryan SS
The big question mark for the Mariners offense is Smoak. Smoak was the centerpiece of the trade that sent starting pitcher Cliff Lee to the Texas Rangers in 2010. The Mariners are still waiting for Smoak to fully realize his potential.
If he continues to falter, Morales will see much more time at first. Morse could be an option as well with Jason Bay and Raul Ibanez also in the picture in left field.
Manager Eric Wedge will mix and match in an effort to field an offense that doesn't finish last in scoring for a change.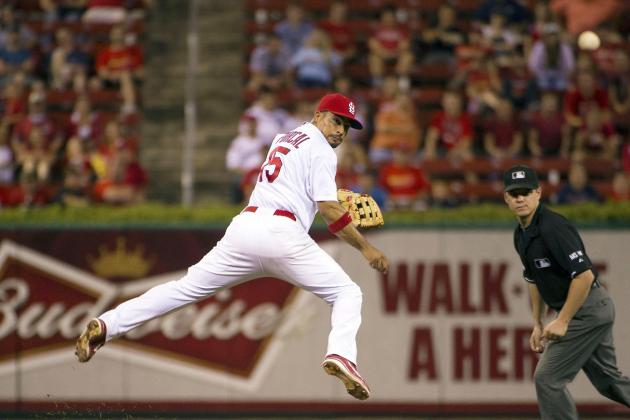 Scott Rovak-USA TODAY Sports

Projected Opening Day Lineup
1 Rafael Furcal SS
2 Allen Craig 1B
3 Carlos Beltran RF
4 Matt Holliday LF
5 Yadier Molina C
6 David Freese 3B
7 Jon Jay CF
8 Daniel Descalso 2B
9 Adam Wainwright SP
The St. Louis Cardinals are hoping that Furcal's health holds out for another year.
Matt Carpenter will work extensively with former infielder Jose Oquendo in learning the nuances of second base, and the Cards are hoping Carpenter can adjust enough to get his bat into the lineup on a regular basis.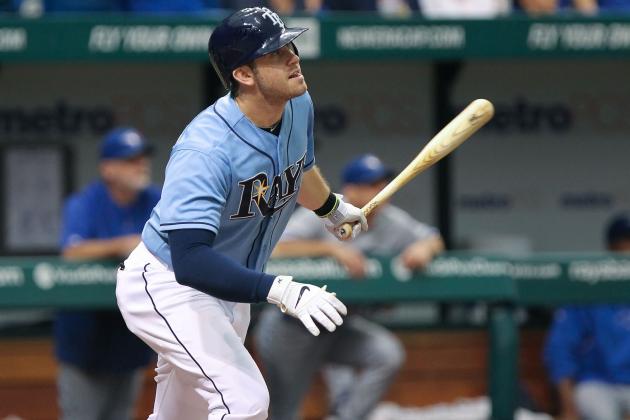 Kim Klement-USA TODAY Sports

Projected Opening Day Lineup
1 Desmond Jennings CF
2 Yunel Escobar SS
3 Ben Zobrist RF
4 Evan Longoria 3B
5 Matt Joyce LF
6 Luke Scott DH
7 Kelly Johnson 2B
8 James Loney 1B
9 Jose Molina C
A whole lot of intangibles here for the Tampa Bay Rays.
Johnson was signed to add some additional pop. However, both the Arizona Diamondbacks and Toronto Blue Jays gave up on Johnson in the past two years. Whether or not he can add more than a .225 average with the Rays remains to be seen.
Scott will get one more chance to show the Rays he can be a powerful offensive weapon after being re-signed for one year and $2.75 million.
The wild-card in the equation is Wil Myers. The centerpiece of the trade that sent pitchers James Shields and Wade Davis to the Kansas City Royals, it's thought that Myers will start the season in Triple-A.How quickly he continues to develop will definitely have impact on the Rays offense in 2013.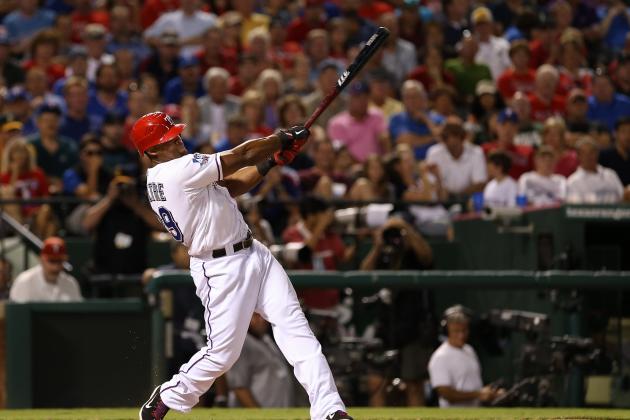 Kevin Jairaj-USA TODAY Sports

Projected Opening Day Lineup
1 Ian Kinsler 2B
2 Elvis Andrus SS
3 David Murphy LF
4 Adrian Beltre 3B
5 Lance Berkman DH
6 Nelson Cruz RF
7 A.J. Pierzynski C
8 Mitch Moreland 1B
9 Leonys Martin CF
The absence of Josh Hamilton, Michael Young and Mike Napoli will hurt. The Texas Rangers will now rely on Beltre and Berkman to step up in the middle of the order.
Murphy will finally have an everyday role after five-plus seasons and Martin and Craig Gentry will likely platoon in center.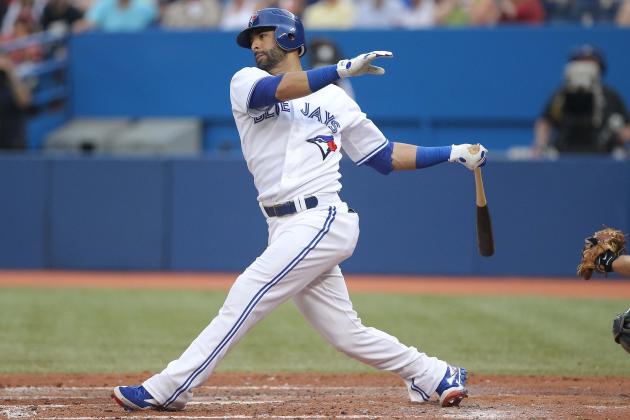 Tom Szczerbowski-USA TODAY Sports

Projected Opening Day Lineup
1 Jose Reyes SS
2 Melky Cabrera LF
3 Jose Bautista RF
4 Edwin Encarnacion DH
5 Brett Lawrie 3B
6 Colby Rasmus CF
7 Adam Lind 1B
8 J.P. Arencibia C
9 Emilio Bonifacio 2B
This is an offense that has the potential to be scary. Bautista is apparently fully healthy after undergoing surgery to repair a tendon sheath in his left wrist.
Lind will attempt to bounce back from an up-and-down 2012 season in which he was demoted to the minors. Utility infielder Maicer Izturis will see plenty of time at second base as well.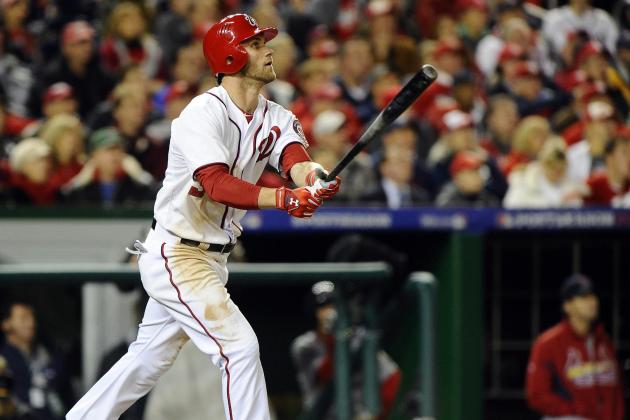 Brad Mills-USA TODAY Sports

Projected Opening Day Lineup
1 Denard Span CF
2 Bryce Harper LF
3 Ryan Zimmerman 3B
4 Adam LaRoche 1B
5 Jayson Werth RF
6 Ian Desmond SS
7 Danny Espinosa 2B
8 Wilson Ramos C
9 Stephen Strasburg SP
The addition of Span gives the Washington Nationals a solid leadoff presence.
Harper hit second for much of last season, and he'll look to improve on a .340 OBP hitting behind Span.
This is an offense with plenty of pop—Harper, Zimmerman, LaRoche, Werth and Desmond are all capable of 25 to 30 home runs apiece.
Doug Mead is a featured columnist with Bleacher Report. His work has been featured on the Seattle Post-Intelligencer, SF Gate, CBS Sports, the Los Angeles Times and the Houston Chronicle.