8 NHL Stars Who Aren't Scoring Nearly Enough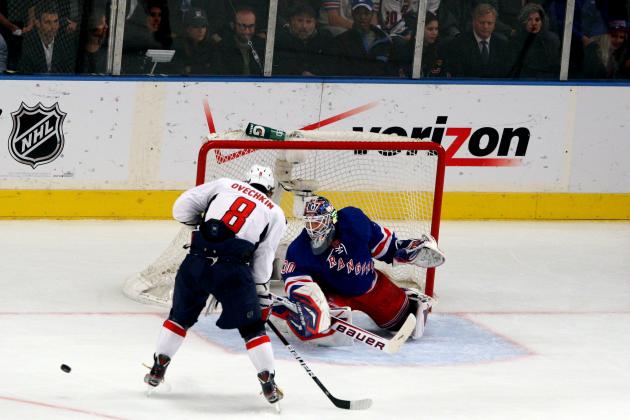 Bruce Bennett/Getty Images

In the NHL, little is more difficult than finding consistent scoring. Team management can go mad trying to find and then keep players capable of putting up goals year after year.
The strongest teams are generally built around a crop of offensive weapons, like Pittsburgh's Sidney Crosby and Evgeni Malkin, Vancouver's Sedin twins or Tampa Bay's duo of Steven Stamkos and Martin St. Louis.
It's especially frustrating, then, when a thought-to-be reliable scorer starts shooting blanks. And while it's still early enough in the season to work out kinks, it's also more than a fifth over for some teams.
These are eight skaters who need to drastically improve their game quickly to remain among the game's elite.
All numbers and statistics used in this article were obtained via hockey-reference.com, NHL.com, Capgeek.com and official team sites.
Begin Slideshow

»
Abelimages/Getty Images

Coming into this season, Phil Kessel had quite an impressive streak going: He'd scored at least 30 goals in each of the last four seasons. Last season, the 25-year-old hit career highs in both goals (37) and assists (45). Unfortunately, the goal-scoring Kessel has not yet shown up to play in 2013.
Through 10 games of a 48-game season, Phil Kessel has laid a goose egg in the goal department, despite having taken a league-leading 42 shots. Beyond those shots, he has just six assists and six penalty minutes.
With a fifth of the season gone, Maple Leaf fans have got to be frustrated with their star's inability to net pucks—especially considering the absence of linemate Joffrey Lupul.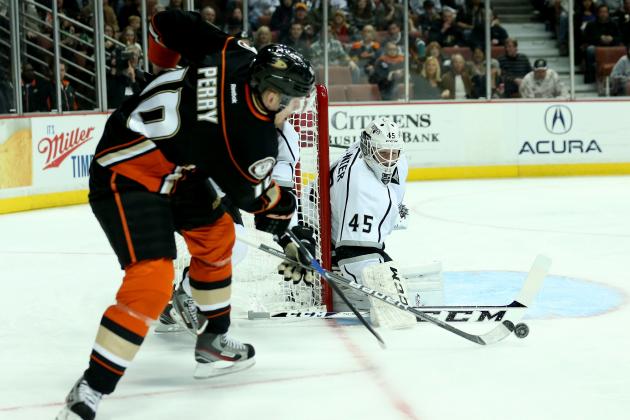 Stephen Dunn/Getty Images

It was just two seasons ago that Corey Perry led the NHL in goal scoring, finishing with 50 goals and earning himself the Hart Trophy. He followed up that season with his second-best goal-scoring season ever, notching 37.
This season, the Duck has been nearly silenced, with just one goal on 19 shots. He's tied for ninth on his team in goals, and his four assists, while important, do not make up for his failure to produce.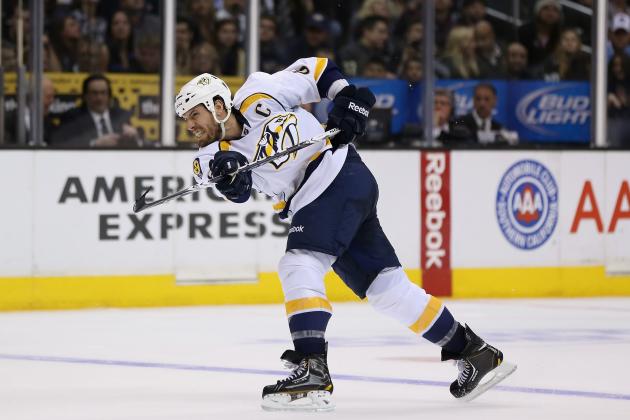 Jeff Gross/Getty Images

Over the past few seasons, Shea Weber has played his way into an argument for best defender in the league.
Admittedly, Shea Weber hasn't ever put up the dazzling numbers of someone like Ottawa's Erik Karlsson. Still though, the big man has put up at least 16 goals and 43 points in each of the last four seasons.
This year, though, Nashville's captain has been nonexistent in the attacking zone. The man with the booming slap shot has zero goals and zero assists in nine games.
While one has to lessen offensive expectations of a defenseman, nothing from a player of Weber's caliber is almost unbelievable.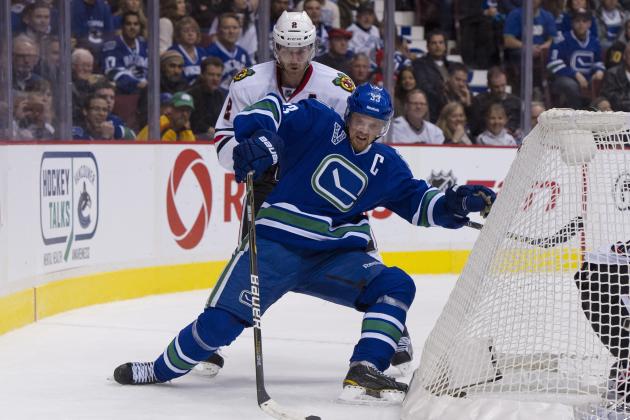 Rich Lam/Getty Images

Henrik Sedin has never been a superb goal scorer—he has more than a hundred fewer goals than his brother and linemate, Daniel. Still though, Henrik has managed at least 14 goals in each of the last five seasons, getting as many as 29 in 2009-10.
Henrik's always been more of a set-up man: He's led the league in assists each of the last three seasons, and he led the league in points during his Hart-winning 2010 season.
Sadly, this season, Henrik hasn't been doing much in either scoring column: Through nine games, he has no goals and six assists. Six points in nine games is not awful, but for a player capable of playing above a point-per-game pace, it's simply unacceptable.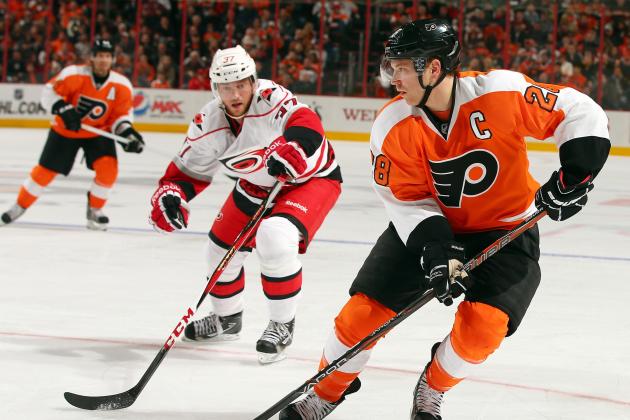 Elsa/Getty Images

Last season, Claude Giroux broke onto the scene as one of the league's elite scorers. His 28 goals and 65 assists were good for third in the league. Entering this season, expectations were high for the 25-year-old.
Fast forward 10 games, and Claude Giroux has accrued just three goals and three assists. The six points is not altogether bad, and is even good for second on the team in points, but if Giroux wants to remain among the league's elite forwards, he needs to step up his scoring immediately.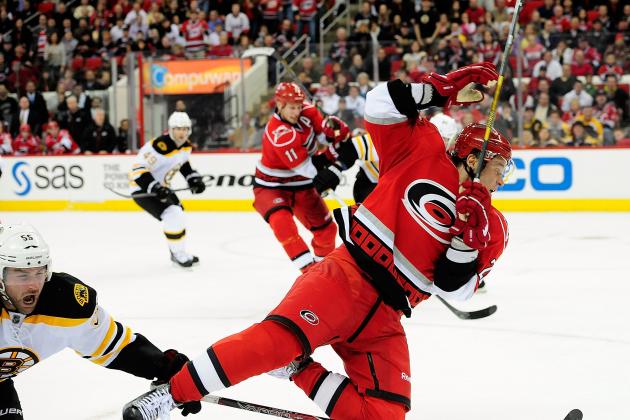 Grant Halverson/Getty Images

The Carolina Hurricanes made two huge additions during the offseason: They reunited Jordan Staal with his brother, Eric, via a trade with the Pittsburgh Penguins, and the next month, they went out and signed free agent Alexander Semin.
Staal was supposed to bring a two-way force to the team—a player who could not only kill penalties and keep up with the best of the best on defense, but who could also reliably go out and get some points. In six NHL seasons, Staal has hit 20 goals four times. Last season, his most impressive campaign, saw him score 25 goals and notch 25 assists in 62 games.
In Alex Semin, the Hurricanes were getting one of the most potent—albeit, incredibly volatile—scoring talents in the league. The long-time teammate of Alex Ovechkin has suffered from the same inconsistency that has plagued his fellow countryman. He has 20 goals in each of the last six seasons, including 34-goal, 38-goal and 40-goal seasons.
However, the Hurricanes have not yet received the players they expected.
While Staal is managing a point-per-game pace—extremely impressive by his standards—he still remains with just one goal, as does Semin. This does not come from lack of trying, as the two combine for 54 shots.
The team's goal-scoring is currently being taken care of by Eric Staal and Jefff Skinner, but they'll need the new arrivals to kick in some goals at some point soon if they really want to compete in the East.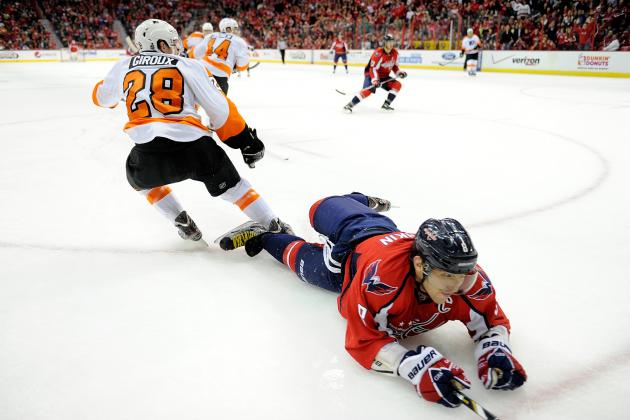 Greg Fiume/Getty Images

It wasn't so long ago that Alex Ovechkin was considered by many to be the best player in the league.
Washington's stud had managed five 50-goal seasons before the age of 25. He even scored an impressive 65 goals in 2007-08, a feat no one has since matched. He's the guy that won the Calder Trophy (rookie of the year honors) over Sidney Crosby.
Despite the fact that Ovi hasn't managed 40 goals in either of the last two seasons, it's hard not to have high expectations for the dazzling Russian.
Unfortunately, Ovi continues to slide. After 10 games, he is fifth on his team with five points. He has just two goals and a minus-four rating.
Ovechkin's inexplicable decline seems to still be in full effect, and that's nothing but bad news for the Washington Capitals organization as a whole.