Handicapping 6 Potential MLB Catching Battles in Spring Training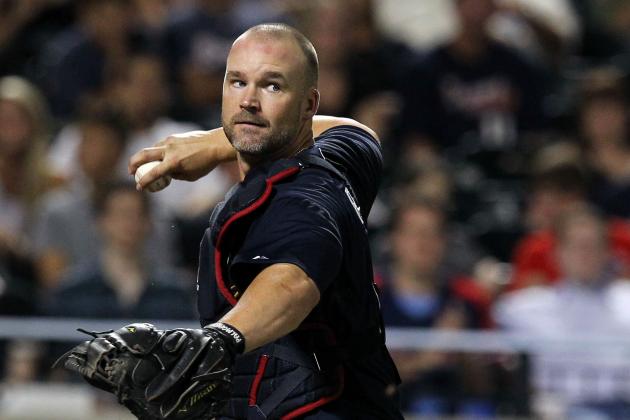 Brad Penner-USA TODAY Sports
New Red Sox catcher David Ross could push Saltalamacchia for playing time.
Catching tandems who share close to an equal share of the workload behind the plate are becoming more and more common these days. Of the 115 major leaguers who had at least 500 at-bats in 2012, only five were catchers.
Three of those five - Joe Mauer, Buster Posey, and Carlos Santana - played several games at first base and/or designated hitter so their respective team could keep their bat in the lineup on days when their knees were getting a rest from nine innings of squatting behind the plate.
There is still no question that, barring injury, those three guys will be catching more often than their backup will be. Several teams in baseball, however, will head into Spring Training without a clear-cut No. 1 catcher, meaning that we could see some heated battles for the majority of playing time between potential catching tandems.
With pitchers and catchers set to report to Spring Training next week, it's a good time to take a look at some potential competitions…
Begin Slideshow

»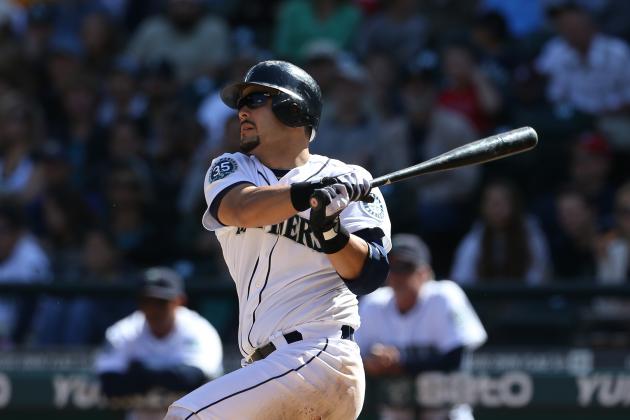 Otto Greule Jr/Getty Images
Montero should have a few months to prove himself behind the plate.
Let's get this out of the way. Jesus Montero is not a good defensive catcher. In fact, even calling him a "catcher" is a bit of a stretch. But as the Mariners continued to acquire hitter after hitter this offseason who all seem to be much better fits as designated hitters than anywhere else on the field, it became apparent that they weren't ready to pull the plug on the Montero experiment behind the plate.
The fact that the 23 year-old Montero had an .841 OPS in his 56 games as a catcher in 2012 compared to a .574 OPS in 78 games as a designated hitter also very likely played a part in the decision.
Regardless, the team's "Catcher of the Future" and 3rd overall pick in the 2012 draft, Mike Zunino, could be ready to step in at some point in 2013.
Still, the M's might want just a few more months to evaluate Montero before completely ruling him out as a big league catcher.
Teaming up with Montero will be Kelly Shoppach, who joins his fifth team since entering the league in 2005. The 32 year-old has thrown out 37 percent of attempted base stealers over the past two seasons and will be a good veteran presence to have around in case any of the extremely talented Mariners' pitching prospects arrive in the big leagues in 2013.
Montero was much better against left-handed pitchers in 2012 and Shoppach has an .868 OPS versus left-handed pitchers, so a platoon doesn't make a lot of sense. If Montero can prove to be at least adequate defensively, he'll get the bulk of starts so the M's can keep his bat in the lineup without having to bench one of their many other designated hitter options.
It should be noted that Montero's name just been linked to the Biogenesis clinic in South Florida known for distributing performance-enhancing drugs to athletes.Stay tuned.
Prediction: Montero 50 percent / Shoppach 35 percent / Zunino 15 percent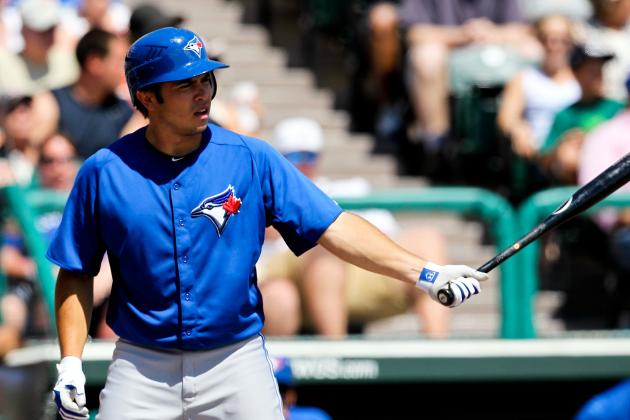 Daniel Shirey-USA TODAY Sports
d'Arnaud could be the Mets' starting catcher by mid-May.
Although the Mets will say that Travis d'Arnaud has a chance to make the Opening Day roster, they really have no intention of starting the rookie's arbitration clock early in a season where they're probably the third or fourth best team in their division. There's also a lot of distance between them and the top two teams in the NL East.
Acquiring veteran John Buck in the same deal that brought them d'Arnaud from Toronto gives them a veteran stop-gap for April and at least part of May. They will get a long look at their "Catcher of the Future", though, in the spring before they say goodbye for a little while.
The 23 year-old d'Arnaud, who is considered the top catching prospect in baseball, will likely spend the first six to eight weeks with Triple-A Las Vegas. In 67 games there in 2012 while they were Toronto's affiliate, d'Arnaud had 16 homers and a .975 OPS. The numbers are inflated in a hitter's park and in a hitter's league, but don't let that fool you. He's a legitimate power threat who'll help the Mets on offense while providing solid defense behind the plate.
Once d'Arnaud arrives, the Mets could still ease him in while he shares time with the 32 year-old Buck, a very good defender who gives the Mets power at the bottom of the lineup. A combined 25 home run season from the duo wouldn't be a surprise.
Prediction: Buck 50 percent / d'Arnaud 45 percent / Anthony Recker 5 percent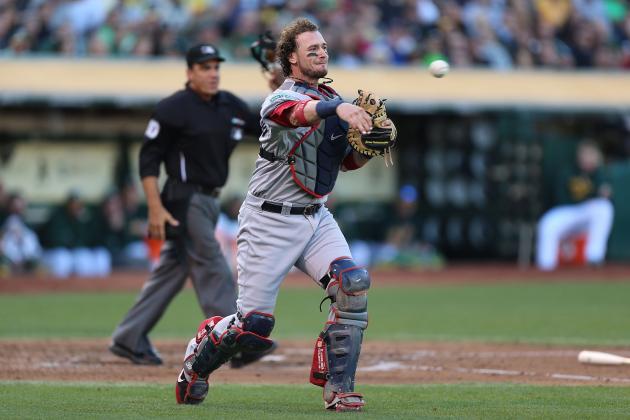 Jed Jacobsohn/Getty Images
Saltalamacchia goes into Spring Training as the starter but Ross could change that..
David Ross, who is considered by many to be the top backup catcher in baseball, signed a two-year deal with Boston this past November after four terrific seasons in Atlanta. As Brian McCann's backup, he wasn't needed often - he averaged 57 games per season between 2009 and 2012 - so the soon-to-be 36 year-old likely has limited wear and tear on his body and could handle 80-90 starts, if necessary.
Although the sample size was small, Ross had little trouble with right-handed pitching (.818 OPS) or left-handed pitching (.712 OPS) in 2012 and his career splits indicate that he won't be overmatched against either side.
Defensively, he is one of the best in the game and also provides the leadership and game-calling skills that could help Jon Lester rebound from a disappointing 2012 and John Lackey get his career back on track after a disastrous 2011 that ended in Tommy John surgery.
While it's almost a sure bet that Saltalamacchia will ride the pine against left-handed pitching —he had a .494 OPS against them last season—how much he plays against right-handed starters is in question. The expectation is that he'll get the majority of the starts when a right-handed starter is on the mound. When hitting from the left side of the plate in 2012, the 27 year-old switch-hitter had a .779 OPS and 24 home runs.
It's quite possible, though, that Ross brings too much to the table for this to be a straight platoon. Expect something closer to a 50-50 time share.
Prediction: Saltalamacchia 53 percent / Ross 47 percent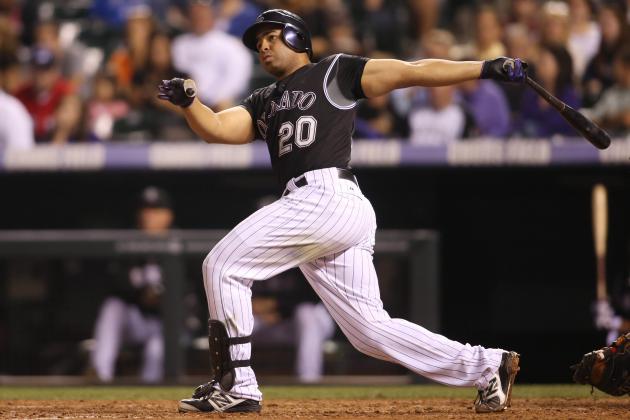 Chris Humphreys-USA TODAY Sports
Rosario can hit the ball out of the yard but might not have what it takes defensively.
The Fantasy Baseball world is wild about Wilin Rosario, who hit 28 home runs in 117 games as a rookie in 2012. Playing at hitter-friendly Coors Field, he projects to hit 30-plus home runs per season if he plays regularly.
The problem is that he might not play regularly. Being a major league catcher involves much more than just hitting home runs, and the 23 year-old Rosario has huge problems defensively.
In fact, he might have to work on those issues in the minors while 34 year-old Yorvit Torrealba shares catching duties with 36 year-old Ramon Hernandez, who has never been very good defensively and didn't hit in his first year with the Rockies (.601 OPS in 52 games).
Since the Rockies probably won't be very good in 2013, it might make the most sense to have Rosario learning on the job in the majors with Torrealba, who is defensively adept, mentoring him.
Prediction: Rosario 55 percent / Hernandez 30 percent / Torrealba 15 percent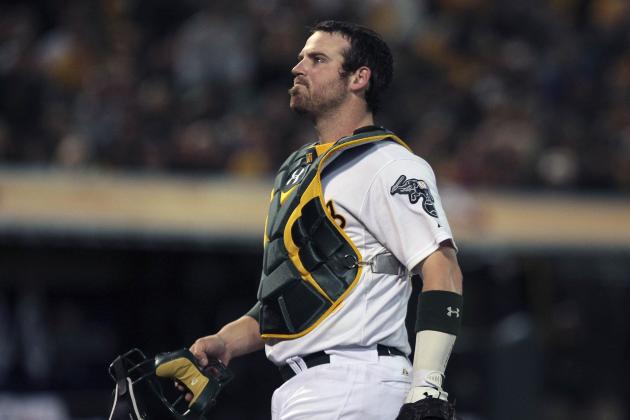 Kelley L Cox-USA TODAY Sports
Norris should get most of his starts when a left-hander is on the mound.
They may not be the greatest defensive duo, but John Jaso and Derek Norris could certainly be one of the more productive hitting tandems in the league in 2013. Jaso's .850 OPS was second in the AL among catchers behind Joe Mauer, who was only behind the plate in approximately half of his starts.
Jaso's 2012 splits were extreme (.927 OPS versus right-handed pitching, .393 OPS versus left-handed pitching) while Norris struggled against both lefties and righties during his rookie season. The right-handed hitting Norris has developing power, however, and could eventually prove to be a force against left-handed pitching.
A straight platoon is very likely, although a likely regression from the 29 year-old Jaso combined with the potential improvement from Norris in his second big league season could have this tandem closer to a 50/50 time share by season's end.
Prediction: Jaso 60 percent / Norris 40 percent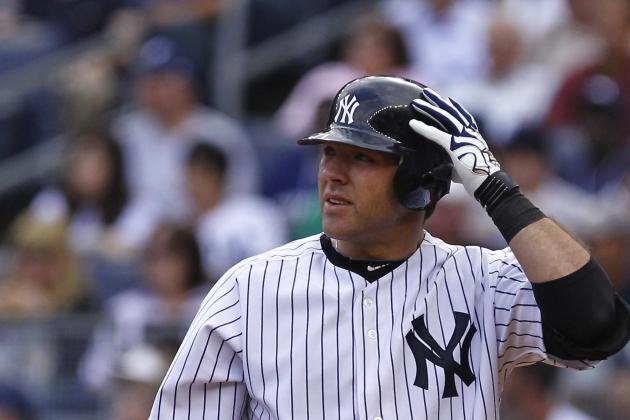 Michael L. Stein-USA TODAY Sports
Romine has a legitimate chance for playing time in 2013.
After losing Russell Martin, who hit 39 home runs in his two seasons in New York, to free agency, the Yankees have apparently decided to stand pat and go with a group of right-hitting catchers to hold down the fort until Austin Romine is ready to take over. That is, if Romine proves he's ready to be a big league catcher at some point in 2013.
The No. 9 prospect in the organization heading into the 2012 season, according to Baseball Prospectus, Romine missed most of the season with a lower back injury and is almost certain to start the 2013 season in Triple-A, where he's logged just 21 games in his career. It's hard to know where he's at developmentally since he was barely on the field last year, but considering his competition, you can't completely rule him out from making the Opening Day roster.
Stewart, a 30 year-old journeyman who has played 122 games in the majors over the past two seasons between the Giants and Yankees, is the likely front runner for the starting job. He won't provide much offense (career .583 OPS in the majors), but his solid defense and experience behind the plate could give him the edge in this weak group.
Cervelli fell out of favor with the team in 2012 after spending much of the previous three seasons on the major league roster. The 26-year-old made a total of two plate appearances in the big leagues and didn't hit much in the minors (.657 OPS in 99 Triple-A games). He's also likely to be investigated by MLB after his name appeared on a document linking him to the controversial Biogenesis clinic in South Florida.
Non-roster invitee Bobby Wilson, another journeyman who has spent time in the majors as a backup with the Angels, is also in the mix to help hold down the fort until Romine or someone else not currently in the organization can take over at some point during the season.
Prediction: Romine 40 percent / Stewart 35 percent / Cervelli 20 percent / Wilson 5 percent