Updated Grades for Every Impact NBA Rookie: Is Damian Lillard Still on Top?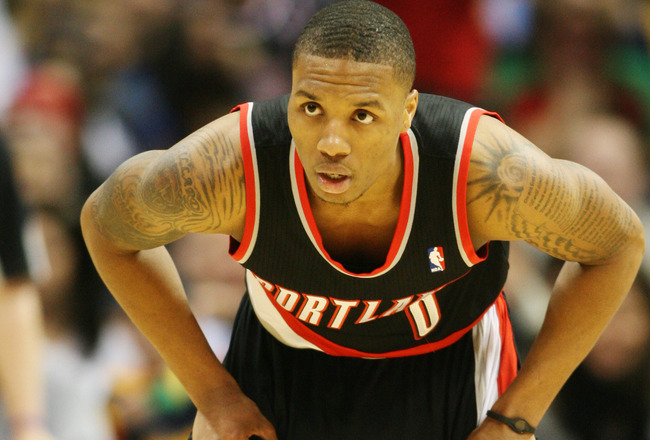 USA TODAY Sports
The 2012-13 NBA rookie class has been entertaining, inspiring and confusing all at once.
While many show flashes or stretches of excellence, several still struggle with consistency in their professional roles.
Every team evolves as the season advances, and it's up to rookies to adjust to the fluctuating circumstances.
As we update our grade book for each impact rookie, we examine their progress in recent weeks and see whether they met expectations.
Who received high marks, and who's disappointing?
* Grades are based on play since January.
* "Impact Rookie" defined as rookie who's played in 35-plus games with at least 17 minutes per game.
* Exception is Jared Sullinger, who is out for season due to back surgery (via NBA.com).
15. Austin Rivers, New Orleans Hornets G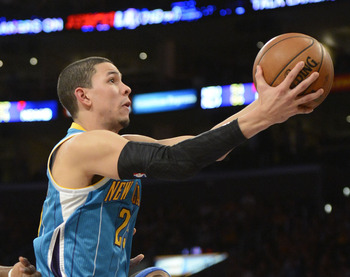 Richard Mackson-USA TODAY Sports
Stats: 23.1 MPG, 6.0 PPG, 2.2 APG, 34% FG, 31% 3PT
What have you done for me lately? Nine points, four assists in 22 minutes vs. MIN (Feb. 2)
Out of all the rookies getting 20 minutes or more per game, New Orleans Hornets guard Austin Rivers is the least productive.
He hasn't shown the ability to direct traffic and pass at a high level, and he hasn't been dangerous at all on the wing.
Whether it's off the dribble or a catch-and-shoot chance, Rivers simply can't put the ball in the hoop to save himself.
He's connected on just one three-pointer in the past month. To be fair, he doesn't shoot a ton of triples, but Monty Williams would love to see him make more than one per month.
Updated Grade: D
14. Terrence Ross, Toronto Raptors SG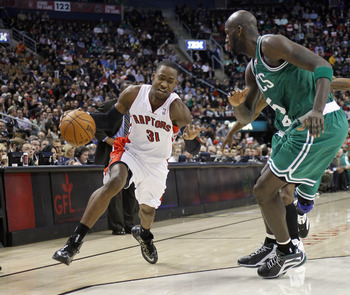 John E. Sokolowski-USA TODAY Sports
Stats: 17.5 MPG, 6.8 PPG, 2.2 RPG, 41% FG, 33% 3PT
What have you done for me lately? Three straight games with multiple triples (Jan. 23, 24 and 26)
Terrence Ross' involvement in the Toronto Raptors' game plan has fluctuated throughout the season.
That's a tough way for a volume scorer to establish himself and truly find his role on the team.
As recently as two weeks ago, he was a major factor in the Raptors offense. Then he went cold from the outside and had nothing to fall back on.
One part of the problem is his inability to draw fouls. In the past month, Ross has taken a grand total of two free throws, even though he's routinely getting 15 to 20 minutes per game.
Updated Grade: C+
13. Jae Crowder, Dallas Mavericks SF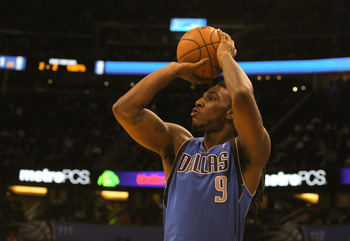 Kim Klement-USA TODAY Sports
Stats: 17.3 MPG, 5.5 PPG, 2.4 RPG, 1.2 APG, 37% FG, 32% 3PT
What have you done for me lately? Back-to-back double-digit-scoring nights (Feb. 1 and 4)
In recent weeks, Dallas Mavericks forward Jae Crowder has been a bit more economical with his three-point shots.
The selectiveness has paid off for both the rookie and the team, as he's converting a higher percentage and the team is more competitive. The Mavs are 4-9 when he attempts four or more threes.
Since Dirk Nowitzki returned, Crowder has done a little less rebounding, but he's still active as ever on defense.
If Crowder saw more consistent playing time, we might be talking about him as a top-10 rookie. But his usage is Rick Carlisle's prerogative.
Updated Grade: B-
12. Michael Kidd-Gilchrist, Charlotte Bobcats SF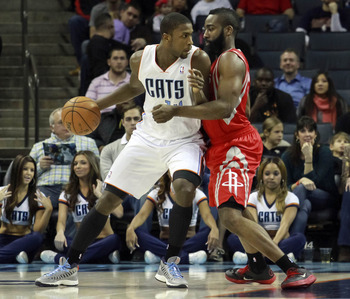 USA TODAY Sports
Stats: 26.6 MPG, 9.6 PPG, 5.9 RPG, 47% FG
What have you done for me lately? Four steals vs. SAS (Jan. 30)
Michael Kidd-Gilchrist is listed as "day-to-day" in the wake of the concussion he suffered against the Houston Rockets, and Charlotte Bobcats fans hope he returns playing better than he did prior to the incident.
He's been aggressive on both ends of the floor this season and proved to be one of Charlotte's best players in transition. However, there have been a handful of games in which he's come up small offensively when the team could use some production.
Despite regularly getting 23 to 25 minutes per game, Kidd-Gilchrist hasn't scored in double digits or hauled in more than five rebounds since Jan. 14.
Updated Grade: B
11. Jeff Taylor, Charlotte Bobcats G/F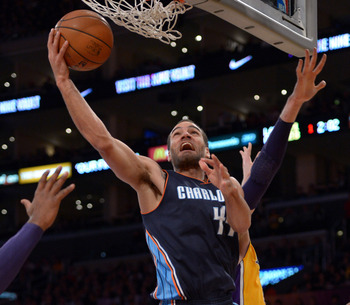 USA TODAY Sports
Stats: 22.0 MPG, 6.7 PPG, 2.1 RPG, 43% FG, 37% 3PT
What have you done for me lately? 64 percent shooting in February (three games)
Not only is Jeff Taylor shooting 64 percent from the field in February, he's also drilling 60 percent of his three-point attempts.
After going 10 games without notching double digits, the Charlotte Bobcats wing eclipsed 10 in three straight games.
Taylor's offensive output is largely dependent on his outside shooting rhythm, so when the Cats aren't moving the ball quickly, his usefulness diminishes.
It's unlikely he'll keep up his scorching pace, but if Charlotte can get him six to eight open looks per night, he won't disappoint.
Updated Grade: B+
10. Moe Harkless, Orlando Magic SF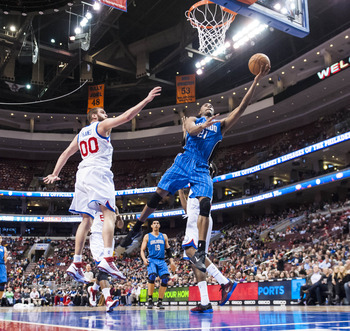 USA TODAY Sports
Stats: 18.8 MPG, 4.8 PPG, 3.8 RPG, 46% FG
What have you done for me lately? Six offensive boards vs. MIL (Feb. 2)
Over the last couple weeks, forward Moe Harkless has shouldered an increased workload for the injury-plagued Orlando Magic, and the new role has delivered mixed results.
He's shown he can crash the boards extremely well as a small forward, and he also has great hands on defense.
Harkless' long-distance shooting, on the other hand, could use an upgrade. He's scoreless from beyond the arc in his last five games, and he has yet to prove that he can consistently step out and hit those shots.
That doesn't mean he can't fill up the hoop elsewhere; he's a weapon in the open floor, scores off cuts in the half court and takes advantage of the offensive glass.
Updated Grade: B
9. Tyler Zeller, Cleveland Cavaliers F/C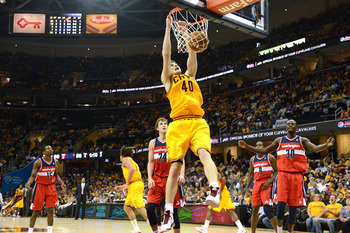 Jason Miller/Getty Images
Stats: 27.4 MPG, 8.1 PPG, 6.1 RPG, 41% FG
What have you done for me lately? 16 points, five assists vs. GSW (Jan. 29)
Cleveland Cavaliers center Tyler Zeller has struggled offensively for several weeks despite getting ample playing time and touches.
Regardless, he shows promise as a key piece of the Cavs' frontcourt for the future. Zeller has glimpses of sensational play, such as his 16-point, five-assist game against the Golden State Warriors or his 13-point, 14-rebound outing against the Utah Jazz.
He's held his own since Anderson Varejao left the lineup, proving that he's one of the best rookie post players. His athleticism, age and upside didn't scream "lottery" in 2012, but anyone who's seen him play knows he can compete with any young talent in the league.
Updated Grade: B-
8. Kyle Singler, Detroit Pistons SF
USA TODAY Sports
Stats: 28.1 MPG, 8.7 PPG, 3.9 RPG, 44% FG, 39% 3PT
What have you done for me lately? 20 points, eight rebounds vs. CLE (Feb. 1)
After a dismal December, Detroit Pistons forward Kyle Singler bounced back and has played well since the calendar turned.
He was bound to pull out of his slump because he works so hard to get open in half-court and transition scenarios.
No rookie cuts like this guy. His timing is exceptional, and he fills the lane quickly on the fast break.
Sure, he's a matchup problem defensively, but his outside shooting has picked up significantly over the past few weeks.
Updated Grade: B
7. Alexey Shved, Minnesota Timberwolves G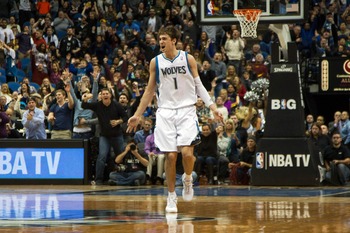 Brace Hemmelgarn-USA TODAY Sports
Stats: 28.1 MPG, 10.8 PPG, 4.6 APG, 31% FG, 32% 3PT
What have you done for me lately? Five three-pointers vs. LAL (Feb. 1)
Without Alexey Shved's playmaking prowess, the Minnesota Timberwolves would be in worse shape than they already are.
That being said, Rick Adelman would love to see more long-distance consistency from the Russian rookie. Shved has been a streaky shooter since joining the NBA ranks, and big shooting nights have been rare of late.
In the pick-and-roll, Shved doesn't fare any better scoring-wise, but he's a brilliant passer. His size, length and dexterity allow him to drop pinpoint pocket passes when his comrades roll to the hoop.
Ultimately, his drop in shooting efficiency since New Year's will affect his updated grade.
Updated Grade: B
6. Harrison Barnes, Golden State Warriors SF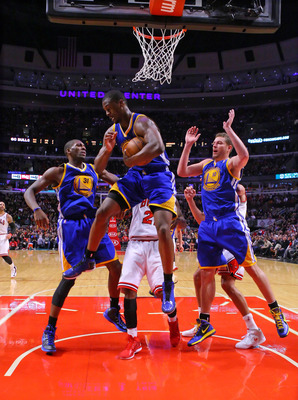 USA TODAY Sports
Stats: 25.5 MPG, 9.4 PPG, 4.2 RPG, 45% FG, 37% 3PT
What have you done for me lately? 21 points, eight rebounds vs. PHX (Feb. 2)
No rookie forward has the dual-threat ability to attack the hoop and toss in threes like Golden State Warriors swingman Harrison Barnes.
Recently, this versatility has been on full display. He's mixing his long-range shooting with well-timed cuts to the rim.
Barnes is feasting off his sharp-shooting teammates stretching the defense. The extra space allows him to shoot 79 percent off cuts, according to Synergy Sports.
Once his defensive awareness catches up with his athleticism, capability and effort, he'll be one of the most dangerous next-generation forwards in the game.
Updated Grade: B+
5. Dion Waiters, Cleveland Cavaliers SG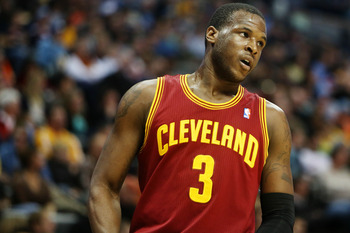 USA TODAY Sports
Stats: 29.8 MPG, 14.3 PPG, 3.2 APG, 39% FG, 31% 3PT
What have you done for me lately? 9-of-14 shooting vs. CHA (Feb. 6)
Dion Waiters' night-to-night effectiveness and productivity is partially based on the whims and ball domination of Kyrie Irving, but he's had a handful of good shooting outings over the past few weeks.
January was his best shooting month of the season, as he shot 42 percent from the field and 83 percent from the charity stripe.
Waiters' three-point shooting remains shaky, but that's mostly due to his bold shot selection.
When he gets catch-and-shoot opportunities and squares up, he's actually quite reliable. He's converting 43 percent of his spot-up three-point chances, according to Synergy Sports.
Updated Grade: B+
4. Andre Drummond, Detroit Pistons F/C
Anthony Gruppuso-USA TODAY Sports
Stats: 19.7 MPG, 7.3 PPG, 7.5 RPG, 1.7 BPG, 59% FG
What have you done for me lately? 18 rebounds (nine offensive, nine defensive) in 28 minutes vs. MIL (Jan. 29)
According to a report by the Detroit Free Press, Andre Drummond left the Detroit Pistons' matchup with the Brooklyn Nets on Wednesday due to a back injury.
It's unfortunate for Detroit that his back is giving him problems, because he was on another one of his rebounding hot streaks. Drummond pulled down 32 boards combined in back-to-back games to end January, and he also grabbed 11 rebounds in 23 minutes against the Los Angeles Lakers on Feb. 3.
His rebounding and shot-blocking numbers are turning heads, but they're not the only tasks he can perform. Drummond has surprised us with his ball-handling skills and court awareness to receive passes and finish plays.
Updated Grade: A
3. Bradley Beal, Washington Wizards SG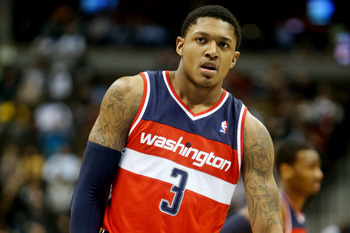 USA TODAY Sports
Stats: 31 MPG, 13.2 PPG, 2.5 APG, 39% FG, 36% 3PT
What have you done for me lately? Four blocks vs. MIN (Jan. 25)
His sprained wrist has sidelined him for the past week, but prior to the injury, Washington Wizards shooting guard Bradley Beal was playing the best basketball of his rookie campaign.
John Wall's midseason return proved to be convenient for Beal, as the rookie found more favorable long-range opportunities. Wall's speed puts pressure on the defense, and Beal holds up his end by knocking down the triples. His rise from mediocrity included a three-game stretch of 13-of-19 shooting from downtown.
The Wizards stumbled through the first couple months of the 2012-13 season and could barely muster one win per month. But in the 10 games that Beal and Wall played together, Washington was 6-4.
Updated Grade: A-
2. Anthony Davis, New Orleans Hornets F/C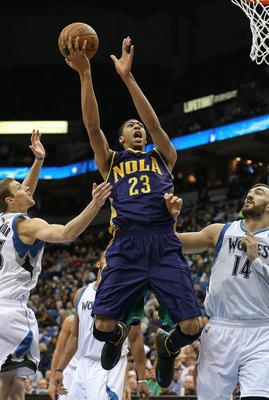 USA TODAY Sports
Stats: 28.4 MPG, 13.0 PPG, 7.4 RPG, 1.8 BPG, 53% FG
What have you done for me lately? 18 points in 29 minutes vs. MIN (Feb. 2)
Anthony Davis' point production may be down lately, but he hasn't had a "bad shooting night" (worse than 40 percent) in a month.
When you watch how he plays on the road, you wouldn't guess he's a 19-year-old rookie. He plays with confidence and aggression on both ends of the floor.
The only knock on Davis in his recent performances is foul trouble. Better positioning could have avoided a pair of five-foul evenings, which would have kept him in the games longer and given his New Orleans Hornets a better shot at winning.
He's still raw, but unlike most other young post players, he doesn't need a bevy of rebounds to post high point totals. That's a great sign for his future, because once his board averages hit double digits, he'll be even more of a force offensively.
Updated Grade: B+
1. Damian Lillard, Portland Trail Blazers PG
Greg Smith-USA TODAY Sports
Stats: 38.6 MPG, 18.4 PPG, 6.5 APG, 42% FG, 36% 3PT
What have you done for me lately? 23 points, eight assists vs. UTA (Feb. 2)
Portland's star rookie Damian Lillard is regaining the outside shooting form we saw from him in autumn, and that could be bad news for Trail Blazers opponents this spring.
When he takes care of the ball, he's one of the best players on the court. He bounced back from a five-turnover game against the Minnesota Timberwolves (and a game-worst plus/minus of minus-eight) to commit zero turnovers against Dallas (with a game-high plus/minus of plus-eight).
His jumper wasn't falling as much as he would have liked in January, but he continued to attack and get teammates involved.
Now that his shot is returning, February could be the best month of his young career.
Updated Grade: A
Keep Reading