Ways James Harden Transforms the Houston Rockets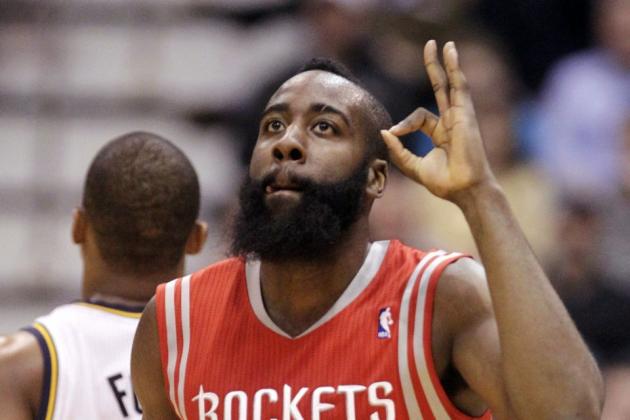 AP Photo/Rick Bowmer
The moment James Harden joined the Houston Rockets, everything changed.
The squad of young turks, helmed by erstwhile overnight sensation Jeremy Lin, were all still learning the game at the NBA level. As a result, they looked destined for a lottery pick. A .500 season was perhaps a pipe dream, but it was the best anybody was hoping for.
The Bearded One has drastically altered those projections.
Lin told the Houston Chronicle, "[Harden]'s our leader. He's our best player. We feed off him…if you look at our season as a whole, we've surpassed a lot of people's expectations, and he's a big part of it."
Watching him sometimes reminds me of the bus in the movie Speed: compelled to go faster than 50 MPH, sometimes careening out of control, but heart-poundingly thrilling to watch and root for.
Harden's energy and enthusiasm have imbued the Rockets and the city of Houston with a spirit of fun and excitement not seen since a healthy Yao Ming and Tracy McGrady were wearing the red and white. In addition, Harden's impressive melange of skills have transformed the Rockets into serious, even likely, playoff contenders.
Begin Slideshow

»
The Rockets win when their transition game is working. The de facto leader of that transition game is Harden.
Backcourt mate Jeremy Lin could certainly run a credible transition game, but Harden extends the Rockets transition offense—simply by deciding to.
You see, the guy turns ordinary plays into fast breaks, mostly by sheer force of will. And it doesn't just happen once in a while—it's likely to happen a dozen times a game.
Check out the play against the Philadelphia 76ers at left. Harden is facing a 2-on-3 here. By all rights this should turn into a half-court possession. The prudent thing to do is pull up and run a set play.
James Harden is a lot of things. Prudent isn't one of them.
The Beard simply would not let this possession be slowed, despite Jrue Holiday's hypervigilance, despite the Sixers converging on him. He busts a move on Jrue that seriously makes me want to write a poem.
Holiday, a quick defender with a 6'8" wingspan, is playing solid D here, trying to keep Harden from getting the good angle to the basket. But friends, if someone pulls what Harden pulls on this play, you could epoxy yourself to him, and he'd still flush on you. And he pushes the play like this on a nightly basis, multiple times a night.
With Harden leading the way, the Rockets play true to their name. Harden participates in more possessions per 48 minutes than any other starter in the NBA. He's got the motor, the moves and the muscle to be the pace car for the Rockets' superb transition play.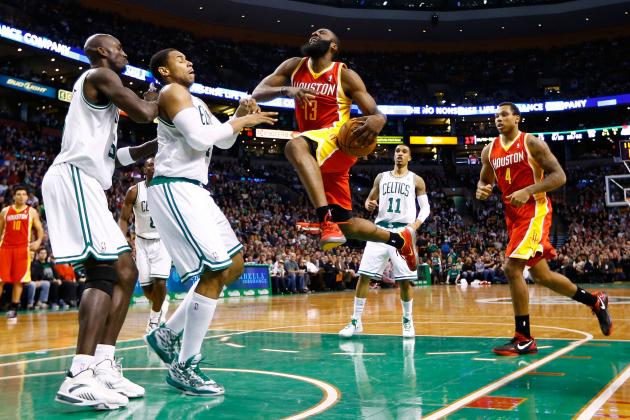 Jared Wickerham/Getty Images

The Rockets are often less than inspiring in the half-court set—unless it's Harden running an isolation play.
Recently voted Sports Illustrated's third-best one-on-one player in the NBA, I truly and honestly get nervous for the defense when Harden has his man alone at the top of the key. One on one, Harden is basketball's version of Evel Knievel, caring nothing about his body and pulling off unpredictable, and often death-defying, stunts as he launches himself toward his destination—the rim.
I've never been a huge isolation fan unless it's a game-ending shot. So I've been happy to see the league increasingly move away from isolation play for the last decade.
But Harden is one of the few guys I actually love to watch in iso. He draws every defender's attention and still manages to emerge with points the majority of the time.
I would like to see Houston move more when Harden is in his iso set to help clear room for him. Also, if Lin develops a more consistent jumper, he can further confuse and frustrate defenders by choosing to dump it off during his drives.
But that's for a different article. For now, you think you know drama, TNT? The best drama you'll ever broadcast is a Harden isolation play.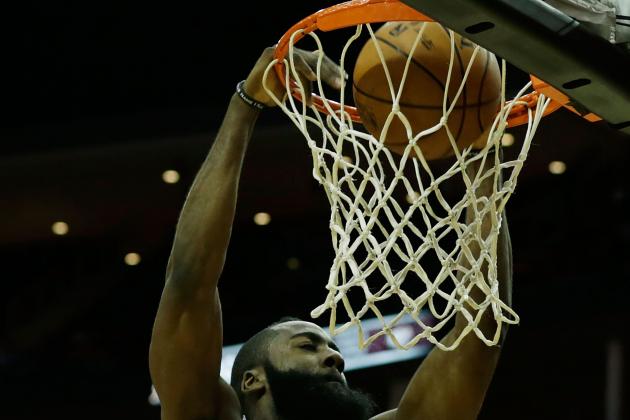 Scott Halleran/Getty Images

As my father used to say, defense may win championships, but you can't win if you don't score.
The Rockets in general don't play much defense, but man do they score. And leading the way is Harden.
Harden's defense won't remind anybody of Clarence Darrow, but his game features more offense than Andrew Dice Clay at a Weight Watchers meeting.
Harden is fifth in the league at 25.8 points per game. He also leads the league in getting to the line with an incredible 10.1 attempts per game. And he's a credible threat to stick a three-pointer too.
I've said this before: dropping 25 points on the opposition, game in and game out, is probably the most difficult and valuable commodity in the NBA. Only five guys in the league are doing it, and the other four are arguably the league's top four players: Kevin Durant, Kobe Bryant, Carmelo Anthony and LeBron James.
How does this transform the Rockets? Teams have to stop Harden. That means everybody else is more open.
And since Harden is unselfish with the ball—he, Kobe and LeBron are the only three players in the league averaging 25 points and 5 assists a night—that means he finds the open guys too.
If the rest of the team hits their shots, the Rockets with Harden are a tough out.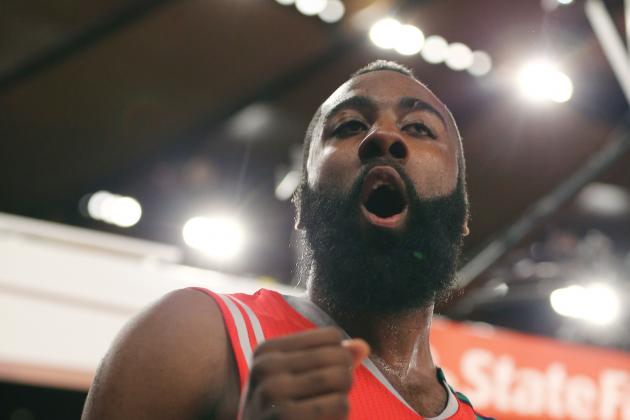 Elsa/Getty Images

It's difficult to win in the NBA without a superstar, a guy you know will deliver night after night.
But it's well-nigh impossible to win a championship without one.
By my count, fewer than five teams have ever won a Larry O'Brien Trophy without having a player named to the All-NBA First Team during their careers. Obviously having a superstar is not a requirement, but history tells us it certainly appears to be a harbinger.
Simply put, Harden's presence transformed the Rockets from a rebuilding team to a rebuilt one, and one that has to be in the contender conversation sooner rather than later.
I believe all Houston has to add next to Harden is a post threat and a top-five defender and they'd have as good a shot as almost anyone in the West at winning it all.
Plus, having Harden the superstar on board the Rockets is a major attraction for free agents who not only want to earn, but who want to earn a ring. And often those kinds of free agents are the best ones available.
Scott Halleran/Getty Images

If the regular season ended today, the Rockets would be the eighth seed in the playoffs. They're winning at a clip no one expected before Harden joined the squad.
Simply put, Harden makes the Rockets a plus-.500 team.
He is fifth in the league in win shares. He's fourth in the league in offensive win shares. Perhaps most telling are his crunch-time stats.
Even though his shooting percentage goes down in the clutch, from 44 percent to 34, his free throws go through the roof. For the rest of the game, Harden averages 8.1 free throws made per 36 minutes. In crunch time, that stat skyrockets to 14.0. Also consider that his plus-minus of 1.6 climbs to 4.7 when the chips are down.
Further, Harden's usage rate climbs from 29.1 during the rest of the game to 36.7 when the pressure's on. That means he's not afraid to take the shots that will make or break the game.
He's not yet mastered the game-winning shot, perhaps, but Harden knows how to get to the line when it counts—and sink his shots. It's no surprise then that Houston, its January losing streak notwithstanding, has won many more games down the stretch than last year.
Wanna have fun? Redo the Thunder/Rockets trade on Trade Machine. Because of the Thunder's cap situation, and the fact that Cook is no longer with the Rockets, you have to trade Kevin Martin and Jeremy Lamb for James Harden and Cole Aldrich straight up.
ESPN's prediction? It would cost the Rockets five victories at this point in the season.
I loathe quoting the troubled Charlie Sheen (even though I loved Two And A Half Men while he was there), but simply put, Harden's presence means winning.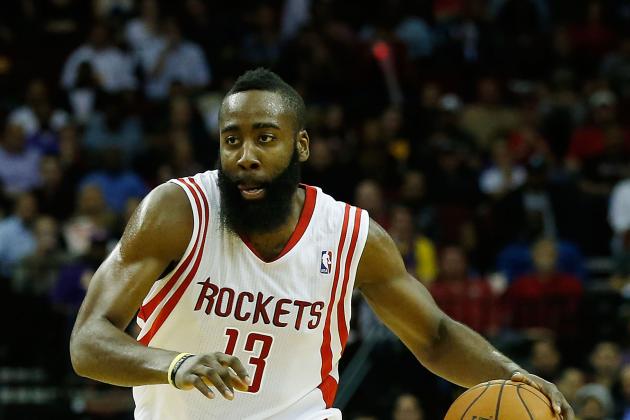 Scott Halleran/Getty Images

Leadership is an ineffable quality, but the great ones stamp the team with their particular style of greatness.
Perhaps what makes Harden most exceptional to me is the fact that he brings it not only every night, but every play. He's no defensive guru, but even on the other side of the ball he is dancing around like Sugar Ray Leonard, trying to anticipate where the ball will go.
And on offense, his hell-for-leather style is exhausting to watch, let alone match.
In the real world, it's no coincidence that the guys who show up early and leave late are the same guys who are in leadership positions.
Nobody is going to out-hustle James Harden. And in a league of world-class athletes, that's saying something.
The Rockets are full of young guns, but with Harden to pace them, the guns fire on all cylinders.