Tampa Bay Lightning: 5 Lessons Learned from Lightning's Start to 2013 Season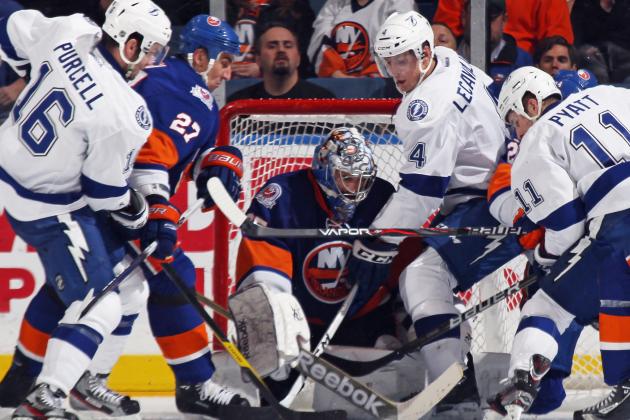 Bruce Bennett/Getty Images
The Tampa Bay Lightning are off to a hot start in 2013 on the heels of a disappointing 2012 campaign.
Many experts around the NHL didn't expect the Tampa Bay Lightning to be contending for a Southeast Division crown, and even fewer could have expected the start the Bolts have put together.
The Lightning have surprised many by jumping out to the top of the Southeast Division and are near the top of the Eastern Conference. With almost a quarter of the season already gone, there are a few things we have learned from the Lightning's hot start to the season.
Begin Slideshow

»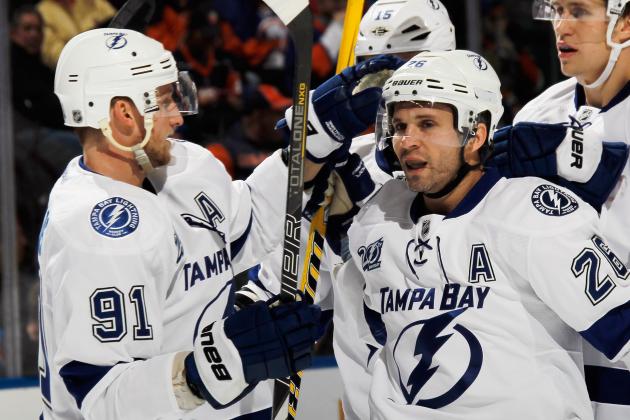 Bruce Bennett/Getty Images
The league's best goal scorer, Steven Stamkos, is a big part of the league's best offense.
Arguments can be made that the Pittsburgh Penguins, Philadelphia Flyers or Vancouver Canucks have the most potent offense in the league. But the Lightning have silenced everyone with their torrid start.
The league's best offense has scored five or more goals in five different games this season. That includes an eight-spot against the Winnipeg Jets on Feb. 1.
The Lightning can't expect to put up five goals every game, but if they can put up three per game, chances are good that they will pick up more wins than losses.
Elsa/Getty Images
Martin St. Louis is aging, but he certainly isn't old.
Aging stars like Jaromir Jagr, Teemu Selanne, Martin Brodeur and Martin St. Louis have encountered just about everything in their hockey careers. All of those players endured the last lockout-shortened season and appear to have used that experience to their advantage—especially St. Louis.
The 37-year-old winger is one of the best scorers in the league and is a crucial piece in the success of sniper Steven Stamkos. St. Louis is averaging well over one point per game.
He has recorded over 20 minutes of ice time in all but one game this season. Those quality minutes are a big factor in the Lightning's success.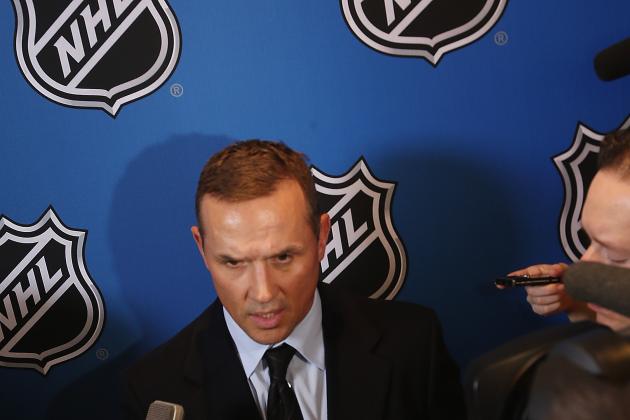 Bruce Bennett/Getty Images
Steve Yzerman is pulling all of the right strings for the Lightning in 2013.
Tampa's last few seasons have been a roller coaster. In 2011, the Bolts were one goal away from the Stanley Cup Final. In 2012, the Lightning finished eight points out of the final playoff spot in the East.
General manager Steve Yzerman had some difficult decisions to make and large holes to fill. He brought in veteran defensemen to help address injury issues.
He also took a risk in bringing in goaltender Anders Lindback. Lindback has a goals-against average below three and has been a big part of the Lightning's fast start.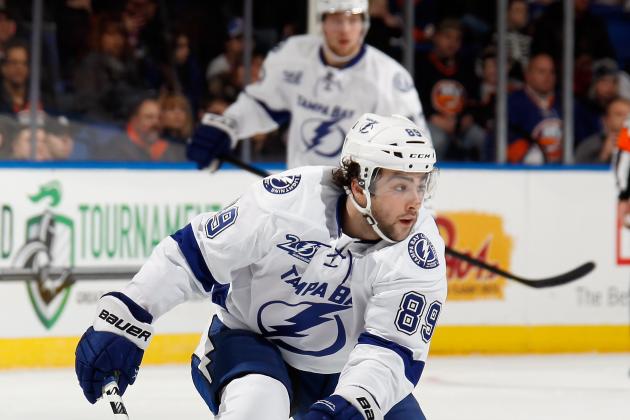 Bruce Bennett/Getty Images
Cory Conacher should be a Calder Trophy favorite for his production so far in 2013.
Cory Conacher won the American Hockey League's Outstanding Rookie Award in 2011-12, just months after nearly making the Tampa Bay Lightning roster. His strong performance in the AHL led him to another invitation to training camp this season. He used that opportunity to prove he belongs.
Much like Martin St. Louis, Conacher is averaging over a point per game and should be considered for the Calder Trophy (NHL Rookie of the Year).
He could have a bright future ahead of him.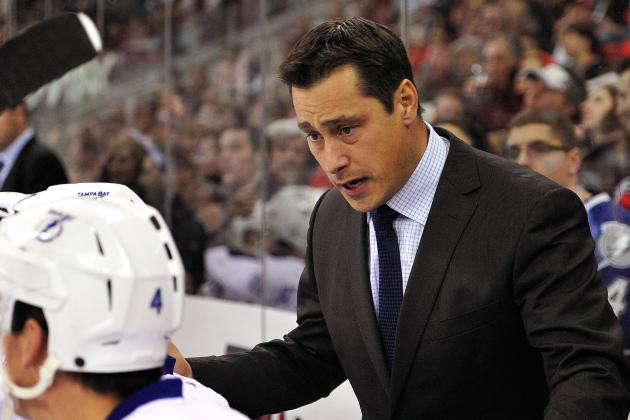 Grant Halverson/Getty Images
Despite a shortened preseason, Guy Boucher has the Lightning on the same page early on in the 2013 campaign.
Tampa does not run a simple defensive system. With rotating defensemen, a 1-3-1 forecheck and an aggressive offense, it can often be difficult to get everyone on the same page.
That was evident last season with the Bolts having the worst defense in the league (3.39 goals against per game). Tampa was minus-46 in goal differential last season.
This year—even with a shortened training camp and new faces in Tampa—head coach Guy Boucher has put together a team that is leading the league in goal differential and is giving up 2.60 goals against per game.
Credit should be given to the head coach of the Tampa Bay Lightning for their fast start. Without Boucher's direction, they wouldn't be at the top of the Southeast Division.