Kentucky's Revised Blueprint to SEC Title After Florida's Loss to Arkansas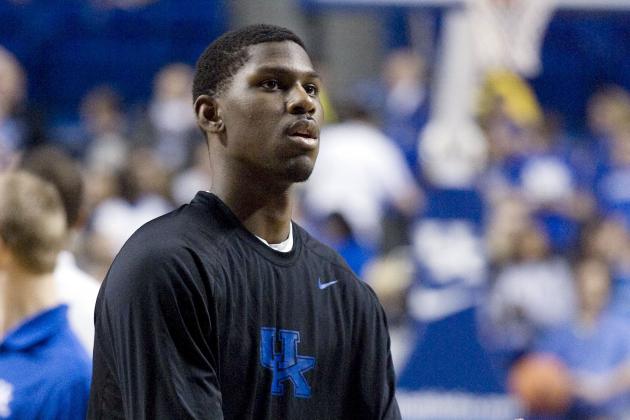 Mark Zerof-USA TODAY Sports

The once-unbeatable Florida Gators have been beaten. And, like everyone predicted, the Kentucky Wildcats will (likely) be playing for the SEC lead on Feb. 12.
Not really.
Who could have foreseen the Gators losing to Arkansas on the road?
Florida was killing SEC opponents at such a rate that some expected the Gators to run the table, even though they play Missouri once and Kentucky twice to end the year.
But with a road loss, Florida is suddenly vulnerable. They are no juggernaut. Florida has three difficult road games left on their schedule: Missouri on Feb. 19, Tennessee on Feb. 26 and Kentucky on Mar. 9.
It is no guarantee that Florida loses any of those games, and they are still the obvious SEC favorite.
Kentucky now has a chance. Here's the Wildcats' blueprint for a regular season SEC title.
Statistics via ESPN.com
Begin Slideshow

»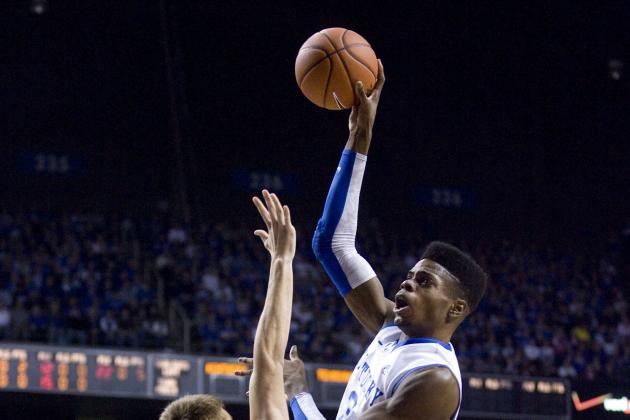 Mark Zerof-USA TODAY Sports

It is something that seems to happen every game.
The Kentucky Wildcats, when expected to win, don't always perform as one might expect.
Their latest bout against South Carolina gives us a perfect example. The Wildcats went through stretches of ugly play, both on offense and defense.
South Carolina won the first 10 minutes of the first half, 18-17. In the first six minutes of the second half, Kentucky was outscored 15-10.
During both stretches, Kentucky was disjointed on offense and sluggish on defense. South Carolina battled for offensive boards. Kentucky did not.
The whole "lack of a killer instinct" has been hashed and re-hashed. It's a problem, particularly against teams that Kentucky has the talent to beat.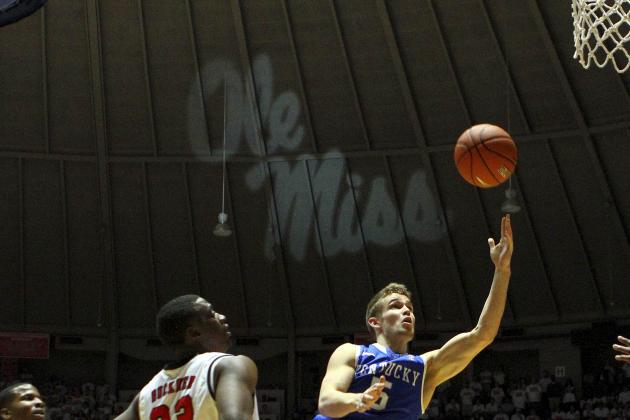 Spruce Derden-USA TODAY Sports

On the road in the SEC, composure matters.
Just ask the Florida Gators.
Kentucky will likely be favored in three of their final four road games. All four games are winnable.
But it will take a composed team to win half of those games, and Kentucky's composure has been inconsistent this season.
If the Jan. 29 Kentucky team that dismantled Ole Miss on the road shows up, they are capable of beating any team in the SEC.
Julius Mays has shown leadership ability, particularly against Texas A&M on Feb. 2. Kyle Wiltjer has shown that hostile environments don't phase him, shown against Ole Miss.
Guards will need to continue to play with the proper pace. Ryan Harrow and Archie Goodwin have been erratic, but if they play calm, they are one of the best backcourts in the SEC.
Andy Lyons/Getty Images

Kentucky will play five more games in Rupp Arena this season.
Three are probable wins: Auburn (Feb. 9), Vanderbilt (Feb. 20) and Mississippi State (Feb. 27).
The final two could decide the Wildcats' fate at the top of the SEC: Missouri (Feb. 23) and Florida (Mar. 9).
At the beginning of the season, Florida, Kentucky and Missouri were the only ranked SEC teams. All three teams are still capable of winning the SEC, but Florida (8-1) has a clear lead.
Both Florida and Missouri have shown vulnerability on the road, although both are capable of beating the Wildcats in Rupp.
We probably shouldn't forget that Texas A&M beat the Wildcats in Lexington.
Kentucky will need to win out at home if they hope to have a chance to win the regular season SEC crown.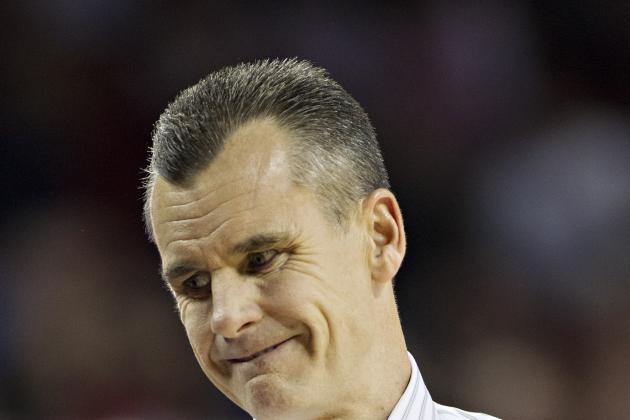 Wesley Hitt/Getty Images

It doesn't matter when or where.
It could happen on Feb. 12. That would be preferred.
The more likely scenario, however, is a Kentucky win over Florida on Mar. 9.
But for Kentucky to win the SEC, the Wildcats need to beat Florida at some point this year.
Before the Gators lost to Arkansas, that seemed unlikely. Florida was rolling SEC opponents, with each of their eight wins coming by at least a 14-point margin.
Kentucky can beat Florida.
They need to to win the SEC.
John Reed-USA TODAY Sports

Finish at the rim. Finish at the line. Finish at the end of games.
That is what it will take for Kentucky to win the SEC.
Kentucky hasn't always shown the ability to finish this season. Weak drives to the basket highlighted Ryan Harrow's non-conference play.
Free throws have challenged the Wildcats all year. As a team, they are shooting 64.5 percent from the line.
Finishing at the end of games doesn't always happen with this young team. Both games against Texas A&M proved that point.
Kentucky has improved throughout this season. The team is playing with pace, and it seems as though they are slowly developing an identity.
Finishing the year on top of the SEC is not likely for the 16-6 Kentucky Wildcats. But they have the talent to make it happen.