Assessing the Riskiest Players in the 2013 NFL Free-Agent Class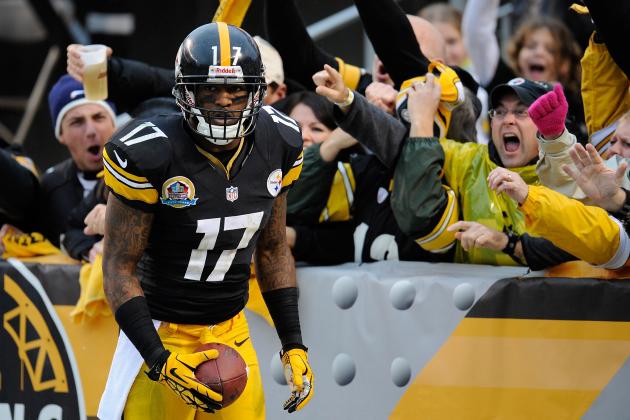 Joe Sargent/Getty Images

With the Super Bowl now over, it's time for NFL teams to focus their energy on free agency.
The questions that will come include which free agents should teams retain, which ones they should let go and which ones they should go after. With each question comes risk assessment.
Now, it's imperative that teams know this tried-and-true axiom when it comes to signing free agents: Every free agent is a risk.
How much money a free agent will command is a big factor in deciding where he ends up. Each team's individual system, its coaching staff and the city it plays in are big factors as well.
Also, sometimes a player is a free agent because his former team didn't want to re-sign him at the price that he's asking for, causing this player's potential future employer to wonder, "Why didn't his former team attempt to accommodate him?
Those questions can't really be answered at this time. However, we can take a look at the riskiest free agents available in 2013 based on other factors.
Begin Slideshow

»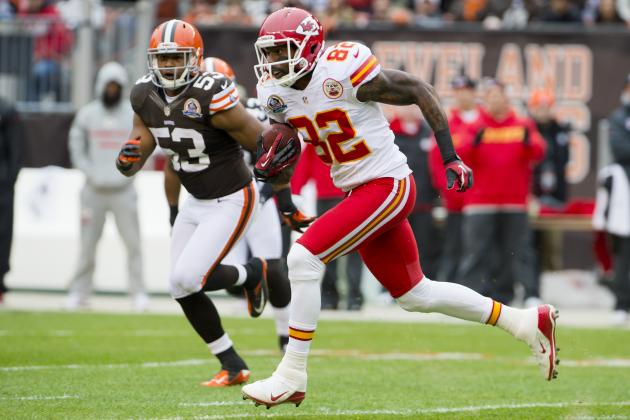 Jason Miller/Getty Images

If you have ESPN Insider, then feel free to click on this piece about the NFL's "must-keep" free agents by Pro Football Focus' Khaled Elsayed. He names Dwayne Bowe as a "must-keep" for the Kansas City Chiefs.
Here is the reason given by Elsayed for this claim:
I considered three receivers before settling on Bowe as the guy who would be hardest to replace. In St. Louis, Danny Amendola is dangerous but his constant health problems leave the Rams unable to rely on him. Meanwhile the likely split between the Patriots and Wes Welker is just as likely an opportunity for somebody else to step up in New England. But without Bowe, Kansas City has Dexter McCluster, Jon Baldwin and Steve Breaston currently atop the depth chart. Bowe will be sorely missed if he's allowed to leave.
I find it very hard to disagree with this statement, and I do wonder what Bowe could do in an Andy Reid offense with a competent quarterback at the helm.
However, wide receivers in general are fairly risky propositions in free agency, especially when the receiver's current team was reportedly open to trade talks regarding the player (h/t ESPN) during the final season of his contract.
That by itself doesn't make Bowe a risk. In fact, the Chiefs may have simply been trying to receive better compensation for him than what they would obtain if he were to leave via free agency. But what does make Dwayne Bowe a risk is the fact that he wants to be paid like a No. 1 receiver when he is better suited as a No. 2 receiver.
Bowe's butterfinger issues have also been well documented, though they could be attributed to the fact that he has had a revolving door at quarterback in Kansas City throughout the past few seasons.
Still, I have a hard time accepting the quarterback as an excuse for an "elite" receiver not being so elite. Cris Carter just made it into the Pro Football Hall of Fame, yet he had a total of 14 different quarterbacks throwing to him throughout his career. While he did have the pleasure of catching passes from Warren Moon, Randall Cunningham and a pre-Oakland Rich Gannon, he also had to catch passes from players like the enigmatic Jeff George and Spergon Wynn (a player I had to look up).
Dwayne Bowe is not someone you'd consider a Hall of Famer right now, but he will demand Hall of Fame money. He may be worth it, but be advised that Bowe is a risky proposition.
It might not have just been the Chiefs' quarterback woes that were the reason for Bowe's inconsistency. It could have much more to do with Bowe himself.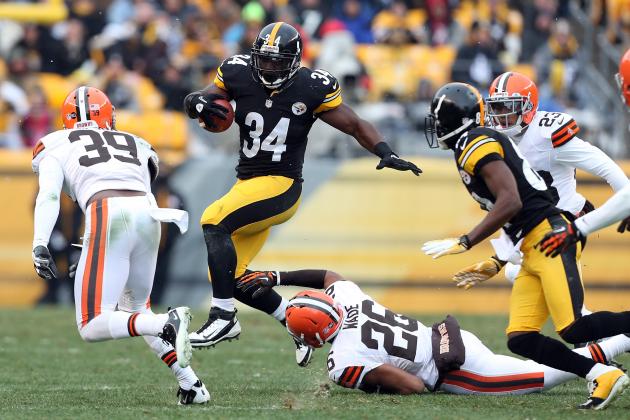 Karl Walter/Getty Images

If you're looking for a running back, why in God's name would you look for a starting back in free agency?
If that is what you are looking for this year, though, your choices are Rashard Mendenhall and Reggie Bush as the top two available options. Neither running back has his current team enamored with the prospect of bringing him back.
Mendenhall takes his place on this list over Bush due to the fact that Bush isn't too big of a risk.
With Bush, you know you're getting a dynamic playmaker who can run between the tackles but isn't a workhorse back. He will be better served in the passing game, similar to how the Saints have used Darren Sproles (or how the Saints used Bush while he played for New Orleans).
Mendenhall is a different kind of a back that provides more risks. He likely won't cost a lot of money, and he could be a huge bargain for the right team if he pans out.
That is a big "if," though. Mendenhall is coming off an injury-riddled 2012 that saw him show some flashes of his former self (mainly in Week 5 when the Steelers played the Eagles) when he wasn't struggling with various injuries (which is practically how Mendenhall spent the entire season).
Mendenhall also stirred up a little controversy by not showing up (h/t Pittsburgh Post-Gazette) to the Steelers' Week 14 contest against the San Diego Chargers.
You can brush his no-show aside as frustration. However, it will be hard to overlook the risks in signing a running back whose current team seems to have no interest in bringing him back (h/t ProFootballTalk.com). Plus, he has already strained his Achilles and torn his ACL—both within the span of a calendar year.
Mendenhall is a risk-reward type of player, but despite only being 25, he might have already seen better days.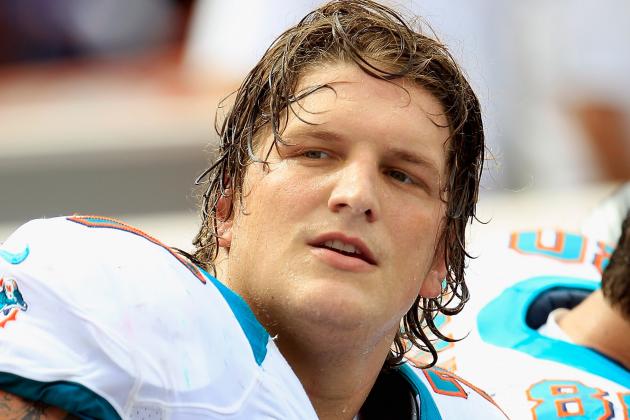 Chris Trotman/Getty Images

A left tackle selected with the top pick in the draft is supposed to be a cornerstone for your team for the next decade, not someone who the team decides it might be better off without when the player will only be 28 years old next season.
This is the story of Dolphins left tackle Jake Long, who was chosen ahead of Matt Ryan with the first overall pick in the 2008 NFL draft. The Dolphins thought they had a cornerstone for the next decade who would perform at a Pro Bowl-caliber level.
For the first three years of Long's career, they were right, as he was one of the best left tackles in the NFL.
But the last two seasons have seen Long deal with a myriad of injuries and an overall decline in production. No longer the cornerstone that he was thought to be, Long could now be out of Miami and looking for another home.
It doesn't help that Long is asking for a long-term deal worth at least "$10 million per season," according to The Miami Herald. For a player who seems to be struggling with injuries and is already in a sharp decline, that would be a tremendous risk for any team willing to sign him and a potential albatross down the road.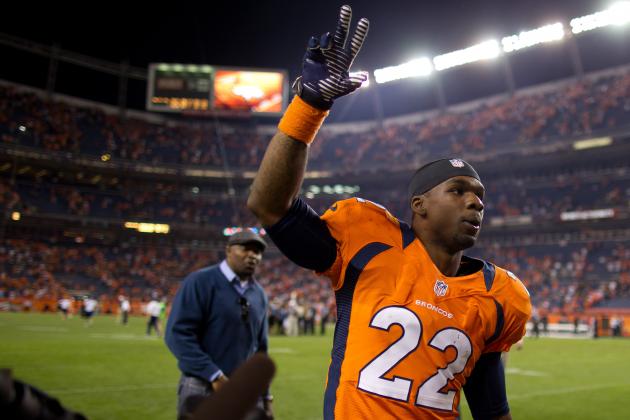 Justin Edmonds/Getty Images

When he's healthy and on the field, Tracy Porter makes sense for just about any team.
While he's never been considered a great cornerback, Porter does do his job well and is very good covering wide receivers. He is not a shutdown corner, but he can get the job done when needed.
The problem with Porter, and what makes him a major risk, is his injury history. Last season, Porter suffered a series of seizures (h/t USA Today) during the season, including one during training camp and one he suffered in October that kept him on the Broncos' bench for most of the 2012 season.
While in New Orleans, Porter was hospitalized with a neck injury during a game against the Tampa Bay Buccaneers in 2011.
Both can be attributed to just plain bad luck. However, the seizures are a legitimate red flag for any team willing to sign Porter this offseason.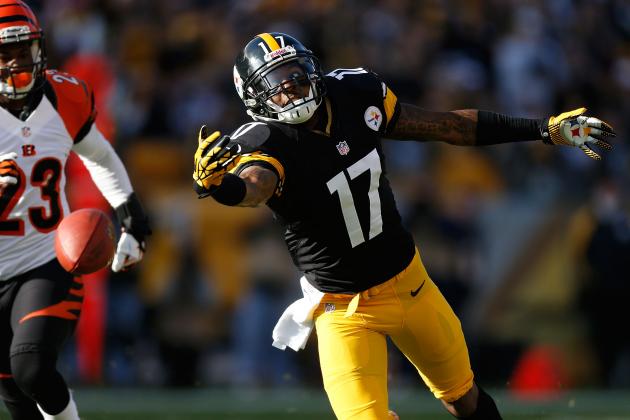 Gregory Shamus/Getty Images

Mike Wallace seems to have been waiting to become a free agent for two years now.
That time has come, and while he will likely be the most sought-after receiver in this year's free-agent crop, he also provides a big risk.
Wallace's 2012 was uneven at best, but at worst it was a harbinger of things to come. While he did succeed as a deep threat for the Pittsburgh Steelers, he also seemed to have a problem with dropped passes throughout the year, which were costly for the Steelers' playoff run.
To add to the misery of the dropped passes, Wallace had two fumbles that proved costly for Pittsburgh, and at the end of the year he found himself being booed by the Steelers faithful for his poor play.
Wallace would miss the final game of the season due to injuries to his hip and hamstring that seemed to linger on throughout the season.
The riskiest part is what Wallace is asking for: $10 million to $11 million per year, according to CBSSports.com's Jason La Canfora.
For a speed guy who suffered from a bad case of the dropsies in 2012, that's enough to make a potential Wallace signing a big risk in 2013 and beyond—unless he can get his act together when catching the ball.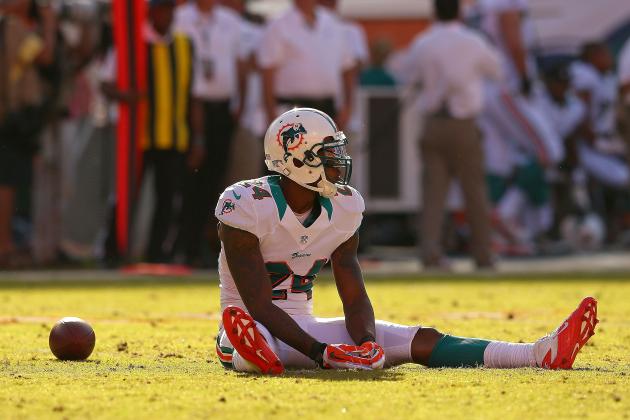 Mike Ehrmann/Getty Images

As someone who has spent the last four seasons watching Sean Smith play, I can point out his weaknesses and tell you why any team signing him to a long-term contract is taking a huge risk.
I can also tell you that with Miami's weaknesses in the secondary, letting go of Smith would be a huge risk for the Dolphins. It's the proverbial catch-22 when it comes to No. 24.
Smith's biggest issue are his hands of stone. He can track down the ball fairly well and even make it look like the quarterback actually intends for him to catch the ball. It looks great as you watch it and then notice that there's nothing but daylight between Smith and the end zone.
The only problem is that Smith won't catch the ball. It usually winds up just bouncing off his hands and onto the ground, giving the opposing offense new life.
The next pass thrown Smith's way often winds up in the hands of a receiver who catches the pass and is about three yards past Smith at the time of the catch. The result is usually a touchdown.
Sean Smith isn't an injury-prone player and doesn't seem to have any character issues. The issue with him is finding the right scheme for him to work with and deciding whether to press or just use zone coverage.
I've seen him in both types of coverage, and it seems as though he is a bit better when he presses. The only problem for the big and physical corner is that he tends to commit a hefty number of pass-interference penalties.
What makes Smith a risk is simply the amount of money he will wind up making in free agency due to the fact that cornerback is a need for so many teams. Plus, the free-agent pool at this position is very weak this offseason. Because of this, Smith will make a decent chunk of change that will likely be a good two years longer and $3 million more per year than he should make, giving the signing the feeling of a gamble.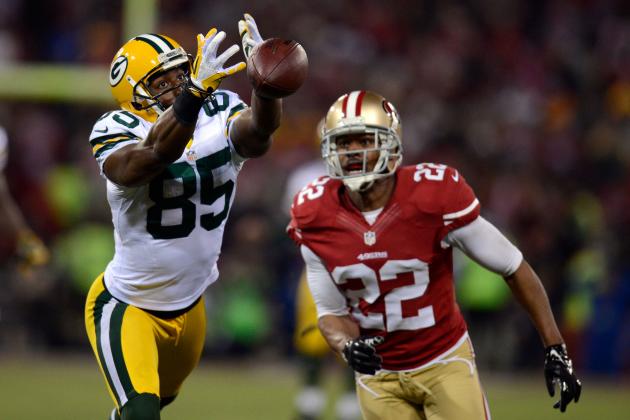 Thearon W. Henderson/Getty Images

Of the free-agent wide receivers available, Greg Jennings is the least risky.
That's based mainly on his production; when healthy, he's been a vital part of the Green Bay Packers offense since his rookie season in 2006.
The key term to focus on here, however, is "when he's healthy." Jennings will turn 30 years old during the 2013 season, and coming off a nagging inury, that's what makes it a risk.
Now, it should be noted that prior to the 2012 season, Jennings was reliable in the health department. Unfortunately for Jennings, he had to deal with a nagging groin injury throughout the 2012 season that forced him to miss eight games and even have surgery to repair the injury halfway through the season (h/t CBSSports.com).
The surgery was minor, and Jennings did come back strong. However, along with Jennings' age, it should make some teams question the knowledge behind offering him the long-term deal he desires (and will likely receive).
Of course, there's also the obvious question of how Jennings will perform without Aaron Rodgers throwing him the ball, but if there is a receiver available this offseason who can succeed in multiple systems, it seems like it would be Jennings.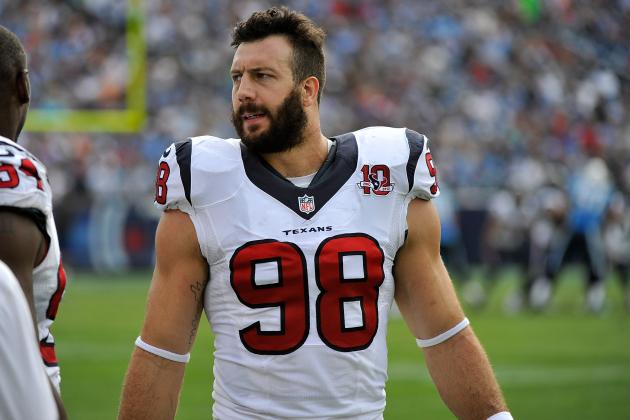 Frederick Breedon/Getty Images

What is so risky about Connor Barwin?
Well, let's start with the fact that Pro Football Focus deemed Barwin the lowest-rated Texans free agent of 2013.
We're already off to a risky start there, but why is Barwin rated so low?
Barwin's 2011 campaign was a great one, as he racked up 49 tackles, 11.5 sacks, a forced fumble and seven pass deflections.
One reason for such a great 2011 for Barwin is that he was Houston's weakside linebacker in place of the injured Mario Williams.
In 2012, Barwin had the position all to himself after Williams left for Buffalo. Yet he finished with only three sacks. Then Barwin moved over to the strong side after Brooks Reed got hurt, only to see rookie Whitney Mercilus record six sacks for the season (including three in the month of December) to go along with 25 tackles and two forced fumbles.
Other than in 2011, Barwin's career high in sacks is exactly three. With Reed coming back in 2013, and with Mercilus' emergence, the Texans will likely have no problem with letting Barwin go.
Can you really sign a free agent based on a good season that occurred two years ago? It's a tremendous risk if you do.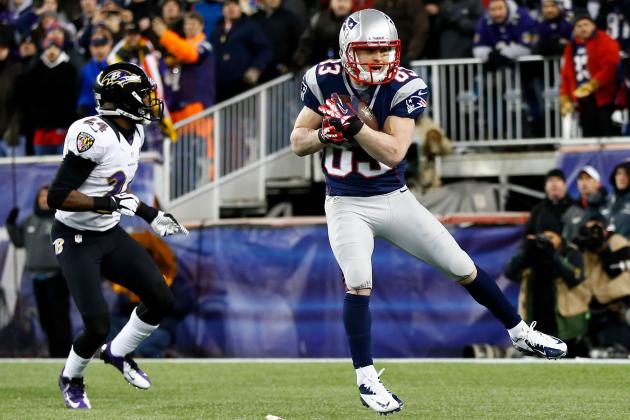 Jared Wickerham/Getty Images

The New England Patriots have $18 million in cap space ready to be used in 2013.
Considering how the Patriots have performed in the last decade, this makes them like the multi-millionaire who happens to win a $10,000 lottery ticket. They already have almost everything that they would need for another Super Bowl run, yet they still have plenty of extra money to play with this offseason as well.
Wes Welker is the 2009 Ferrari that they have in their garage that has always been dependable and reliable, but they're not even sure if they want to hold on to it due to the maintenance costs.
Despite the cap space that New England possesses, Welker might not fit into its future. To franchise Welker would cost the Patriots $11.4 million, which is a significant chunk of change that they might rather use to re-sign Aqib Talib (another risky free agent who came up big for New England after coming over from Tampa Bay) or to add some pieces like safety Ed Reed.
Welker is likely to ask the Patriots for a long-term contract, which is something the Patriots aren't willing to give him due to his age (he turns 32 prior to the 2013 season). If New England decides to let Welker test the open market and if he is able to find a long-term deal elsewhere, the Patriots would likely be willing to let him go.
Here's where it becomes a huge risk. A long-term, big-money deal for a 32-year-old wide receiver can become a boondoggle on a team rather quickly. On top of that, the Patriots are the best fit for Welker, and vice versa. His value to the Patriots is bigger than his value would be to another team, yet the value he would be paid would be what the Patriots would have to match, and that is not likely to happen.
On top of that, the Patriots could replace Welker by going back to where they found him (Miami) and signing fellow free-agent wide receiver Brian Hartline, Miami's No. 1 receiver in 2012, for about $3 million or $4 million less than they would have to pay Welker. Hartline is also nearly six years younger than Welker and can provide the same skill set.
Unless you are the Patriots and can come up with a reasonable short-term deal, Welker has the "stay away" tag written clearly on his forehead.
Now about his teammate...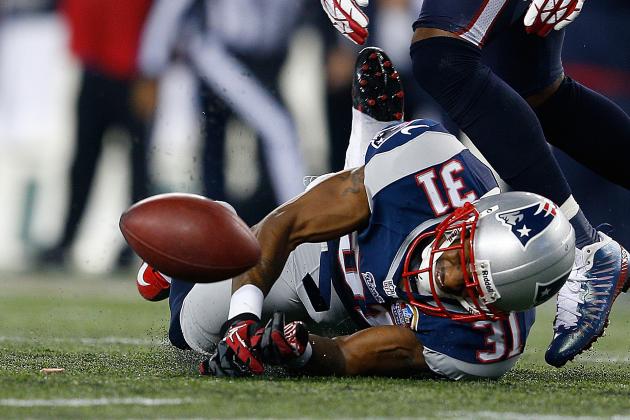 Jim Rogash/Getty Images

The free-agent market should be your oyster if you are Aqib Talib.
Talib turns 27 on Feb. 13 and is the best free-agent cornerback available on the market this offseason. He was also just traded in the middle of last season to a contender that desperately needs all the help it can get in the secondary.
You would think that there's no risk to Talib and that New England will break the bank for him. If not the Patriots, then someone else surely will, right?
Comcast SportsNet New England's Mike Giardi heard otherwise:
A source with knowledge of the situation told Comcast SportsNet's Mike Giardi that, while Aqib Talib displayed no behavioral problems during his time with the Patriots, the team has enough concerns over his work ethic to be somewhat reluctant to offer the star cornerback a multiyear contract.

According to the source, Talib passed on the chance to do extra work at times this year and there are questions as to how he'd handle a long-term deal. The Pats, said the source, would prefer to sign Talib to a one-year, make-good contract.
So there are concerns about his work ethic. If that's the worst thing about the guy, then he would still be worth the risk. After all, the guy does have talent and no other issues.
Oh wait, he actually does have other issues, doesn't he? Talib was suspended for four games in 2012 for violating the league's policy on performance-enhancing drugs, per Stephen Holder of the Tampa Bay Times.
Somehow, I don't think that's all there is to Talib's story, as proved by the Tampa Bay Times publishing "A timeline of Aqib Talib's troubles."
So you have a player who the Patriots are scared to give a long-term deal to despite him being their best player in the secondary, and who had an article in the newspaper of his former team's city highlighting his problems.
Could Talib have been rehabilitated already? Yes, because he didn't cause any issues in New England and was effective for them at all times on the field. If anything, his injury in the AFC Championship Game swung the game towards the Ravens, and Talib is partly responsible for the Pats getting as far as they did this season.
Because of that, he will likely get big money from some team in desperate need of a cornerback. Still, that team probably won't be the Patriots, who would be more likely to sign him to a one-year deal for 2013 before deciding to sign him long-term.
If Talib is willing to take that deal, it's a great one for New England. But if he winds up signing a big-money, long-term deal with any team, his checkered past shows that he will be a major risk for any team that signs him