Ranking Metta World Peace with This Generation's Most Suspended Troublemakers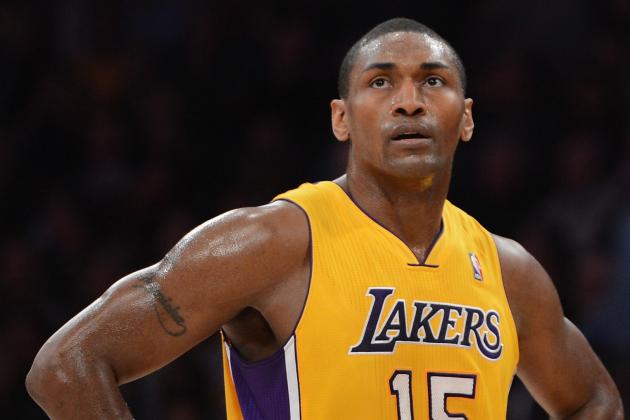 Harry How/Getty Images

David Stern's fines and suspensions may appear to have no rhyme or reason, but repeat offenders typically bear the brunt of his sanctions.
Case in point: Los Angeles Lakers forward Metta World Peace.
World Peace was suspended for the Lakers' Feb. 5 game with the Brooklyn Nets, after the player formerly known as Ron Artest got into an altercation with Detroit Pistons guard Brandon Knight in the Lakers' 98-97 win on Feb. 2.
Whether or not the suspension was merited has been up for debate. But there's no denying that World Peace's past behavior has followed him through four team changes (and one name change).
And this isn't unique to just World Peace. In fact, a number of players have experienced a similar series of punishments for their various acts.
While their crimes against basketball may vary, the following players have emerged as some of the most heavily penalized players of this generation.
*In order to be considered for this slideshow, a player had to have played an NBA game within the past 15 years.
Begin Slideshow

»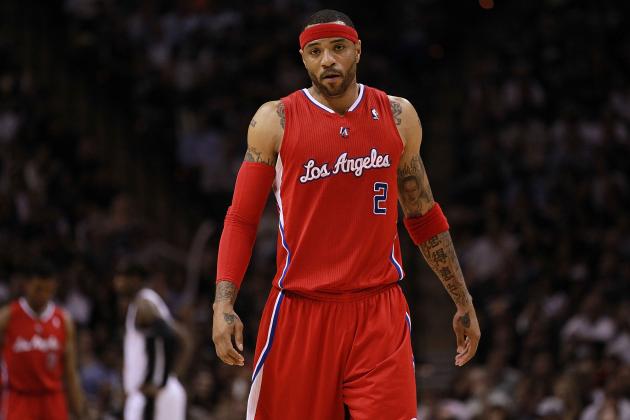 Ronald Martinez/Getty Images

The first-overall pick in the 2000 NBA draft, Martin never developed into the type of player scouts once pegged him to be.
He proved to be a reliable weapon on some talented New Jersey Nets teams in the early 2000s, but a series of knee injuries greeted him shortly after his move to the Denver Nuggets in 2004.
He approached the court with a nearly unrivaled intensity, but seemed to have problems channeling that energy. Flagrant fouls, on-court altercations and the dreaded "conduct detrimental to the team" kept Martin out of action when the injuries didn't.
Most egregious offense: His suspension in Denver for refusing to play during the second half of a game in 2006 was one of his more head-scratching moments, but a flagrant foul the following season was particularly damaging.
In a 2007-08 game with the New Orleans Hornets, Martin picked up the flagrant for elbowing Melvin Ely in the face. Martin's elbow fractured Ely's left eye socket.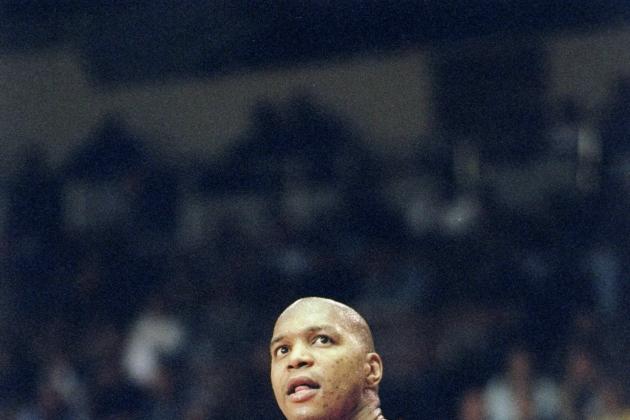 Jason Wise/Getty Images

Another top selection (1990 draft), Coleman hit the hardwood running. He averaged better than 18 points and nine rebounds in each of his first five seasons.
But an overall lack of discipline (weight gain, substance abuse problems) plagued the rest of his 15 years career.
Limited by injuries and, of course, suspensions, he never played more than 77 games in a season. In fact, he finished with more seasons of fewer-than-40 appearances (five) than years of 70-plus games (four).
Most egregious offense: While he was one of the nine players suspended for the infamous Detroit Pistons-Indiana Pacers brawl in 2003-04, he may have made his greatest misstep during the 2001-02 season.
During one of Coleman's Philadelphia 76ers matchups with the Indiana Pacers that year, he earned a two-game suspension for grabbing Reggie Miller's throat and throwing a punch (via Ashley McGeachy of the Philadelphia Inquirer).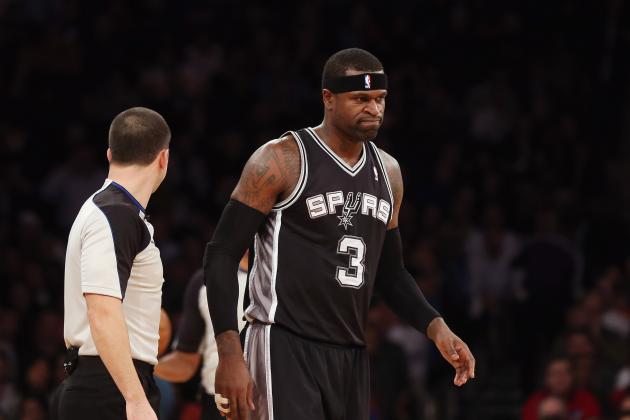 Bruce Bennett/Getty Images

Jackson's NBA story is a far cry from Coleman's or Martin's. The 42nd pick of the 1997 NBA draft, Jackson did not make his NBA debut until the 2000-01 season.
His professional career spanned three continents before he landed his first gig with the New Jersey Nets. By his third season in the league, he was crowned an NBA champion with the San Antonio Spurs.
But his stay in the league has been a tenuous one. He's played for seven different teams throughout his career, leaving a trail of suspensions and spats with coaches behind him.
Most egregious offense: He received a seven-game suspension as a member of the Golden State Warriors in the 2007-08 after pleading guilty to criminal recklessness for firing a gun outside of an Indianapolis strip club in 2006.
But there's no option here other than his involvement in the Malice at the Palace. Jackson followed World Peace into the stands, and appeared to have his own dust-ups along the way. He ultimately received the second-harshest penalty from the event, a 30-game suspension.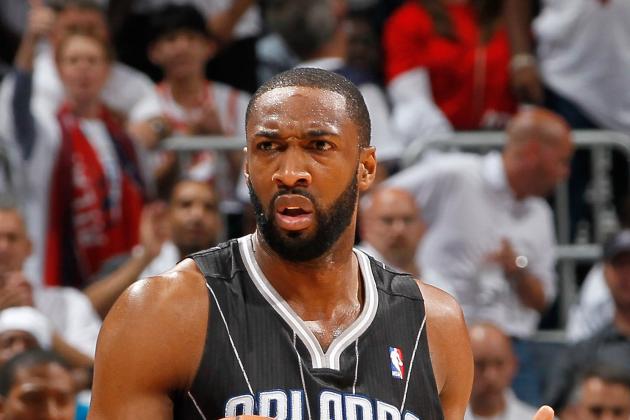 Kevin C. Cox/Getty Images

The 30th pick in 2001, Arenas started to draw the league's attention during his sophomore campaign with the Golden State Warriors. His 18.3 points and 6.3 assists per game that year netted him a six-year, $60 million contract with the Washington Wizards.
Starting in 2004-05, Arenas embarked on one of the most prolific scoring bursts of any player of his generation. He never averaged below 25 points per game during the stretch, notching three consecutive All-Star appearances in the process.
He was largely a model citizen during his tenure in the nation's capital, but forced his way on to this list with one giant lapse in judgment.
Most egregious offense: Midway through the 2009-10 season, he was suspended indefinitely after he and then-teammate Javaris Crittenton drew guns on each other in the team's locker room during a dispute over a gambling debt (via ESPN.com).
Arenas only fueled the fire when he attempted to poke fun at his situation during a pregame huddle with his teammates. His suspension was eventually set at 50 games, the third-longest non-drug-related punishment in league history.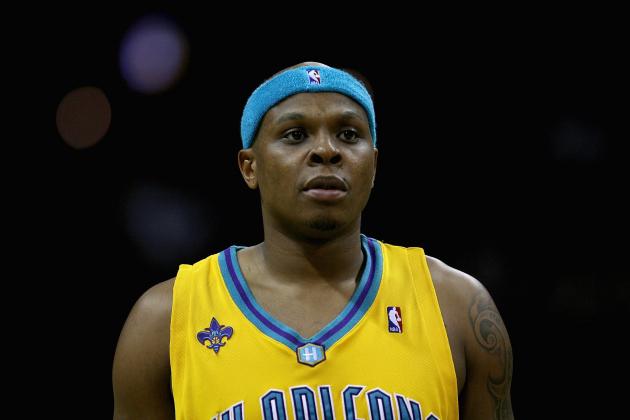 Ronald Martinez/Getty Images

A prolific scorer and rugged defender during his days at Ball State University, Wells was chosen with the eighth-overall selection in the 1998 draft.
While his career may not have reached "bust" proportions, he had the talent to do better than his career averages of 12.1 points and 4.6 rebounds per game.
He played for five different teams during his 10 seasons in the NBA, clashing with coaches, fans, opponents and officials along the way.
Most egregious offense: The length of his rap sheet sticks out far greater than any individual act, but his late-game brawl with Golden State's Chris Mills in the 2002-03 season deserves mentioning (the 18th-wildest fight in league history, according to Bleacher Report's own Ethan Norof).
Mills drew the most coverage from the game, as he tried to continue the fight with an unsuccessful attempt to get into the Portland Trail Blazers' locker room and then parked his car in front of the Portland team bus. But Wells was hardly a victim himself and was given a two-game suspension for the incident.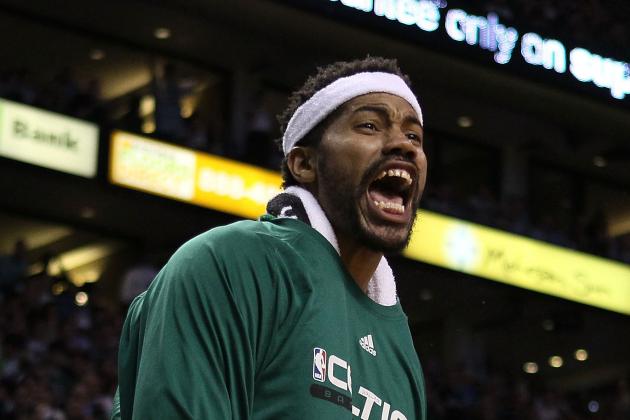 Elsa/Getty Images

A stretch big long before they were ever trendy in the NBA, Wallace needed just two seasons at North Carolina to cement himself as the fourth selection in 1995.
With three-point range (career 33.7 percent) and nifty footwork in the interior, he quickly established himself as one of the most frustrating covers in the league.
But the same frustrations felt by opposing defenders carried over to his employers. He's the league's all-time leader in technical fouls, amassing well over 300 during his 16 seasons (via Chris Forsberg of ESPNBoston.com).
Most egregious offense: If there was a towel anywhere near the vicinity of a Wallace rant, it was (like the player) as good as tossed. He was fined in 2009 for flinging one into the stands following an ejection, suspended by the Portland Trail Blazers for throwing one at teammate Arvydas Sabonis during a timeout in 2001, and suspended for two games in 2001 for hurling one at an official.
But his lengthiest ban came during the 2002-03 season. He received a seven-game suspension for threatening referee Tim Donaghy in the parking lot outside of the Rose Garden following a game with the Memphis Grizzlies (via SportsIllustrated.com). (Not condoning his actions, but considering what we now know about Donaghy, via CBSNews.com, maybe Wallace had a legitimate reason to be upset.)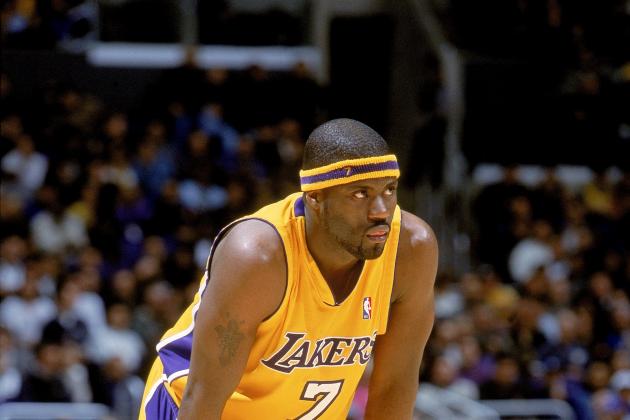 Jonathan Ferrey/Getty Images

Rider appeared on the NBA radar after two successful seasons at UNLV, which followed a two-year stint in junior college. The Minnesota Timberwolves snatched up the scoring guard with the fifth pick of the 1993 draft.
After a successful rookie season (16.6 points in 30.6 minutes per game), though, his career quickly took a turn for the worse. Although the numbers were still there (19-plus points per game in three of his next five seasons), they were overshadowed by a growing number of fines and suspensions.
Tragically, things only went from bad to worse after his abbreviated nine-year career. Rider amassed a lengthy criminal history upon leaving the league, including a 2010 arrest in Arizona for allegedly assaulting his fiancee (via Shannon O'Connor of The Arizona Republic).
Most egregious offense: He had a number of team-imposed suspensions for tardiness and absences, but perhaps his ugliest incident occurred during a 1997-98 game between the Portland Trail Blazers and Detroit Pistons.
Rider, then a member of the Trail Blazers, spit at a Detroit fan during halftime (via the Los Angeles Times). The NBA responded swiftly, serving him a three-game suspension.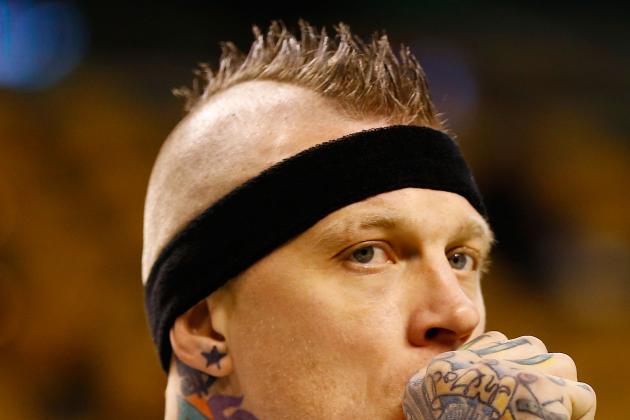 Jared Wickerham/Getty Images

In terms of both name recognition and career statistics, Andersen is a boy among men on this list.
Undrafted out of Blinn College, he started his professional basketball career in China, then returned to the states for some minor league stints.
But he carved out a niche for himself as an explosive, high-energy reserve for both the New Orleans Hornets and Denver Nuggets. He even appeared in the Slam Dunk Contest in 2004 and 2005.
He wound up with an appearance on this list, though, for a violation of the league's banned substance policy that nearly wiped him off the face of the basketball planet.
Most egregious offense: The NBA has a structured set of rules in dealing with drugs, the most stringent of which require an immediate dismissal for "drugs of abuse" (a list that includes methamphetamine, cocaine, LSD and heroin, among others, via ESPN.com).
A January 2006 violation left Andersen with a two-year ban from the NBA.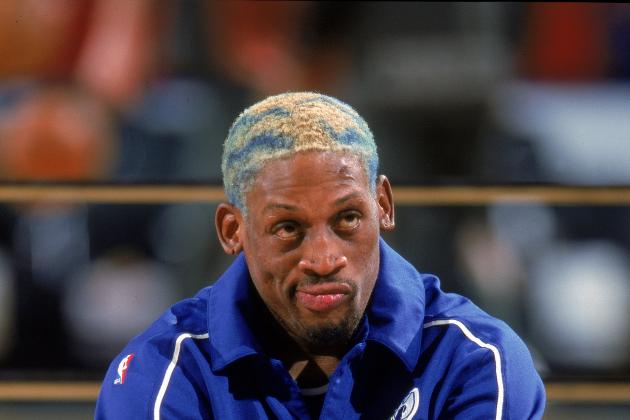 Ronald Martinez/Getty Images

Known for his colorful hair and even more colorful antics, Rodman entered the league a relatively unknown commodity as the 27th pick of the 1986 draft.
But he soon cemented his legacy as one of the greatest rebounders the league had ever seen. Splitting his time between the Detroit Pistons, San Antonio Spurs and Chicago Bulls, he lead the NBA in rebounding for seven straight seasons from the 1991-92 season through 1997-98.
He also established himself as one of the more short-tempered players in the league and never shied away from publicly expressing his distaste for officials.
Most egregious offense: He served a six-game suspension during the 1995-96 season for headbutting an official after being ejected from a game (via Andrew Gottesman of the Chicago Tribune), but nothing looks worse on his resume than an ugly incident he shared with a sideline photographer the following season.
During a Bulls and Timberwolves game that year, Rodman fell over a row of courtside photographers. From the ground, he kicked cameraman Eugene Amos, and the shot appeared to catch Amos in the groin. He received an 11-game suspension as a result, which was the second-longest suspension in league history at the time (via Jason Diamos of the Los Angeles Times).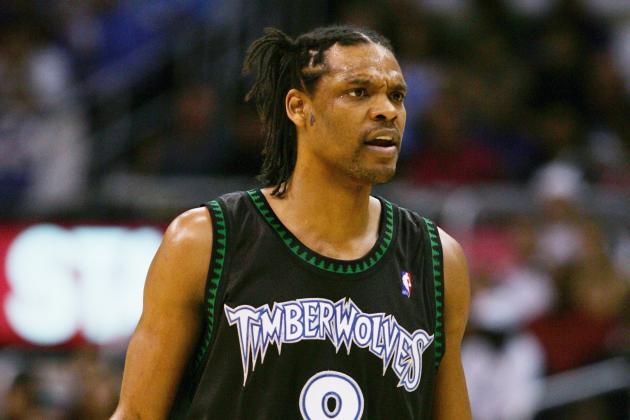 Lisa Blumenfeld/Getty Images

Despite his unorthodox shooting form, Sprewell punched his NBA ticket with two strong seasons at the University of Alabama.
He torched defenders for 15.4 points per game during his rookie season of 1992-93 as a member of the Golden State Warriors. He followed up that effort with a 20-plus points per game average in four of his next five seasons.
But he would never be confused for a model citizen, tallying fines and suspensions for missed practices and profanity-laced on-court outbursts.
Most egregious offense: It's tempting to put his 2004 refusal of a three-year, $21 million contract offer from the Timberwolves here, but his violent confrontation with then-Warriors coach P.J. Carlesimo is impossible to ignore.
During a 1997 practice, Carlesimo pleaded for more effort from Sprewell. As the coach approached him, Sprewell allegedly threatened to kill Carlesimo. He dragged the coach to the floor and choked him for 10-15 seconds before other players could pry him off (via Phil Taylor of Sports Illustrated).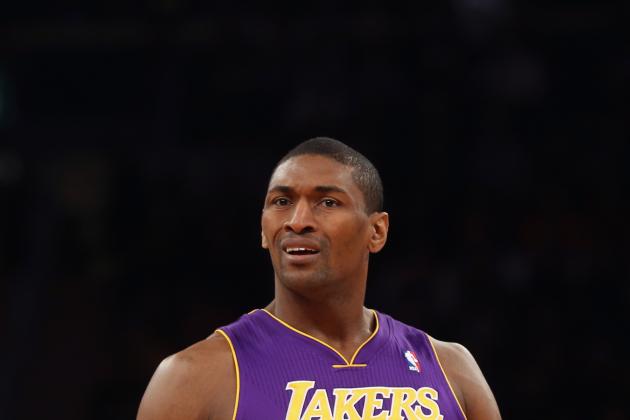 Bruce Bennett/Getty Images

World Peace built his basketball legacy on the strength of his rugged defense and intensity, and the Chicago Bulls grabbed the St. John's University product with the 16th pick of the 1999 draft.
But his basketball career gained new fame (and notoriety) after he was traded to the Indiana Pacers midway through the 2001-02 season.
He captured the league's Defensive Player of the Year award in 2003-04, but his career started to unravel the following season.
His most recent suspension was his 11th since 2003 (according to Mike Bresnahan of the Los Angeles Times), with punishments handed down for both on-court and off-court incidents.
Most egregious offense: Sadly there are a number of options here. He received a seven-game suspension for elbowing then-Oklahoma City Thunder guard James Harden in the head during the 2011-12 season. He got three games for throwing a television monitor and smashing a high-definition camera following a 2002-03 game (via SportsIllustrated.com). A 2007 no-contest plea to a misdemeanor domestic violence charge (via ESPN.com) garnered seven more games.
But his involvement in (or incitement of, depending on your perspective) that Pacers-Pistons brawl in Detroit is perhaps the ugliest incident in league history. His 86-game suspension is the longest punishment ever handed down by the league for something unrelated to substance abuse or gambling.