Grading the Strength of Each Position on Titans' Roster Heading into Free Agency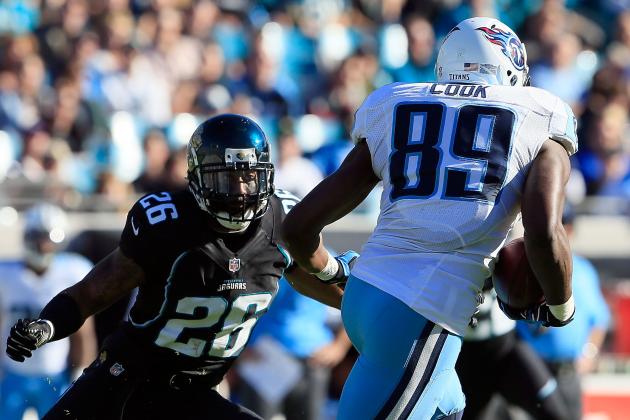 Sam Greenwood/Getty Images

After a season where the Titans only won six games and set a franchise record for the number of points surrendered to opponents, it's easy to just say that the Titans are terrible, and that that's that.
However, as the Vikings showed this season, the margin between 3-13 and 10-6 is razor thin in the NFL, and all it takes is a few things going your way to turn everything around.
If the Titans maintain their strengths and patch up their weaknesses this offseason, they could easily be back to playoff contention by as early as next season. First, they have to know what those strengths and weaknesses are.
So here is a breakdown, analysis, and grade for where the Titans stand at every position. The grading scale is as follows:
A=No free agent signing needed
B=Minor-to-bargain free agent signing needed
C=Depth or impact free agent signing needed
D=Impact free agent signing needed
F=Multiple free agent signings needed
Begin Slideshow

»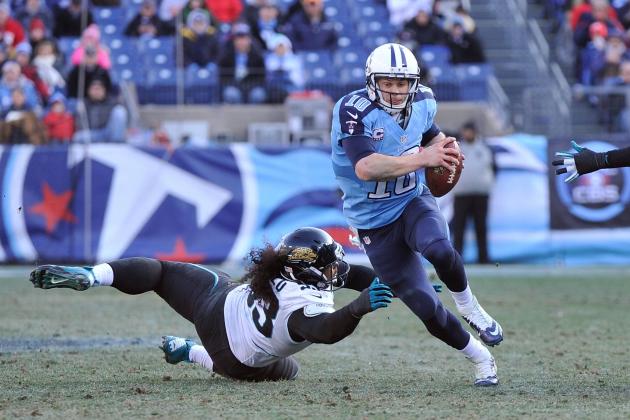 Frederick Breedon/Getty Images

As bad as Jake Locker looked this season, you may be thinking that a B is too high a grade for him, but I've given him that grade because he had a lot working against him, still flashed some potential and, most importantly, because it was his first year as a starter.
Locker is going to get another year as a starter, which is good, since this year's quarterback class is terrible and there aren't any real upgrades at the position available in free agency.
Matt Hasselbeck may need to restructure his contract, and his time on the field last year proved that his best days are behind him, but he's still an experienced, reliable backup.
Unless the Titans just manage to find a great backup for significantly less money than Hasselbeck is willing to take, I see no reason to sign any quarterbacks this offseason.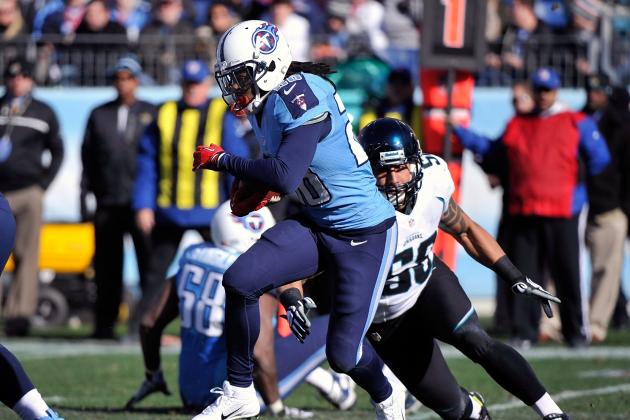 Frederick Breedon/Getty Images

Chris Johnson started the season poorly, but improved as it went on. It now looks as though the Titans will keep him on next year, even with his enormous contract.
I could see them sticking with just Chris Johnson and Jamie Harper for a year, but with Javon Ringer and Darius Reynaud both entering free agency, there is a serious lack of quality depth behind Johnson.
Harper hasn't shown much, and Johnson does his best work with a complementary back, so if the Titans can sign a decent player for a decent value, then they should.
Otherwise, they can simply use a midround selection on a running back in the draft unless they want to roll the dice with just Johnson and Harper.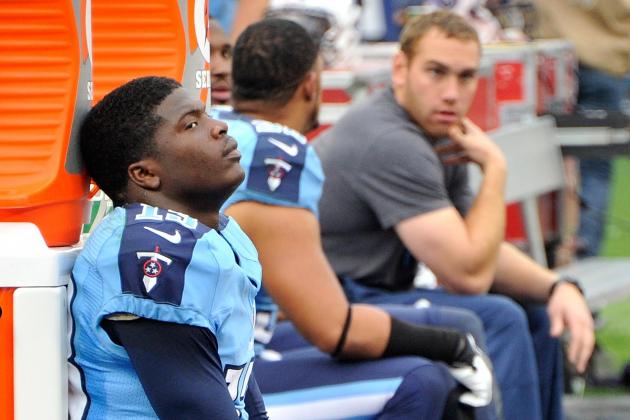 Frederick Breedon/Getty Images

The wide receiver group wasn't great this last season, but there's certainly no need to upgrade it. Kenny Britt had a down year and Kendall Wright was a rookie, but either of them could explode next year.
Then there's Nate Washington, who has proven to be a consistent and reliable No. 2 receiver, and Damian Williams, who does pretty well as a rotational receiver.
Add to that Marc Mariani returning from injury and Michael Preston, who flashed some potential near the season's end and you have a pretty deep, talented group.
The only real problem is the lack of a true elite talent. Like I said, the jury is still out on whether Britt or Wright could be that talent next season, so no additional players are needed.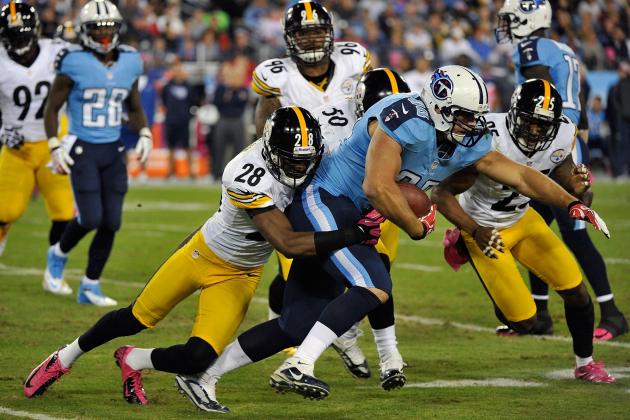 Frederick Breedon/Getty Images

The Titans absolutely need to sign a tight end in free agency. In all likelihood, that will be Jared Cook, but as it stands right now, Craig Stevens is best passing target at the position, and he had all of 275 receiving yards in 2012.
Then there's Taylor Thompson, who showed a lot of growth at the end of the season, but he still has a long way to go before he's ready to be a starter.
Finally, there's Brandon Barden, who spent most of the year on the practice squad. When he was finally called up because of injuries, it was mostly to be used as a blocker.
The Titans need a pass-catching tight end on the roster, because right now, they just don't have one.
Frederick Breedon/Getty Images

Michael Roos and David Stewart are two of the best tackles in the game when they're healthy. However, at the moment, Stewart is far from healthy.
In the Titans' last game against the Texans, he ended his season with a broken leg. If he heals quickly, then the Titans will be fine. If not, then the spot falls to Byron Stingily.
Whether or not the Titans think Stingily is up to the task, they'll need to pick up another right tackle, either to stand behind him or in front of him.
Since it's difficult to say right now whether or not the Titans will need another tackle, they'll probably only be looking for depth or bargains in free agency.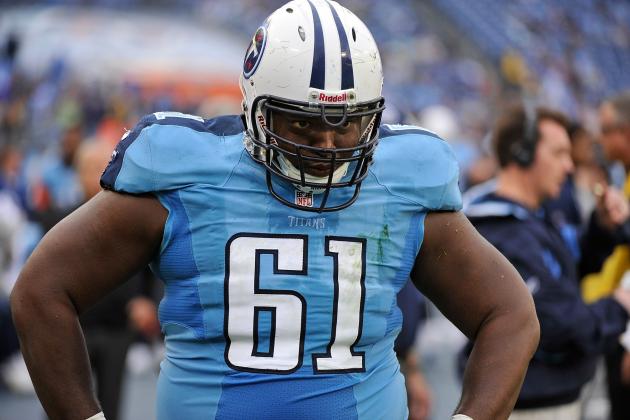 Frederick Breedon/Getty Images

The Titans interior line situation is horrible. Two of this year's starters, Fernando Velasco and Leroy Harris, are free agents, while the other, Steve Hutchinson, is a 35-year-old who ended his season on injured reserve.
That could leave the Titans without all three interior line starters come 2013. Even if they plan to address the interior line in the draft, they will need additional free-agent signings to fill at least one of those positions.
Re-signing Velasco should be the priority. He's been with the Titans his whole career so far and developed a chemistry with the other offensive linemen.
Preferably, the Titans would also sign a starting quality guard, but they can always take two in the draft. However, they absolutely must snag one starter in free agency.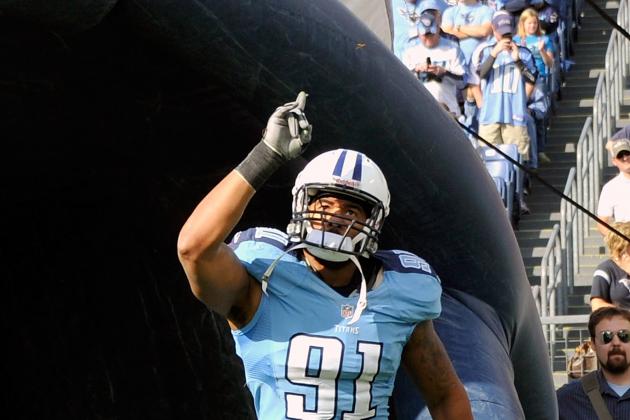 Frederick Breedon/Getty Images

The Titans seem to be pretty happy with Derrick Morgan and Kamerion Wimbley at defensive end.
However, even if they are set with those two as starters, there is practically nothing behind them. Scott Solomon has shown nothing in his rookie season to suggest that he'll be anything more than a special teams player, and he's the only other end on the roster.
I expect the Titans will take a defensive end in the early to middle rounds of the draft this year, but picking up another free agent just for depth would be wise.
If a premier pass-rusher could be obtained for cheap, then that option should be on the table as well.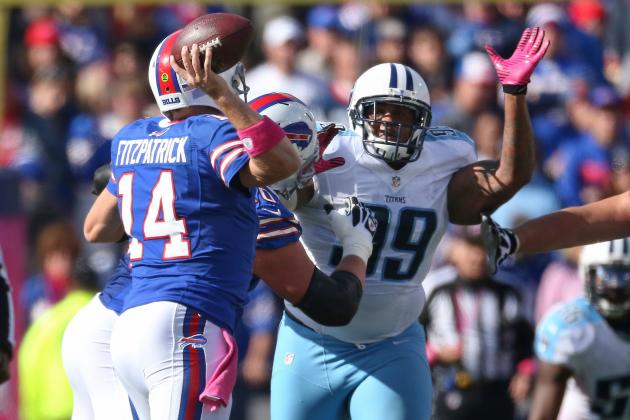 Tom Szczerbowski/Getty Images

Defensive tackle is one of the strongest positions on the Titans roster. Jurrell Casey has established himself as a quality tackle, Mike Martin showed a lot of promise in his rookie year, and Karl Klug still does fairly well as a pass-rushing specialist.
That said, with the loss of Sen'Derrick Marks, the strength of the unit will be reduced. Now there is still DaJohn Harris, who may see more playing time, so the Titans could be set at the position.
Still, picking up another depth player certainly wouldn't hurt. The Titans like to rotate in interior linemen, and only having two starters, a specialist and a depth player may not be enough for that system.
Zach Clayton is the only other player on the roster, and he spent most of his time on the practice squad.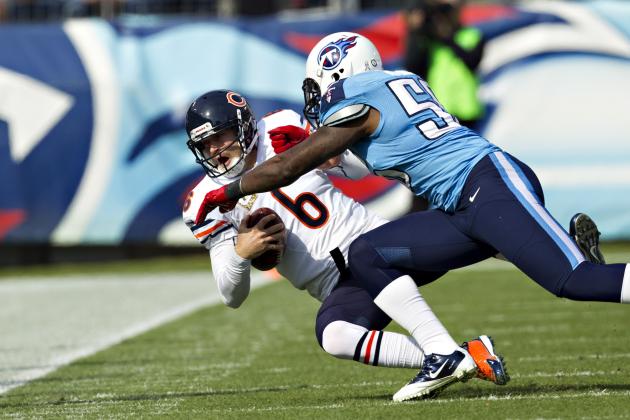 Wesley Hitt/Getty Images

The Titans' linebacker corps is fantastic when everyone is healthy, but that's been the problem for Colin McCarthy. He's missed a lot of playing time this season with multiple injuries, and even when he's played, he hasn't been 100 percent.
If the Titans can find a veteran middle linebacker to back him up at a reasonable rate, they need to sign him. McCarthy has shown enough to warrant another year as the starting middle linebacker, but if injuries continue to be a problem, they'll need to look to replace him.
Akeem Ayers and Zach Brown, on the other hand, both had fantastic seasons, and have shown no injury concerns in the past. Tim Shaw and Kevin Malast aren't the world's best backups, but they aren't often needed.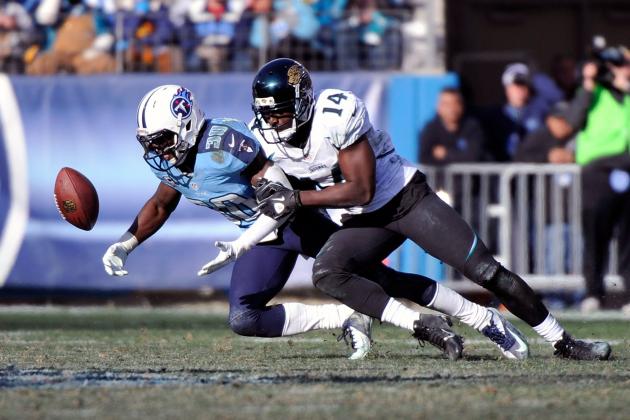 Frederick Breedon/Getty Images

While Jason McCourty and Alterraun Verner are fine starting corners, neither of them is an elite talent, and in today's NFL, you really need three starting quality corners.
I expect that third starting corner to be picked up in the draft, but there are a number of free-agent corners who could take the spot.
I don't think that would be the best place to obtain the needed third corner, but you never know. Beyond McCourty and Verner, the Titans still have Coty Sensabaugh and Tommie Campbell, both of whom were developmental projects, so that's all the additional depth they'll need.
The only reason the Titans should look to sign a cornerback this season is if a premier corner comes cheap, which seems unlikely.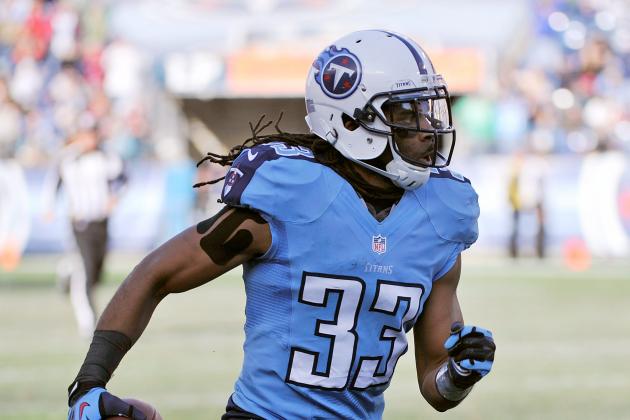 Frederick Breedon/Getty Images

The Titans safeties may very well be the worst in the league. Michael Griffin, despite being a two-time Pro Bowler, was horrible, and every other player on the roster was even worse.
Still under contract are Jordan Babineaux, Robert Johnson, Markelle Martin and Al Afalava. Babineaux is on the wrong side of 30 and has gone downhill, Johnson never found his niche, Martin spent all year on injured reserve, and Afalava only made the roster because of how bad the other players were.
Griffin and Martin are worth keeping, but both are free safeties, and both could be upgraded. There are a lot of safeties entering free agency this season, so the Titans would benefit from signing at least one.