2013 NFL Draft Prospects Who Could Be the Next Colin Kaepernick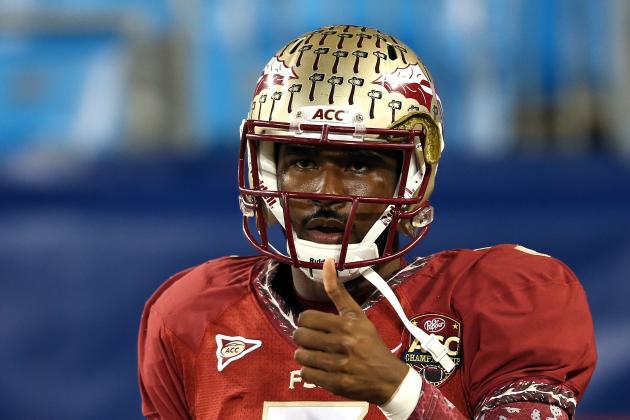 Streeter Lecka/Getty Images

With the 2013 NFL draft now the focal point of NFL teams and fans alike, the search for the next Colin Kaepernick begins.
Move over Robert Griffin III, Kaepernick has quickly taken over as the prototype NFL quarterback. His size, speed and arm strength are impeccable.
Since the Pistol offense became the hottest thing since the Wildcat, all NFL teams looking for a jolt in offensive production will try to mimic the likes of Kaepernick and the San Francisco 49ers.

NFL defenses don't quite have the correct personnel/scheme to stop the perplexing formation just yet, meaning that there's a gold rush to find the next "it" quarterback.
So, where do 2013 NFL draft prospects rank on the Kaepernick scale? Let's find out.
Begin Slideshow

»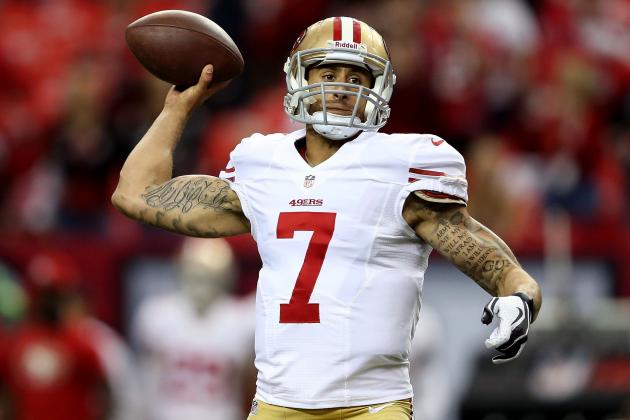 Streeter Lecka/Getty Images

The Kaepernick scale consists of five elements ranging from one to 10:
Size, Mobility, Arm Strength, Leadership and Swagger
All prospects will be graded on each element in comparison to Kaepernick, and the final score will be tallied.
Kaepernick is listed as 6'4", 230 lbs.
He ran a 4.53 second 40-yard dash during the NFL combine in 2011.
Kaepernick arguably has the tightest spiral in the NFL right now, convinced his head coach that he would be the one to take the 49ers to the promised land and did it in style. As we all know, the Niners came up just short this time around, but the future is bright with Kaepernick under center.
Keep in mind that he had a year-and-a-half to learn the NFL ropes, which is necessary for most NFL prospects, especially those playing the quarterback position.
Right now it can easily be argued that no upcoming rookie quarterback is an automatic Week 1 starter.
Unfortunately for some this upcoming season, thanks to the rich quarterback class and trends set during the 2012 NFL draft and season, there will be those who get hung out to dry in 2013.
Give them time before final judgment is cast upon them.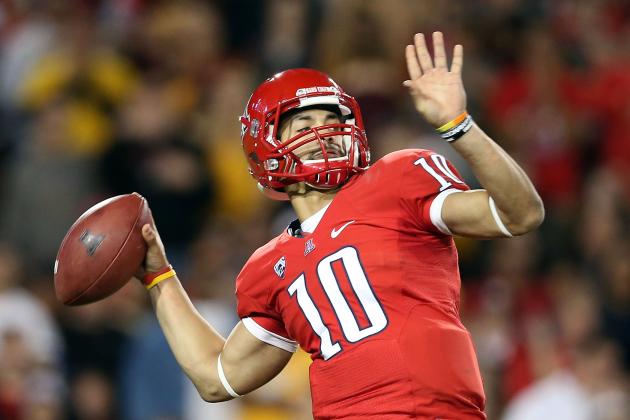 Christian Petersen/Getty Images

Matt Scott is the definition of a sleeper in the 2013 NFL draft. While he'll definitely need some time to blossom, he could be a secret weapon sooner than later for the franchise wise enough to select him.
Scott will rely on a strong combine to boost his stock.
Size: 4
Standing 6'2", 205 lbs., Scott will undoubtedly have to put on some muscle in order to withstand the bumps and bruises of the NFL.
Mobility: 8
Scott possesses a pair of wheels that will give a certain dynamic that is favorable in the present-day NFL. He keeps defenses guessing, which is exactly what Kaepernick does.
Arm Strength: 7
He has just enough strength to make him worthy of the NFL. He's sneaky strong, which also reminds one of Kaepernick.
Leadership: 6
Scott only started 17 games in college, but a testament to his character could be his come-from-behind win in the 2012 New Mexico Bowl where he threw two touchdowns in the final 42 seconds to take home a victory.
Swagger: 4
Cool, calm and collected. He knows when to turn it on at the right moment, sparking his teammates.
Total: 29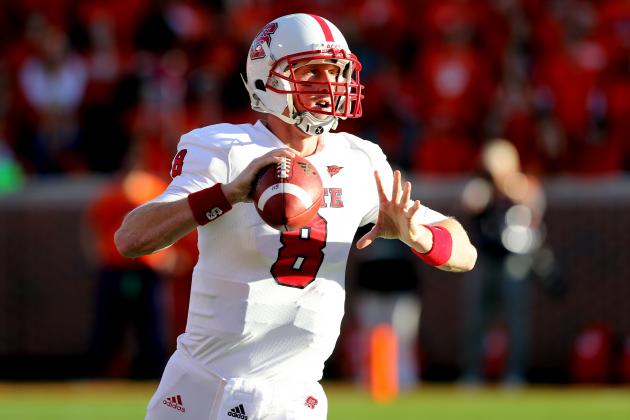 Streeter Lecka/Getty Images

Mike Glennon is this year's mystery pick. Where will he land in the draft?
He's this year's Ryan Tannehill. He'll be talked about like he doesn't belong to be taken the first day of the draft, but may be taken in the first hour.
So, why does he belong in comparison to Colin Kaepernick? Because his size is what NFL GMs think of when they think of the term "franchise quarterback."
Size: 9
At 6'7", 220 lbs., Glennon has the height to be successful. He's a thin for his height and will have to put on some weight in order to take the beating the NFL serves up on Sundays. Nonetheless, his height gives him a shot.
Mobility: 3
If there's one thing to worry when it comes to Glennon, it's his mobility, or lack thereof. The upcoming NFL combine can only help his stock in terms of mobility.
Arm Strength: 9
Strong. Strong. Strong. Glennon has a cannon for an arm. This will sway NFL scouts in his favor, making them think that they can make improvements to his footwork as they go.
Leadership: 7
Glennon learned from now-Seattle Seahawks quarterback Russell Wilson at North Carolina State, which is nothing short of a blessing. His professionalism is on point, which will gain him a following in an NFL locker room.
Swagger: 2
He celebrates more for his teammates than for himself, which lends to his leadership qualities.
Total: 30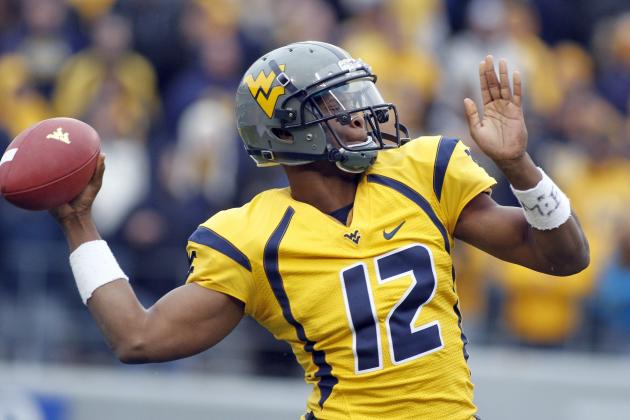 Justin K. Aller/Getty Images

Geno Smith was the front-runner for the 2012 Heisman award before losses became contagious at West Virginia.
After a 5-0 start, the team finished just 7-6, which will harm Smith in these rankings.
That being said, he could be taken as the No. 1 overall pick. Regardless of where he comes off the board, Colin Kaepernick has boosted his draft stock. The fact that he's very familiar with the shotgun offense also helps his odds considering the Pistol is so popular.
Although he may go No. 1, that doesn't mean he'll top the Kaepernick scale.
Size: 7
At 6'3", 220 lbs., Smith has size similar to Kaepernick.
Mobility: 6
He's not a sitting duck, but he's not exactly fleet of foot. He'll have to rely on instincts at the next level to dodge the the opposition. He has just enough to keep the defense on its heels and is fast enough to survive, but not a home-run hitter.
Arm Strength: 8
Smith doesn't struggle when it comes to arm strength. It's his intermediate game and the ability to detect defensive coverage packages that needs fine tuning, which isn't uncommon for an NFL prospect.
Leadership: 4
West Virginia fell apart last season and he was their leader. How will he handle himself and rally the troops in the NFL when things sour?
Swagger: 7
The kid has fun, and there's nothing wrong with that.
Total: 32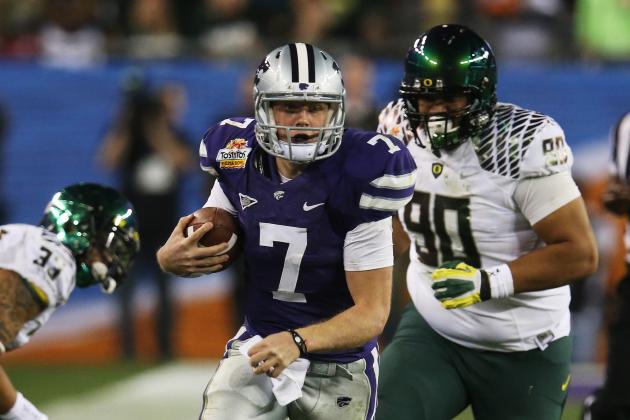 Stephen Dunn/Getty Images

Not too long ago Collin Klein was a Heisman Trophy finalist. Now, it seems like he's a has-been.
Right now fans may be thinking he's more of a Tim Tebow than a Colin Kaepernick.
Let's cut the kid some slack and give him a chance.
Size: 8
At 6'5", 218 lbs. Klein has ideal size of an NFL quarterback. Unfortunately for Klein, size isn't eveything.
Mobility: 8
He's more of a runner than a passer, which will get his foot in the door as far as serious NFL consideration goes.
Arm Strength: 3
This is where things get shaky, his arm strength and mechanics are lackluster. Yes, the NFL is beginning to favor an option-style quarterback. No, teams aren't willing to put a quarterback on the field whose strong suit is running the ball.
Leadership: 9
The biggest thing Klein may have going for him right now is that he's a vocal leader who gets respect from his teammates in the huddle.
Swagger: 6
His fiery mentality earns him props in this category, but his inability to heave the pigskin will put doubt in people's minds.
Sometimes, talent trumps attitude.
Unless Klein can find an upgrade in throwing ability in the next few weeks, he may be "Mr. Irrelevant."
Total: 34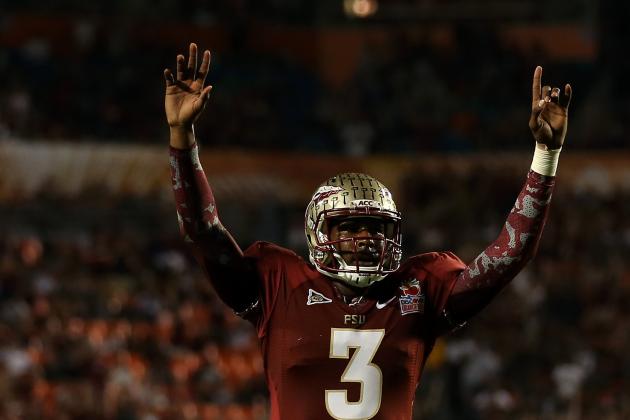 Streeter Lecka/Getty Images

E.J. Manuel had the standout year he needed at Florida State in 2012. Couple that with an MVP performance at the Senior Bowl, and he's well on his way to being drafted.
But where?
Odds that he falls to the second day of the draft are pretty good right now, meaning that he'll be considered a diamond in the rough when the dust settles in a few years.
Size: 10
The tape reads 6'4", 237 lbs. on Manuel, which means he's one big hombre. NFL scouts love to see a quarterback with the ability to shed linebackers.
Mobility: 8
For his size, the dude can scoot. Footwork is a plus for Manuel, which is uncharacteristic for a man of his magnitude.
Arm Strength: 8
Thanks to his size, Manuel has plenty of arm strength. His powerful arm can cause him to be a bit wild.
Leadership: 5
Manuel's leadership will begin and end with his decision making between whistles. He's not ready to confidently lead an NFL team onto the field at this moment, but put in the right situation with the proper amount of nurturing and he could become a star. He needs time to learn the game at the pro level.
Swagger: 7
He enjoys the spotlight and has fun in the process.
Total: 38