Honduras vs. USA: World Cup Qualifying Live Score, Highlights, Recap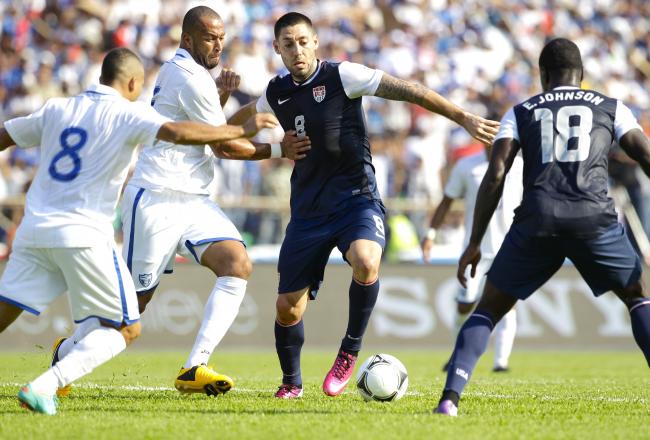 Claudio Villa/Getty Images
2014 FIFA World Cup Qualifying, CONCACAF region, final round
Honduras 2-1 United States (full time)
Goals: Dempsey (USA) 36'; Garcia (HON) 40', Bengston (HON) 79'

Honduras: Noel Valladares; Arnold Peralta, Victor Bernárdez, Maynor Figueroa, Juan Carlos García; Boniek Garcia, Roger Espinoza, Luis Garrido, Mario Martínez; Jerry Bengtson, Carlo Costly
USA: Tim Howard (capt.); Timothy Chandler, Omar Gonzalez, Geoff Cameron, Fabian Johnson; Danny Williams (Maurice Edu), Jermaine Jones (Graham Zusi), Michael Bradley, Eddie Johnson (Sacha Kljestan); Clint Dempsey, Jozy Altidore
FULL TIME
So Honduras comes from behind to defeat the U.S. 2-1. It's a poor start to the final round of qualifying for the U.S., but we knew Honduras is a good team.
Next month's home game against Costa Rica is now vital for the Americans. After that, Jurgen Klinsmann and company head to Mexico.
Defense looked as green in action as it was on paper. Three holding mids couldn't hold on. Howard once again a sitting duck. #USMNT

— Dave Martinez (@EmpireOfSoccer) February 6, 2013
FT: Honduras 2 - 1 #USMNT || Deserved win for the Hondurans. Questionable defending. Generally typical U.S. performance.

— Nutmeg Radio (@NutmegRadio) February 6, 2013
Losing away in the Hex doesn't just happen, it's the norm. The #USMNT is only in trouble if they don't win at home on March 22.

— Stars and Stripes FC (@StarsStripesFC) February 6, 2013
With a more defensive posture the US has now lost two on the road in WCQ, drew Guatemala and narrowly beat A&B.

— The Shin Guardian (@shinguardian) February 6, 2013
As the guy next to me at the bar said "well, that sucked." #usmnt

— Mike Cardillo (@thatsonpoint) February 6, 2013
90+4
Zusi's corner is met by Gonzalez, whose header is over the bar.
The final whistle sounds. The game is over.
Sub: Costly leaves the pitch. Georgie Welcome replaces him.
Free kick for the U.S. goes out for a corner in the fourth minute of stoppage time.
90+2
Smooth, flowing buildup by the U.S. ends with Kljestan's cross…
…which is right at the Honduras keeper. That won't do the job.
90'—HON 2, USA 1
The U.S. wins a free kick in the middle of the field, but Bradley wastes his pass, which is intercepted.
Into stoppage time, and then presumably the inquest.
88'—HON 2, USA 1
The game is petering out. Honduras is just killing time in the U.S. half. The U.S. doesn't seem capable of stopping it.
86'—HON 2, USA 1
The beIN commentators are arguing whether Geoff Cameron or Tim Howard was to blame on that goal.
There seemed to be some confusion between the two on Honduras' second goal.
85'—SUB
Jorge Claros repalces Bengston, the man who's injured.
84'—HON 2, USA 1
A Honduras player is lying on the pitch. Injured? Or wasting time?
The only thing worse than the #USMNT defending on that goal are the pictures Bob Ley's been trying to post on twitter the past two days

— Trevor Hayward (@HeyHayward) February 6, 2013
Phil Schoen is right: All 3 US players share the blame. Howard has to be telling Cameron & Omar exactly what's up.

— Matthew Doyle (@MLS_Analyst) February 6, 2013
MORE ON THE GOAL
Garcia beats Cameron running onto a ball through the back line. Gonzalez is late to react as Bengston races onto Garcia's final pass and tucks the ball home.
Poor defending.
79'—HONDURAS GOAL!
There's the goal. The U.S. is in trouble.
78'—HON 1, USA 1
Lots of possession for Honduras, which still hasn't made a single substitution. The U.S. looks content to let Honduras play.
No surprise there. The U.S. players look absolutely gassed. It's hot out there.
75 minutes gone and still 1-1. Can we recruit Edin Dzeko? #USMNT

— Stars and Stripes FC (@StarsStripesFC) February 6, 2013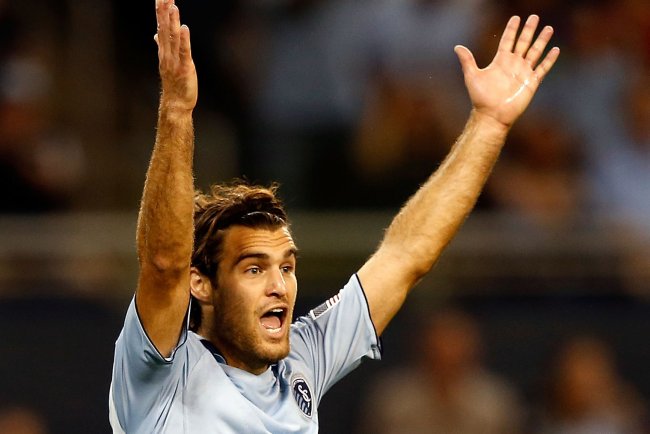 Jamie Squire/Getty Images
73'—HON 1, USA 1
Graham Zusi scythes down Boniek, but escapes a yellow card with just a word from the ref.
71'—SHOT!
Boniek cuts into the middle and flashes a shot just wide of Howard's far post.
Honduras looks dangerous. Can the U.S. hold on?
69'—OOH!
Costly nutmegs Chandler with a backheel while his back was to goal. Costly then makes his way to the 6-yard box on the left side, but his cross is batted out for a corner.
The U.S. clears it, but moments later Costly has an open header in the box. He places it wide.
Expect #USMNT possession to improve dramatically now with Kljestan and Zusi instead Jones and Johnson

— Steve Davis (@SteveDavis90) February 6, 2013
This article is
What is the duplicate article?
Why is this article offensive?
Where is this article plagiarized from?
Why is this article poorly edited?