Golden State Warriors: Evaluating Current State of 5 Key Areas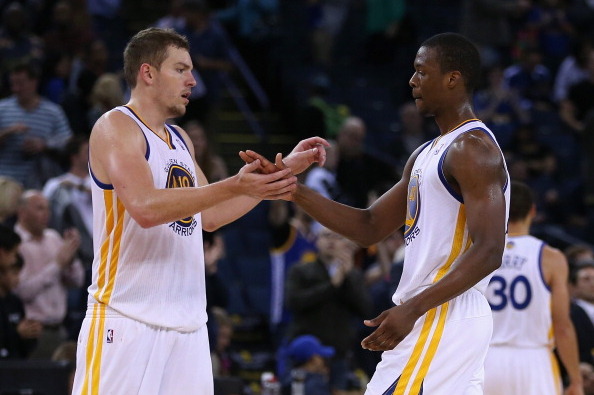 Ezra Shaw/Getty Images
Harrison Barnes and David Lee: key pieces of the Warriors puzzle
Should the Golden State Warriors stand pat? This seems to be the unanswerable question that everyone is asking as the All-Star break and trade deadline approach.
Do the Warriors have enough to win a playoff round or two, perhaps even compete for the...
No one finishes that sentence, not yet. Something inside of us says that it's too much to ask for all at once. But that championship title is what every team strives for. It's why teams play. It's why fans watch the games. So, with that in mind, let's look at where the Warriors stand in key areas that will give themselves a chance to continue their surprising growth.
Begin Slideshow

»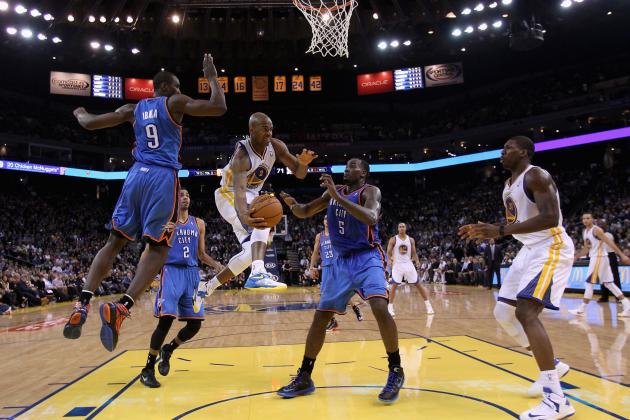 Ezra Shaw/Getty Images
Jarrett Jack is the best player off any bench this year.
There are rumblings around the net that the Dubs need yet another backup point guard. The Warriors have the best backup point in the league in Jarrett Jack. He is great at what he does and is far more effective as a teammate than Jamal Crawford will ever be for the Clips. He is, hands down, the Sixth Man of the Year.
Of course, if Stephen Curry can be overlooked as an All-Star, Jack can be bypassed too. That doesn't change his status as the best bench player in the league.
Even the Dubs third-string point, Charles Jenkins, shoots 45 percent from the field, is a solid defender and has learned not to dribble in front of himself, thereby negating last year's unfortunate turnovers. Apparently somebody mentioned to Charles that he has shoulders the size of most middle-class homes, and it's hard for defenders to get to the ball if you use your off shoulder as a shield.
Alternately, Klay Thompson is handling the ball well in the full court, Harrison Barnes can bring it up, David Lee can handle against pressure, Draymond Green is really just a big, strong point forward and Kent Bazemore can dish and dribble against pressure.
The bottom line: Golden State has a wealth of riches in players who can handle the ball and find open teammates. They do not need another point guard.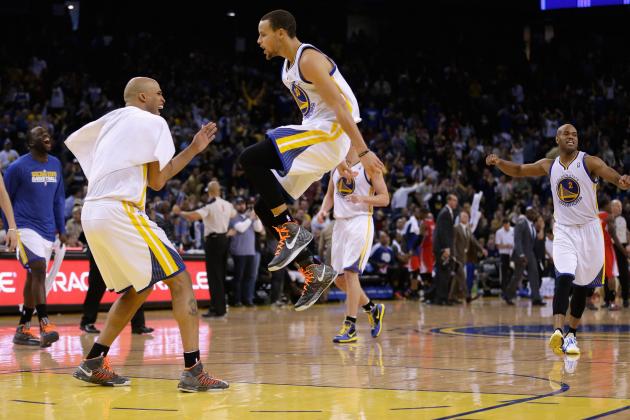 Ezra Shaw/Getty Images
Nobody shoots like Stephen Curry, but some of his teammates come close.
Are you serious? No one has the range of good-to-great-to-exceptional shooters from outside that the Warriors have.
Curry, Thompson, Jack and Barnes can all hit from the outside. In fact, the first three tend to be lethal from beyond the arc, and Barnes can be. Add a newly healthy Richard Jefferson to the mix, and let the threes rain down.
Heck, even Draymond and Bazemore are starting to hit from three land.
Take one step in, and it's almost criminal how well the Warriors shoot. You have Jenkins—who excels just a smidge inside of the arc—Curry, Thompson, Jack, Lee, Barnes, Jefferson, Green (recently) and Bazemore (when he ekes out enough playing time).
Landry can also hit from 18 to 20 when left open.
The bottom line: Lordy, they got some shooters. They are also full to the brim on that front.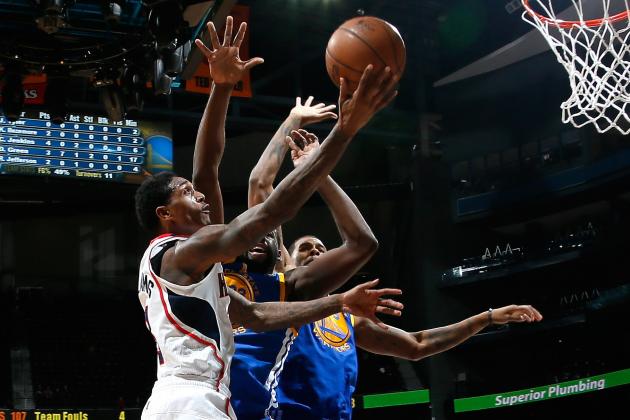 Kevin C. Cox/Getty Images
Draymond Green adds defensive intensity to the Warriors.
What used to be the team's weakness for...well...forever, now seems to be a strength. For those who haven't watched this team, this year, you are in for a surprise. The Warriors can now defend.
Curry and Thompson have become good defenders, occasionally nudging their ways into the realm of playing excellent defense. Jack is consistently very good defensively, as is Barnes.
Bogut is the man in the post. Just ask the Mavs.
Draymond Green is exceptional antagonizing opposing offenses, defending any position necessary and succeeding nearly every time.
Carl Landry has developed his game to being dependably good on D.
David Lee is a good position defender within the team concept, though admittedly, he vacillates between very good and semi-porous more than any other Warrior.
Add in Festus Ezeli, who gives many bigs fits, and a resurgent Andris Biedrins, and this team is chock-full of defenders.
Then there's Kent Bazemore, possibly the second-best defender on the team, who should be playing more—but over who?
The bottom line: The Warriors D it up already, and no acquirable player—short of a returning Brandon Rush—is going to make more of an impact defensively than the collection of players on the Warriors today. Never thought you'd hear that, did you?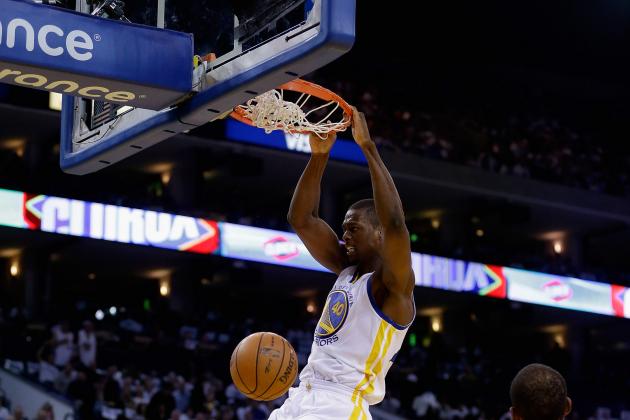 Ezra Shaw/Getty Images
This is what the NBA wants and the Warriors need, Barnes delivers.
This is one of two areas the Warriors need to improve on.
Harrison Barnes showed in the Phoenix game what he is capable of, but the Warriors have to recognize the importance of slashers in today's NBA and take advantage of their newfound edge in this aspect of the game.
Fans love SportsCenter highlights, and Harrison Barnes is the team's highlight reel in development. Whether it is spoken aloud in NBA circles or just whispered about among those at the epicenter of the league offices, the NBA promotes teams that are exciting.
That means national games, exposure and, more importantly, calls—and calls mean more trips to the charity stripe.
To the aggressor go the...you know the story.
Our aggressor is Barnes. The Warriors need to go to him more often. Period.
Ideally, the Warriors would have someone else coming off the bench to fill that role too. They did for a couple of games, and they will again next year with the return of Rush.
Lee also slashes as well as almost any 4 in the game, though he admittedly doesn't finish in as violent a fashion and with the authority that the good Mr. Barnes can. But come on, who does?
And while Richard Jefferson has recently made some plays that make most 30-plus-year-olds stand back and remember when, it would certainly help if Green and Thompson would further develop their slashing games.
The bottom line: While the Warriors could use another slasher, good ones come at a price they probably shouldn't pay at this point.
Besides, they need to have room for Rush when he returns next season.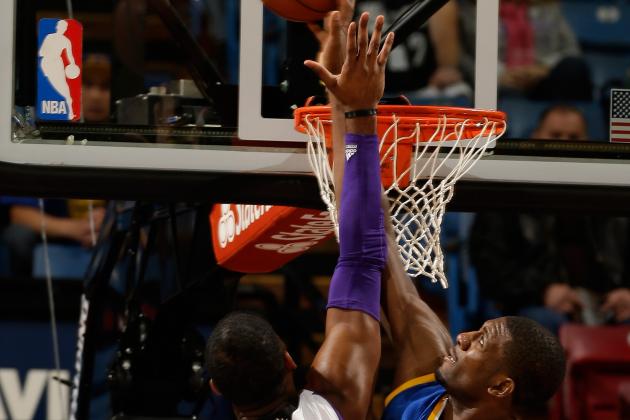 Ezra Shaw/Getty Images
Festus Ezeli defends well, but the Warriors need help in the post on offensive.
Golden State has exceptional scoring 4s in Lee and Landry. It would not be a stretch to say that they easily have the best one-two punch at that position.
You add in the flexibility of Draymond Green, and the Warriors are kickin' it at power forward.
Then there's the 5. Shoring up the rest of the teams strengths and weaknesses, the Dubs have probably the best 5 for their game in Andrew Bogut. As much as some may fantasize about the Dwight Howard of a few years ago, on this team, his talents would negate many of the strengths of those around him.
Lee and Landry would not be the players they are today with a 20-point vacuum in the post.
Bogut can shoot, pass, board and dribble when he has to. And the man brings the D. What's more, he causes players to think twice about finishing in the land of the giants.
One could go on about the subtleties he brings to the team and how he makes those around him better, but at this point, that's probably a given.
Then there's Andris Biedrins, a young man who was lost for a few years after what was once a burgeoning career. He is now doing his level best to find himself again. While far superior to the Biedrins of 2009-2012, he's still not the player he was. He is effective where the Warriors need him most—on the boards and on the defensive block—but the Warriors desperately need him to consistently contribute something on offense.
Anything.
When he does, there's a real spark to the second unit. When he does not, the Warriors are forced to play four-on-five offensively. They're good, but it's tough to contend for a title short a man on one end of the court. That said, he does hit the offensive glass better than almost anyone on the team these days, with the possible exception of Draymond Green and Harrison Barnes.
Festus Ezeli is worth what he brings in strength, defense and intelligence. Ezeli is not expected to produce the 11 PPG Biedrins did a few years back, but he has to catch the ball when passed to every time at a minimum. Defensively, he's solid, even spectacular on occasion, but he does not push himself on the boards as he should. He will grow, but the question is how do the Warriors improve now.
And while Jeremy Tyler has all of the coordination in the world and can hit some shots, as of yet, he hasn't grasped what his role on this team should be, and consequently hasn't gotten the minutes he very well could.
The bottom line: The Warriors need a bench 5 capable of scoring and setting picks, someone who can catch every pass thrown to him and contribute in additional ways.
But there aren't any players like that in the league; none that are attainable, at any rate, you may counter.
There is one player who fits the Warriors bill and who may very well be acquirable: the Rockets' Donatas Motiejunas. Who in the name of Zeus is that, you ask? Well, for those that missed this year's Summer League play in Las Vegas, he's the quick, coordinated seven-foot player who can shoot from anywhere, sets great screens, can rebound, pass and handle with either hand—and he's riding the pine in Houston.
He's a good defender, but not a presence in the post, but with Bogut and Ezeli, the Warriors have the luxury to bring his defense along while Ezeli improves his offense.
Most fans don't put a lot of weight in Summer League play, perhaps justifiably, but it seems that this year's crop of rookies and second-year players were pretty accurately represented by their play in Vegas.
Bazmore blocked seven shots in a game and he can defend, Thompson dominated when relied upon to do so, Damian Lillard was special and Harrison Barnes showed he had a much more complete game than his draft placement would have alluded to.
And as was evident in his Summer League play, Motiejunas could be a special player. He can shoot a three well, but generally posts up strong. He can shoot a jump hook with either hand, and perhaps most important for the Warriors, he's a basketball player.
The Warriors, much like the Grizzlies and Spurs, are a team made up of basketball players. Lee, Landry, Bogut, Curry, Green, Jack, Thompson and even their best athlete in Barnes, they are basketball players who are athletes in a league where many are athletes who play basketball.
Motiejunas fits the former mold well, and he would be a great fit for the Warriors.
He could probably be acquired for some combination of Andris, Jeremy Tyler and/or a lower first-round draft pick.
Will Donatas Motiejunas give the Warriors a game-changing big man coming off the bench? In ways, yes. He can score well, has great hands, can pass and set picks, and that's the only thing the Warriors are really missing on this team, short of a big-name draft pick the league has already anointed a star.
The Warriors aren't going to be getting one of those for a while, so they need to make smart acquisitions on players already in the league and luck out on the next Ginobili when they can.
Bob Myers, now it's up to you to do that voodoo that you do.