Kentucky Gains Ground with Convincing SEC Win over South Carolina
Andy Lyons/Getty Images
Kentucky 77, South Carolina 55 (FINAL)
On a night when SEC leader Florida's loss to Arkansas proved that the league isn't quite as depleted as previously thought, Kentucky gained ground with a convincing win over South Carolina.
Five Wildcats scored in double figures, led by Julius Mays with 15. Nerlens Noel chipped in with 15 points, 10 rebounds and five blocks, a major reason that South Carolina shot less than 30 percent from the floor.
The Cats got a mild scare in the final minutes when Mays collided hard with an R.J. Slawson ball screen and went down holding an elbow. Updates on his status will be eagerly awaited by Big Blue Nation.
Michael Carrera led the Gamecocks with 18 points and six rebounds. SC forced 17 Kentucky turnovers, ball security continuing to be an issue for the Wildcats.
The Wildcats welcome Auburn to Rupp Arena this Saturday, while South Carolina hosts Tennessee.
Kentucky improves to 15-6, 7-2 in the SEC, and moves to within a game of first-place Florida. South Carolina falls to 12-10, 2-7 in conference.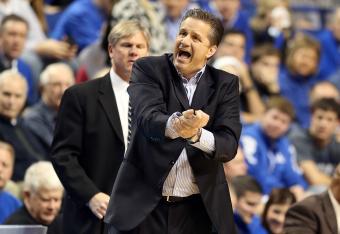 Kentucky 77, SC 55 (FINAL)
Hope those who stopped by enjoyed the work tonight.
Not great competition, but UK couldn't afford to blow a chance to gain ground on Florida. One game back, one game left before the Cats and Gators throw down in Gainesville next Tuesday.
Who knows, maybe I'll be with you for that one, too.
Good night.
And Coach Cal, smile. You won.
Somebody needs to put Gainesville PD on alert to look out for this guy next week:
I am destined to be removed from the Kentucky-Florida game next week.

— ken novak (@ken_novak) February 6, 2013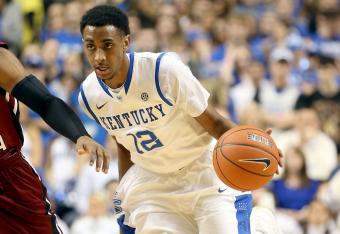 Kentucky 74, SC 54 (1:42 2nd Half)
Ryan Harrow still perfect from the floor for UK, making 6-of-6 tonight.
Calipari called the team out for being "soft" earlier this week, and most of UK's writers read between the lines and connected the statement to Harrow. This isn't exactly a big test tonight, so the writeups on this one should be interesting.
Kentucky 72, SC 52 (3:52 2nd Half)
Julius Mays collides brutally with a screen and goes down. Looks like he's holding a shoulder.
No truth to the rumor that his freshman teammates came out to offer him his walker.
Kentucky 70, SC 52 (4:37 2nd half)
We're about two minutes from Twany Beckham Watch.
One other note on Florida, since UK fans are undoubtedly already chalking up Auburn: Will Yeguete left the Arkansas game after re-aggravating a knee injury. The Gators will need him to help Patric Young body up on Noel and Cauley-Stein.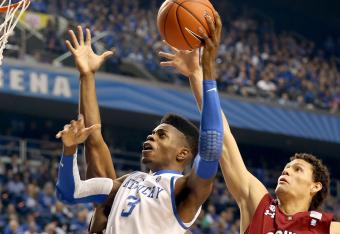 Kentucky 70, SC 44 (6:22 2nd half)
Kentucky's last center had a unibrow.
The current one has a Kid 'n' Play high-top.
If they're going to keep raising the stakes on odd cranial features, Cal's going to have to recruit a kid with a harelip in a couple of years.
Kyle Tucker's watched enough of Willie Cauley-Stein to notice some changes that might be scary for the rest of the SEC and whoever comes up on UK in March:
Is it just me or does it not look like Cauley-Stein did nothing but lift weights while he was out with the knee. Kid looks huge now.

— Kyle Tucker (@KyleTucker_CJ) February 6, 2013
Normally, South Carolina defends the three-pointer well (32.4 percent coming in).
Tonight? Kentucky's made 5-of-8, including 4-of-5 from Julius Mays.
A week from tonight, the Cats get Florida, a team that gives up 30-percent three-point shooting. Arkansas shot 44 percent from long range against UF tonight.
This kind of stroking needs to not be a one-night mirage if UK wants to hang another loss on the Gators and fight for the SEC lead.
Kentucky 62, SC 40 (10:08 2nd Half)
Four fouls on Michael Carrera, the one guy who's been productive for SC.
So, Gamecocks fans, how about that Signing Day?
Kentucky 62, SC 40 (11:38 2nd Half)
Hard to believe that South Carolina was up 18-17 at one point.
Since then, it's 45-22 Kentucky over about a 20-minute span.
UK still shooting almost 70 percent from the floor.
To the Cocks' credit, they're only one point behind in the second half so far. (Had to come up with something nice to say.)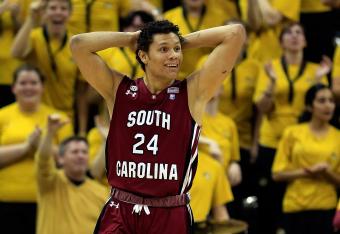 Kentucky 57, SC 40 (14:49 2nd Half)
Carolina's Michael Carrera leading all scorers with 17 points now. Not bad for a guy who was getting chanted at for wearing short shorts earlier.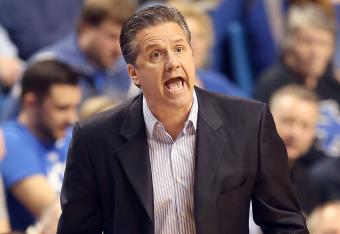 Kentucky 52, SC 36 (15:49 2nd Half)
For some reason, 6'4" Brian Richardson was guarding Noel on the last trip. No wonder his defensive effort consisted of bailing out and giving Noel the baby hook.
Cal, smile. You're winning.
Kentucky 50, SC 31 (17:17 2nd Half)
Three triples tonight for Julius Mays. He and Wiltjer need to keep stroking if UK wants to make a run in March.
Meanwhile, Nerlens Noel can dunk. Struggles at other things, but dunking ain't one.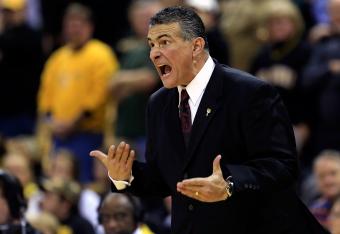 Sorry Coach, but I got one more stat that makes South Carolina look helpless:
Kentucky's defense has blocked eight shots so far. Its offense has only missed seven.
By the way, I called Arkansas having a shot at beating Florida. Just ask my editor.
Second half on.
A fearless prediction from a tweeter who most certainly did NOT rock the most epic college hoop mustache of my lifetime:
Can we act like we don't know how this story goes and be surprised when Kentucky goes on a 10+ minute cold streak in 2nd half? #WOOSAH

— TheFakeGimelMartinez (@fakegimel) February 6, 2013
To paraphrase The Rock, it seems South Carolina knows its role. At least that's what this tweet from the Lexington Herald-Leader's John Clay tells me:
This Kentucky's biggest halftime lead (21 points) in an SEC game since being up 52-25 at South Carolina last season. #bbn

— John Clay (@johnclayiv) February 6, 2013
And, in case UK needed anything else to go right, a 64-percent free throw shooting team is knocking in 80 percent at half (12-of-15).
South Carolina's 3-for-6, and I feel guilty for even mentioning that. At this point, it's just piling on.
Ryan Harrow and Archie Goodwin pacing Kentucky with 10 points each at halftime. Harrow shooting a pretty decent 5-5 from the floor.
Nerlens Noel (or "Noels" as Dino Gaudio seems to prefer) with what's becoming a typical game for him: two points, four boards, four blocks.
Field goal percentages: Kentucky 68.2, SC 28.1. Yes, the game's starting to get away from the Cocks.
Seven points for SC's Michael Carrera, but if I remember correctly, he hasn't hit since before the first media break.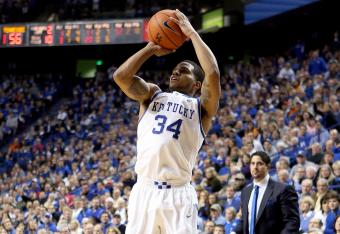 Kentucky 45, South Carolina 24 (Halftime)
Julius Mays strokes a three for the Cats, then yet another layup extends it further.
Cats fans, could Mays be this season's Darius Miller?
Seriously, someone's gonna have to start talking to me, because this game is getting out of hand fast.
Kyle Tucker with a recommendation on the place to look for some sweet pics from this game:
Follow @jonathanpalmer for some great shots from tonight's game. He tweets some right from the baseline. Crazy technology.

— Kyle Tucker (@KyleTucker_CJ) February 6, 2013
Kentucky 38, SC 23 (3:00 1st Half)
Kentucky Sports Radio's Matt Jones sharing a moment w/ a young Cat fan:
Before every Archie Goodwin free throw, a 10 year old behind me screams "I believe in you Archie"It is precious

— Matt Jones (@KySportsRadio) February 6, 2013
Kentucky 36, South Carolina 23 (3:20 1st Half)
SC either gets good shots blocked or bad shots clank. It's hard out here for a Gamecock.
Carolina shooting 31 percent from the floor (9-for-29). On the bright side, they're making 41 percent of the shots that don't get blocked.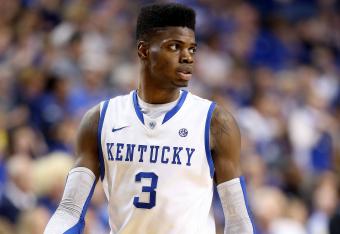 Kentucky 34, South Carolina 20 (4:34 1st Half)
Four blocks already for Noel. 101 on the season.
Anthony Davis wishes he could swat like this.
Kentucky 33, South Carolina 20 (6:06 1st Half)
The Gamecocks finally scored, but Kentucky just keeps coming. 16-2 run now.
One more thing: does anyone else notice that Gaudio keeps calling Nerlens "Noels"?
8:23 1st Half: Kentucky 26, South Carolina 18
The Cats are getting up and down the court at will now, and Frank Martin needs to discuss some things with his team.
9-0 UK run, and "I'm NOT Da Fatha!!" is probably also NOT happy right now. See two posts back.
This article is
What is the duplicate article?
Why is this article offensive?
Where is this article plagiarized from?
Why is this article poorly edited?

Kentucky Wildcats Basketball: Like this team?