A Virtual NBA Ironman Competition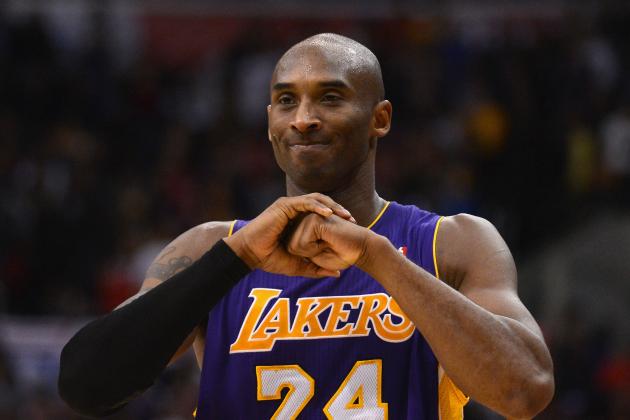 Harry How/Getty Images
Is the aged Kobe Bryant the NBA's ultimate ironman?
Welcome to the NBA Ironman Competition, where we go through the league's toughest competitors and determine who has the greatest endurance.
Let's lay out some ground rules.
Grinding through NBA play requires a number of things: The strength to consistently play major minutes, the skill to warrant that kind of run, the fortitude to withstand the bangs and bruises and the willpower to fight through them.
We'll start with 16 players from each conference and pit them against each other until we have our final Ironman. For purposes of seeding, we'll be working with each player's 2012-13 minutes per game stat.
That's about as objective as this is going to get. Like any judgement of a vacuous descriptor such as toughness, the rest is arbitrary.
Begin Slideshow

»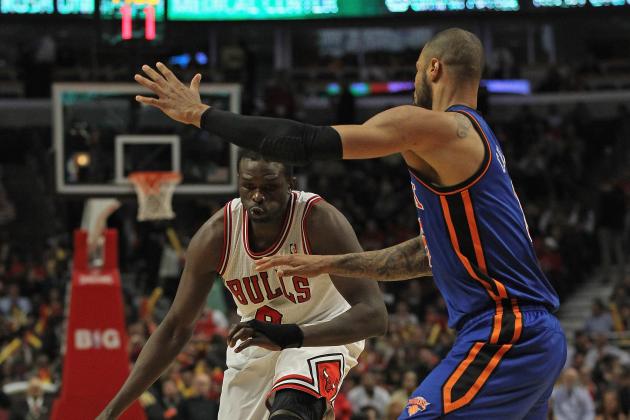 Jonathan Daniel/Getty Images

Right off the bat, we see that the empirical method of seeding these players is still hugely flawed.
How is it that Tyson Chandler, the anchor of the Dallas Mavericks' 2011 championship-winning defense and the emotional leader of the resurgent New York Knicks, is the 16th seed in the Eastern Conference?
The minutes per game thing isn't perfect, but it's the best bad idea we have.
In a different matchup, Chandler might've made a run through the East, but Luol Deng has the edge here.
Deng is the Chicago Bulls' unsung hero, though he has gotten his due since Derrick Rose has been out. Though Chandler has been healthier in recent years, he has missed upwards of 30 games three times in his career, and he has only topped 30 minutes per game five times in 11 seasons.
We'll have plenty of time to laud Deng in future rounds. For now, it's a matter of Chandler not being quite as sturdy as you might think.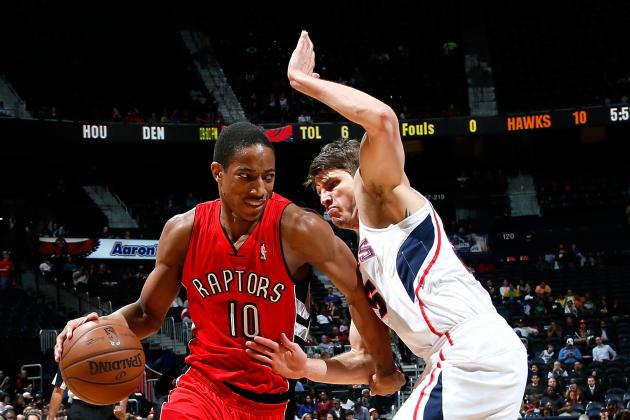 Kevin C. Cox/Getty Images

It's subtly amazing that DeMar DeRozan can play so many minutes.
He's a mediocre mid-range shooter and a poor three-point threat who is just a pretty good defender. All he has going for him is his athleticism and dunking ability, which force him to drive inside and draw contact on a regular basis.
That's laudable, though Thaddeus Young has been even more impressive banging around at power forward for the small-ball Philadelphia 76ers.
Unfortunately for Young, he just went down with a hamstring strain, per Dei Lynam of CSNPhilly.com. Even though he'll only be out three weeks, that's the most significant injury of his career, whereas DeRozan has only missed eight games over four seasons.
On the basis of durability, DeRozan gets the nod.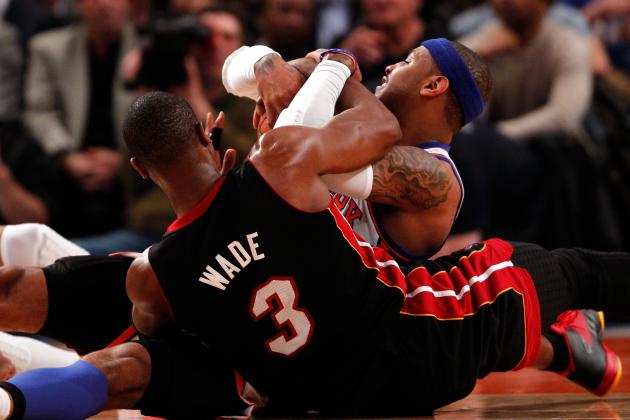 Jeff Zelevansky/Getty Images

Well this escalated quickly.
Suddenly we have a marquee matchup on our hands, Carmelo Anthony against Dwyane Wade, the third pick in the 2003 NBA draft against the fifth.
Without question, Melo is the better player right now. But also without question, Wade is moving on.
To keep it brief, Anthony has a history of getting dinged up and missing time; he hasn't even played 70 games since 2006-07.
Wade has dealt with some injuries himself, but he also starred in a commercial built around the phrase "Fall Down Seven Times, Stand Up Eight."
That reputation pushes Wade through to the Sweet 16.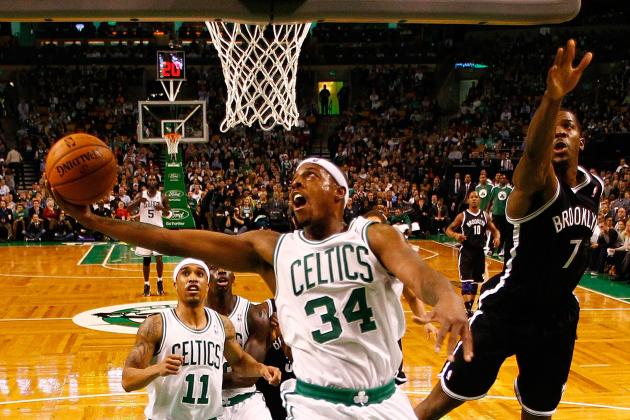 Jared Wickerham/Getty Images

More big names in this pairing, and the answer might be even clearer here.
Nothing against Joe Johnson, who has averaged 36.7 minutes per game and manned up on both ends of the floor in his 11 NBA seasons, but this is Paul Pierce we're talking about.
Even at age 35 and with his skills deteriorating, Pierce is still the heart and soul of the Boston Celtics. He also has put together quite a track record of toughness and reliability over his 14 seasons, to the point that his 33.7 minutes per game are actually the fewest he has ever played.
We'll save the big Pierce stories for later, but don't worry, they're coming.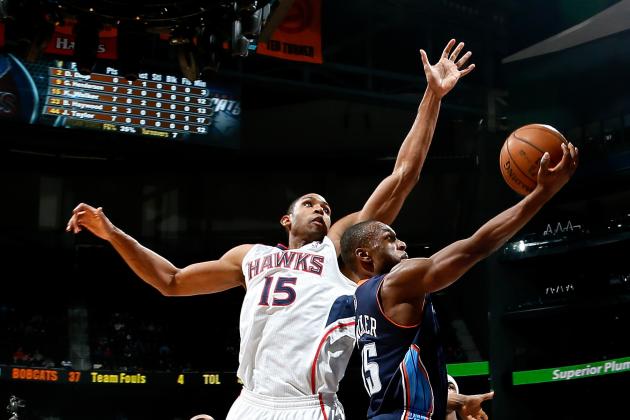 Kevin C. Cox/Getty Images

Even after missing much of last season with a torn pectoral, Al Horford still has what it takes to push past Kemba Walker.
Granted, the Charlotte Bobcats' diminutive guard has been a nice development in 2012-13, unafraid to weave through the trees or to compete on the defensive end. In a year or two, Kemba could have himself a nice rep as a hard-nosed player.
He deserves to be in this bracket, but it's too soon for him to advance past the first round.
Horford plays double duty as the Atlanta Hawks' defensive centerpiece and as the composed veteran leader alongside Josh Smith.
The pec tear is certainly a mark against him. Yet Horford is averaging a career-high 37.3 minutes per game, and he's too strong to fall to a second-year player.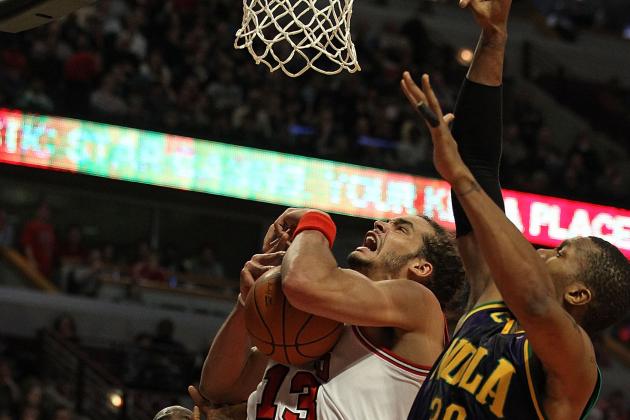 Jonathan Daniel/Getty Images

For our purposes, this is the truly regrettable matchup of the first round.
In one corner, we have Joakim Noah, the rangy, snarling center for the Chicago Bulls' defensive juggernaut. In the other, David West, the bulldog vet who leads a rugged Indiana Pacers team by example.
What seems to be the tipping point is Tom Thibodeau trusting Noah to play 38.6 minutes per game this season, but considering his shooting and rebounding percentages are both down this year, it actually works against him.
Prior to this season, Noah's minutes were more in line with West's in the low 30s. Since becoming a starter, however, he has only stayed healthy through the strike-shortened 2011-12 season.
It's sad to see him go here, but Noah is out. The ultra-consistent West moves forward.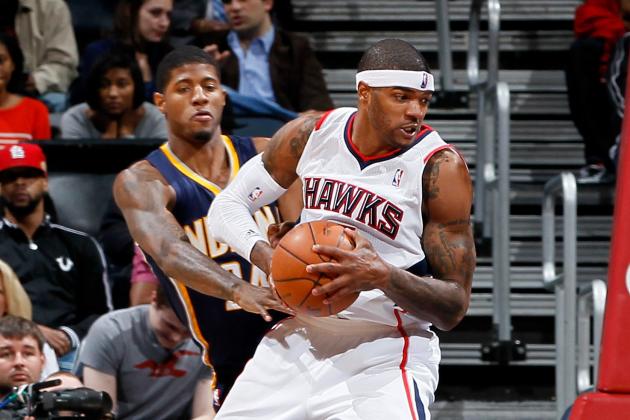 Kevin C. Cox/Getty Images

Paul George is further along as an NBA player than Kemba Walker, but Josh Smith is going to advance for the same reason his teammate Al Horford did.
For making great strides this season and filling the shoes of the injured Danny Granger, George has certainly earned mention in this company.
Yet like Walker, George is playing major minutes for just the first time in his career, and like Joakim Noah, his offensive efficiency has taken a hit in the process.
Beyond a decidedly soft tendency to shoot low-percentage outside jumpers, Josh Smith is one of the most versatile tough guys in the league. He has the strength to bang around in the post with anyone and he can still use his speed to hound wings when the defense switches or when the Atlanta Hawks go big.
George has a better case than Walker did, but Smith is still too much for him.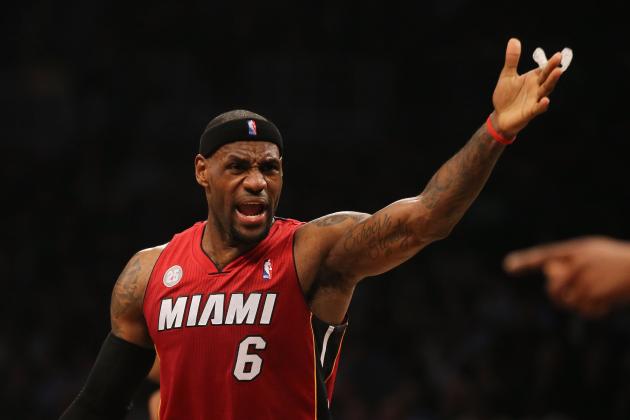 Al Bello/Getty Images

If you chose the obvious answer, you're right.
When Raymond Felton broke his pinky finger, a fluky injury and the first major one of his career, it became clear how much he meant to the New York Knicks. Not only did the offense drop off, but New York had no answer for guarding the point.
Only in his absence did we see the true value of Felton's physical brand of point guard play. However, this is also the same guy who the Portland Trail Blazers benched last season for being out of shape.
Though he's not as doughy anymore, Felton is going against LeBron James. End of discussion.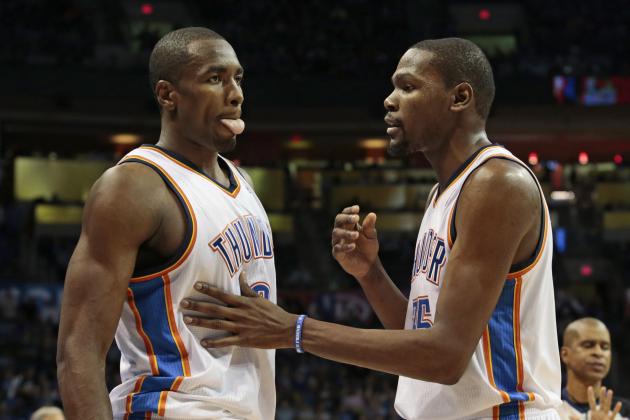 Brett Deering/Getty Images

This is the Ironman Competition's version of Warrior.
Kevin Durant and Serge Ibaka have both expanded their games this season, with Durant crashing the boards and passing more and Ibaka sporting an improved mid-range game.
As far as Ibaka has come, though, it has to be Durant.
Think about this one: Durant is in the midst of his fifth-straight season playing at least 38 minutes per game. On the other hand, Ibaka is up to 32.2 per game this season, his first over 30.
In a painful pitting of teammate against teammate, Durant emerges.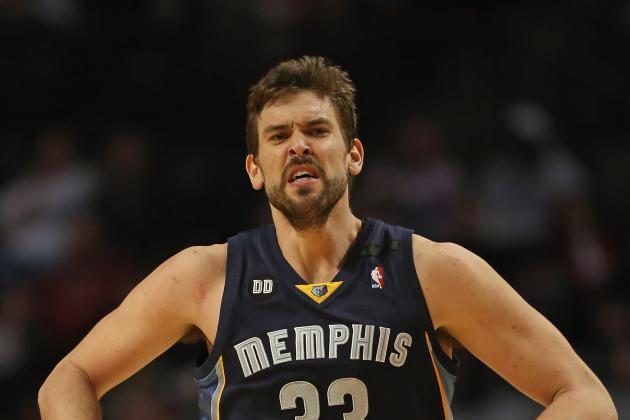 Jonathan Daniel/Getty Images

Way back when, no one would've beaten Ron Artest in this department.
That said, Metta World Peace is 33 now, with 13 seasons' worth of toll on his body.
He's more than a step slower than he once was, but World Peace is still a formidable player on the wing. But the 2012-13 iteration of the former Artest is not enough to beat Marc Gasol.
Pau's little brother has missed just 15 games over five seasons, during which he has developed into a interior force for the staunch Memphis Grizzlies.
Once upon a time, Ron Artest could've bested a guy like that, but Gasol is moving past MWP.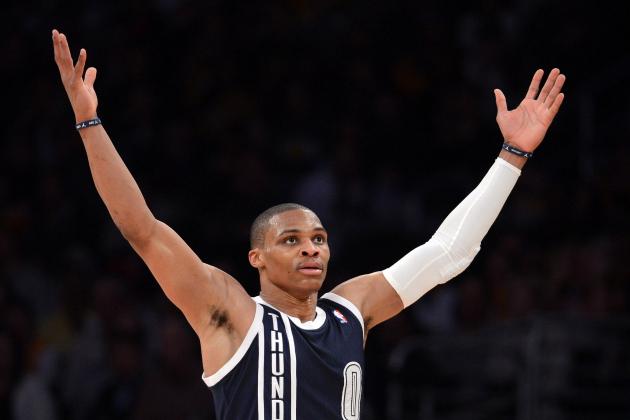 Harry How/Getty Images

In this big versus small matchup, the little man reigns supreme.
Russell Westbrook isn't a guy you'd immediately think of when talking about consistent NBA players, but he has yet to miss a single game for the Oklahoma City Thunder in his five seasons of play.
That's 360 games (and counting) of high-energy, borderline reckless play, attacking the basket with abandon and putting his athleticism to full use every time he steps on the floor.
Then there's Al Jefferson, who has the bulk to stand up to anyone in the post, to the point that the Utah Jazz can lean on his size despite his subpar defensive technique.
Sheer strength won't stop Westbrook, though. He's on to the next round.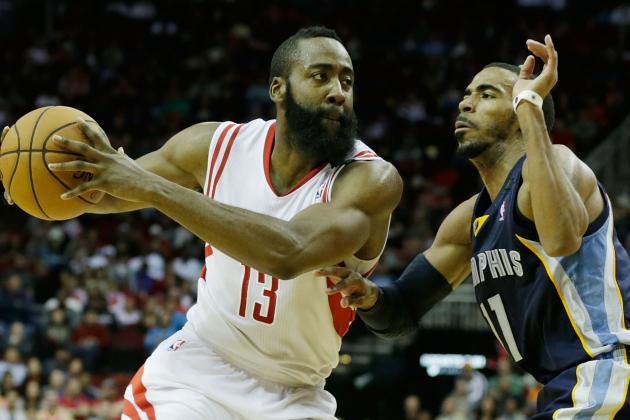 Scott Halleran/Getty Images

A two-guard showdown in this tournament comes down to who plays the grittiest game.
James Harden doesn't have to prove anything to anyone who has seen him slash through defenses and get to the line at will. However, he also is losing points for sample size this season, as his stint with the Houston Rockets has been marked by increased production and decreased efficiency.
In Memphis, Mike Conley has always earned his keep by locking down point guards for the Memphis Grizzlies defense. He's lightning quick on D and is willing to be physical to keep guys in front of him, an approach that has garnered Conley praise even when he has faltered on the offensive end.
Of course Harden is the better player, but Conley is the tougher of the two, and so he advances.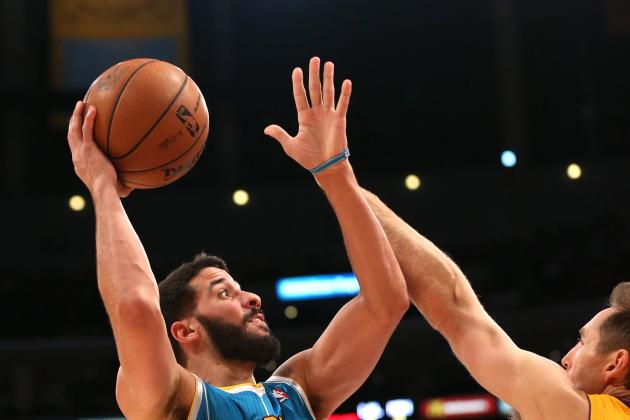 Stephen Dunn/Getty Images

Here we have two of the biggest surprises of the 2012-13 season.
O.J. Mayo has played the best basketball of his career with the Dallas Mavericks, keeping the team afloat as long as he could even while Dirk Nowitzki was out. Though Dallas has tumbled in the standings, Mayo's individual effort should not be forgotten.
It doesn't hold up against Greivis Vasquez's improbable run, though.
The New Orleans Hornets had no better choice than to start Greivis at the point, though the 6'6" combo guard did not fit the prototype. Vasquez has literally played to his strength, bullying defenders on the perimeter and providing a young team some stability.
That blue-collar style wins this round for Vasquez.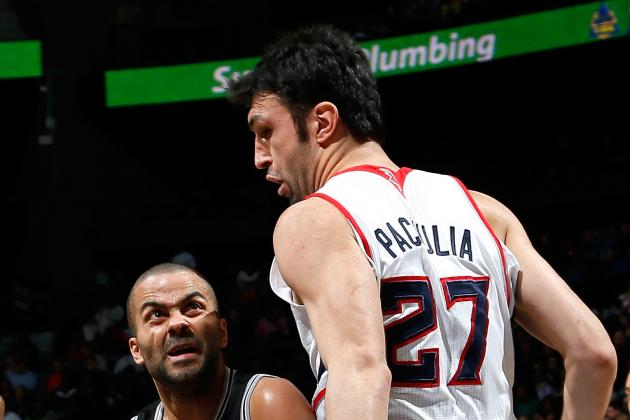 Kevin C. Cox/Getty Images

The seasoned veteran point guard or the hardworking newcomer?
What Damian Lillard has been able to do in his rookie season is very admirable. He hasn't been the most efficient player, but the Portland Trail Blazers are asking him to play 38.6 minutes per game already.
Lillard has surprisingly been up to the task, with his scoring making up for his rookie mistakes on defense. Yet he's playing that much not because he should, but because Portland has no bench. That must be taken into account.
Meanwhile, Tony Parker is having perhaps the best season of his career in his 12th year in the league. In that time, he has been a staple for the San Antonio Spurs, missing more than 13 games just once since coming to the NBA.
Lillard will likely have a long NBA career, but Parker is the proven commodity. Another young gun goes down.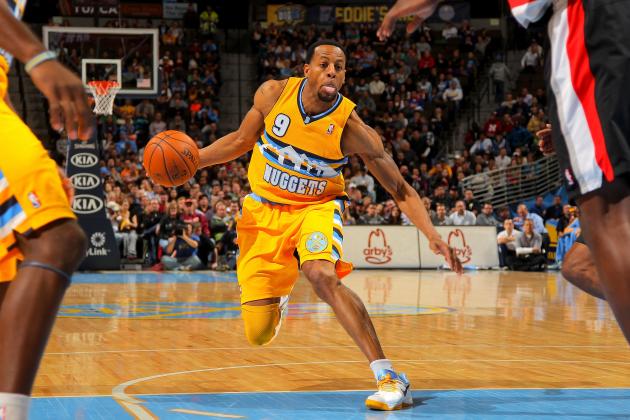 Doug Pensinger/Getty Images

Another teammate matchup, though this one doesn't have the same fraternal feel as the Oklahoma City Thunder pairing.
After all, Andre Iguodala just became a Denver Nugget after eight seasons as a Philadelphia 76er. In that time, Iguodala was a lockdown wing defender and de facto primary scoring option, and he only missed 25 games total.
Ty Lawson has some of Iguodala's relentlessness in him, as any NBA player under six-feet tall must. That will and his breakaway speed have brought him to this point, though his percentages have plummeted ever since he started playing true starter minutes.
Iguodala may be new in town, but he moves on while Lawson goes home.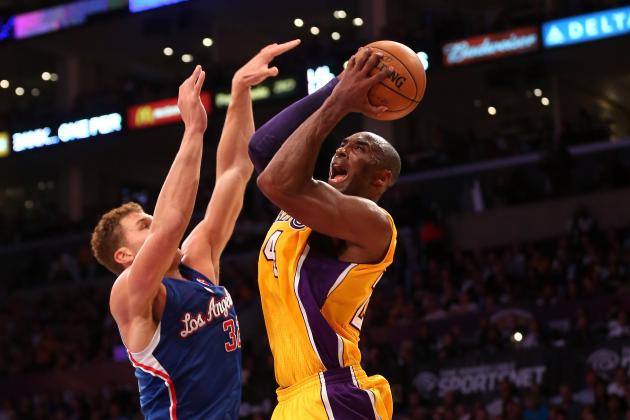 Stephen Dunn/Getty Images

The faces of Los Angeles' two NBA franchises are squaring off.
Chris Paul is surely the better player, but let's be honest, Blake Griffin is the poster child of this new era of the Los Angeles Clippers. A high-flying athletic freak, Griffin has also been very durable, recently missing just the first game of his career after playing 197 straight.
Let's just assume we all know Kobe Bryant and explain why Blake is done here.
There's a sense of honor inherent to the title of Ironman. If you don't play the game with integrity, your toughness is moot.
So when Blake Griffin flails after accidentally hitting himself in the face, it's impressive commitment to the craft of acting, but it's also a significant demerit.
Oh, and Kobe may be bionic. That also essentially gets him a first-round bye.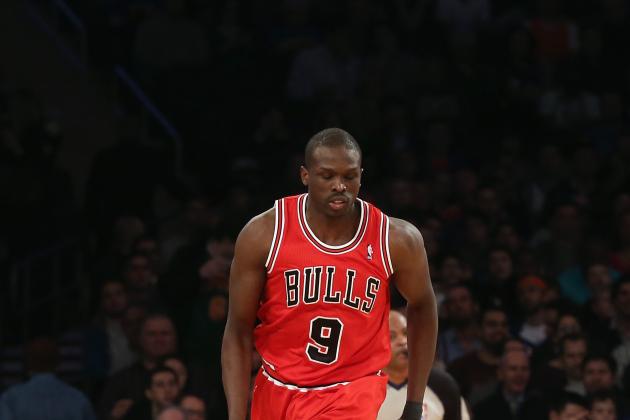 Bruce Bennett/Getty Images

On to the Sweet 16 we go, where Luol Deng draws an even easier matchup.
Nothing against DeMar DeRozan, but he barely skirted past Thaddeus Young because of Young's recent injury and his own luck in that department.
However, DeRozan's proclivity for dunking is no match for Deng, whose jack-of-all-trades style of play has allowed him to grind out wins for Chicago in every type of game situation.
Let's not belabor the point: Deng moves through again.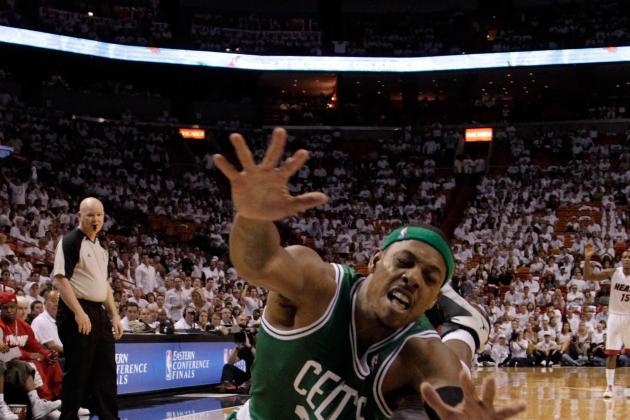 Mike Ehrmann/Getty Images

The only way to settle a toughness debate between these rivals is with a two-sided smear campaign.
First, though Paul Pierce did play 82 games after getting stabbed in the face and lungs just before the 2000-01 season, the more recently medical memory of Pierce involves the Los Angeles Lakers and a wheelchair.
Then again, there's also Dwyane Wade shoulder charging Darren Collison into the floor in the 2012 playoffs and (allegedly) kicking Ramon Sessions in the groin earlier this season.
These are two legends, two surefire Hall of Famers and two guys well-versed in the toeing the fine line of gamesmanship. Fair play flies out the window in this conversation.
So we'll give it to the younger guy. Pierce can't grind forever, so Wade keeps going.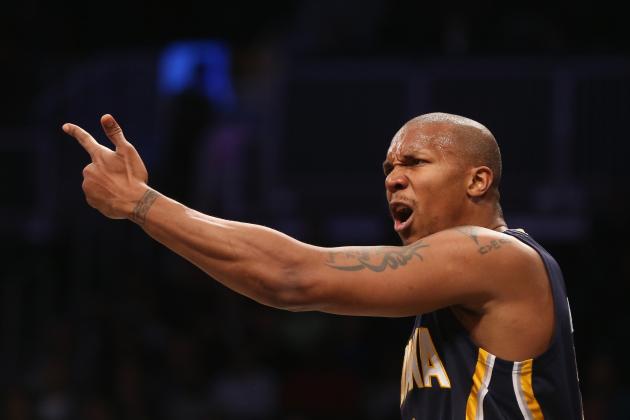 Bruce Bennett/Getty Images

There's a difference between these two big men as leaders.
Let's jump back to the 2010 postseason.
Horford's Atlanta Hawks had just gone up 2-0 on the Milwaukee Bucks, only to get punched in the mouth when they didn't bring playoff intensity to Game 3 in Milwaukee. Afterwards, Brandon Jennings told ESPN he felt Atlanta didn't take them seriously.
"I felt like they were a little bit cocky," Jennings said Sunday. "They came in like, 'OK, it's Milwaukee, we're up 2-0.' I mean, that's just how I felt. I felt like they thought they were just going to come in and just blow us out. I think with the crowd, and the way we came out, it just changed everything."
As a counterpoint, let's remember how David West pulled his celebrating Indiana Pacer teammates off the floor after a road playoff win over Miami in 2012. From Yahoo! Sports' Dan Devine:
"You know, we can't get too excited because we won one game," said West — who led Indiana with 16 points (14 of which came in the second half) and 10 rebounds — during his postgame press conference, which you can watch in full after the jump. "That's not our goal in this series. We can't overreact because we were able to get one game down here. We've got to win professionally and understand that we haven't reached the goal that we set out to reach."
Professionalism is the key. West it is.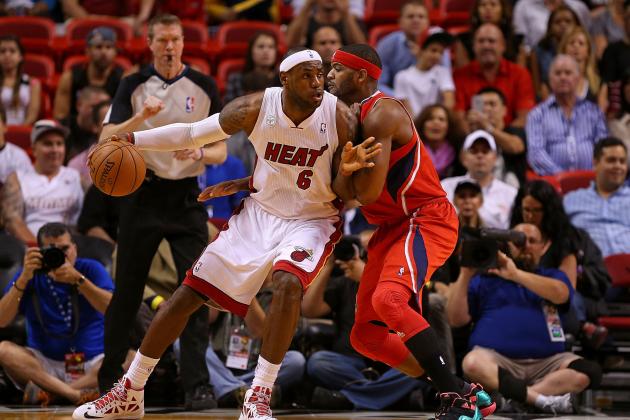 Mike Ehrmann/Getty Images

From a physical standpoint, Josh Smith is about as close a match to LeBron James as you could possibly find.
Though Smith has more muscle inside and James more speed, they're both three-four hybrids whose versatility, let alone skill, presents matchup nightmares for opponents.
We all got a clinic on how tough LeBron is, mentally and otherwise, when he moved inside and eviscerated his competition during his 2012 championship run. Yet James is going to win this discussion based on durability, if only because he is talented enough away from the basket to be productive there.
While Smith drifts outside sometimes, he plays a much greater portion of his game banging around in the paint. That comes with an inherently higher risk of injury.
If James' toughness were in question, that risk would give Smith the win. Since it's not, it's merely liability, and James gets the nod.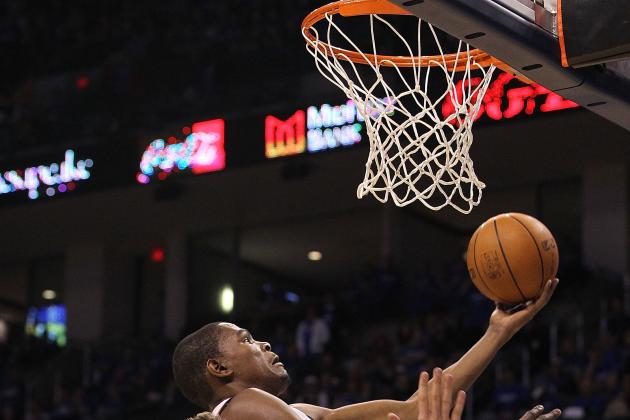 Ronald Martinez/Getty Images

There may not be a player consistent enough to beat Kevin Durant.
There's no question that Marc Gasol is tougher than Durant, but he suffers from the same drawback Josh Smith faced against LeBron. Gasol's position exposes him to more punishment, which has caused him to miss more games than Durant.
Back when Durant was preparing for the NBA draft, he was the only prospect at a league pre-draft camp who failed to bench press 185 pounds even once, per ESPN.
Though still on the skinnier side, that Durant has been replaced by a guy who can mix it up with his finesse inside as well as out. He put in the work to be a more well-rounded athlete and player, and it shows.
It's a much closer case here, but Durant advances on the same criteria LeBron did.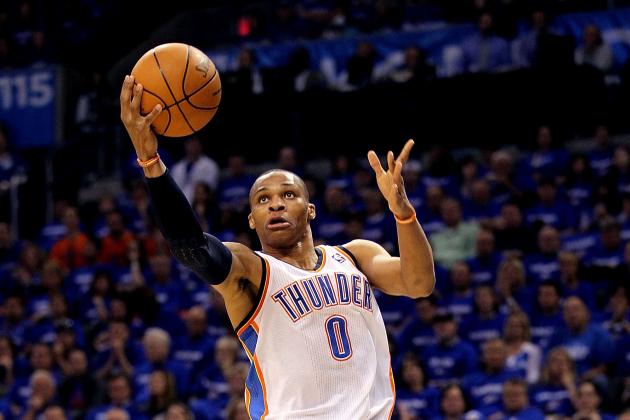 Ronald Martinez/Getty Images

No other way to say it: This one simply comes down to talent winning out.
Both of these guys are essential to their respective team's success. Memphis needs Mike Conley to play shutdown defense, start up the offense and space the floor with his shooting, while Russell Westbrook would be irreplaceable for any team in the league.
That's the real difference-maker here.
We could talk about Conley being slightly more dinged up in his career than Westbrook, who, again, has never missed a game. But these guys are really both worthy of the title of Ironman. It just matters more, for Oklahoma City and for the NBA, that Westbrook stays on the floor.
God-given greatness is all it takes sometimes. Westbrook it is.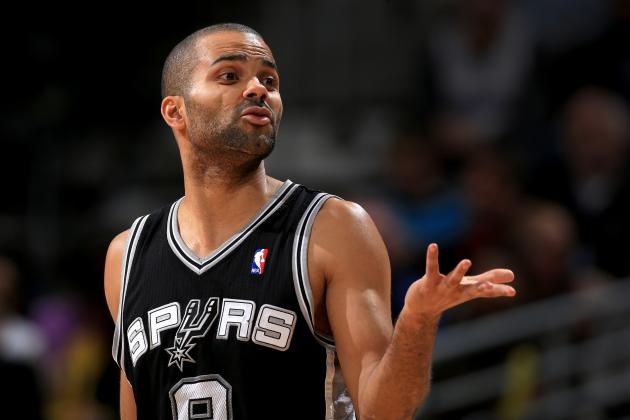 Doug Pensinger/Getty Images

Tony Parker benefits from the luck of the draw two rounds in a row.
After beating the neophyte Damian Lillard in the opener, Parker now faces Greivis Vasquez. This latest opponent has experience with the NBA season, but not with the type of workload he's getting right now.
New Orleans' surprising point guard has started every game for the team this season, averaging 34.2 minutes per game after playing 25.8 last season and just 12.3 as a rookie.
Once again, we're talking about one of the most consistent point guards of this generation against a fun but unproven young player. Parker moves through again.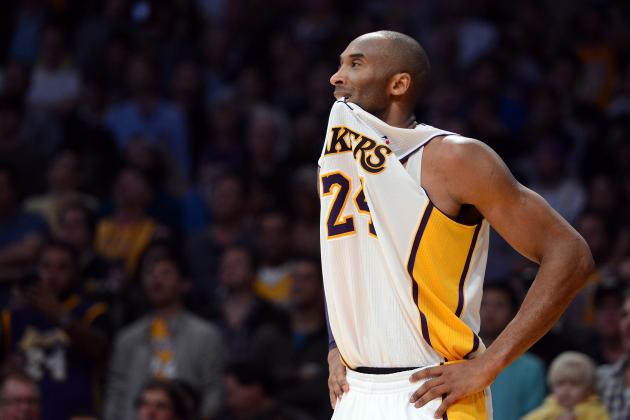 Harry How/Getty Images

It should work against Kobe Bryant that he is perpetually day-to-day with some strain or cartilage issue. Yet that's just another piece of his legacy.
The guy just plays through everything.
In his 17th season, Kobe is playing as well as he ever has, even with no cushioning in his knees and a litany of other aches and pains. And of course he's a step slower now, but just when you think he's not an athletic threat, he emphatically reminds everyone via dunk.
Arthritis cannot stop Kobe Bryant. Right now, it doesn't even appear that it can contain him.
With that case, Iguodala doesn't even get a counterargument. Kobe keeps going.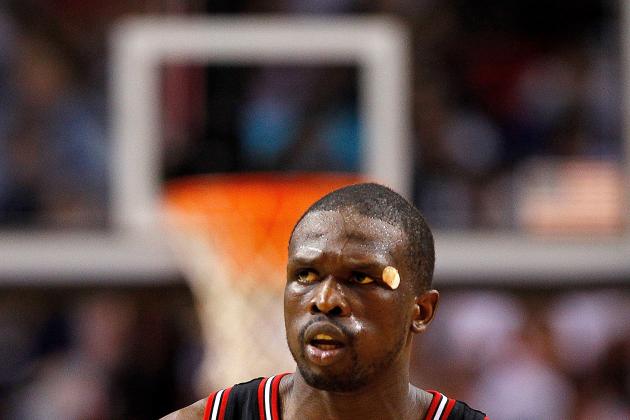 Mike Ehrmann/Getty Images

It's the Elite Eight, and now we can get into Luol Deng's credentials.
He is on pace to play 39 minutes per game for the third straight season and to lead the league in minutes for the second time in a row.
Tom Thibodeau plays him that much because no one can defend like Deng does, with the ability to clog the paint and lock down on the perimeter when the situation requires and the intelligence to handle both responsibilities simultaneously.
He misses a game here and there, but so does Wade. Deng is the consummate workhorse in the NBA today, doing whatever his team needs for as long as his team needs him. On he goes to the Final Four.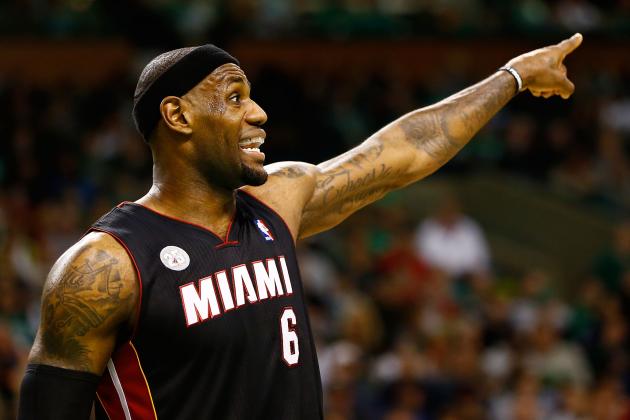 Jared Wickerham/Getty Images

Now, a couple of bones to pick with LeBron James.
He may have dialed back the flopping some, but he must still answer for some egregious offenses. None of his flops were quite on Blake Griffin's level of ludicrousness, but this acting job on a Tyson Chandler screen almost made Jeff van Gundy's head explode.
Guys flop, though; it's an ugly and unfortunate part of the game. What's truly unusual is LeBron's foul-free streak.
ESPN deemed it newsworthy that James was called for a foul in a Dec. 26 game against the Oklahoma City Thunder, as he had not been called for a personal foul since Dec. 8. That's a span of 254 minutes on the court and 16 days off it.
That's not a streak of remarkably disciplined play by LeBron, at least not on its own. The refs were clearly calling him by a different set of standards. It doesn't matter how tough you are when you play by an easier set of rules than everyone else does; it damages your credibility.
To tie this all together, here's a clip of LeBron flopping against David West and the Indiana Pacers in the 2012 playoffs in Game 3. That was after West displayed his class by pulling his cheering teammates off the floor.
LeBron's a great player, even a likable one again, but David West has to move on here.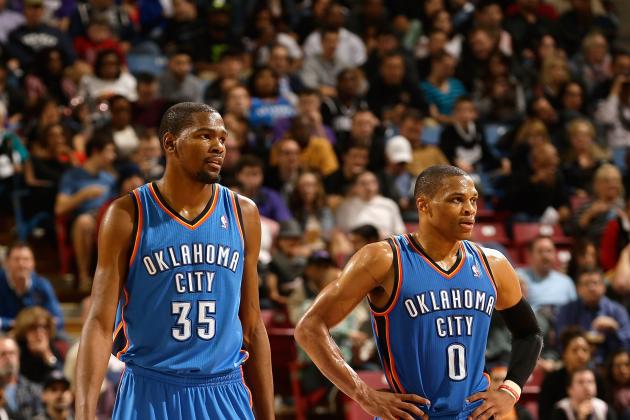 Ezra Shaw/Getty Images

If Kevin Durant and Serge Ibaka were our Warrior, then Durant and Russell Westbrook are our Harbowl.
Westbrook gives us the answer to the question of who can match Durant's consistency. After all, it was Westbrook who played through every bang and bruise, while Durant has been sidelined on occasion.
Though both players have flawed, that base fact that both are great is unimpeachable. That puts us in the same position as in Westbrook's Sweet 16 win over Mike Conley: If both are Ironmen, who is more important?
You can see where this is going.
Durant is on pace to win the 2012-13 MVP, while his supremely talented teammate continues to astound and frustrate with his erratic play. Point goes to the Durant, who is both mentally tougher and the superior producer.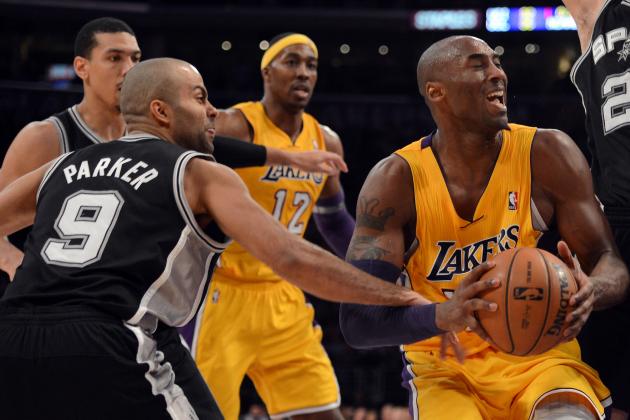 Harry How/Getty Images

Tony Parker has been beating up on young'uns, but it turns out he can't pick on someone four years older.
If anyone can understand Kobe's pathological need to play through the pain, it's Parker. Per ESPN, he nearly missed the Olympics after taking a shard of glass to the cornea in a fight between Chris Brown, Drake and their respective entourages.
That example is more dramatic and idiosyncratic than any injury Bryant has had, but short of the guys who play through catastrophic ligament tears, you need something outlandish to even compare to Kobe.
Which is precisely the point. There's no point of comparison for Kobe maintaining this consistent greatness while his body actively fights him. He's in a class by himself in that regard, and Parker cannot touch that.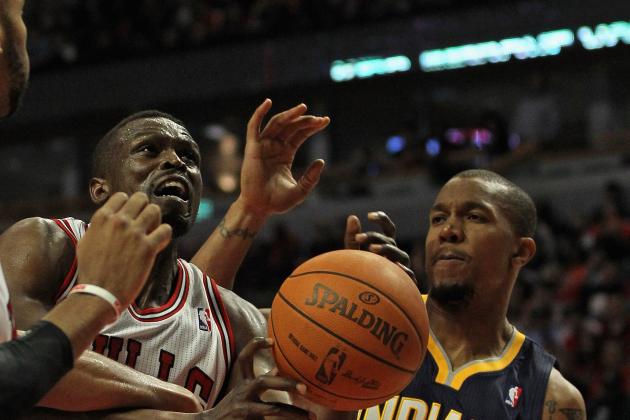 Jonathan Daniel/Getty Images

David West has made a magical run to the Final Four, but it must end here.
Yes, his physical presence and emotional leadership are vital for the Indiana Pacers, but they have the means to play suffocating defense without him. This team has learned their lesson after getting humbled by the Miami Heat last postseason, and Roy Hibbert's gargantuan frame is the truly irreplaceable piece of the interior.
That's not the case for Luol Deng.
If it were, Tom Thibodeau wouldn't be trotting him out more than any player in the league. Jimmy Butler would've gotten more run at small forward without Deng having to sit. Deng would likely be on the block in hopes of getting Chicago back under the luxury tax line.
Yet there's no signs of Deng going anywhere, because no one works like him. Luol Deng is your Eastern Conference Ironman.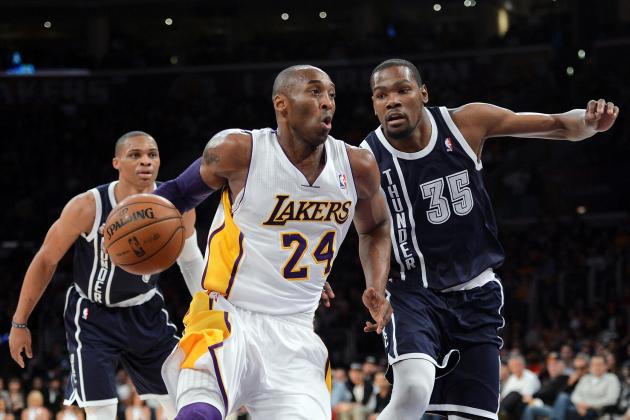 Harry How/Getty Images

With all the ridiculousness of this seeding system, we somehow ended up with chalk in the Western Conference finals. Mystery for the ages.
This is where the chalk ends, though. Kobe Bryant is heading to the championship round.
It might seem counterintuitive for the young, healthy superstar to fall to the old, hurting one, but Kobe defies that label. There's no question of if he'll get hurt, because he's always hurt, and he's always the same Kobe Bean Bryant, a man with no regard for the natural aging process.
Durant's game is so technically sound that it's easy to imagine him playing through pain without much difficulty. This isn't a technical competition, though.
Kobe has the willpower, and he has the win.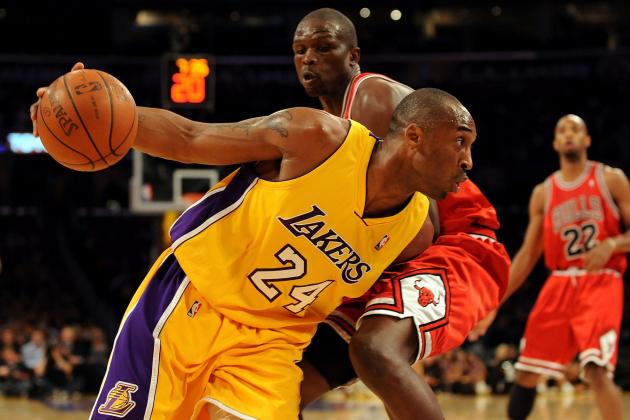 Harry How/Getty Images

There's been a lot of virtual ink spilled up to this point, but an Ironman isn't defined by talk, so let's just cut to the chase.
Kobe Bryant is your champion.
It's a testament to Deng's work ethic and his unyielding motor that we've largely ignored his injury history up until this point. He has missed upwards of 19 games three times in his career, and he was out for 12 games on two other occasions.
That's by no means terrible, but after sitting for five games already in 2012-13, we know Deng is willing to succumb to the pain.
As long as the German doctors keep spinning his blood, Kobe Bryant shows no signs of slowing down. He's the ultimate competitor, an athletic and medical marvel and our virtual NBA Ironman.