Los Angeles Lakers vs. Brooklyn Nets: Live Score, Results and Game Highlights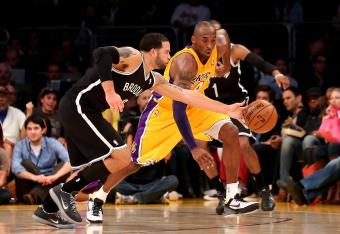 Stephen Dunn/Getty Images
The action in Brooklyn is underway—keep it here for live coverage and reaction.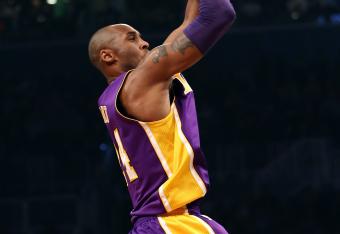 Game Recap
Despite being on the grueling Grammy's road trip and without Dwight Howard and Metta World Peace, the Los Angeles Lakers showed a ton of heart and won this game on pure effort.
The Lakers' defense was active, despite short bouts of missed assignments and getting dominated on the offensive glass. Brooklyn was able to pull down 20 offensive rebounds, but the Lakers' defense was able to hold the Nets offense in check.
Brook Lopez scored a game-high 30 points and pulled down 11 rebounds, but his teammates could not find enough ways to score and were plagued by 17 turnovers.
Meanwhile, Kobe Bryant continues to prove that he may, in fact, be ageless. Not only did he shake Gerald Wallace on two highlight worthy moves, but he absolutely annihilated the rim on a tomahawk slam over Wallace and Kris Humphries. Kobe finished with 21 points and eight rebounds.
Earl Clark continued his stellar play with a 14 point and 12 rebound performance. While Gasol played well on offense, he was a non-factor on the boards and would leave late in the game with an apparent foot injury.
Overall, the Lakers defense was able to disrupt the Nets enough to pull out the win down the stretch. Anytime a team is held to 34 percent shooting and turns the ball over 17 times, it's nearly impossible to win.
Hopefully for Lakers' fans, the team's pace continues to resemble tonight's performance when Dwight Howard returns to the lineup. Either way, this was a much needed victory for the Lakers as they head into Boston for Thursday night's showdown against the Celtics.
Final Score: Lakers 92 Nets 83
Kobe told me on @twcsportsnet that he thinks LAL have turned the corner, found something here winning 6 of 7 despite injuries.

— Mike Trudell (@LakersReporter) February 6, 2013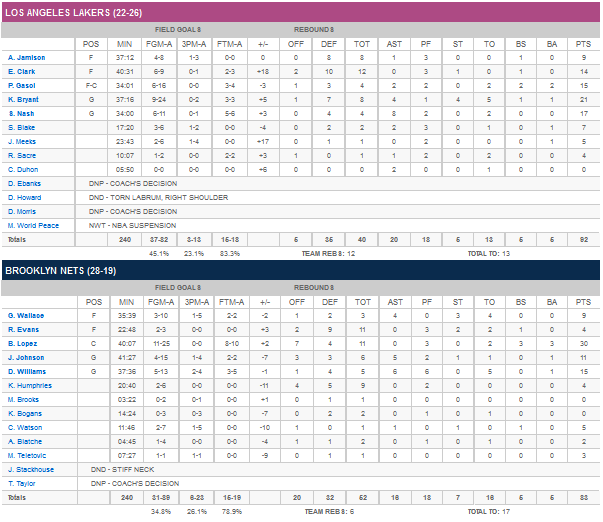 Final box score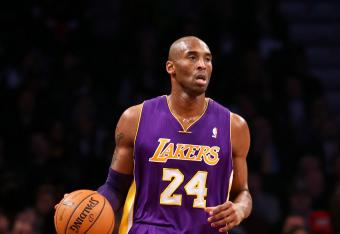 Joe Johnson misses a three and Nash heads back to the line to ice the game.
He hits both and the Lakers will have won three in a row on the road. The Lakers ended the game on a 10-0 run.
Lakers 92, Nets 83 - FINAL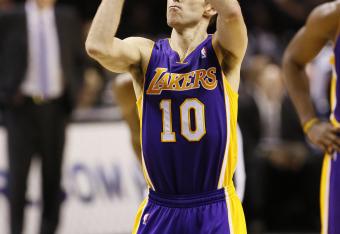 Nash at the line and hits both.
Timeout Nets.
Lakers 90, Nets 83 - :23 REMAINING 4TH QUARTER
Ball ruled to have gone off Jamison's shoulder. Nets ball.
Williams turns it over on the inbound and Earl Clark forced into a jump ball at center court.
Lakers win the tap.
Kobe fouled by Williams, because they had a foul to give. However, they waited far too long as the shot clock nearly expired.
Lakers 88, Nets 83 - :24 REMAINING 4TH QUARTER
LAL are on a 6-0 run in the last 1:11 of action, getting a Jamison floater, Kobe's pretty layup at the rim & Clark's long 2 to go up 88-83.

— Mike Trudell (@LakersReporter) February 6, 2013
Great defensive possession by the Lakers.
Kobe again roaming off Wallace who had a ball reversal for an open three and missed. Nets grab the rebound and Wallace misses a reverse layup.
Ball ruled out of bounds to the Lakers but is under review.
Lakers 88, Nets 83 - :50 REMAINING 4TH QUARTER
Pau Gasol has an injured right foot, and will not return. Nets doctors are looking at him now in the locker room.

— Mike Trudell (@LakersReporter) February 6, 2013
Gasol will not return. Reports are a foot injury and not his ankle.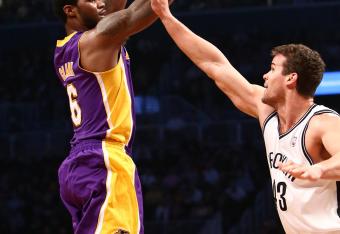 Kobe with a start-and-stop move right past Wallace for a layup.
Earl Clark forces another bad shot. Hes been awesome tonight. Clark then drains a 16-footer!
Lakers 88, Nets 83 - 1:11 REMAINING 4TH QUARTER
Jamison hits a floater over Lopez to put the Lakers back up.
Gasol yet to return from the locker room.
Lakers 84, Nets 83 - 1:59 REMAINING 4TH QUARTER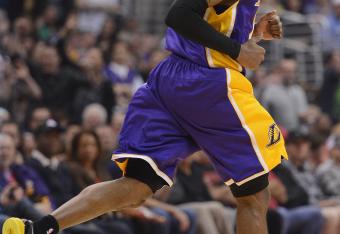 Kobe with a monster slam in traffic over Crash and Humphries!
Vintage Kobe with the tomahawk right now the middle of the lame.
Lopez answers with a jumper and-1. he has 29 points and 11 rebounds.
Lakers 82, Nets 82 - 2:33 REMAINING 4TH QUARTER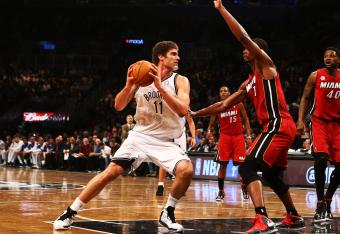 Gasol limps down the floor and Nash uses a Gasol screen for a floater to tie it up.
The Lakers need to find a way to keep Lopez off the boards and out of the paint.
Gasol heading to the locker room to get the ankle taped.
Meanwhile, Lopez with an easy dunk.
Lakers 78, Nets 80 - 3:27 REMAINING 4TH QUARTER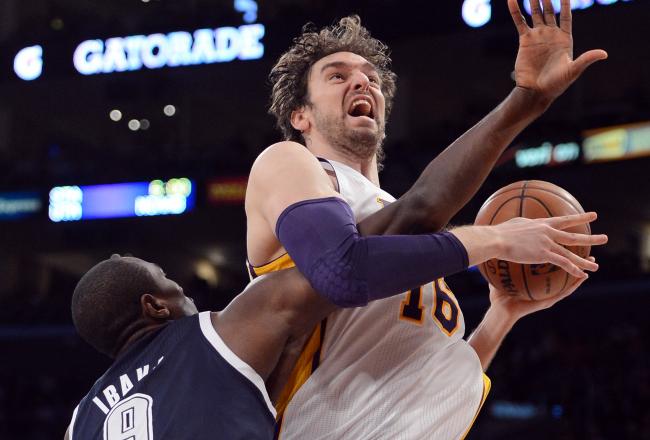 22 combined points in 8 minutes this quarter. Neither team can make a shot.
Pau looks to have twisted his ankle and Lopez collects another offensive rebound, the team's 19th.
Lakers 76, Nets 77 - 4:21 REMAINING 4TH QUARTER
Deron Williams bullies Nash down onto the block for an easy two.
Kobe is roaming off Wallace in order to help on Johnson and Williams.
Lakers 76, Nets 77 - 5:51 REMAINING 4TH QUARTER
Despite Brooklyn's terrible shooting, their work on the glass has kept them in this game.
Nash, Pau and Deron Williams return.
Earl Clark pulls down another rebound and has a double-double with 10 and 10
Lakers 74, Nets 73 - 7:27 REMAINING 4TH QUARTER
Steve Blake with the fade-away for his seventh point of the quarter.
Lakers 74, Nets 73 - 8:19 REMAINING 4TH QUARTER
Clark swatted Joe Johnson at the rim, but Sacre couldn't keep Brook Lopez off the glass, BKN now w/17 O rebs, 12 2nd chance pts.

— Mike Trudell (@LakersReporter) February 6, 2013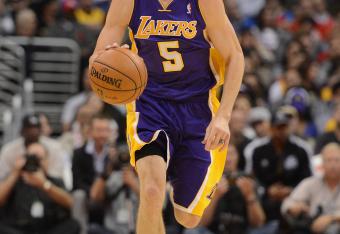 Brook Lopez remains on the floor to start the final quarter.
Steve Blake puts him in a blender and scores a layup.
Lakers 69, Nets 66 - 10:37 REMAINING 4TH QUARTER
Brook Lopez leads all scorers with 18, followed by Kobe with 17. Kobe also has eight rebounds and four assists.
Both teams are a combined 7-for-25 from three.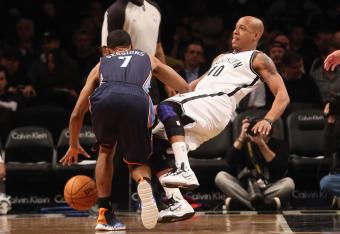 Brooklyn holds for the last possession as Deron is fouled by Sacre and heads to the line. Nets want a goal-tend, but the refs dont call it.
Williams splits the pair and Kobe leaks out off the rebound but is fouled by Bogans. Nets has a foul to give, good play.
Lakers 67, Nets 64 - END OF 3RD QUARTER
Back-to-back offensive fouls for the Nets. 15 turnovers.
Lakers 67, Nets 63 - :39 REMAINING 3RD QUARTER
This article is
What is the duplicate article?
Why is this article offensive?
Where is this article plagiarized from?
Why is this article poorly edited?

Los Angeles Lakers: Like this team?