Bjoern Werner's 2013 NFL Draft Potential
Melina Vastola-USA TODAY Sports

The 2013 NFL draft is full of talented pass-rushers. In this installment, we will be taking a closer look at each prospect's individual strengths and weaknesses in seven distinct and position-specific categories.
Each category has been weighted a certain percentage, based on its level of importance when translating to the next level.
First up, we dissect former Florida State Seminole Bjoern Werner. Follow the slides ahead to see if he has what it takes to make the final grade.
Begin Slideshow

»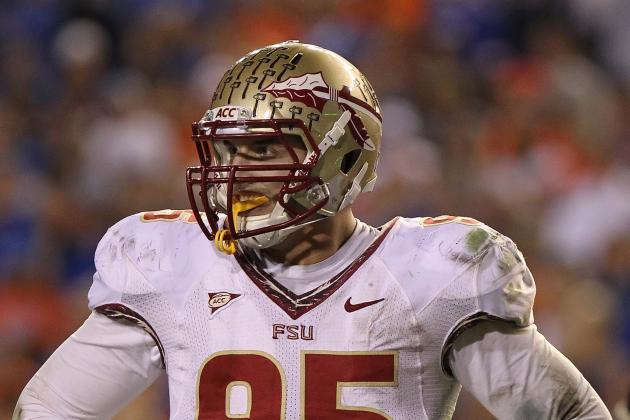 Kim Klement-USA TODAY Sports

Werner looks to have ideal height and exceptional length for the position. His game is better-suited for the 4-3 system as a strong-side end who can rush the passer and support the run.
Werner has a good frame at 6'4", 255 pounds, with enough room to add weight without sacrificing too much athleticism. He is said to have dropped as much as 10-15 pounds last offseason to become quicker and more agile by following a more balanced diet (h/t ESPN).
Not necessarily a thick athlete, Werner has an athletic-looking frame with nice broad shoulders, adequate girth and an impressive wingspan to keep opponents at bay.
Well-developed and proportionately sized, Werner's body type is nearly ideal, and he should have no problem transitioning to the next level.
Grade: 9.0 (Great)
Weight: 15 Percent
Total Points: (9.0 x .15) = 1.35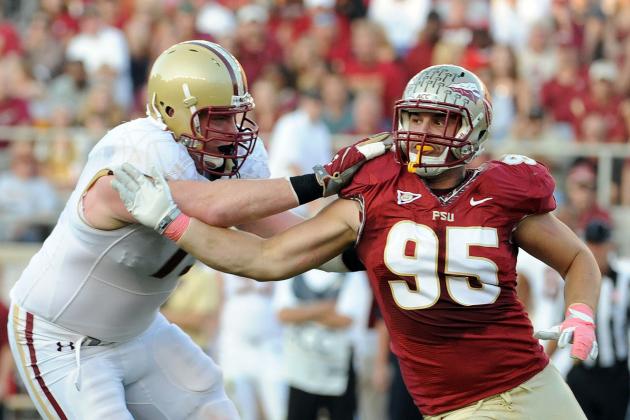 Melina Vastola-USA TODAY Sports

Werner exhibits good burst and initial quickness to challenge upfield. Not an elite straight-line guy, he combines agility and impressive change-of-direction skills to keep opponents off-balance.
Once around the edge, Werner does a fantastic job closing and finishing. He shows the proper bend and flexibility to drop his weight before flattening to close on the quarterback.
Werner possesses heavy hands, and has a skilled understanding of how to use leverage to create separation. His strong hands allow him to rip through contact, slapping away hands and keeping opponents off his body to give him adequate space to work.
Werner displays solid upper-body strength to jolt defenders on contact and is one of the best pass-rushers at converting speed to power.
He anticipates the snap count well, while also taking correct angles to the quarterback.
Werner grades very high in this area because of his technical proficiencies and ability to beat you with his pure athleticism or powerful hands and upper-body strength.
Grade: 9.25 (Great-Excellent)
Weight: 20 Percent
Total Points: (9.25 x .20) = 1.85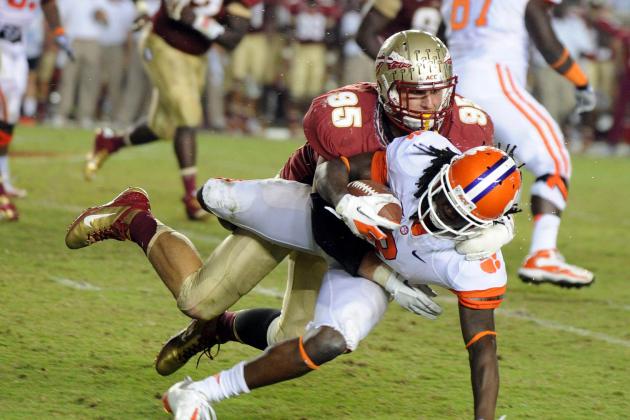 Melina Vastola-USA TODAY Sports

Werner locks out his elbows and does an excellent job setting the edge, while keeping his outside arm free to force the run back into the teeth of the defense. He fires out of his stance low, keeping his pad level down, allowing him to win with leverage.
Werner displays very good core strength and overall balance to hold up at the point of attack, and he does a nice job ripping through contact to shed blockers and find the football. He plays the piano down the line of scrimmage extremely well, showing off impressive lateral agility to his right or left.
Werner could stand to develop greater lower-body strength to hold up against thicker offensive tackles that can overpower him at the point of attack. He will give up some ground but generally displays a solid anchor to hold his ground and control the point.
Werner's football intelligence is very evident, as he is rarely caught out of position and plays assignment football.
A balanced player against the run and pass, Werner is one of the more complete defensive ends in this class.
Grade: 8.75 (Very Good-Great)
Weight: 15 Percent
Total Points: (8.75 x .15) = 1.32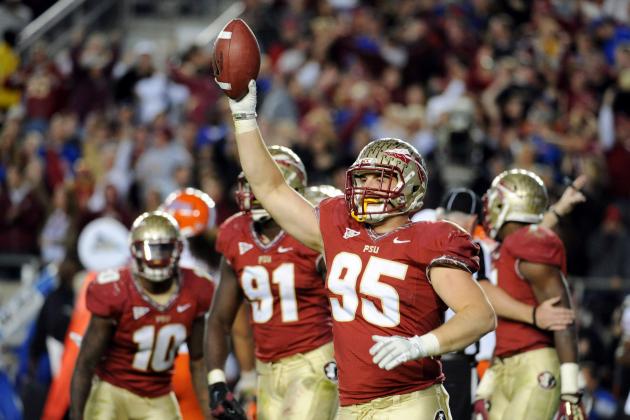 Melina Vastola-USA TODAY Sports

Werner is extremely quick to key and diagnose plays, flashing a superb understanding of the game and overall football intelligence.
He routinely reads run versus pass and does a fantastic job finding the football and diagnosing the information in front of him.
Werner shows innate natural awareness to get his hands up and knock down passes at the line of scrimmage. He times his jump efficiently and keeps everything in front of him at all times.
A disciplined player with veteran-like instincts and ball-awareness, Werner grades just a notch below rare in his ability to diagnose and play a smart and disciplined brand of football.
Grade: 9.5 (Excellent)
Weight: 15 Percent
Total Points: (9.5 x .15) = 1.43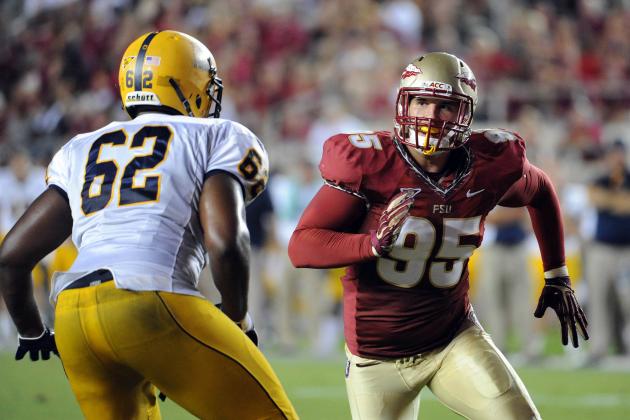 Melina Vastola-USA TODAY Sports

Werner comes out of his stance with proper pad level, engaging his opponent with the correct shoulder to keep outside contain. He will raise his pad shelf on occasion but generally keeps clean technique throughout his movements.
Werner displays fantastic hand-to-hand combat skills, understanding the components of leverage and spacing. He is very tactical with his arms and hands. Long limbs allow him to keep separation throughout his pass rush, as he likes to use an arm-over or arm-under move to gain the edge.
Still developing an arsenal of pass-rushing moves and counters, Werner is extremely effective in gaining initial inside hand placement. He does a nice job resetting both his hands and feet and is very fluid and coordinated while working in space or in tight quarters.
Werner has a tendency to lean at times, but he is a very proficient and accomplished pass-rusher who plays with excellent overall technique.
Grade: 9.5 (Excellent)
Weight: 10 Percent
Total Points: (9.5 x .10) = 0.95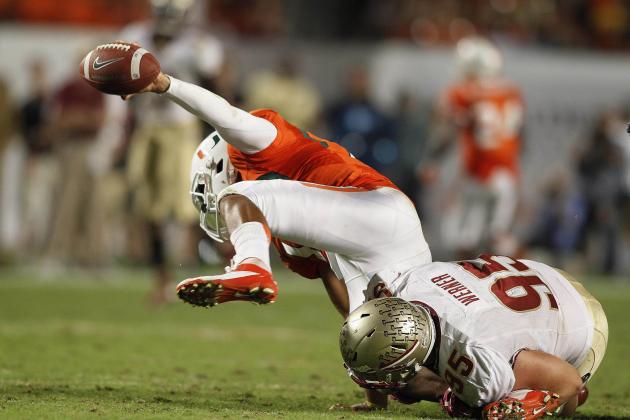 Robert Mayer-USA TODAY Sports

A very good finisher overall, Werner repeatedly brings ball-carriers to the ground cleanly. Solid fundamentals, technique and overall awareness allow him to see what he hits and make plays against the run and pass.
Werner keeps his head and eyes up at all times and explodes into his target, firing up through his hips, uncoiling and directing his force into the ball carrier. He does an excellent job corralling his man and can make plays in the phone booth or out in space.
He is not known as a heavy hitter, but Werner is a very sound tackler that you can depend on to finish what he started and to force the occasional fumble.
Grade: 9.0 (Great)
Weight: 10 Percent
Total Points: (9.0 x .10) = 0.90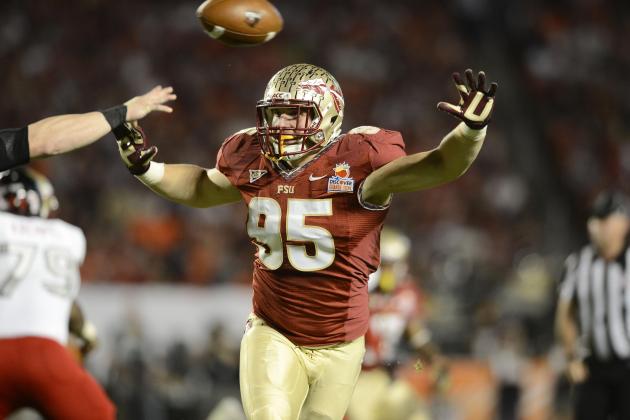 Ron Chenoy-USA TODAY Sports

Werner has solid career production, having accounted for 23.5 sacks in three seasons at Florida State (h/t rivals.com). Born in Germany, Werner played two years of high school football in Connecticut before joining the Seminoles.
He has improved his game consistently from season to season, which speaks volumes to his level of upside and attention to detail in perfecting his craft as a pass-rusher.
More of a finesse rusher with solid fundamentals, Werner's motor can run hot and cold at times. He needs to play with greater overall urgency and flash more of a mean/nasty streak, especially when trying to split double-teams.
Werner could also give better chase and pursuit on the backside. He doesn't always play at full speed and needs to get in the habit of giving more effort on plays designed away from his side of the field.
Werner has only been playing football since he was 15 and has shown the type of passion and commitment to the game that you want to see from a top prospect.
It's hard to find many flaws or poke many holes in Werner's overall game. However, better overall effort from snap to snap is Werner's biggest need moving forward.
Grade: 8.0 (Good)
Weight: 15 Percent
Total Points: (8.0 x .15) = 1.2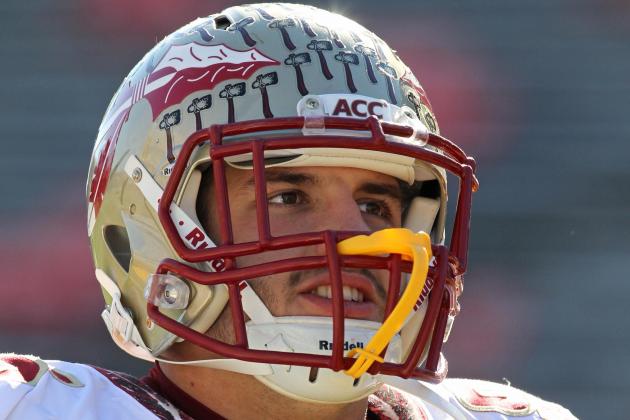 Mitch Stringer-USA TODAY Sports

Physical Makeup: 1.35
Pass Rush: 1.85
Run Defense: 1.32
Instincts/Awareness: 1.43
Overall Technique: 0.95
Tackling Ability: 0.90
Mental Makeup/Intangibles: 1.2
Final Grade = 9.0 (Immediate Starter)
Werner is an impact player with the natural ability to become a Pro Bowler. He is a skilled and complete player who should contribute to his team right away.
Projected pick: Top 10
Pro Comparison: Chris Long