The 10 Best Performances by Athletes Passed Their Prime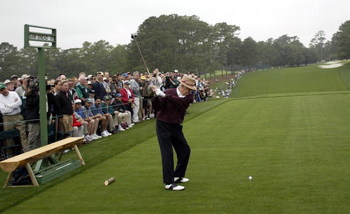 It seems we are seeing more professionals wow us with great performances when they are past their prime.
Watching these amazing performances gives us all hope as we age that we may be able to turn back the hands of father time and give that peak performance, if just for a day.
It was hard to limit these performances to just 10, but here are my top 10 sports performances from athletes past their prime:
10. Sam "Slammin Sammy" Snead
If you look up the term "Golf Swing" you'll find a picture of Sam Snead.
With 82 career PGA Tour wins, he is one of the top five golfers of all time. It may not be fair to place Snead in here since he never seemed to pass his prime.
He is the oldest golfer to win a tour event, at the age of 52. In 1974, at age 62, he shot (-1) 279 to come in third (three strokes behind winner Lee Trevino) at the PGA Championship at Tanglewood.
Then Snead, at age 67, posted rounds of 67 and 66 at the Quad Cities Open, and at age 71, he shot 60 on his home course, The Homestead.
9. Chris Weinke
How rare was Chris Weinke? Chris spent six years playing minor league baseball before he decided to give all middle-aged men with four years of college eligibility hope.
At the age of 28, Weinke was the oldest player in history to win the Heisman Trophy.
This way-past-his-prime college quarterback is the all time leading passer at Florida State in yards and touchdowns. While Weinke was there, FSU had a record of 32-3.
8. Harry Gant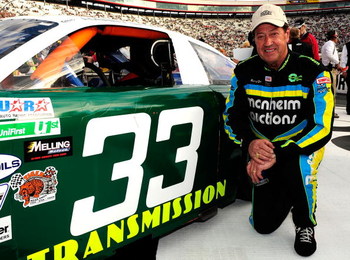 Harry Gant aged like a fine can of Skoal. Gant waited until he was passed his prime to make his way to victory lane.
He holds the records as the oldest driver ever to win a Winston Cup/Nextel Cup/Sprint Cup race (52 years and 219 days,) and the oldest driver ever to collect his first career Cup victory (42 years and 105 days).
He even earned one of his nicknames late in his career. Gant became know as "Mr. September" for winning four races in a row at the age of 51.
7. Carl Lewis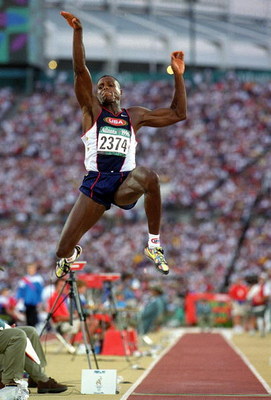 The face of the U.S. Olympic team for the 1980's and 1990's was Carl Lewis.
He opened the world's eyes in the 1984 Los Angeles Olympic games, but his best performance was saved for the '96 games in Atlanta.
At the age of 35, with his third-round leap of 8.50 meters, Lewis won gold in the long jump by 21 cm.
This ninth gold medal in Track and Field is one of the biggest shockers the Olympic Games has seen.
6. Dara Torres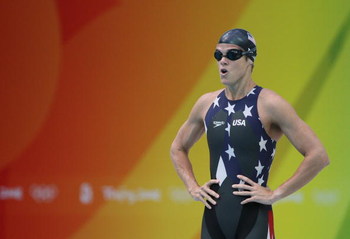 The 2008 Summer Olympics were all about Michael Phelps, but I was most proud during to see Dara Torres come with in 0.01 seconds of Gold.
I just hope I can complete a lap at the age of 41.
Torres put on quite the show, earning three silver medals in 2008 Olympics.
5. Rickey Henderson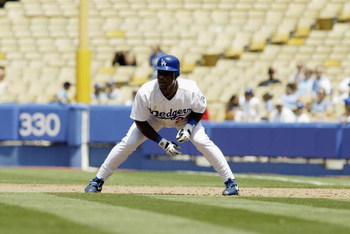 One of the true ageless wonders of sports has to be Rickey Henderson. At the age of 39, Henderson lead the majors in stolen bases with 66.
Even at his press conference after finding out he was going in the Hall of Fame, he told reporters, "I believe today, and people say I'm crazy, but if you gave me as many at-bats that you would give the runners out there today, I would out-steal every last one of them...They can always ring my phone and I'll come on down and help their ballclub. That's how much I love the game."
4. George Foreman
Most people in their mid-40's are trying to take it easy on their bodies, but that was not the road George Foreman took.
In 1994, he became the oldest boxer to win the heavyweight championship when he knocked out Michael Moorer in the 10th round.
Foreman was 45 years old.
Forman didn't walk away from the ring after winning the title. He continued to fight all the way up to the age of 48.
3. Nolan Ryan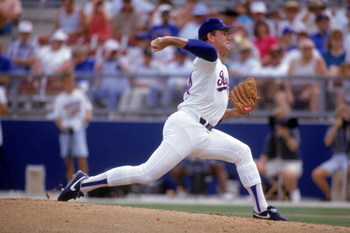 Ryan, at age 44, set a record by throwing his seventh no-hitter.
Just one year earlier, he threw his sixth no-hitter at the age of 43.
At 46 Ryan, seized Robin Ventura in a headlock with his left arm and landed six blows to the head and face of the younger player before Rangers catcher Iván Rodríguez separated the two players.
Ryan's very durable arm finally gave out in Seattle on September 22, 1993, when he tore a ligament, ending his career two starts earlier than planned.
Ryan threw one more pitch after tearing his ligament—with his injured arm.
His final pitch was measured at 98 MPH.
2. John Elway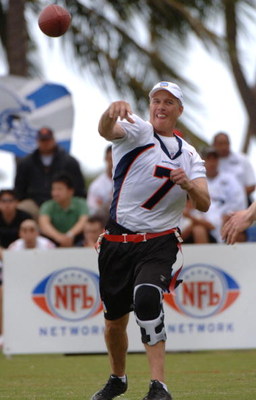 John Elway had some great NFL seasons, but he waited 'till the end of his career to win his two Super Bowl rings.
Elway was 38 years old when the Broncos defeated the Atlanta Falcons, 34-19, in Super Bowl XXXIII. He threw for 336 yards and one touchdown, and earned MVP honors.
For my money, Elway has the greatest exit in all of sports.
1. Jack Nicklaus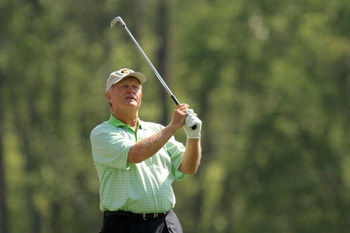 In 1986, Nicklaus put the bow on his career by shocking the golf world and winning his sixth Masters.
That Sunday, he posted a six-under 30 on the back nine at Augusta for a round of seven-under 65.
At age 46, Nicklaus is the oldest Masters winner in history.
On the feat, sports columnist Thomas Boswell remarked, "Some things cannot possibly happen, because they are both too improbable and too imperfect. The U.S. hockey team cannot beat the Russians in the 1980 Olympics. Jack Nicklaus cannot shoot 65 to win the Masters at age 46. Nothing else comes immediately to mind."
Nicklaus, at the age of 58, made us think it was still possible for him to win another green jacket in the 1998 Masters, where he tied for sixth.
Keep Reading