Petr Cech: Comparing the Chelsea Goalkeeper to the Best in the EPL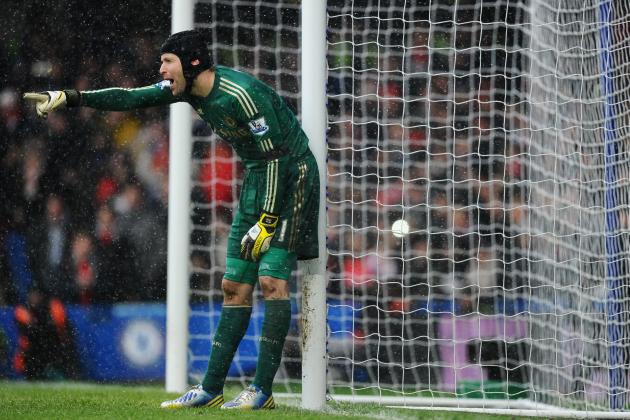 Laurence Griffiths/Getty Images

Goalkeepers present problems when trying to judge their performance statistically. Even more so than outfield players, the data gathered about goalkeepers is very much reliant on variables outside of their control.
The measurements are also still in relative infancy. For example, modern statisticians have yet to find a solid way of quantifying how well a goalkeeper organizes the defenders in front of him—an attribute that is critical in top-class players.
There are still a significant amount of numbers worth studying when searching for the best goalkeeper in the world.
After a thorough investigation, the following five stats make a solid case for why Chelsea's Petr Cech is having the best season of any goalkeeper in the EPL.
All data analyzed is courtesy of Fox Soccer, the EPL index and the Premier League.
Begin Slideshow

»
Clean sheets are a telling metric in determining goalkeeper quality. Controlling for all other variables, registering a clean sheet allows a goalkeeper's team the best chance to win.
Petr Cech is second in the Premier League in clean sheets so far this season with nine.
First in clean sheets is Joe Hart (Manchester City) with 11. Simon Mignolet (Sundlerland) and Asmir Begovic (Stoke City) are tied with Cech in second.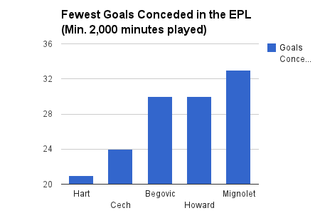 Another telling metric, goals conceded, is a simple way of judging goalkeeper quality. At its most basic level, the role of a goalkeeper is to give up as few goals as possible.
Cech once again is second to Manchester City and Hart in this metric but only by a very small amount. The former has conceded 21 goals and the latter 24.
The next closest goalkeepers in this category with at least 2,000 minutes played are Tim Howard (Everton) and Begovic.
Hart's goals allowed must be put in perspective when compared to Cech. The Englishmen has only seen 65 shots to the Czech's 100. This is a significant difference.
Pass completion percentage includes goal-kicks, throws, passes and punts
Distribution is an underrated skill in great goalkeeping.
A goalkeeper has the tactical task of originating many of his teams possessions. Accuracy and intelligence is critical on goal-kicks, punts, throws and passes.
Cech is once again solid in this statistic, ranking third behind only Al Habsi (Wigan) and Hart when compared to the players discussed in this analysis.
The difference between second and third is minimal. Hart finds a teammate on 60.12 percent of attempts while Cech does so on 57.49 percent of attempts.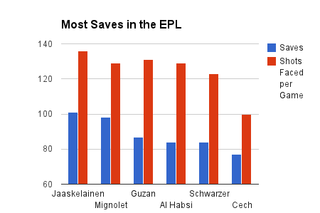 Cech is sixth in the Premier League in total saves with 77.
Every single goalkeeper ahead of him has faced more shots than he has. All five of these goalkeepers have faced at least 120 shots, while Cech has faced 100.
Jussi Jaaskelainen (West Ham United) tops the list with 101 saves on 136 shots faced.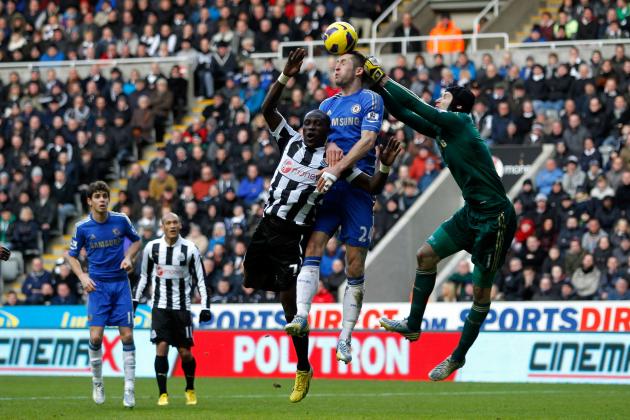 Paul Thomas/Getty Images

The Premier League is becoming increasingly littered with physically imposing footballers.
In some ways, strength has replaced skill and technique. Crossing and aerial challenges are very important in the modern game.
As such, having a goalkeeper that can pick off crosses before they reach an attacker's head makes defending an easier task. Chelsea very much has that privilege in Cech. His 29 catches off crosses is impressive and allows his backs to adjust their tactics.
He also trumps Hart in this category, as the Manchester City goalkeeper has only 19 high-cross catches.
The decision to crown Cech's season superior to Hart's is not perfect. The main reason for this determination comes from the amount of work Cech is forced to do each game compared to Hart. Chelsea rely on Cech much more than Manchester City does Hart. Both are two of the best goalkeepers on the planet.