7 Ways John Cena Continues to "Dumb Down" WWE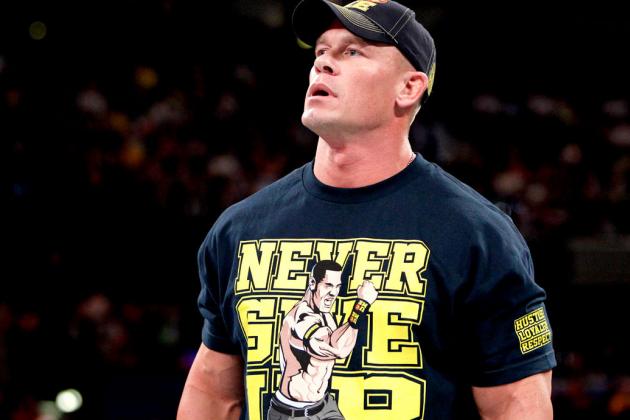 John Cena's gimmick is getting old and killing the WWE's product. Photo Courtesy of WWE.com
John Cena is one of the WWE's most polarizing figures. Kids love him and a majority of adults can't stand him.
WWE's "Super Cena" may be disliked by many on a personal level, but what kind of mark does Cena's childish act leave on the WWE as a product?
It's simple. Cena dumbs down the WWE in a way that is dangerous to the overall product.
Don't believe it? Here's how he does it.
Begin Slideshow

»
The promo seen above is just one of the many atrocious promos that John Cena has orated to the WWE Universe in the last few years.
The promo seen on Raw before the 2013 Royal Rumble was one of the worst he's ever spewed.
Cena's awful promos dumb down the WWE in a big way. Somewhere along the way, Cena became Monday Night Raw's master of ceremonies. Every week, he comes out and cuts a promo about everything that's going on, just in case the kiddies missed last week's show because it was past their bedtime.
These promos break up the show and take away valuable airtime that could be spent doing much better things. His constant flip-flop between childish jokes and "edgy" penis humor is obnoxious and might have been OK for Thuganomics John Cena, but makes no sense for Super Hero John Cena.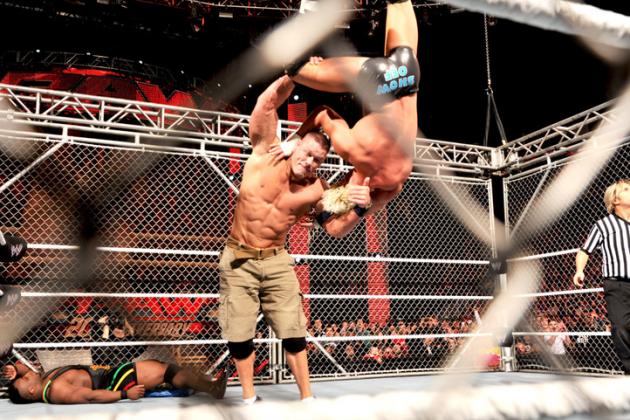 Dolph Ziggler was, once again, receiving a huge push...until he got in a feud with Cena. Photo courtesy of WWE.com
Has Cena ever put anyone over? Maybe a few Superstars, but a majority of the time, Cena is too busy no-selling and overcoming unfair odds to take a minute to put over anyone else.
Cena may lose a few encounters, like his matches against Punk or at Mania 28 against The Rock, but in the end, he always wins. Cena will get his second shot at The Rock in April for the WWE title, which, because it isn't very likely that The Rock will come back full-time next year, Cena will win.
This will most likely be seen again at the Elimination Chamber pay-per-view. Cena, Ryback and Sheamus will take on The Shield, which will most likely kill the momentum the youngsters have built up since their debut. The same thing happened with Cena against The Nexus and most recently with Cena against Dolph Ziggler.
The WWE won't be able to move on from the Cena Era if they won't let any young guys beat Cena clean. Sure, the Shield can triple-powerbomb him through a table or Ziggler can get a dirty win in a ladder match, but until Cena loses a clean match to a current member of the WWE roster, the product will continue to suffer.
John Cena's brutal storyline murders go hand in hand with the last slide. Cena is the king of destroying not only young, promising Superstars, but also interesting storylines.
The Nexus took the WWE by storm a few years ago, demolishing Superstars and even the ring. Nexus was one of the most interesting things going on in the WWE; a number of exciting youngsters looked ready to make a huge impact on the world of pro wrestling. Until Cena got involved. He outlasted them in a 6-on-1 Handicap match and eventually played a huge part in their demise, killing the entire storyline.
Now, The Shield is tearing up some of the biggest names on the WWE roster, planning sneak attacks on Ryback, Sheamus, Randy Orton and John Cena. Just as the Shield is starting to heat up, Cena is put in a match against them at Elimination Chamber, which he'll most likely win because he's on a team with Ryback and Sheamus, two of Vince's biggest babyfaces.
Because John Cena almost always has to win, especially in big matches to look like a super hero, the rest of the WWE are suffering. Every time they find an interesting angle that the fans love, they involve Cena, who can't get beat by, in The Shield's case, three young kids, and the storyline dies.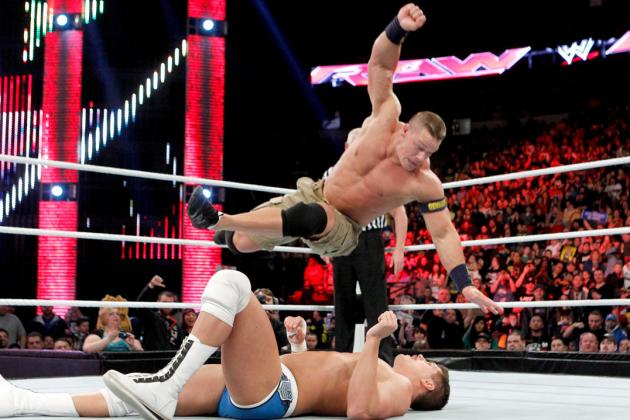 Cena shockingly finishes Cody Rhodes with the five moves of death. Photo Courtesy of WWE.com
If Cena's promos and ability to kill stories dumb down the WWE, imagine what his matches do.
Cena isn't bad in the ring. He's very athletically gifted and has been a part of a few impressive matches, but any match that isn't WrestleMania is pretty much the same. He starts out losing, takes 13-24 finishers, comes back, hits five moves of death and wins.
Cena's same ol' matches really hurt the WWE. It's worked for Cena for years, and now, instead of interesting and new ideas for matches, almost every big-name Superstar has their own five moves of death sequence.
Matches aren't surprising anymore. The days of epic and interesting matches on weekly shows are long gone.
Cena doesn't necessarily need to start losing, but he needs to start winning in different ways. It's cool if he hits the AA or STFU to end the match, but it would be helpful if things got changed up a little bit. The product would become less stagnant and every match would become exciting, not just PPV main events.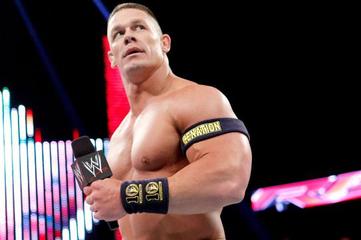 Cena's weekly promos have become pretty predictable. Photo Courtesy of WWE.com
Not only are Cena's matches boring and predictable, his feuds are too.

Basic formula for a Cena feud: No one can stop a bad guy, Cena does. A legend is back and no one is good enough to beat him, Cena does. Someone is being mean to someone else or the WWE Universe, Cena beats them up.
Cena hasn't been in an interesting storyline since...ever? Becoming a part of The Nexus was a big shocker, but it ended really fast.
Cena's reputation is starting to take away from some of his big matches because fans know what the outcome has to be. For example, at WrestleMania 29 this year, he'll take on The Rock for the WWE Championship. Cena lost to The Rock last year, but there was no title on the line. This year, because it's Cena and the match is for the title, it's pretty clear what's going to happen come WrestleMania 29.
The WWE should start planning the victory party now.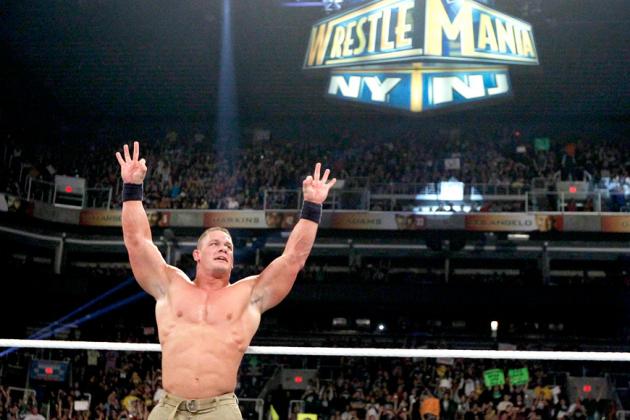 Cena, again, will find himself in the title picture during WrestleMania. Photo Courtesy of WWE.com
Another huge reason that Cena is dumbing down the WWE is his constant presence in the title race. There comes a time in every big-name professional wrestler's career when he doesn't need the title to be interesting or exciting.
Cena has passed that point long ago. Fans will keep paying for his T-shirts and merchandise even if he's not holding the title.
For some reason the WWE keeps finding a reason to shove him into the title picture. The Rock and CM Punk had one of the hottest feuds going and one of the best matches in recent history. Why not let Punk take the title back at Mania?
Instead, Cena will hold it, again keeping any young Superstars out of the picture. The WWE will continue to go downhill if they keep giving Cena the strap three or four times a year. With an event like WrestleMania, the WWE should be looking at the future with new, young talent, not giving the title back to Cena who doesn't even need it.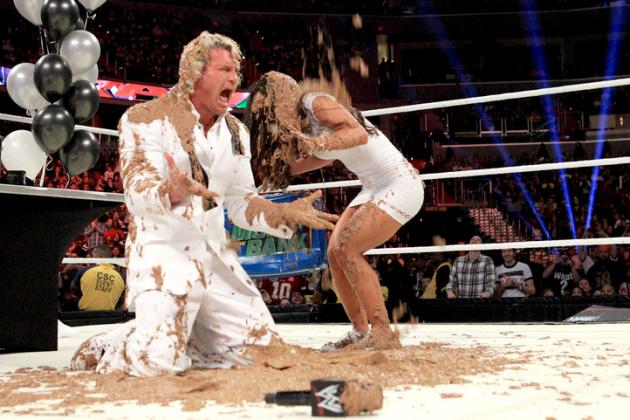 This one isn't all on Cena, but it's still obnoxious. Photo Courtesy of WWE.com
Cena has had a hard time finding an interesting, lengthy feud. It seems like he's thrown into a new feud every few weeks. He goes from battling with CM Punk, to battling with Dolph Ziggler over AJ, to leading a group against The Shield in a matter of two months.
The WWE's overall product is being affected because Cena, their biggest star, changes his feuds and persona every few weeks. One week, Cena comes out and cuts a great promo, challenging CM Punk or Dolph Ziggler, sounding like a legitimate competitor, and then he comes out seven days later and pours feces onto Dolph Ziggler and AJ, talking about kids playing Call of Duty.
If the WWE is going to continue forcing John Cena down the throats of the WWE Universe, they should at least keep things consistent. Either make him a serious competitor or make him a Santino-esque funny character for the kids.