2013 NFL Mock Draft: How High Will Geno Smith Go?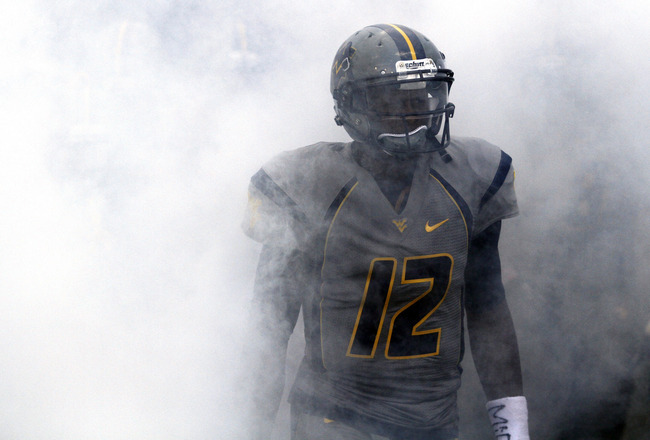 Justin K. Aller/Getty Images
As we wind toward April, the 2013 NFL Draft is beginning to take shape.
The combine is now behind us, the final pro days are rounding out and we'll soon be set for some intriguing private meetings with teams and their potential draft targets.
So how does the draft look right now?
Here is my latest first round mock of the 2013 draft.
1. Kansas City Chiefs: Luke Joeckel, OT, Texas A&M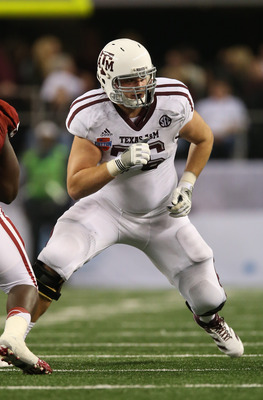 USA TODAY Sports
As we head into April, the definitive field for the first overall selection has finally taken shape.
Kansas City, who has repeatedly referred to the "best player available" mantra under new general manager John Dorsey, will most likely decide between two offensive tackles, Texas A&M's Luke Joeckel and Central Michigan's Eric Fisher.
Joeckel, 6'6" and 306 pounds, has been the top player on my board and should be the Chiefs' selection come the 25th.
In addition to his large frame and athletic build, Joeckel possesses great hand placement, uses considerable strength on his punch and often exhibits sound footwork. He'll be a force from day one and should quickly develop into a franchise left tackle.
2. Jacksonville Jaguars: Geno Smith, QB, West Virginia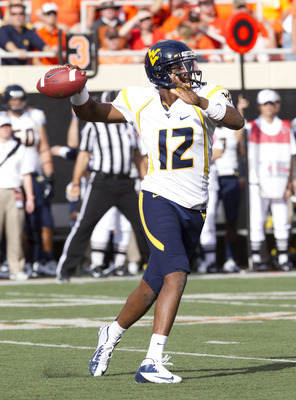 Richard Rowe-USA TODAY Sports
West Virginia's Geno Smith held his pro day on March 14th. Most notably of those in attendance were the very top of the brass for the Jacksonville Jaguars.
Although skeptics may believe that this could be an elaborate smokescreen, sending your general manager, head coach, offensive coordinator and senior vice president to a workout isn't exactly a simple task.
Jacksonville seemingly sending over its entire contingent probably means that there is real interest there. And after exceeding the Jaguars' expectations in these meetings, Smith should be the favorite as the draft's second overall pick.
Smith is the top quarterback prospect of the class. The power is there, the accuracy is there and, perhaps just as importantly, the poise is there. Smith possesses a very gifted arm and, with the right staff, could be molded into a franchise player.
For Jacksonville, a new regime may very well mean a new quarterback. Since nothing on the current roster is clicking, Smith would be a solid investment with this selection.
3. Oakland Raiders: Sharrif Floyd, DT, Florida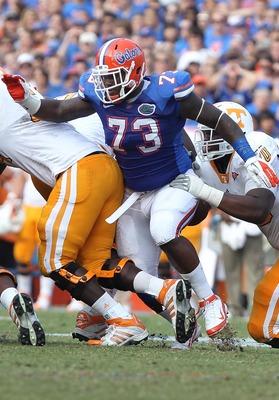 Kim Klement-USA TODAY Sports
The rumor mill has recently linked the Oakland Raiders to West Virginia quarterback Geno Smith. But if they are unable to draft the West Virginia product, I can't see the Raiders passing up on the draft's top defensive tackle in Sharrif Floyd.
Floyd, who moved into the No. 1 defensive tackle spot by virtue of Star Lotulelei's heart condition, fills a glaring need in Oakland's thin defense.
He uses nice speed off the edge, uses his hands well on blocks and often breaks into opposing backfields. Floyd is also very versatile, as he played in multiple spots on Florida's defensive line during his collegiate career.
With the Raiders' defensive line considerably depleted, Floyd can contribute from day one in the middle of their defensive front.
4. Philadelphia Eagles: Eric Fisher, OT, Central Michigan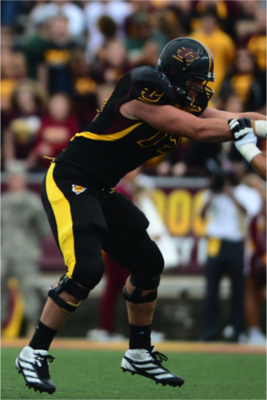 Eric Fisher's stock has done nothing but rise since bursting onto the scene.
In addition to being a monster at 6'7" and 305 pounds, Fisher is a relatively polished talent. He has long arms, quick feet and active hands. The Central Michigan product is very disciplined in the run game and has climbed up draft boards very quickly.
New Eagles head coach Chip Kelly has stated that he wants his team to assume the role of the bully, pushing teams around with size and physicality. So why not take one of the draft's monsters, while, at the same time, filling a huge need?
Bringing in Fisher would give the Eagles an immediate starter from either side of the line. Regardless of who takes the most snaps under center for Philly, that man will need better protection than what the roster currently boasts.
5. Detroit Lions: Ezekiel Ansah, DE, BYU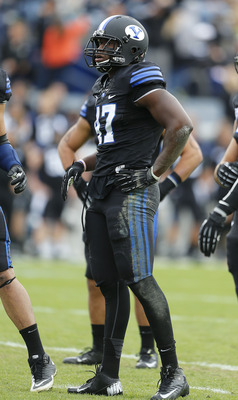 George Frey/Getty Images
Spurned by the likes of Cliff Avril, the Detroit Lions will have to find another capable defensive end.
Given his size and overall athletic ability, Ezekiel Ansah out of BYU is the favorite for this selection. Ansah is explosive out of his stance, can change directions very effectively and has a non-stop motor.
Although he is a bit on the raw side, Ansah has just as much upside as any prospect in the class. Taking Ansah would give Detroit a very formidable front alongside Ndamukong Suh, Nick Fairley and the newly-signed Jason Jones.
6. Cleveland Browns: Dee Milliner, CB, Alabama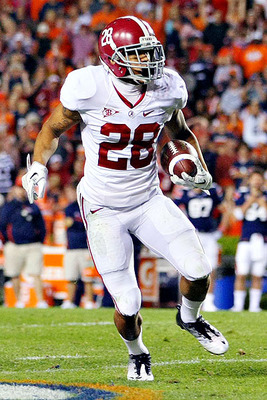 Cleveland's offseason agenda has become rather transparent. The signings of Paul Kruger, Desmond Bryant and Quentin Groves tell us that they needed a better pass rush.
So now that they've addressed that area of concern, the Browns will have some wiggle room with the sixth overall pick. They could continue the theme and draft another pass rusher or Cleveland could finally give cornerback Joe Haden a capable partner in the secondary.
If Dee Milliner, the top corner of the class, is still on the board, this has to be the pick.
Milliner, 6'1", has the skill set to become one of the league's top corners. He's physical, he's aggressive and he's very adept at recognizing opposing routes.
His combine performance was excellent, as he ran a blazing 4.37 in his 40-yard dash.
7. Arizona Cardinals: Lane Johnson, OT, Oklahoma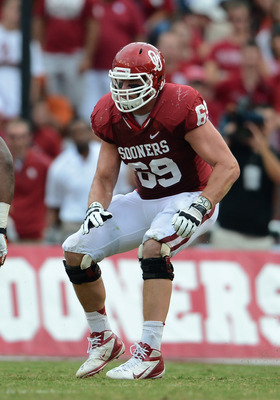 Matthew Emmons-USA TODAY Sports
Arizona has done nothing, thus far, to repair their offensive line. Whether it's Drew Stanton or Brian Hoyer taking snaps under center, the front office has to provide some sort of pass protection to keep its offense from stalling.
Oklahoma's Lane Johnson, the third highest-rated offensive tackle of the draft, would be a wise investment.
Johnson—a former quarterback, tight end and defensive end—is certainly an option. Johnson's agility, physicality and overall frame has made him one of the big risers in this class.
The Sooner is not as sound as fellow lineman Joeckel and Fisher, but still possesses just as much, if not more, upside.
8. Buffalo Bills: Matt Barkley, QB, USC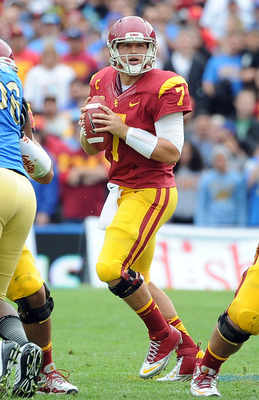 Jayne Kamin-Oncea-USA TODAY Sports
General manager Buddy Nix has made his plan quite clear with the release of Ryan Fitzpatrick. And despite this pick being somewhat of a reach, I can't help but think the Bills will go with a quarterback in the first round.
Matt Barkley, who has been up and down draft boards of late, may emerge as the candidate for the pick.
The USC product is a bit difficult to tab. Barkley does have a decent arm and will know how to operate under pro style offenses. However, he is lacking in a few other areas, such as throwing strength and field vision.
Regardless, Buffalo may want to take a shot on Barkley. After all, who's to say Ryan Nassib will still be sitting pretty for head coach Doug Marrone in the second round?
9. New York Jets: Dion Jordan, OLB, Oregon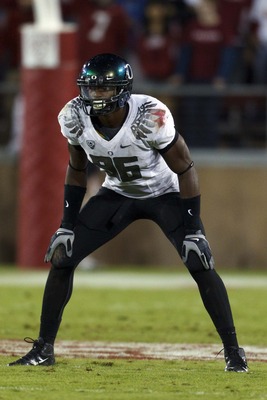 Jason O. Watson-USA TODAY Sports
Although I can see the Jets addressing their stagnant offense in some capacity here, Dion Jordan may be too appealing to pass up.
At 6'6" and 246 pounds, Jordan is a very appealing prospect. He has great burst, speed and athleticism. Jordan can rush the quarterback from multiple spots and chase down tight ends and halfbacks in man coverage.
Rex Ryan's defense is in considerable need for pass rushing presence. Jordan's upside and playmaking ability should be enough to pull the trigger on at ninth overall.
10. Tennessee Titans: Star Lotulelei, DT, Utah
Steven Bisig-USA TODAY Sports
After seeing his stock take a hit due to a heart condition, Star Lotulelei reminded NFL scouts of his top tier talent.
Lotulelei possesses ridiculous physical attributes. He's huge, powerful and stunningly quick for a man of his size. The Utah product is extremely explosive off the snap and creates nothing but havoc when penetrating past opposing offensive lines.
Even though Lotulelei wouldn't address their most glaring of needs, Tennessee can simply chalk this one up as a luxury pick. After all, they may be acquiring the draft's top defender with the tenth overall pick.
11. San Diego Chargers: Chance Warmack, G, Alabama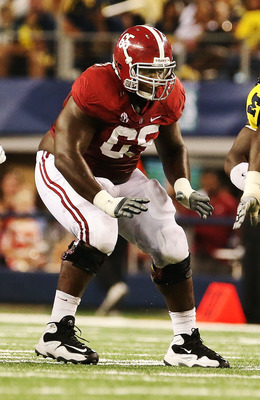 Kevin Jairaj-USA TODAY Sports
San Diego lost guard Louis Vasquez to Denver, but did sign Chad Rinehart and Rich Ohrnberger to address the spot. That, however, may not be enough to pass up on Chance Warmack.
Warmack is the top guard in this draft class. He has the power, athleticism and attitude to assure himself as a first-round selection come April. And even though he hasn't played a snap in the league, Warmack could end up as an All-Pro talent. Yes, he's that potent.
Philip Rivers had a subpar 2012 campaign, due mostly in part to a weak offensive front. Warmack is an incredibly safe selection and would help Rivers, as well as the team's run game, going forward.
12. Miami Dolphins: Barkevious Mingo, DE, LSU
Derick E. Hingle-USA TODAY Sports
Outside of Cameron Wake, Miami has very little to brag about when it comes to their pass rush.
Barkevious Mingo, who has seen his stock fluctuate of late, is an option for the new-look Dolphins.
He has length, incredible speed and great athleticism. Mingo's production was alarmingly down, but could make up for that with his physical tools.
There's no doubting the upside of this outside linebacker. Mingo has the physicality and skill set to become a top-flight pass-rusher in the NFL. He also has the dreaded "bust" question mark surrounding his stock.
13. Tampa Bay Buccaneers: Sheldon Richardson, DT, Missouri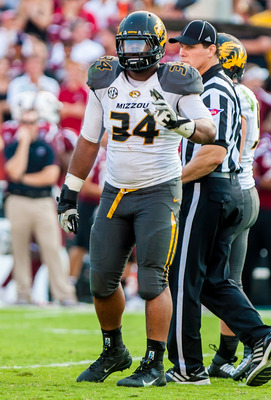 Jeff Blake-USA TODAY Sports
Gerald McCoy has proved to be quite the presence in the interior of Tampa's defensive front. If the Buccaneers want to get even more out of the 2012 Pro Bowler, they could opt for Missouri's Sheldon Richardson.
Richardson uses his hands very well and can use his burst to get into the backfield. He had a tremendous season in the SEC and could give the Bucs a worthy pass rushing counterpart to McCoy.
14. Carolina Panthers: Tavon Austin, WR, West Virginia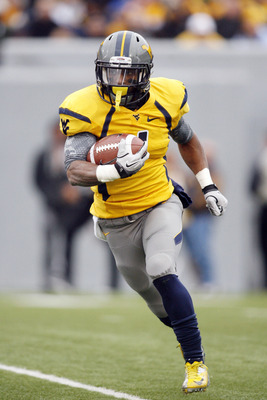 Charles LeClaire-USA TODAY Sports
Wide receiver Tavon Austin is a very intriguing prospect.
To many, he's just your typical slot receiver, given his 5'9" stature and blazing speed. In the right system, however, Austin is easily the most explosive offensive weapon this draft has to offer.
As a deep threat and a potential special teams star, Austin may be perfect for the Panthers in their quest to build around Cam Newton.
On top of his ridiculous 4.34 40-yard dash, the guy has a great set of skills. Austin has soft hands, can change direction with the greatest of ease and possesses incredible lateral explosion.
He can be utilized through the air, on the ground and even in the special teams, despite the recent signing of Ted Ginn Jr.
15. New Orleans Saints: Jarvis Jones, OLB, Georgia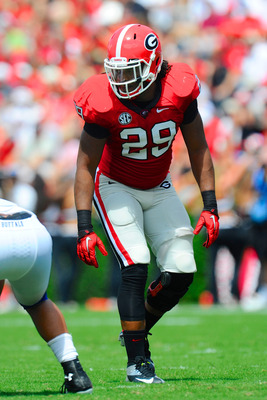 Dale Zanine-USA TODAY Sports
Jarvis Jones is one of the best, if not the best, pass-rushers in this class. He exhibits excellent burst off the snap, which is just one of his many advanced skills in the pass-rush game. Add that to his explosive speed and non-stop motor, and you have a heck of a prospect.
The outside linebacker is even considered an above-average defender against the run and in coverage.
Jones' spinal stenosis may scare some teams away. And until we get a clear diagnosis from NFL doctors, you have to assume his injury history will have him sliding a bit.
New Orleans would be very satisfied to have Jones fall to them.
With the team switching to a 3-4 defense, the Georgia linebacker would be a perfect fit for a team desperate for any type of pass-rushing presence.
16. St. Louis Rams: Kenny Vaccaro, S, Texas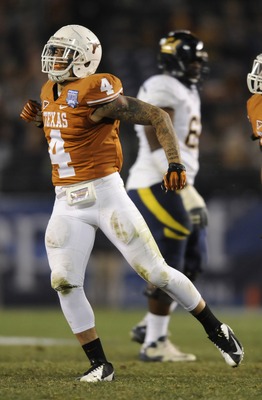 Christopher Hanewinckel-US PRESS
St. Louis could look to pick up a safety with the first of their two selections in the round.
Kenny Vaccaro possesses great instincts, as he is always around the ball. He covers plenty of ground, has good size and can utilize his quickness to run down the offense.
The Rams no longer have Craig Dahl and Quintin Mikell on the roster, making this pick a very logical one.
17. Pittsburgh Steelers: Cordarrelle Patterson, WR, Tennessee
Daniel Shirey-USA TODAY Sports
With or without Mike Wallace, Pittsburgh needed to add some wideout help this offseason. Cordarrelle Patterson, if available, will certainly be in play for the Steelers.
Patterson is always a big play threat when he's on the field. He possesses the explosiveness and elusiveness to work as an incredible playmaker. His vision and speed also make him an appealing target downfield.
Bleacher Report's Matt Miller has even gone as far as saying that Patterson has a Julio Jones-type ceiling.
18. Dallas Cowboys: Jonathan Cooper, G, North Carolina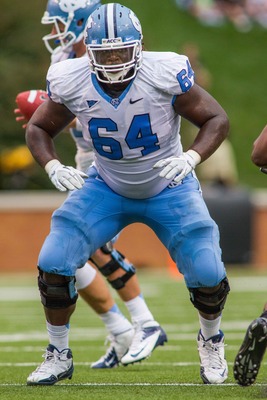 Jeremy Brevard-USA TODAY Sports
If Dallas wants to keep putting all of its eggs in Tony Romo's basket, then they must find some interior line help. The Cowboy's offensive line has been as shaky as any in the NFL and could use a definitive answer in North Carolina's Jonathan Cooper.
Cooper, whose best asset is his versatility, can line up at center as well as the two guard spots. He is athletic, quick to pick up his blocks and can utilize his strength to open up wide holes in the ground game.
Believed to be even better than fellow guard Chance Warmack by some, Cooper would be a nice value pick for Dallas here.
19. New York Giants: Bjoern Werner, DE, Florida State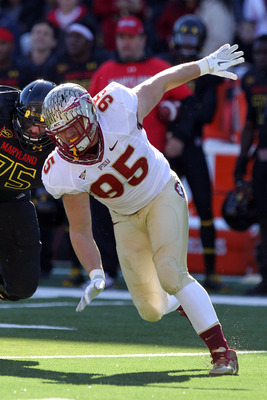 Mitch Stringer-USA TODAY Sports
Osi Umenyiora is off to Atlanta and Justin Tuck has been very underwhelming. The Giants, who always look to bulk up on their pass rush, could look for a defensive end.
Bjoern Werner is one of the top defensive end in this class.
Werner, 6'4" and 273 pounds, is an incredibly promising prospect. For one, he's very explosive off the snap, and Werner uses his great combination of speed and physicality to burst through opposing lines.
The Florida State Seminole also possesses nice closing speed, which has him disrupting teams' backfields on a constant basis.
20. Chicago Bears: D.J. Fluker, OT, Alabama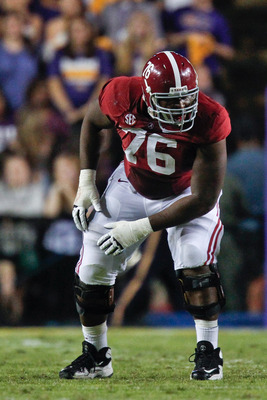 Derick E. Hingle-USA TODAY Sports
Chicago has been suffering from weak offensive line play for quite some time now. Jay Cutler, whether you like him or not, needs more protection to even think about getting this team to the next level.
D.J. Fluker of Alabama is an intriguing prospect.
Fluker is an excellent run blocker. He has nice length, good athleticism and uses his physicality to bully off defenders.
21. Cincinnati Bengals: Alec Ogletree, ILB, Georgia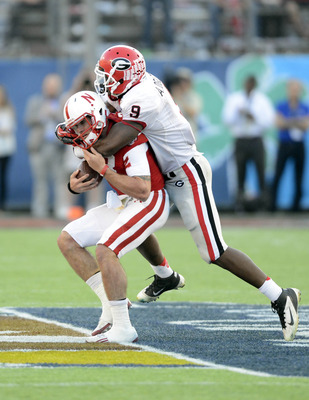 Brad Barr-USA TODAY Sports
Despite his recent run-in with the law, Alec Ogletree is still one of the top defensive prospects in this draft. Cincinnati, who is still in the market for an upgrade up the middle, are a prime candidate for the Georgia Bulldog's services.
Ogletree, a converted safety, has certainly given us a nice glimpse at his extensive skill set. He is always around the ball, moves very well from sideline to sideline and is not a stranger to big time hits.
Expect Ogletree's athleticism and versatility to be a major plus come draft day.
22. St. Louis Rams (from Washington): Keenan Allen, WR, California
Jason O. Watson-USA TODAY Sports
Losing Danny Amendola to New England didn't exactly help Sam Bradford and company. In need of a top receiver, regardless, the Rams would be happy to see California's Keenan Allen drop their way.
Allen isn't the fastest guy but he is an incredible playmaker. He has soft hands, is considerably strong and is very explosive. Allen is also a great route-runner and is certainly not a stranger to picking up yards after the catch.
23. Minnesota Vikings: Desmond Trufant, CB, Washington
Otto Greule Jr/Getty Images
Minnesota, the owners of two first-rounders, will have the task of replacing the freshly cut Antoine Winfield. There will be a number of capable candidates at this juncture.
Desmond Trufant, brother of Marcus, has eased his way into first round consideration.
Trufant has great size and quickness to transition into the NFL. His physical play allows him to stick with bigger wideouts.
24. Indianapolis Colts: Cornellius Carradine, DE, Florida State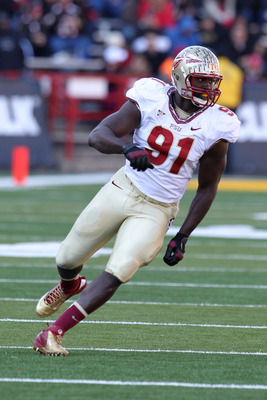 Mitch Stringer-USA TODAY Sports
Had it not been for his torn ACL, Florida State's Cornellius "Tank" Carradine would be much higher up on many draft boards. Regardless, Carradine is a promising prospect that should be able to contribute from day one.
He exhibits great explosiveness off the snap, has a strong initial punch and has a constant motor.
Indianapolis could use Carradine's pass rushing services given the departure of longtime defensive end Dwight Freeney.
25. Minnesota Vikings (from Seattle): Sylvester Williams, DT, North Carolina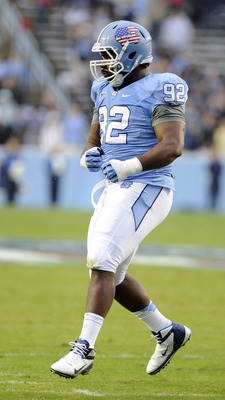 Liz Condo-USA TODAY Sports
Minnesota, in need of some interior defensive help, will love to see a talent like Sylvester Williams left on the board.
The big man has catapulted himself up draft boards with a huge improvement in his pass-rushing ability this year. After racking up only 2.5 sacks a season ago, Williams finished this season with 6 sacks.
The UNC Tar Heel certainly possesses the size and athleticism needed to translate successfully to the NFL.
26. Green Bay Packers: Eddie Lacy, RB, Alabama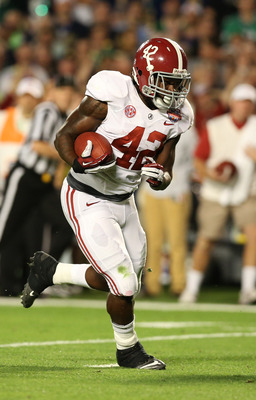 Matthew Emmons-USA TODAY Sports
The Packers must upgrade a number of spots on their offensive line.
Unfortunately, there aren't any left worthy of a round one selection. Instead, Green Bay can address another position that's been haunting them for the past few seasons.
Eddie Lacy should be the first running back off the board. The Alabama product doesn't have top notch speed, but makes up for it with his vision and feel for the spot.
Lacy is very patient on his breaks and uses his line very effectively.
27. Houston Texans: DeAndre Hopkins, WR, Clemson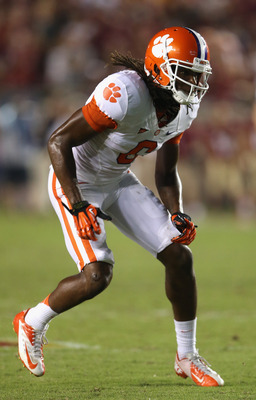 Streeter Lecka/Getty Images
Houston will be looking to add some depth behind Andre Johnson at the wide receiver position. DeAndre "Nuke" Hopkins is a possibility.
Hopkins uses his good footwork to complete his solid route running. He uses his frame to separate from opposing corners and has proved to be a stellar red zone target at Clemson.
28. Denver Broncos: Xavier Rhodes, CB, Florida State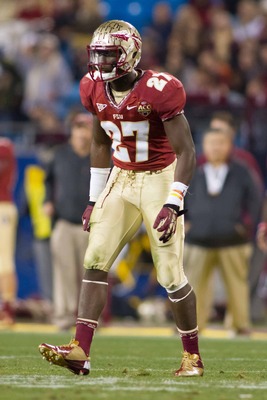 Jeremy Brevard-USA TODAY Sports
As evidenced by their postseason showing, the Denver Broncos will need to add a talented corner.
Xavier Rhodes, 6'2" and 215 pounds, is a big corner that often engages in very physical play with opposing wide receivers. He's good in press-man coverage, is solid against the run and certainly has the skill set to find himself taken on day one of the draft.
29. New England Patriots: Johnthan Banks, CB, Mississippi State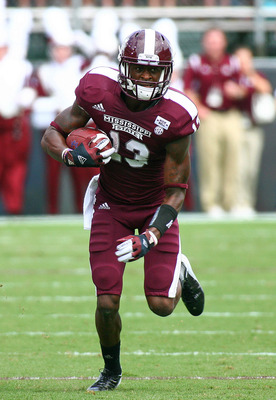 Spruce Derden-USA TODAY Sports
New England, despite bringing in Aqib Talib, should still be looking to upgrade at the corner spot.
Johnthan Banks has a very solid skill set and has seen some top-tier competition while playing in the SEC. He has nice size, good ball skills and is very physical. Banks has no problem keeping up on routes, and is very effective in his defense against the fade.
30. Atlanta Falcons: Datone Jones, DE, UCLA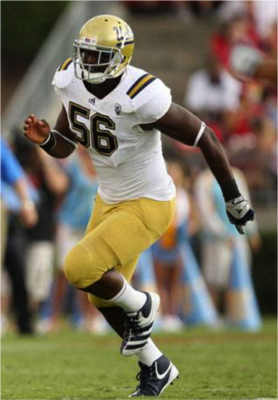 Photo credit: foxsportswest.com
Atlanta has to reel in a pass rushing presence during the draft.
Datone Jones, 6'4" and 280 pounds, is an appealing option. In addition to his enormous build, Jones possesses a solid skill set. He has a quick first step, is very powerful and has above average straight line speed for a guy his size.
Jones also has experience playing every spot along UCLA's defensive line.
31. San Francisco 49ers: Jonathan Cyprien, SS, Florida International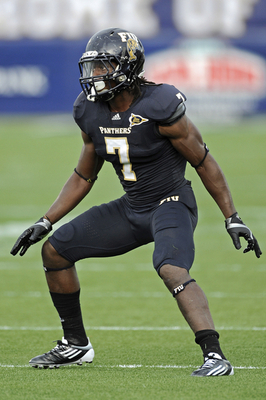 Photo credit: fiusports.com
San Francisco lost Dashon Goldson and need to add another safety. FIU's Johnatan Cyprien has been a hot name of late.
Cyprien is a flat out playmaker. He is good in coverage and a great presence in run support. Cyprien has built up a reputation as a top notch tackler during his time at FIU.
32. Baltimore Ravens: Manti Te'o, ILB, Notre Dame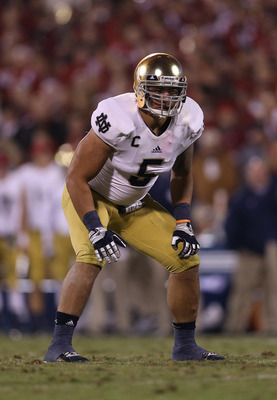 Matthew Emmons-USA TODAY Sports
The Super Bowl champion Baltimore Ravens have lost linebackers Ray Lewis and Dannell Ellerbe, so they'll have to fill up the middle of their defense at some point.
Manti Te'o, despite all the "catfish" hoopla, is still first round talent in quite a few eyes.
He has good instincts, great athleticism, and is especially solid against the run.
26. Green Bay Packers: Arthur Brown, ILB, Kansas State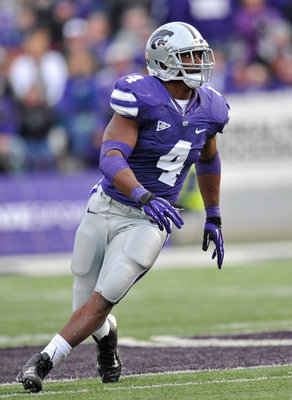 Keep Reading