Assessing the Most Trustworthy Arms in the New York Mets' Bullpen for 2013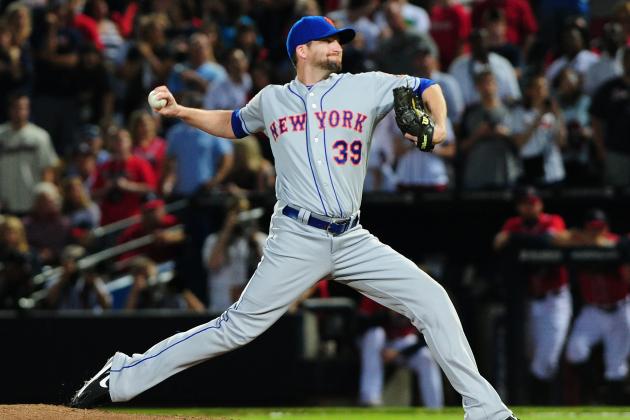 Scott Cunningham/Getty Images

The New York Mets had one of the worst bullpens in baseball last season, but some unexpected and frugal acquisitions by general manager Sandy Alderson have the relief corps on the right track.
Numerous low-risk, high-reward contracts are in place as the Mets hope to hit the lottery on guys like LaTroy Hawkins, Pedro Feliciano, Scott Atchison and Brandon Lyon this season (via CBS Sports' Jon Heyman).
While these new arrivals may not have fans anxiously awaiting to see who takes the bump in the seventh, eighth and ninth innings, the Mets will be better off if half the aforementioned names play a part in the outcome of next season.
When one thinks of the Mets' bullpen, none of the following words come to mind: lights-out, shutdown, effective, unwavering, strong point, suitable, trustworthy, etc. Although the suitors are few and far between, here you can find a ranking of the most trustworthy arms in that will be in the 'pen at Citi Field this season.
Begin Slideshow

»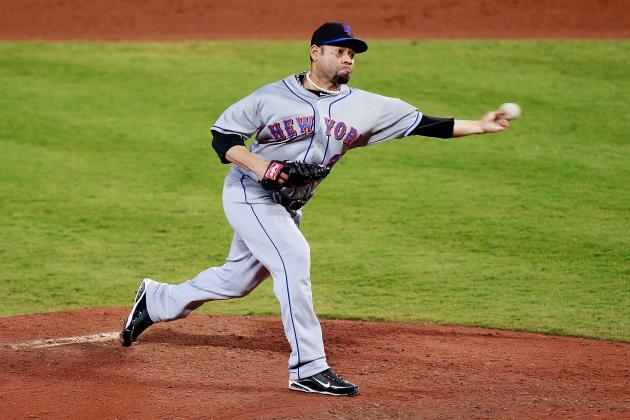 Kevin C. Cox/Getty Images

Here you can find the guys who are anything but sure bets to be productive members of a shaky bullpen. Whether it be because of health, age or diminishing talent, these are the players who might not make the big league roster:
Pedro Feliciano
A name New York Mets fans know well, Pedro Feliciano pitched in flushing from 2002-2004, and then again from 2006-2010, before signing a two-year, $8 million deal with the New York Yankees in 2011. Yet Feliciano didn't throw a pitch for the Mets' crosstown rival because of a devastating shoulder injury.
Obviously, Sandy Alderson believes that Feliciano can make an impact, despite the shoulder issues of his past. After all, Feliciano was an absolute workhorse and racked up 344 appearances from 2007-2010 before heading to the Bronx. If he can stay on the mound—and that's a big "if"—the Mets will have found a go-to lefty specialist.
Either way, Feliciano only received a minor league deal, so it won't be too much of a problem—financially, at least—if he doesn't pan out.
LaTroy Hawkins
The main complaint amongst fans regarding LaTroy Hawkins has to do with his age, but such grumblings will subside if he looks effective and healthy in spring training and stays on the mound.
Sure, he's 40 years old, but his 3.64 ERA in 2012 tells another tale. Last season wasn't an unexpected resurgence for the aging righty either, as he has managed a sub-four ERA in every season but one since 2007.
Another member of the Mets' "Veterans With Minor League Contract" club, Hawkins will get a shot to make the Opening Day roster. Given the lack of competition, don't be surprised if Hawkins finds himself in a mop-up role.
Scott Atchison
Scott Atchison is 36 years old, but he posted a 1.58 ERA in 51.1 innings with the Boston Red Sox last season. Expecting him to repeat those efforts in 2013 would be ridiculous, but at the small price of a minor league contract, Atchison is worth a shot.
The main concern with Atchison is the ulnar collateral ligament in his right elbow, which he partially tore in July and decided against surgery (via MLB.com). If his UCL stays intact, the Mets will get plenty of bang for their buck.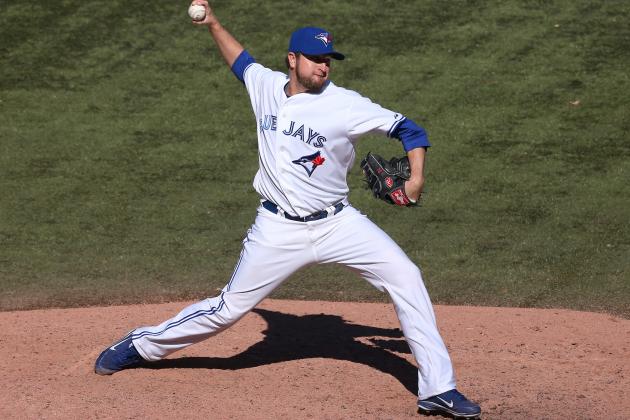 Tom Szczerbowski/Getty Images

The New York Mets have yet to put pen to paper with Brandon Lyon, but CBS Sports' Jon Heyman tweeted that the two sides are close to a deal—probably a major league deal.
After suffering a shoulder injury that limited him to 13.1 innings in 2011, Lyon redeemed himself in 2012 to the tune of a 3.10 ERA in 61 innings with the Houston Astros and Toronto Blue Jays last season. He didn't get by on smoke and mirrors either, as his 9.3 SO/9-inning ratio was the highest of his career.
Lyon's best years are clearly behind him, but he still has a decent two-seamer and a nifty cutter that should give him a shot to play a prominent part in the bullpen. He has been a better than average pitcher over the last half-decade, but the main concern has to be the prospect of his 2011 shoulder problem resurfacing.
The Mets front office will have its collective fingers crossed on this one.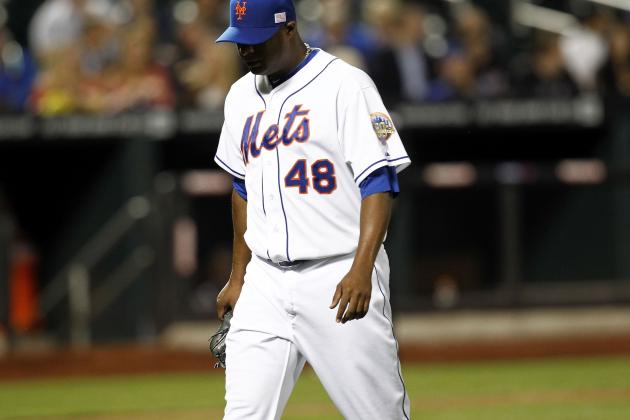 Jeff Zelevansky/Getty Images

Considering the amount of contracts extended to aging veterans, it is hard to believe that last season's closer is one of the primary concerns with next season's bullpen—but such is the case with Frank Francisco.
Sandy Alderson has declined to name a closer (via ESPN's Adam Rubin)—likely in the spirit of hosting an open competition in spring training—but the race for the ninth inning is between Francisco and Bobby Parnell.
Francisco had some ugly outings last season, but his full body of work isn't exactly appalling. Despite posting a lofty 5.53 ERA, Francisco only blew three saves in 26 opportunities before seeing his season end due to injury. He underwent elbow surgery in December, and Rubin reports that his recovery is progressing normally and shouldn't hinder his performance in spring training.
There's definitely the possibility of Francisco picking up right where he left off and regressing further, but there is room for optimism now that Francisco has a full year in New York under his belt.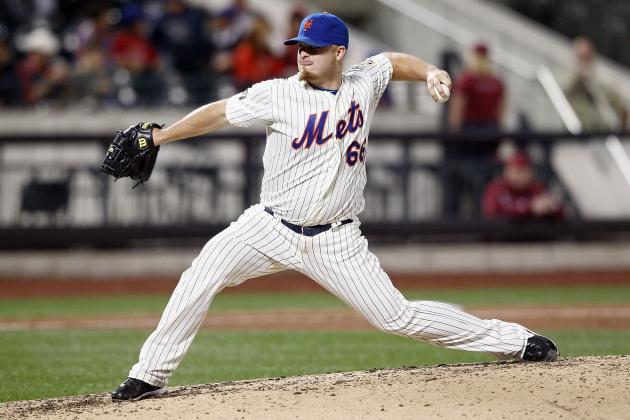 Alex Trautwig/Getty Images

Josh Edgin may not be the next big lefty specialist in the majors, but he showed shades of shutdown stuff at times last season—most notably in his string of shutout ball that stretched from August 21 to September 19.
The big lefty didn't fare well in his final two appearances last season, when he allowed four earned runs in 0.2 innings pitched against the Philadelphia Phillies. As a result, he saw his ERA balloon to 4.56. But there is comfort to be taken in that statistic, as Edgin would have crossed the finish line with a 3.24 ERA had he not been pounded on September 19 and 20.
With Tim Byrdak out for an extended period of time, Edgin will start the season with an opportunity to establish himself as the team's future No. 1 lefty reliever right out of the gate.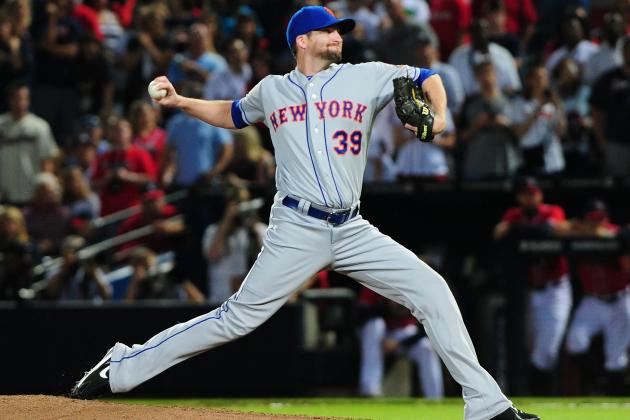 Scott Cunningham/Getty Images

Bobby Parnell has garnered an inordinate amount of praise up and down the New York Mets organization since he made his debut in 2008. Many believed such praise was unwarranted because Parnell never could put it all together on the mound, but his 2012 season established him as the future of this bullpen.
The 6'4" righty was brilliant following the All-Star Break last season, as his ERA fell from a respectable 3.35 on July 19 to a stingy 2.49 on the final day of the season.
In the past, Parnell couldn't consistently throw the ball over the plate and nibbled on the corners far too often for a pitcher with his stuff. Last season showed that Parnell bucked that trend to the fullest and solidified himseld as the next in line for the closing job following Frank Francisco.
If Francisco doesn't get off to a hot start, it wouldn't be a bad idea to swap the two roles and send Parnell out for the ninth, making "Frank Frank" the setup man.
There aren't many definites in this Mets bullpen other than Parnell. All that's left is to see if he can continue his ascent.