NBA Rookie Spotlight Featuring Damian Lillard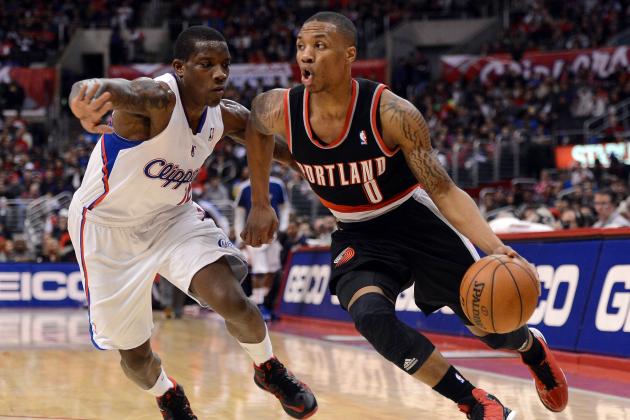 Harry How/Getty Images
Damian Lillard is taking the NBA by storm.
The NBA is enjoying a number of solid rookies this season, but none have played better through the first half of the season than Damian Lillard.
While big names like Anthony Davis and Austin Rivers were expected to be the top rookies out of the NBA draft, Lillard has become the biggest name of the draft class.
The Portland Trail Blazers are thrilled with their decision of picking Lillard, and the team is improving because of him. As Lillard becomes the point guard of the future, the team will look to build around him.
Here is a detailed look at Damian Lillard and his journey to the NBA.
Begin Slideshow

»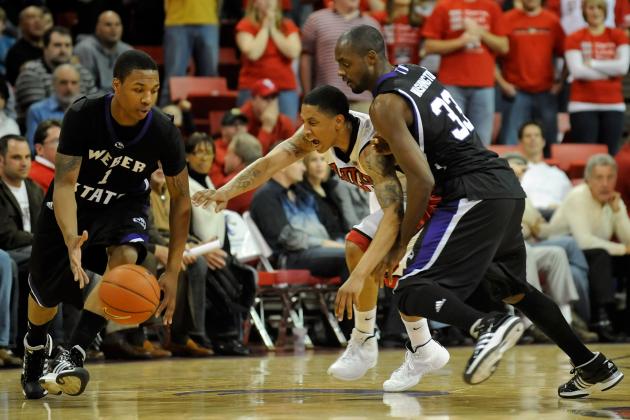 Ethan Miller/Getty Images
Lillard was a big name in the Big Sky Conference.
Lillard was not a heavily recruited player out of high school and ended up playing at Weber State University. This didn't shake him as he went on to be one of the best players ever in the Big Sky Conference.
During his time at Weber State, Lillard became a highly productive point guard. He was becoming one of the best players in the conference when he injured his foot, forcing him to miss the rest of his third season after only 10 games. This gave him a medical redshirt, giving him an additional year of eligibility.
After coming back from his injury, he simply exploded. He averaged 24.5 points per game, which was the second best in the country. He became a true scoring threat and decided to enter the NBA draft at the end of the season.
With 1,934 points, Lillard became the second highest scoring player in Weber State history and the fifth highest scorer in Big Sky Conference history.
Elsa/Getty Images
Lillard was drafted sixth overall in this year's draft.
After such a successful career at Weber State, Lillard became one of the most highly sought after point guards in the draft. His success led him to be selected sixth overall by the Portland Trail Blazers.
Many were surprised that Lillard went so high, with players like Harrison Barnes and Jeremy Lamb still available. Lillard became determined to prove skeptics wrong in his first year.
He has certainly done that so far.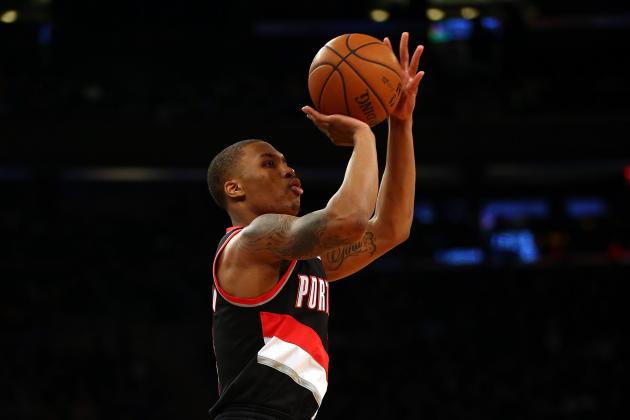 Elsa/Getty Images
Lillard has shown off his range multiple times.
Since the season began, Lillard has proven that he is an impressive scorer.
In his first career game, Lillard impressed nearly everyone. He scored 23 points, making seven of his 17 shots. He was also perfect from the free throw line, making all eight shots.
That game was just the beginning for Lillard, as he has become one of the better scorers in the NBA. He is currently averaging 18.4 points per game, putting him in the top 20 for scorers. This is also the most for any rookie.
His shooting has been consistent as he has made over 42 percent of his shots including making 36 percent of his shots from behind the arc. It seems that Lillard is a strong scorer and will continue to be for the Trail Blazers.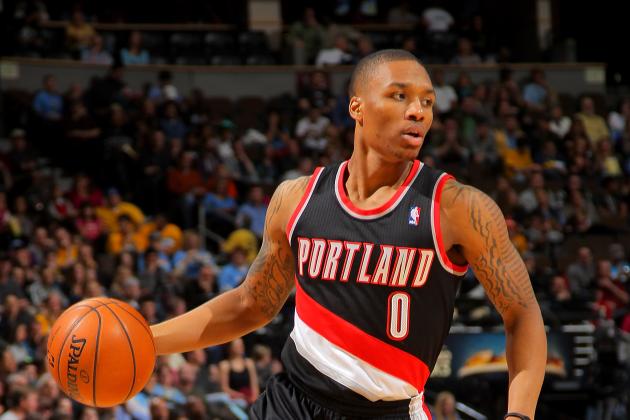 Doug Pensinger/Getty Images
Lillard has also become a good distributor of the ball.
Something that has certainly developed recently for Lillard has been his ability to distribute the ball.
During his career at Weber State, Lillard was not considered much of a passer. During his career he only averaged 3.5 assists per game.
Now, Lillard has become a true floor general, both scoring and assisting. He is currently averaging 6.5 assists per game. He has had six games already this year in which he had at least 10 assists.
Now that he has become a double threat on offense, opposing defenses are having trouble containing him. If they attempt to keep him from scoring, he finds ways to get other players involved. It appears that teams will have headaches from playing against Lillard for a while until they figure out how to contain him.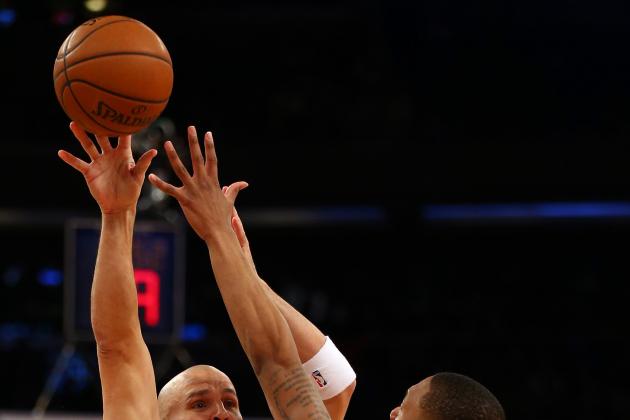 Elsa/Getty Images
Lillard still has work to do defensively.
Rookies usually tend to struggle on the defensive side, and Lillard is certainly no exception.
While Lillard has already proven to be a strong player offensively, he will need to work on becoming a better defender. He tends to struggle against most point guards, despite his speed.
This is certainly a spot where Lillard will need to improve, but that is the case with most players during their first year in the NBA. He will develop as a defender during the next couple of seasons, and a strong defensive presence could make him one of the best guards in the NBA.
Elsa/Getty Images
Lillard is making his own case for Rookie of the Year.
The Rookie of the Year award is something every rookie strives to earn, and so far it looks like Lillard is the favorite for the award.
The Trail Blazers have been looking for a consistent point guard for quite some time, and they might have finally found one in Lillard. An argument can be made that no other rookie has had a bigger positive impact on their team than Lillard.
As for numbers, his 18.4 points, 6.5 assists and 3.3 rebounds per game put him near the top for overall play. He is an efficient young player and has everything a franchise looks for in a point guard.
There is still a lot more basketball left to play this season, but it would seem that if Lillard keeps it up then he will be the top rookie in the league.