New York Mets: Bold Predictions for Every Starting Pitcher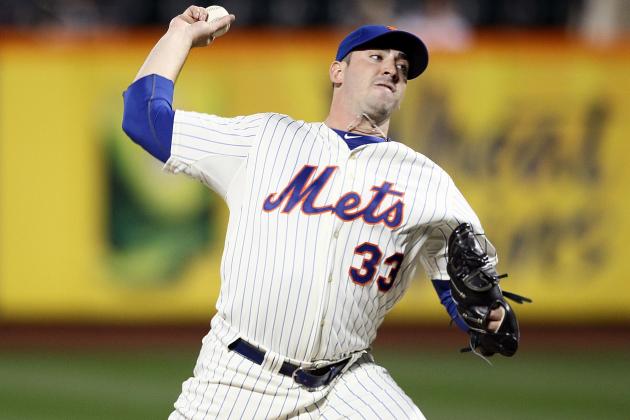 Alex Trautwig/Getty Images

If not for the presence of R.A. Dickey in 2012, the New York Mets' fans would have had almost nothing to be excited about.
The operative word being "almost" in that case.
Watching Matt Harvey and Jon Niese mature was the other positive sign for the future.
Incredibly, there are plenty of other arms in the farm system that are supremely talented and will be eliciting pandemonium in Citi Field in the near future.
The arms that will comprise of the starting rotation in 2013 all feature high ceilings, but come with a warning label.
Here are my bold predictions for each rotation candidate.
Begin Slideshow

»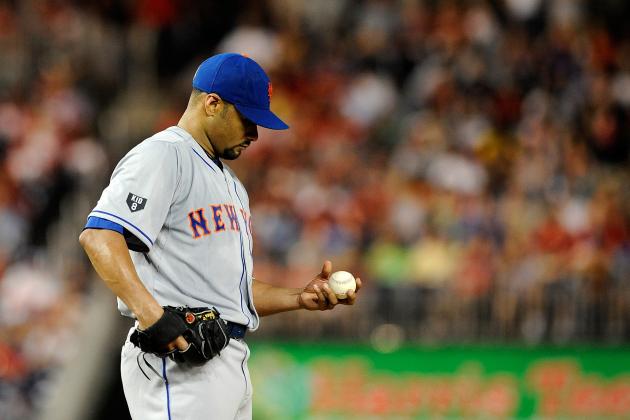 Patrick McDermott/Getty Images

It does seem like a long time ago that Omar Minaya shocked Major League Baseball by acquiring two-time Cy Young winner Johan Santana from the Minnesota Twins in February of 2008.
That season the left-hander was as good as advertised, as he led the NL with a 2.53 ERA in 34 starts and 234.1 innings.
He narrowly missed out on winning his third Cy Young, as he was edged by Tim Lincecum and Brandon Webb.
Since then, unfortunately, the Mets have not received a full season from him.
Santana was very effective in 2009 and 2010, but missed all of 2011 with a shoulder injury and had his 2012 season cut short, while finishing with a career-high 4.85 ERA.
It's hard to make a prediction that would be described as bold about Santana, because he pitches effectively when he's healthy, and struggles when he has ailments.
I will say that he will begin the season strong again, considering he has had ample time to prepare for the season.
He will appear in the All-Star game thanks to a handsome 2.65 ERA, which will allow the Mets to trade him to the Chicago White Sox prior to the trade deadline.
The Mets will receive an outfield prospect such as Trayce Thompson.
General manager Sandy Alderson will make it three-for-three in maximizing the return of an aging star.
It's hard to find a negative thing to say about Harvey from what he's shown thus far, not just in his brief MLB career but also since he's been on the national spotlight.
Harvey possesses the ideal build for a big league pitcher at 6'4" and 225 pounds, which bodes well for his long-term durability.
Additionally, from all accounts he has the mental toughness and tenacity that allows pitchers to transition from a highly-touted prospect to established MLB star status.
"I'm here to win," he told reporters at Citi Field last month. "I take anger to the mound. I take a lot of aggression," he added.
As a person who played baseball from ages six to 20, including at the collegiate level, I can find no reason to temper the expectations for Harvey.
He seems hellbent on proving he is capable of being an ace, and even seems a bit irritated that Zack Wheeler was the prospect receiving all the hype leading up to last season.
During his abbreviated 10 start stint with the big league club last season, the soon-to-be 24-year-old posted an impressive 2.72 ERA including 10.6 K/9, 3.9 BB/9 along with a 1.14 WHIP.
Assuming he makes roughly 30 starts and averages six innings per start, I expect Harvey to come close to duplicating last year's stats, but will find a way to win 13 games against only six losses.
He is simply too motivated to fall victim to a sophomore slump.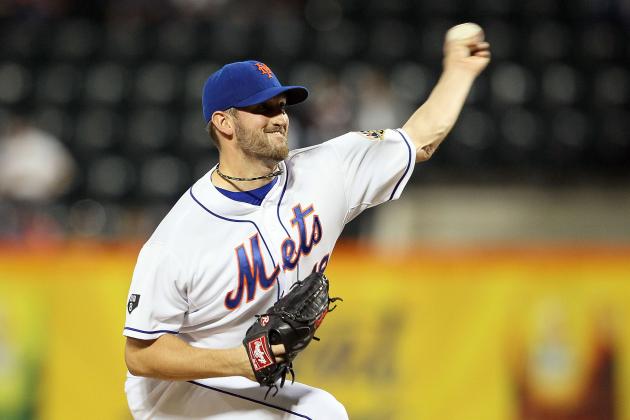 Alex Trautwig/Getty Images

I was extremely skeptical of the Mets dishing out a contract extension to Niese last year.
In addition to his inability to stay healthy, the Mets also committed to him long-term when they were in the process of determining which players would be retained from the Omar Minaya era.
After a largely impressive season, it appears I was very wrong.
Niese posted a 3.40 ERA and was able to lower his WHIP to 1.17 and his K/BB to 3.16.
Niese will be the anchor of the rotation in 2013 once Santana is dealt and he will be a mainstay in the starting staff for years to come.
I predict he will take the next step forward, reminiscent of Gio Gonzalez in 2012.
Niese will post a sub-3.00 ERA, while winning 17 games and will amass his first 200 inning season of his career.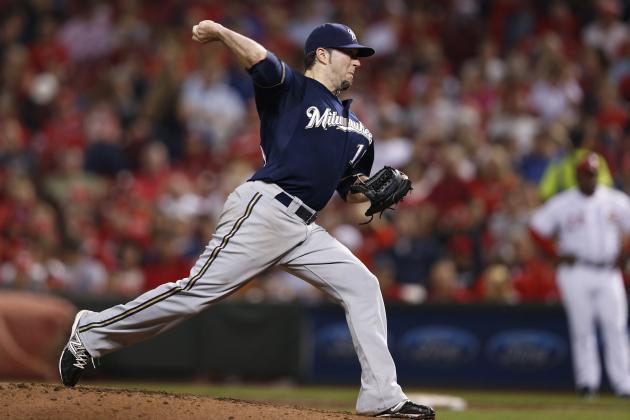 Joe Robbins/Getty Images

Alderson made the decision to acquire free agent Shaun Marcum as opposed to pursuing Chris Young, who did a satisfactory job at the back end of the rotation last season.
Despite Young having a height advantage of nearly a foot, the pitchers are similar in three regards.
They both struggle to stay off the disabled list.

Their stats are eerily similar, right down to peripherals such as HR/9 (Marcum leads 1.1 to Young's 1.2) and K/BB (Marcum also has the advantage at 2.65 to 2.21).

They throw extremely slow for right-handed pitchers, barely averaging over 86 MPH.
The Mets were able to keep Chris Young healthy most of 2012, but only received 24 innings out of him the previous year.
I think the Mets will not be so lucky this season, and will be disappointed in their $4 million investment in Marcum.
I expect a sub .500 record with an ERA north of 4.00 prior to being injured and having his season cut short.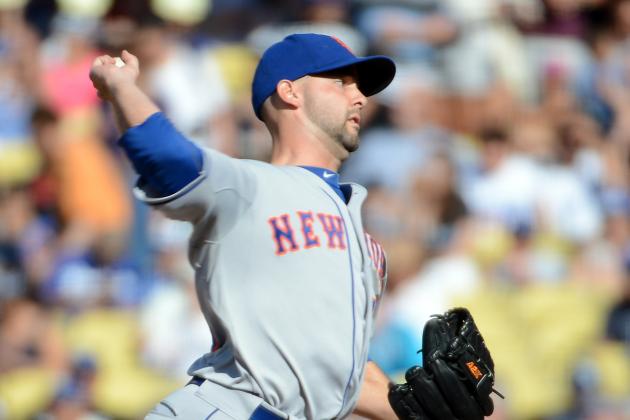 Harry How/Getty Images

It seems the perception of Dillon Gee has changed a number of times since he has come into the league in 2010.
The Texas native went widely unnoticed during his initial stint in 2010 in which he posted a 2.18 ERA over five starts.
He then made his presence known in 2011 when he began the season undefeated, which propelled his name into the Rookie of the Year discussion.
It was easy to be fooled by his impressive win-loss record, which did not indicate that he often lived on the edge. He is not a flamethrower, which forced him to rely on his changeup and cutter.
His relatively high walk numbers, along with his low strikeout numbers caught up to him. He ended up finishing the season with a 4.43 ERA and 1.38 WHIP.
Last season was basically the opposite. He was much more efficient and limited base runners to a 1.25 clip.
He ended up posting a 6-7 record due to the abysmal offense of the Mets, prior to having his season cut short to a scary blood clot in his shoulder.
He is ready for Spring Training, but it remains to be seen how he will respond to the extended time off.
I expect Gee to struggle with his command and will post typical No. 5 starter statistics in the neighborhood of 10-12 with a 4.20 ERA.