UConn Basketball: Midseason Report Card for the Huskies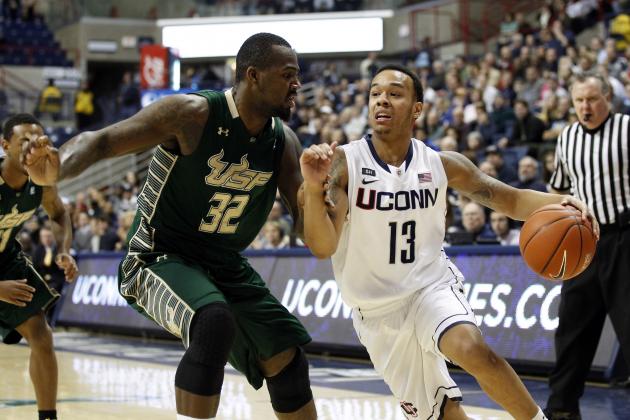 USA TODAY Sports
How have Shabazz Napier and the Huskies rated thus far this season?
The UConn Huskies (15-5, 6-3 Big East) should have few complaints about how their season has gone up to this point.
After losing Jeremy Lamb and Andre Drummond to the NBA, facing NCAA sanctions and replacing a legendary coach with a rookie, many people felt UConn would fall flat on its face this season.
Those people would've been wrong, as the Huskies have built on their strong start by being competitive in the tough Big East conference.
They've beaten the teams they're supposed to beat and have been competitive in the games most felt were out of their reach.
We're just about at the midway point of the Big East schedule, and the time has come to rank the performances, good and bad, for the Huskies this season.
Begin Slideshow

»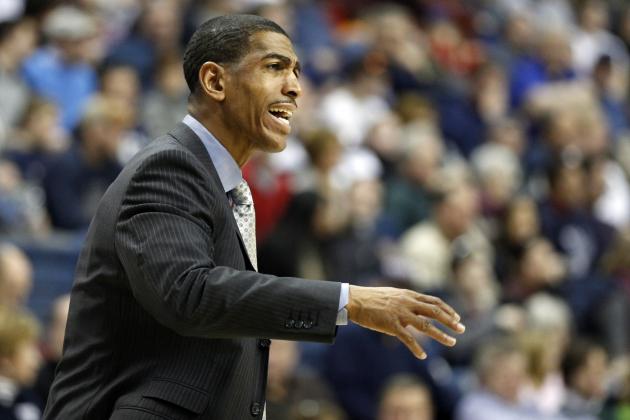 USA TODAY Sports
Ollie has done a tremendous job.
Kevin Ollie is a UConn guy through and through. He made that clear at his introductory press conference when he teared up and called it his dream job.
For many coaches that is just empty bluster, but not for Ollie, who played four years at UConn under Jim Calhoun and spent nearly two years as one of his assistant coaches.
His love for the program and his fiery style have translated to his players, who have played hard in every single game and own upset wins over Michigan State and Notre Dame.
He has gotten his players to buy into his system and play with pride, despite not being eligible for the postseason this year.
With all the upheaval and controversy surrounding the school this year, it's a testament to Ollie's coaching ability that this team would be a tournament contender this year if not for the ban.
Grade: A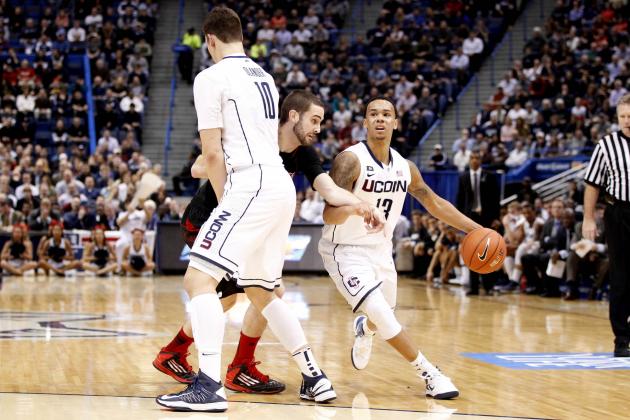 USA TODAY Sports
Napier has emerged as one of the best guards in the nation.
Coming into the season Shabazz Napier finally got his wish as he became "the" guy that UConn would run its offense around.
And thus far the returns are good. Very good.
Napier is averaging over 17 points per game and has come up big in the Huskies' recent three-game winning streak, making crucial contributions in narrow wins over Rutgers, Providence and South Florida.
The junior guard has gone on record as saying both he and his teammates are playing as much for next year as this one, and he has shown tremendous growth from the player who last season met criticism for often being too selfish.
Napier is crucial to the success of this team both now and going forward, and Huskies fans will hope he isn't lured by the NBA draft.
Grade: A-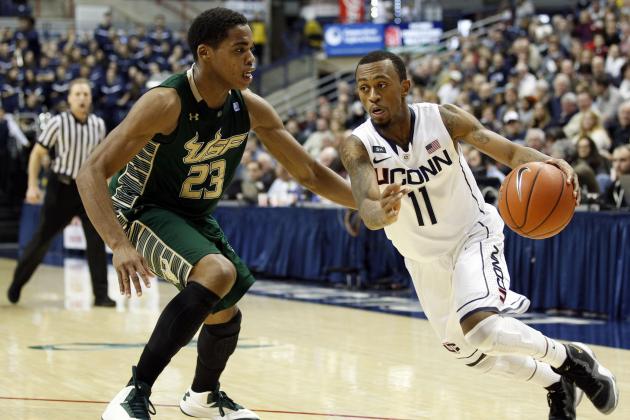 USA TODAY Sports
Boatright is the Huskies number two scoring option.
In many ways Ryan Boatright has been just as impressive, if not more so, than his backcourt mate Napier.
He's younger, is in his first season as a starter and distributes the ball more. Boatright is averaging just over 16 points per game, paired with his 4.6 assists, and has been very consistent.
Boatright has only failed to reach double digits twice, and the Huskies won both of those games. His improvement has been even more stark than Napier's, as he's jumped his scoring average by nearly six points a game.
As a sophomore he's also been even better equipped to adapt to Coach Ollie's system of play and should continue to improve.
Grade: A-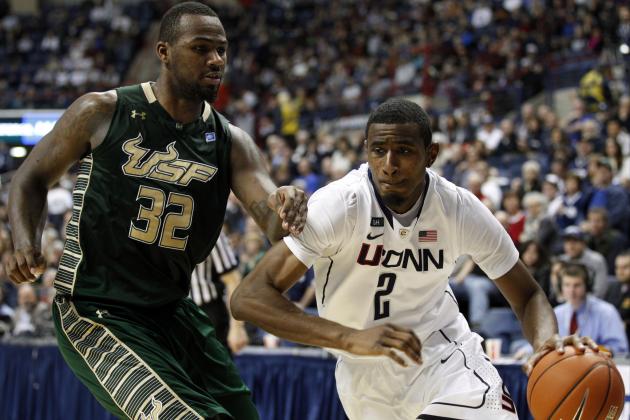 USA TODAY Sports
Daniels needs to add some size to be a force inside.
DeAndre Daniels has shown flashes of brilliance this season, putting up 26 against DePaul, 23 against Harvard and 18 against Providence.
But far more often he's been dominated by guys who are bigger and stronger. His number of single-digit performances is not acceptable and will need to improve.
That has a lot to do with his strange size. He's 6'8" but only listed at 195 pounds.
He could definitely benefit from adding some bulk to his frame, which will make him better able to bang around on the inside and play a more traditional style of UConn big-man basketball.
Grade: B/B-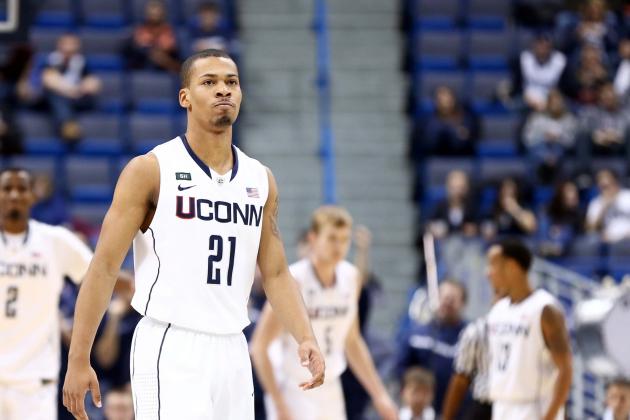 USA TODAY Sports
Calhoun has had an impressive freshman campaign.
Omar Calhoun was one of the few recruits not to spurn the Huskies after learning that the team would face a postseason ban and have a new coach.
Most other prime-time recruits headed for the hills, but not this Brooklyn, NY, product of Christ the King High School. And he's shown many times this season that he could be a key piece of the finished product going forward from this season.
Calhoun is averaging over 10 points a game and has seen his play become more consistent over the past few weeks.
While the primary backcourt focus is still on Napier and Boatright, Omar Calhoun has established himself as a viable scoring threat and a player to watch.
Grade: B+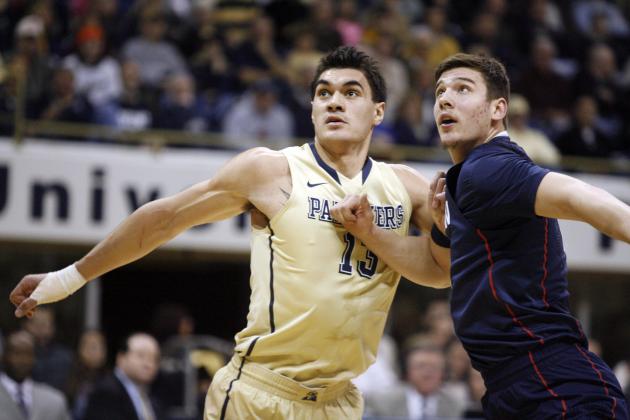 Charles LeClaire-USA TODAY Sports
Olander has been a bit of a disappointment.
One player the Huskies probably hoped would take the next step this season and hasn't is junior forward Tyler Olander.
The 6'9", 225-pound forward is big and imposing but has not seen any significant uptick in his production from last season. A jump from averaging 4.2 points per game to 4.7 is not something to write home about.
Olander, despite his size, has only topped double digits twice this season and has lingered in the low singles for most of the year. His lone great performance came in a big spot, however, as he dropped 16 against Notre Dame and controlled Jack Cooley to lead an upset road win.
Grade: C-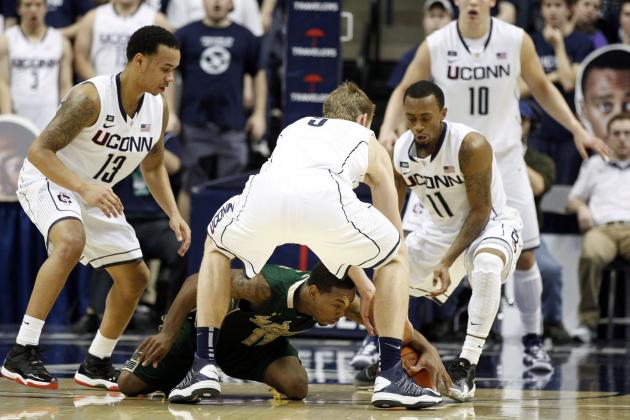 USA TODAY Sports
The Huskies lack depth on the bench.
The Huskies really have become a two-man show, and if you stop Shabazz Napier and Ryan Boatright it's very difficult for them to win. Granted, that's easier said than done, but it has happened.
The bench has been a bit of an issue this season for UConn as it lacks the depth of scoring options that many of the better programs in the Big East possess.
Not one player coming off the bench averages more than five points a game, and only one, forward Niels Giffey, contributes more than four.
This is not a recipe for long-term success because unfortunately the starters will eventually need to sit for a few minutes—and that hurts UConn against the better teams it will face.
Grade: D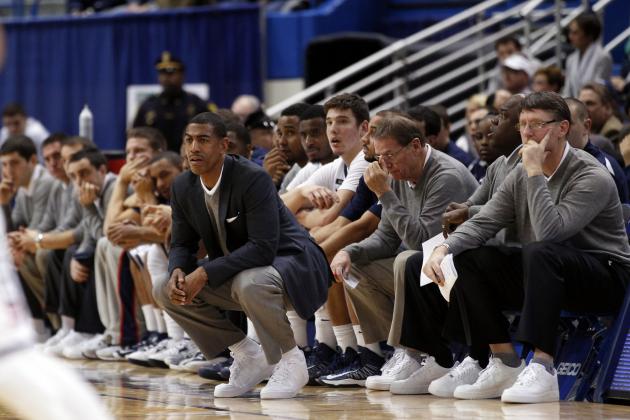 USA TODAY Sports
The Huskies are overachieving.
If you said at this point in the season, given all the tumult and problems this team faced, that they'd have 15 wins and six in the Big East, most people would've taken it and ran.
Kevin Ollie has done a tremendous job of willing his team to this point in the season and deserves serious consideration for Coach of the Year honors.
There's a lot of basketball to play and tough games ahead with St. John's, Georgetown and Syracuse. But for a young team facing this much adversity to play at this level is a testament to its character and the leadership of its coach.
Grade: A-