Recent Stretch of Stellar Play Proves Celtics Are Better Without Rajon Rondo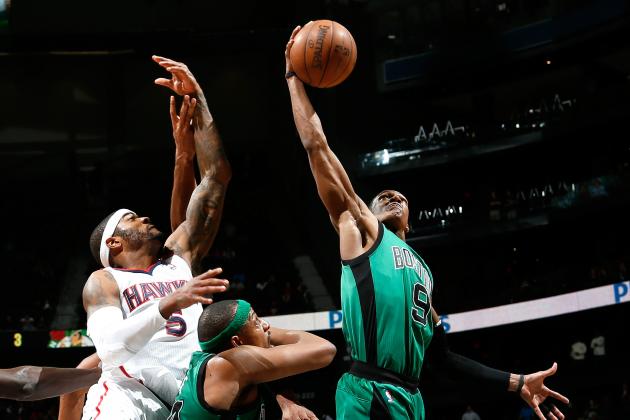 Kevin C. Cox/Getty Images
Rajon Rondo moves in for a layup against Hawks forward Josh Smith.
Yes, it is possible that the Boston Celtics are actually better without Rajon Rondo.
Four games is a very small sample size to draw such a bold conclusion, but it is becoming more comfortable to watch a Rondo-less squad with each passing game on the Celtics' schedule.
The last time Boston's All-Star guard played, the team hit a low point in its season and blew a 27-point lead against the Atlanta Hawks. That loss also completed a six-game losing streak for the Celtics, whose record fell to 20-23.
Since Rondo was ruled out for the remainder of the season with a torn ACL, the Celtics have compiled a 4-0 record and have defeated the Miami Heat and Los Angeles Clippers along the way.
The Celtics were not going to contend for the NBA title with Rondo, and they will probably not be in contention without him, either. However, their current surge is giving Celtic fans plenty of optimism and is certainly giving Celtics GM Danny Ainge plenty to think about as the NBA trade deadline approaches.
Here are five key areas where the Celtics have thrived since Rondo's absence and will need to excel in as the final third of the regular season approaches.
Begin Slideshow

»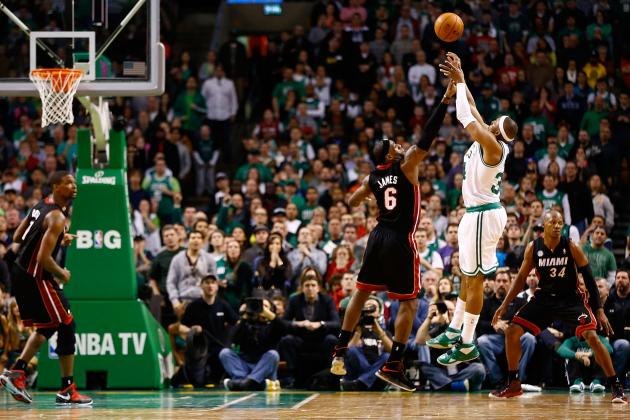 Jared Wickerham/Getty Images
Paul Pierce shoots over the out-stretched arm of LeBron James in the Celtics' 100-98 victory over Miami.
Boston has never been built around outscoring teams, but its offense has been very consistent during its four-game winning streak.
According to ESPN.com, the Celtics rank 20th in the NBA in scoring at 95.5 points per game.
Rondo's loss means the Celtics do not have a "true" point guard, but you would never know it with how they have played without him.
Over the past week, the Celtics have scored totals of 100, 99, 97 and 106 points. That averages out to 100.5 points per game, which would tie the Dallas Mavericks for the ninth-best mark in the NBA. Furthermore, Boston only broke the 95-point barrier 20 times through its first 43 games.
Last Sunday against the Clippers, they notched 92 points through the first three quarters. Although Boston struggled in the fourth quarter of that game, it was still an impressive offensive display against one of the NBA's top teams.
The Celtics offensive balance and rhythm have been excellent, with crisp ball movement and more touches for the five players on the floor. Instead of watching Rondo frequently dribble at the top of the key until 10 seconds are left on the shot clock, Boston's offensive possessions actually have a purpose to them now.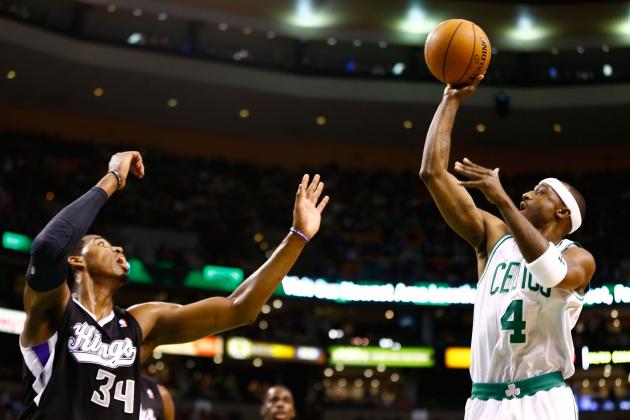 Jared Wickerham/Getty Images
Jason Terry will need to step up to fill the void of Rondo's absence.
A major weakness of the 2011-2012 Boston Celtics was their bench. According to Hoopstats.com, the Celtics bench ranked 29th in the NBA with only 21.4 points per game.
Celtics GM Danny Ainge sought to address that issue in the offseason by acquiring veterans such as Jason Terry, Leandro Barbosa and Courtney to provide roster depth for Boston to compete with teams like the Miami Heat.
In the 2012-2013 season, Boston's second unit has fared better, but it still just ranks 16th in the NBA with 33.0 points per game.
However, Boston's bench has flourished over the last five games and has ranked third in scoring during that duration with 45.8 points per game.
In particular, Jason Terry has finally morphed into a reliable sixth-man option for the Celtics. Terry has scored double figures in five straight games and has shot over 40 percent from beyond the arc during that span.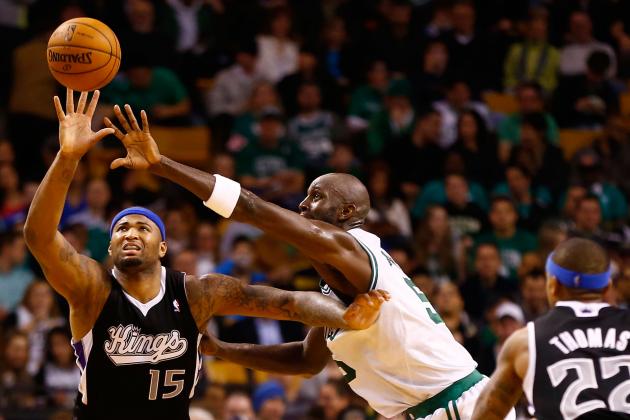 Jared Wickerham/Getty Images
Kevin Garnett contests a pass against DeMarcus Cousins.
Boston's defense has resembled its 2007-2008 championship form over the past week.
Since the "Big Three" was first put together over five years ago, team defense has always been at the backbone of the Celtics' DNA.
This season, the Celtics are allowing 96.0 points per game, which is certainly respectable, but it's off the pace from past seasons.
Without Rondo, Boston is only allowing 91.8 points to opponents. Garnett and Pierce always bring defensive intensity, but the big difference for Boston has been its perimeter defense.
Although Avery Bradley and Courtney Lee are not the best offensive weapons the Celtics have, they have thrived in Rondo's absence on the defensive end and have suffocated opposing guards.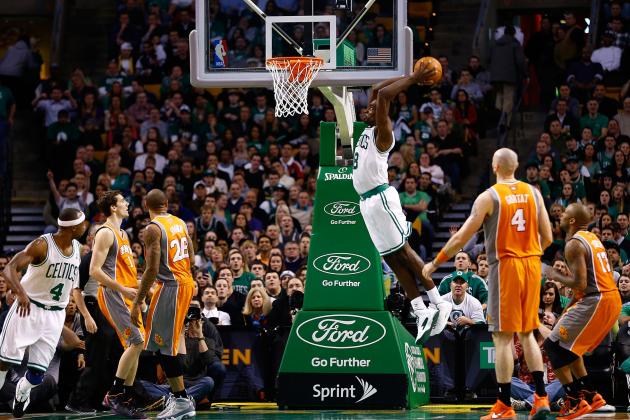 Jared Wickerham/Getty Images
Jeff Green moves in for a dunk against the Phoenix Suns.
If there is a constant recipe for success in the NBA, it is to take the ball to the basket.
Attacking the rim leads to high-percentage shots, puts pressure on opposing defenders and can swing momentum in a hurry.
In Rondo's absence, the Celtics have become a more aggressive offensive team.
According to Teamrankings.com, the Celtics have averaged 38.5 points per game in the paint in the 2012-2013 regular season. Through four games since Rondo went down, they are averaging 44.5 points in enemy territory.
Against the Orlando Magic, the Celtics had 56 points in the paint, where Jeff Green put together his own highlight reel. That attacking mindset was seldom found with Rondo at the helm.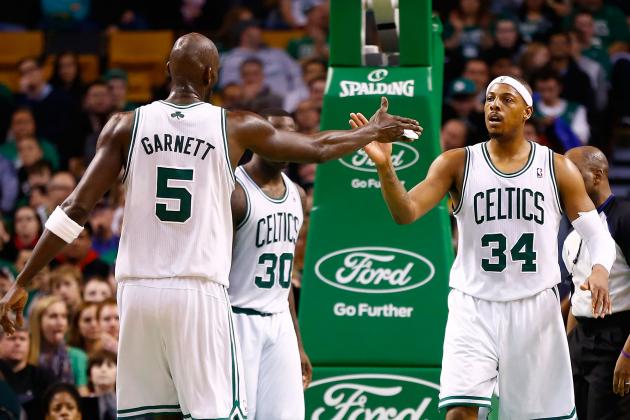 Jared Wickerham/Getty Images
Kevin Garnett and Paul Pierce will lead the Celtics without Rondo.
In terms of talent, Rondo is obviously a huge loss for the Celtics.
But not in terms of chemistry.
Chemistry will not show up on a stat sheet anywhere, but the Celtics are clearly benefiting from not having to deal with Rondo's over-inflated ego.
Offensively, it has been a welcome change to see Boston's offense steer away from getting the same player 10 assists or a triple-double every time they take the floor. As previously mentioned, it has also been nice to see Boston's defensive intensity return to form as well.
And that is the whole reason why Boston is better without its All-Star point guard. The Celtics look and feel like an actual team again. Garnett and Pierce look like actual leaders again. Boston's competitive fire looks like it has been restored again.
Whether or not the Celtics can maintain their stellar level of play remains to be seen, but the past four games have been a welcome sign that life will move on just fine without Rondo.