Newcastle United: Was Alan Pardew's Busy Transfer Window Too Big a Gamble?
Use your ← → (arrow) keys to browse more stories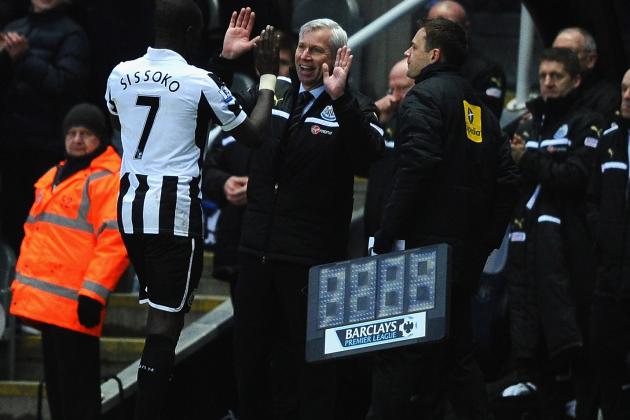 Laurence Griffiths/Getty Images
Moussa Sissoko's arrival has made Alan Pardew's job a little easier.
Something needed to be done—that much was certain. Newcastle were drifting towards relegation seemingly without care, and the January transfer window looked to be the only way to avert this scenario. Alan Pardew promptly raided Ligue 1 and emerged from January with five new players.
He's putting a lot of faith in these new recruits, but is it too much?
A lot has been made of Pardew's tactical ineptitude. Critics would point to the fact that the team had never won from behind under Pardew, that he was unadventurous even after going ahead and that he seemed incapable of making the right substitutions at crucial points in the game.
Two wins with the new lineup suggest that he has made the right call, and that Graham Carr has once again scouted relatively unheralded players and made astute recommendations to the manager.
The win against Chelsea—after going behind, no less—catapulted Moussa Sissoko into the spotlight, as January did to Papiss Cisse last year. Sissoko looks to be a great acquisition for the team, and at £1.8 million, the bargain of the transfer window.
Brought in as an attacking midfielder, Sissoko gave the Chelsea defence trouble all day, linking up well with Cisse and creating opportunities for himself at the same time. Watching him attack Ashley Cole with aggressive running and dribbling was a highlight of the game, and he proved he has the talent to shine in the Premier League.
However, with so many players returning from injury, was it necessary to bring in five players in January?
Was it necessary to go big during the January window?
Although it seems excessive, it's important to point out that the team was sleeping through the summer transfer window, and that funds were not made available by owner Mike Ashley to build on the fifth-place finish of last year.
Therefore, the January signings were made as a retrospective action for the summer, and that five players acquired can really be spread across the two transfer windows. That it had to get as bad as it did in order for the money to be released only reinforces the decision to spend.
It wasn't just the team that needed to be saved; Pardew himself was in need of salvation. If the story in The Sunday People was to be believed, Pardew's eight-year contract could be terminated at any point with only a year's wages owed to him.
He needed to act fast and plug the holes in his team. Mathieu Debuchy, Yoan Gouffran, Mapou Yanga-Mbiwa, Massadio Haidara and Sissoko are all players who provide both depth and a way to strengthen the side.
The performances of the last two games show that the new arrivals have given the team a much-needed shot in the arm. The home defeat to Reading and the home victory over Chelsea are just two weeks apart, but scarcely look like the same team.
Of course, it remains to be seen whether the initial galvanising effect of the new French players will last, but the current signs suggest that it will.
The new players look to have a great deal of pride in playing for their club, and in the English league in general. They seem committed to getting the club back to the heights it enjoyed last year, and are all good value for money.
Marquee signings are all very well, but in Carr Newcastle have a scout who is able to evaluate talent and bring players in at the right time in their careers. In many cases this leads to them being sold on, which can anger the fans.
However, the sale of these players makes it possible to acquire new ones. Although Ashley is reluctant to give money to his manager, the very real prospect of relegation seems to have scared him into the realisation that he cannot rest on success and expect everything to be fine.
Here's hoping he stays that way.