World Football: 7 International Friendlies You Need to Watch on Wednesday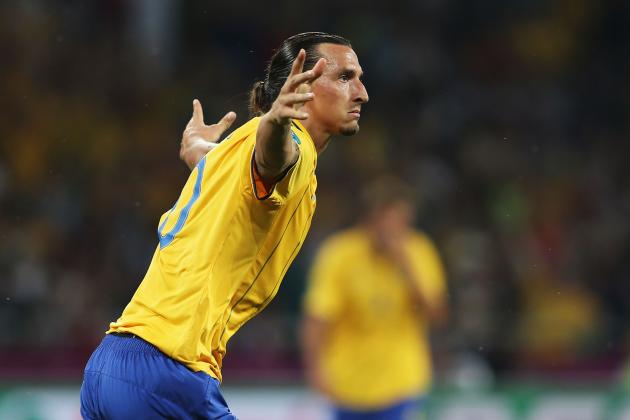 Julian Finney/Getty Images

Wednesday plays host to a plethora of international matches—wait, no, let's call it a smorgasbord of international matches on display.
A total of 60 separate nations will take the field on Wednesday alone for their respective international friendly match, and there are plenty of great matchups and fixtures to be found. But how do you make the call as to which of the 30 deserve your attention?
That's where the hard work has already been done. Read on to see the seven international friendlies that you simply must watch this Wednesday.
Begin Slideshow

»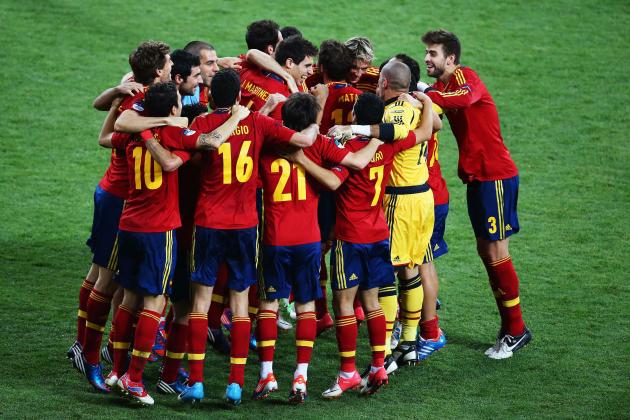 Martin Rose/Getty Images

Wednesday, February 6, 2013 at 1:00 p.m. ET
Spain are the best international team in football at the moment and have been for some time now having triumphed at the past few international tournaments.
European Championships, World Cups—La Furia Roja have won it all in convincing style with their dominant ground game and clinical defensive midfield that presses their opponents into submission.
They'll come up against South American giants Uruguay here, and whilst Spain's defense would normally be favored in nearly every international matchup, Uruguay are one of the few teams that possess the attacking brilliance to threaten them.
If Luis Suarez, Diego Forlan and Edinson Cavani can truly get going, then this is a team to watch out for. Both Suarez and Cavani disappointed at the recent 2012 London Olympics but are in great form at the moment, so expect them to put up a real fight here against the reigning champions.
Spain will be favorites, as always, but Uruguay on their day are certainly no pushovers. Especially given the players that Spain have missing at the moment.
Prediction: Spain 1, Uruguay 1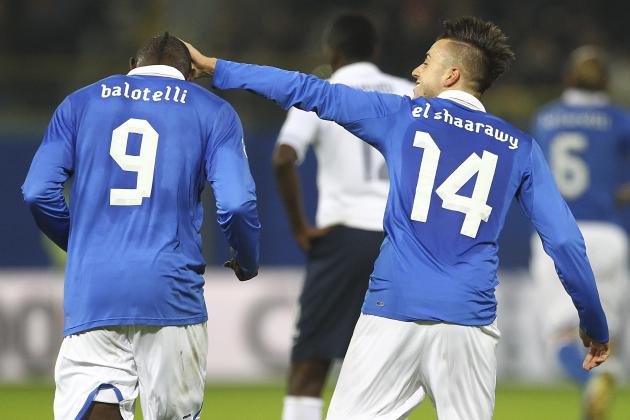 Marco Luzzani/Getty Images

Wednesday, February 6, 2013 at 2:30 p.m. ET
The Netherlands (Holland) are very up and down when it comes to international tournaments, with an argument to be made that the Dutch are in fact on the decline in world football.
They're down to eighth now in the recent world rankings, with their appearance in the final of the 2010 World Cup their last real cry of international success, having been bundled out of the group stages in embarrassing fashion at the 2012 European Championship.
Nevertheless, the Netherlands possess a great attacking side with a number of brilliant players—Kevin Strootman and Robin van Persie, for example—that will be tough to beat.
The Azzurri, however, seem even tougher to break down than that.
Fresh off a strong Euro campaign and currently ranked as the fourth-best team in the world, Italy have the brilliance and creativity in attack to threaten any opponent, with their players arguably playing better than this time six months ago at Euro 2012.
Andrea Pirlo is dominating; Stephan El Shaarawy and Mario Balotelli are combining well on an international level. Even if just those three show up here against the Netherlands, you'd have to think they've a real chance of victory.
Prediction: Netherlands 0, Italy 3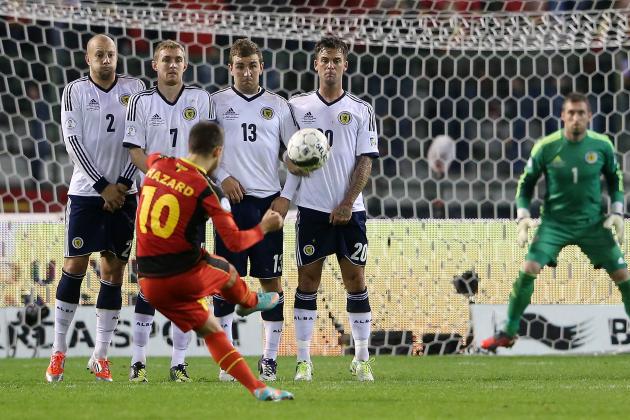 Scott Heavey/Getty Images

Wednesday, February 6, 2013 at 2:45 p.m. ET
Belgium are a team worth watching this weekend simply for the fact that you'll be getting an early glance at one of the real teams to watch at the upcoming 2014 World Cup.
Don't believe me? This is a team that is yet to be defeated in their qualifying matches and sit on top of Group A—an understandable achievement given their current roster strength.
Truly, it's somewhat incredible how strong Belgium are—recognize these names?
Goalkeepers
Defenders
Midfielders
Forwards

Thibaut Courtois

Simon Mignolet

Thomas Vermaelen

Jan Vertonghen

Vincent Kompany

Nicolas Lombaerts

Toby Alderweireld

Axel Witsel

Eden Hazard

Moussa Dembele

Dries Mertens

Maarten Martens

Roland Lamah

Marouane Fellaini

Romelu Lukaku

Kevin Mirallas

Jelle Vossen

Christian Benteke
Definitely worth keeping an eye out for in Brazil next year; also definitely worth keeping an eye out for this weekend when they take on Slovakia.
Prediction: Belgium 3, Slovakia 0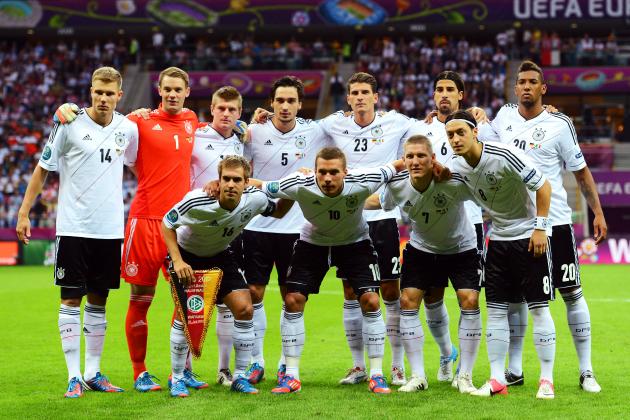 Shaun Botterill/Getty Images

Wednesday, February 6, 2013 at 3:00 p.m. ET
France might not be what they once were in world football, but they somehow always seem to turn it on against European rivals Germany.
We're not going to talk about the war—Monty Python reference there for those playing along at home—but they simply always seem to step up against Joachim Low's side and will most likely do so again here this weekend in their international friendly.
How Karim Benzema will fare against Mats Hummels is the matchup arguably most likely to decide this fixture, with the Real Madrid striker likely to account for a large share of Les Blues' attack—especially so against a tough defensive side like Germany.
Bleacher Report's Clark Whitney gives you the lowdown on all the matchups you need to watch out for in this one, and believe me, there's some good ones ahead.
If their last encounter was anything to go off, this one could well be special.
Prediction: France 0, Germany 1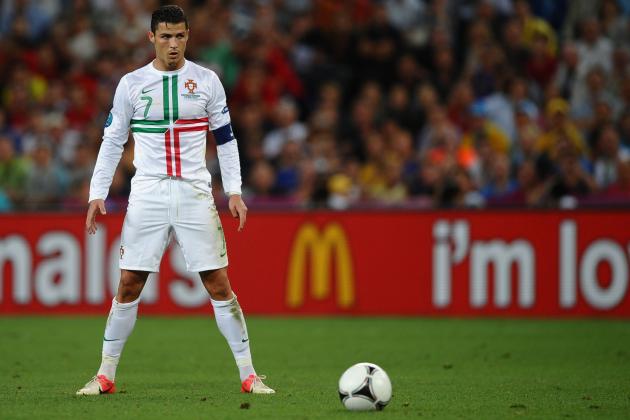 Laurence Griffiths/Getty Images

Wednesday, February 6, 2013 at 3:45 p.m. ET
Any time that Cristiano Ronaldo steps on to a football pitch, it's worth stopping and taking notice because you might just be about to witness something remarkable.
The Real Madrid winger is truly one of the greatest players of the modern generation; without him, Portugal simply would not rank seventh on the latest national rankings. They probably wouldn't even be within shouting distance of the top 10.
Ronaldo simply is one of those players who can open up a game with ease, but he'll be under a little bit of pressure heading into this one.
Things aren't traveling so well domestically for Madrid at the moment, Portugal haven't won in their past three international matches, and Ronaldo himself has scored internationally in his past four—something that will no doubt spark Ronaldo to even further success.
At least that's what we'll all be hoping for this weekend.
Prediction: Portugal 3, Ecuador 1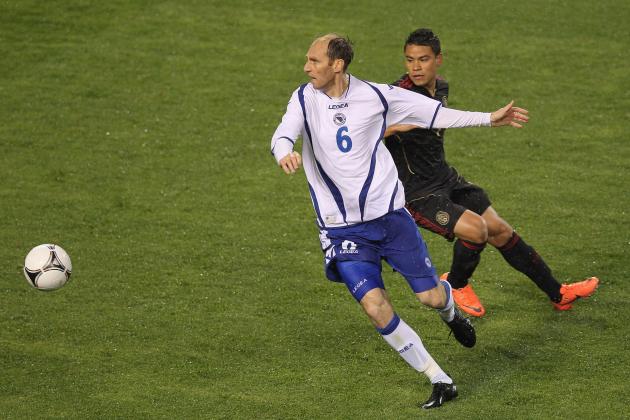 Jonathan Daniel/Getty Images

Wednesday, February 6, 2013 at 2:00 p.m. ET
Now I know what you're thinking here.
Dan, out of all the 30 international matches this weekend, why on earth would I want to sit down and watch Slovenia play Bosnia-Herzegovina. I mean, this isn't the 1990's anymore.
My answer would be European qualifying table Group G, where you'll see Bosnia on top of the standings—remarkable really, given the lack of attention surrounding their success.
They've not lost a game yet, have scored 15 goals and conceded just two in that time also, and are coming up against an opponent struggling to keep pace even mid-table in their group—perhaps leading to another victory here for the "Herzegovinans."
Yes, that is now a real word.
Throw in the fact that Srecko Katanec is back in charge of Slovenia—10 years after first managing the European side—and this one has some lovely little subplots to enjoy for you. Something to give you a moment to relax and enjoy the beautiful game without all the big names.
Prediction: Slovenia 0, Bosnia-Herzegovina 2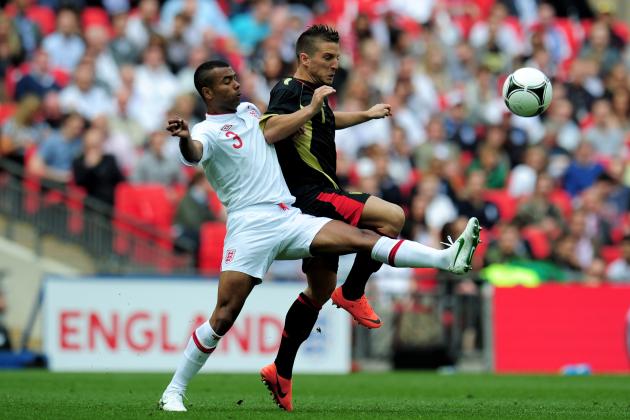 Shaun Botterill/Getty Images

Wednesday, February 6, 2013 at 2:30 p.m. ET
Ahh, the biggest matchup of them all. Penalty-shootout kings England (sorry, typo) playing host to international footballing legends Brazil at Wembley Stadium.
The fact that Ashley Cole is making his 100th appearance and this is in the middle of the 150th-year anniversary celebrations for the English Football Association are almost secondary here as the Three Lions try to pit themselves against the best in the world.
Well, maybe not on the standings, but in the minds of many—Brazil will seemingly always be the standard when it comes to international football.
England are missing a host of players from their starting side, but expect them to roll out a pretty solid-looking lineup here with lots of attacking options. Against the likes of Oscar, Lucas Moura, Ronaldinho and Neymar, they'll need every single bit of it.
Expect this to be a fiery affair as England try to justify themselves as a world footballing presence once again against the powerhouse of world football. Granted they currently rank three times lower than England at the moment, but that's besides the point really. We all know how good Brazil are and we can expect them to be that good this week.
Can the Three Lions triumph here and seemingly prove their international worth once more in a year that marks the greatness of British football? We'll soon see.
Prediction: England 1, Brazil 1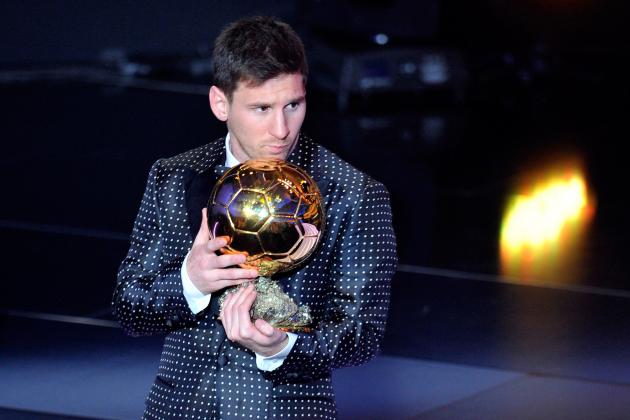 Harold Cunningham/Getty Images

Surely you didn't think this list would finish without talking about the greatest individual matchup of the week when Lionel Messi plays against Zlatan Ibrahimovic?
Some are commonly calling this match Argentina vs. Sweden, but we needn't worry. We know there'll really only be the two players playing in this one, and even then, it's still shaping as one of the most fascinating affairs from the week's action.
Just think—Messi does this. Ibrahimovic does this. He then follows it up with this, and just when you think he's got it won, Messi does this.
Prediction: Messi 2, Ibrahimovic 2.
Which international matches are you most looking forward to?
Comment below or hit me up on Twitter: Follow @dantalintyre