Power Ranking the NBA's Elite Centers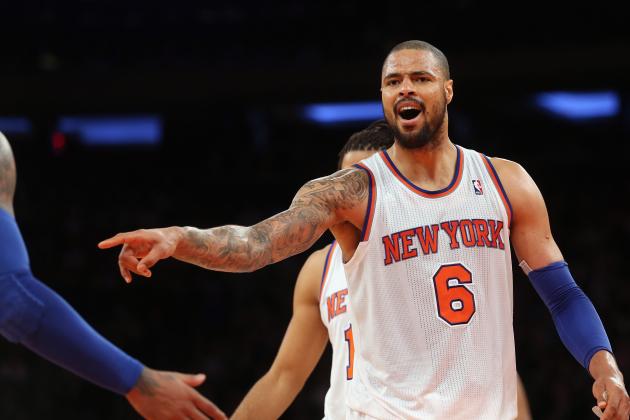 Bruce Bennett/Getty Images

As the NBA devolves into a convoluted clump of positionless men playing basketball in groups affectionately referred to as "bigs" and "not-so-bigs," the elite-level center has all but disappeared, with the exception of a few dudes.
There are some guys who are quite obvious, but with a few power forwards masquerading as centers out there, it gets a lot harder to figure out what's what.
Guys like Chris Bosh and Kevin Garnett have become full-on centers these days, while the likes of Tim Duncan and Pau Gasol continue to confuse.
There is a nice crop of young guys coming up who are going to make a run for elite status at some point in the near future, but so long as DeMarcus Cousins continues to be an inconsistent offensive player, Greg Monroe avoids being a consistent force and Roy Hibbert completely forgets that he's 7'3", it's going to be a bit before they can make their way up to that level.
For now there are a handful of older guys hanging around, and a group of players who are hanging on hard to one side of the floor to cement their elite status.
Begin Slideshow

»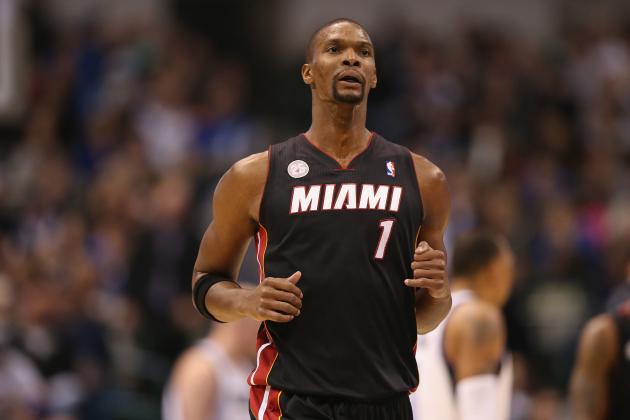 Ronald Martinez/Getty Images

There's always going to be a lot of criticism surrounding Chris Bosh so long as he's the third-most important member of the Miami Heat, and just such a weird dude in general, but he's legitimately turned into a solid center.
He leaves a lot left to be desired when it comes to rebounding and help defense, but he's got the offensive end down pat, and he's always around to put pressure on a jump shooter, or even a long-ball threat.
Bosh is never going to be a dominant defender in the post, and he's always going to be a weird dude, but there's a reason why the Heat recruited him so hard out of Toronto.
We saw his importance in the playoffs last season when he went out with an injury and the Heat struggled without him, so the fact that he's constantly questioned is continually puzzling.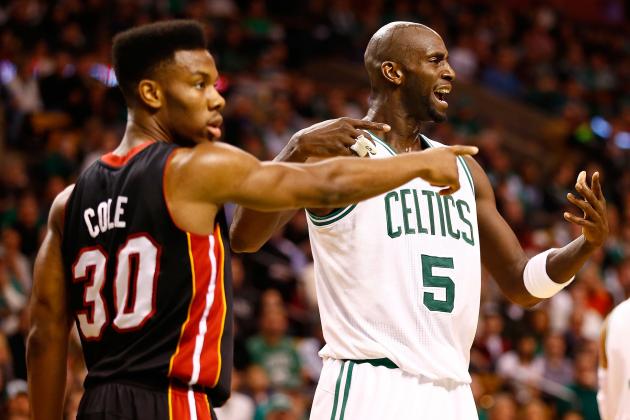 Jared Wickerham/Getty Images

Another power forward-center convert, Kevin Garnett has continued on his war path of old, fighting his way to the bucket, while still keeping ahold of that feathery touch from 18 feet.
He's still shooting around 51 percent from the floor, he's filling a solid scoring role with just around 15 points per game and continuing to intimidate guys in the post.
The Boston Celtics have played a certain style of basketball over the course of the past few seasons in which they do their best to slow the game down to a crawl and ugly it up a bit.
There's no way they'd be able to do that without Garnett, who has become an expert at slowing games down on defense and making every possession matter.
Jonathan Daniel/Getty Images

One of the real newbies to the elite center scene, Joakim Noah has become as important to the Chicago Bulls as anybody besides Derrick Rose. Without Rose, he's the most important player on the floor more often than not.
Sure, he's not a scoring machine, averaging just over 12 points, and he's been a bit inefficient as of late, but what he brings elsewhere can't be discounted.
The energy he brings to the floor is nearly unrivaled around the NBA, but he's becoming so much more than a ball of energy on the court.
His rebounding has given the Bulls a huge boost, pulling down over 11 a game, and the duo that he forms on defense alongside Taj Gibson forms one of the best defensive frontcourt combinations in the entire league.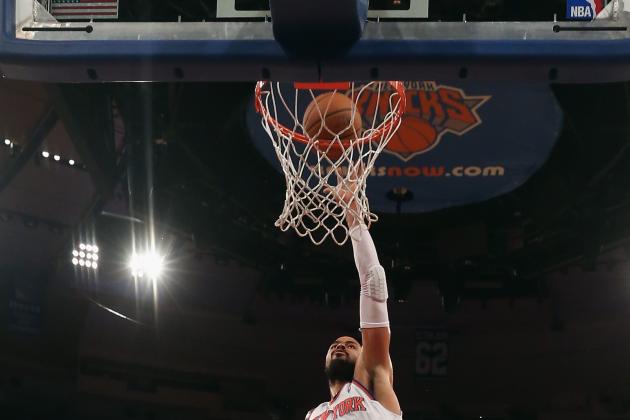 Bruce Bennett/Getty Images

It's true—Tyson Chandler doesn't create much for himself on offense, but the havoc he wrecks on defense more than makes up for the offensive shortcomings.
Of course, those shortcomings are entirely exaggerated as of late. Chandler averages nearly 12 points a game, and while he doesn't do a whole lot of work in the post, when he does get the ball in the paint, he's incredibly efficient.
Chandler is leading the league, shooting 68 percent from the floor with a season that's on the verge of being the most efficient scoring seasons not anchored by Wilt Chamberlain.
On defense, there are not rival big men for Chandler.
He blocks shots left and right, and when he's not blocking them he's altering them to the point where it's surprising to see anybody score when they're coming right at him.
There's a ton of value in what he does on defense, even if he doesn't dominate on offense like some of the other big men around the league.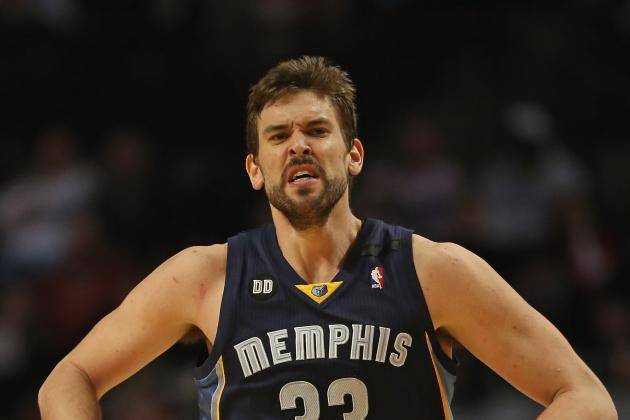 Jonathan Daniel/Getty Images

It would be fun to see what Marc Gasol could do these days if he were the main option in the post, as he's been beside Zach Randolph for the majority of his career.
Every now and then when he's having one of his exceptionally dominant nights, he just doesn't get the ball often enough to put together a game that people will talk about the next day.
Even still, Gasol has an array of skills that very few players in the NBA have.
He's slowly becoming a better rebounder (and playing alongside Randolph definitely drags his numbers down), he is the best passing big man in the NBA and every day it seems like his post game improves while he gets just a bit more range on his jump shot.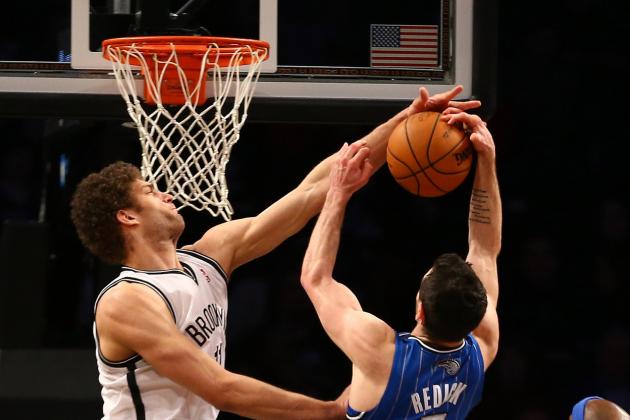 Al Bello/Getty Images

We've always criticized Brook Lopez because he supposedly can't defend anyone. Well, this season has seen a huge improvement for Lopez on the defensive end of the floor.
He's still not a guy who you could rely on to make the game-winning stop in the post, and it definitely helps out when you've got another big man in the paint to back him up, but he's nowhere near an elite defender.
Where he makes his elite presence felt is on the offensive end, from where he's been the best big man in the NBA.
Lopez is averaging over 18 points per game, and he's doing that all while sharing the floor with Deron Williams and Joe Johnson, two shot-happy teammates.
Even better, he's back to rebounding like a mediocre rebounder again, pulling down just over seven a game, compared to just over three a game in limited time last season.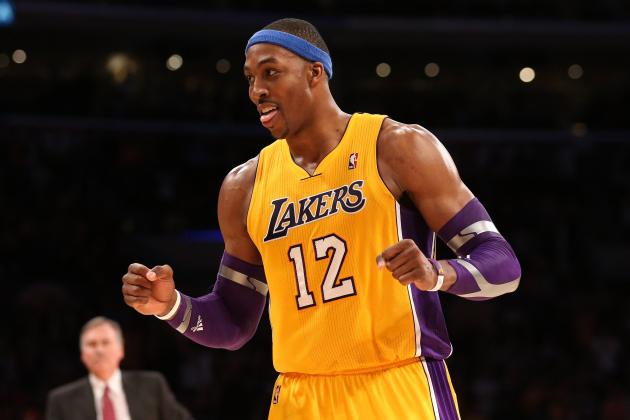 Stephen Dunn/Getty Images

He's been injured, playing much worse than last year, while giving a lax effort on a nightly basis for a team who hasn't sniffed a playoff spot all season long.
Yet, calling any other player besides Dwight Howard the best center in the NBA just seems like crazy talk.
Howard averages 16.5 points per game on a team where he's sharing shots with Kobe Bryant, Pau Gasol and Steve Nash, shooting nearly 58 percent from the floor, leading the league in rebounds yet again (although by a much smaller margin) and still collecting blocked shots by the bucket load.
Most of the backlash against Howard has been warranted, but I'm afraid it's lashed too far back thanks to the Lakers' struggles combined with his uncaring attitude.
What Howard is is a big man adjusting to his new team, unsure of the decision he made, but still playing at a very high level.
I can't tell you if he's going to recover from back surgery to the point where he'll be able to go back to playing like he did two years ago, but he's also not as far away from that point as it would seem.