The 2012-2013 NFL season was certainly something to behold.
We had displays of dominance, massive upsets and nail-biters.
But enough about the Baltimore Ravens' season. There are some teams that are on the cusp of greatness, others still trying to find their way and then the bottom-feeders of the league.
Sometimes it's not about the pure talent level of a prospect, but rather how he fits into a system. Other times, prospects simply drop in the draft based on other teams' needs.
Some teams figure to score big in that regard in the 2013 NFL draft. Here's a look at my latest mock draft, complete with teams that will find perfect fits in the late first round (in italics).
1. Kansas City Chiefs: Luke Joeckel, OT, Texas A&M
Luke Joeckel NFL Player Comparison
The Chiefs will likely either take Joeckel or West Virginia quarterback Geno Smith here. Smith has the potential to be a franchise quarterback—with his arm strength and pocket mobility—but Joeckel is the better prospect in my mind. I could see Joeckel becoming an All-Pro.
2. Jacksonville Jaguars: Bjoern Werner, DE, Florida State
The Jaguars need a pass-rusher in their 4-3 scheme and Bjoern Werner possesses the ability against the pass and the run to be a star at the next level.
3. Oakland Raiders: Damontre Moore, DE, Texas A&M
The Raiders need help on the defensive line and Damontre Moore rivals Werner in potential at the next level. He's a fantastic pass-rusher who can also defend the run.
4. Philadelphia Eagles: Star Lotulelei, DT, Utah
With Joeckel off the board, I expect the Eagles to add some serious star power on the interior of the defensive line, given their problems stopping the run. Star Lotulelei is a great prospect, possessing the strength, motor and toughness to be a Pro Bowler.
5. Detroit Lions: Barkevious Mingo, DE/OLB, LSU
With a need for a pass-rusher off the edge, I expect the Lions to add Barkevious Mingo, who possesses the explosiveness to be an impact player in the NFL.
6. Cleveland Browns: Jarvis Jones, OLB, Georgia
The Browns need help at outside linebacker and Jarvis Jones ranks right up there with Werner, Moore and Mingo in terms of potential game-changing ability. Possessing the explosiveness to get to the quarterback in a hurry and the range to track down ball-carriers, Jarvis Jones is a special prospect.
7. Arizona Cardinals: Geno Smith, QB, West Virginia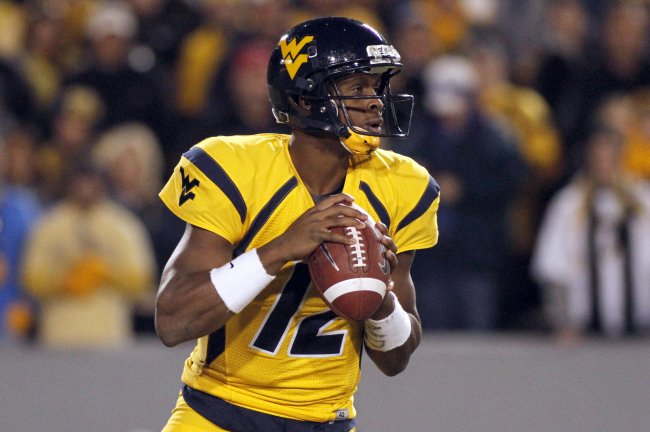 Justin K. Aller/Getty Images
Geno Smith may not be worthy of the No. 1 overall pick, but the Cardinals will gladly nab him at No. 7 overall. The team's quarterback situation is a disaster and Smith has the arm strength to find Larry Fitzgerald down the field.
8. Buffalo Bills: Tyler Wilson, QB, Arkansas
With support for Ryan Fitzpatrick waning, I expect the Bills to take a chance on Arkansas quarterback Tyler Wilson, who has the tools to be a franchise quarterback.
9. New York Jets: Ezekiel Ansah, DE/OLB, BYU
I am fanatic about Ezekiel Ansah. His pure athleticism and explosiveness is downright scary and he has the motor to back it up. The Jets need a dynamic pass-rusher off the edge.
10. Tennessee Titans: Dee Milliner, CB, Alabama
The Titans need to improve their secondary and Dee Milliner is widely regarded as the best cornerback in the class. With elite coverage skills and the toughness and physicality to defend the run, Milliner would make Tennessee mighty happy.
11. San Diego Chargers: Eric Fisher, OT, Central Michigan
It's no mystery that Philip Rivers needs better pass protection. Eric Fisher is widely regarded as a top-three offensive lineman in the class and his specialty is pass-blocking. Bingo.
12. Miami Dolphins: Cordarrelle Patterson, WR, Tennessee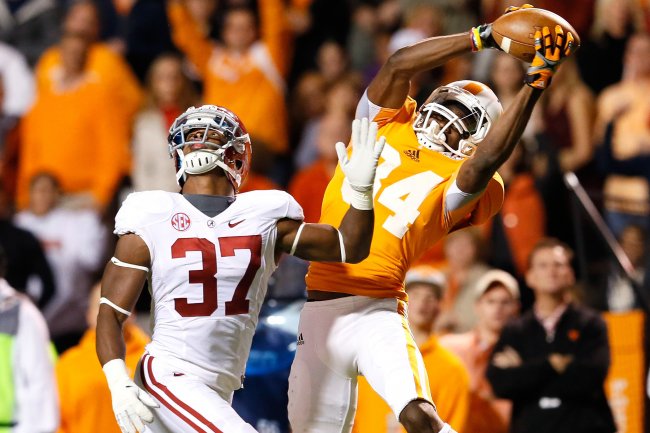 Kevin C. Cox/Getty Images
Cordarrelle Patterson has slowly but surely surpassed Keenan Allen as the best receiver in the class in many people's eyes. He has all the tools to be a star wideout. The Dolphins need an impact player in the receiving corps for young quarterback Ryan Tannehill.
13. Tampa Bay Buccaneers: Johnthan Banks, CB, Mississippi State
The loss of Aqib Talib hurt the Buccaneers. Johnthan Banks has the instincts, ball-hawking ability and tackling skills to be an impact corner in the NFL.
14. Carolina Panthers: Sheldon Richardson, DT, Missouri
With a great need for some support in the middle, the Panthers will likely be looking for a defensive tackle in the first round. Sheldon Richardson's explosiveness and quickness stands out.
15. New Orleans Saints: Sharrif Floyd, DT, Florida
The Saints, like the Panthers, would like to find a defensive tackle on the line. Sharrif Floyd needs to improve his pass-rushing skills, but he's an asset against the run. His combination of size and agility is impressive.
16. St. Louis Rams: Chance Warmack, G, Alabama
Chance Warmack is a top-10 prospect in my mind, but other teams' needs may push him down the board. The Rams have a need at guard and they would love to add a prospect of Warmack's caliber to bolster the interior.
17. Pittsburgh Steelers: Jesse Williams, DT, Alabama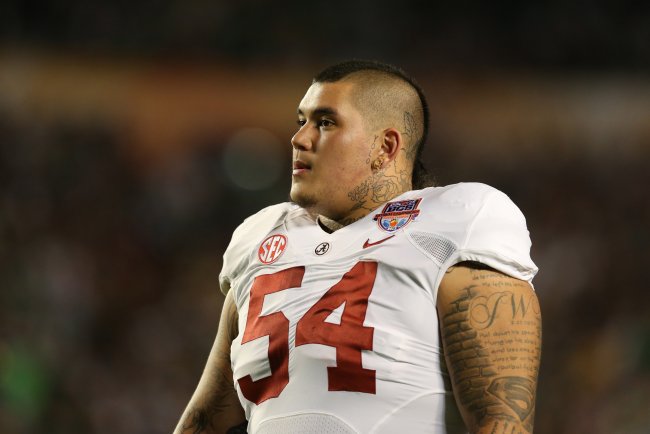 Matthew Emmons-USA TODAY Sports
The Steelers would love to find a replacement for the aging Casey Hampton and Jesse Williams is the best nose tackle in the class. You name it—size, strength, quickness, toughness—Williams should be an excellent nose tackle down the line.
18. Dallas Cowboys: Johnathan Hankins, DT, Ohio State
The Cowboys allowed 4.5 yards per carry in 2012, ranking 27th in the NFL. Jay Ratliff's declining play combined with his DWI arrest should make acquiring talent at the defensive tackle position a priority for Dallas. Possessing the quickness and strength to bolster against the run, Johnathan Hankins could be that guy.
19. New York Giants: Lane Johnson, OT, Oklahoma
The Giants may have allowed a league-low 20 sacks in 2012, but that has more to do with Eli Manning than the offensive line. Imagine what Manning could do with a reputable offensive tackle like Lane Johnson, who has risen up draft boards after the Senior Bowl. Johnson has the size, length, footwork, technique and drive to be an excellent player in the NFL.
20. Chicago Bears: Arthur Brown, ILB, Kansas State
The Bears are in need of a replacement for Brian Urlacher and Arthur Brown may just be the best inside linebacker in the class. His range, fluidity and tackling skills could make him the center of Chicago's defense in no time.
Dan Brugler of CBSSports.com wrote of Brown:
Brown is a fluid and explosive athlete with very good range to be effective against both the run and the pass. Brown top instincts to sniff out the play and is quick to react, rarely missing tackles when he's in the area
21. Cincinnati Bengals: Dion Jordan, DE, Oregon
Dion Jordan has exceptional explosiveness and quickness. On top of that, he has the motor, versatility and toughness to make it all come together at the next level.
There are some concerns about Jordan's ailing shoulder, but it's hard to pass up a prospect of this caliber, especially if you are the Bengals, who would love a 4-3 edge rusher like Jordan who could create an instant impact.
Pairing him up with Geno Atkins and Michael Johnson could create a dynamic line.
22. St. Louis Rams (via Redskins): Kenny Vaccaro, S, Texas
The Rams are in dire need of help at safety and Kenny Vaccaro is largely regarded as the best safety in the class. He's not only solid in coverage, he stacks up well against the run, exhibiting the tackling ability that head coach Jeff Fisher would love.
Given Fisher's focus on defense and the fact that he loves physical players, Vaccaro would be a dream come true for the 54-year-old.
23. Minnesota Vikings: Keenan Allen, WR, Cal
Christian Ponder is in need of a difference-maker beyond Percy Harvin in the receiving corps. Allen doesn't have elite acceleration, but his technique, size and physicality could make him a No. 1 receiver in the NFL.
24. Indianapolis Colts: Xavier Rhodes, CB, Florida State
The Colts need a corner who can inject some life into the secondary. Xavier Rhodes possesses the physicality, size and strength at the position to deal with the bigger receivers in the league.
25. Seattle Seahawks: Sam Montgomery, DE, LSU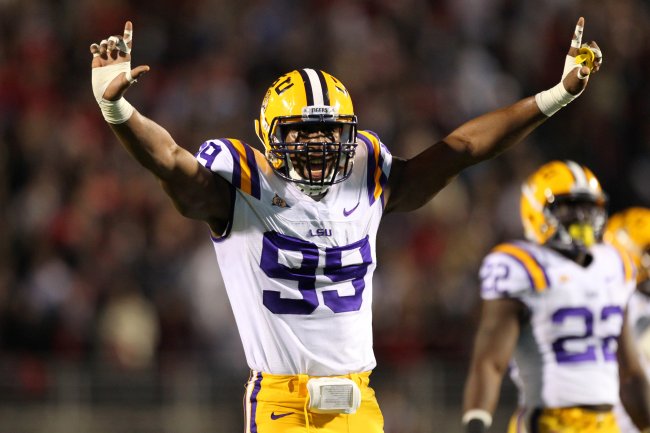 Joe Murphy/Getty Images
I love Sam Montgomery here. Bruce Irvin has turned out to be quite the pass-rusher, but the Seahawks need a run-stopper on the edge. Montgomery's forte is stopping the run.
Teams tested Irving down the stretch in 2012, but testing Montgomery on the other side will be easier said than done. He's a nice complement to the line, helping a Seahawks defense that allowed 4.5 yards per carry last season. He also has pass-rushing ability.
26. Green Bay Packers: Jonathan Cooper, G, North Carolina
The Packers need help on the interior line and Jonathan Cooper is an excellent prospect. His technique, footwork and drive could make him a friend to Aaron Rodgers and company in no time.
27. Houston Texans: Alec Ogletree, ILB, Georgia
Alec Ogletree has tremendous upside and the versatility to work his way into Houston's defense. A strong, explosive athlete, the Georgia product would be just another high-octane player for the Texans' impressive defensive unit.
28. Denver Broncos: Kawann Short, DT, Purdue
Kawaan Short has the talent to be an impact player against the run and the pass. He showed that in the Senior Bowl when he ate up opposing offensive linemen. There are some questions about his motor, but if he can display what he did in the Senior Bowl he should be just fine.
29. New England Patriots: Eric Reid, S, LSU
The Patriots showed they could be beat over the top in the playoffs, as Joe Flacco and company so precisely pinpointed. Eric Reid is an athletic, tough and intelligent player. Sounds like someone that Bill Belichick would love.
30. Atlanta Falcons: Zach Ertz, TE, Stanford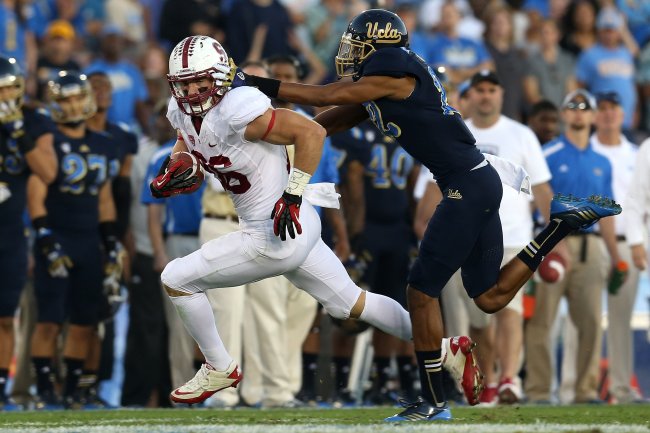 Stephen Dunn/Getty Images
Zach Ertz has slowly but surely risen above Notre Dame's Tyler Eifert as the No. 1 tight end in the class for many people. He needs to improve his run-blocking, but his athleticism and receiving ability makes him a threat against any level of the defense.
With Tony Gonzalez on his way out, Matt Ryan would love to instantly add an athletic tight end to the passing game.
31. San Francisco 49ers: Desmond Trufant, CB, Washington
The Super Bowl showed that the 49ers aren't as invincible in the secondary as they led many to believe. I still think the 49ers hang on to Chris Culliver, but adding some competition or some depth would strengthen the defense. Plus, Carlos Rogers has shown signs of declining.
Desmond Trufant has soared up draft boards since the Senior Bowl. Many believe he's a lock as a first-round pick in the draft. He has the athleticism, instincts and coverage ability to be a No. 1 corner.
32. Baltimore Ravens: Manti Te'o, ILB, Notre Dame
Some may be scared off by Manti Te'o after the whole Lennay Kekua debacle, but when have the Ravens ever been scared off by a prospect with red flags or character concerns?
There are concerns about Te'o's range, but he's tremendous between the tackles and he doesn't miss many tackles, either. Surrounded by what the Ravens have put in place, he could thrive in Baltimore.
Wanna talk sports?