3 Weaknesses Philadelphia Flyers Must Address During 2013 Season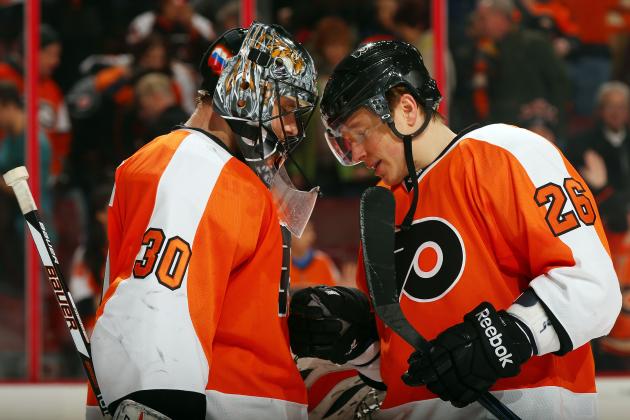 Elsa/Getty Images

The 2013 season is just a little over two weeks old and the Philadelphia Flyers are already reeling.
Philly has won just three of its first nine games and has been plagued by tremendous inconsistency through the season's opening weeks.
The Flyers have suffered injuries to two key forwards (Scott Hartnell and Wayne Simmonds) and an already thin blue line is now without Andrej Meszaros. The team's offense has been feast or famine so far, and the special teams have really struggled out of the gate.
There's still a lot of season left, but here are three key weaknesses the Flyers must address during the 2013 campaign.
Begin Slideshow

»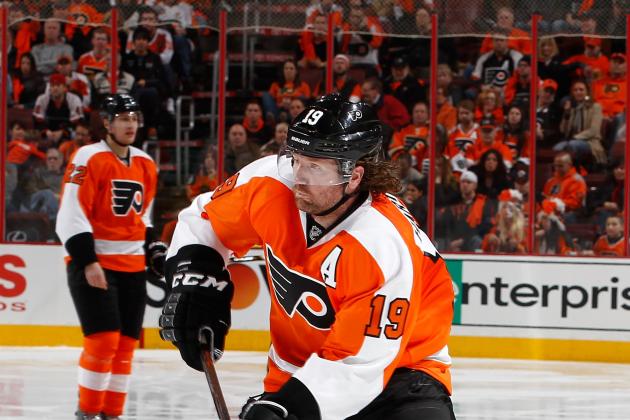 Jeff Zelevansky/Getty Images

If one thing is apparent at the start of the 2013 season, it's that the Flyers have serious consistency issues in the goal-scoring department.
Philadelphia has scored just 21 goals through its first nine games and managed 12 of those total tallies in a 7-1 victory over the Florida Panthers and a 5-3 win over the Carolina Hurricanes last weekend.
Otherwise, the Flyers have registered two or fewer goals in each of the team's remaining seven outings. What's more, Philly has already been shut out once and tallied just a single goal in three other contests.
The loss of Hartnell, the team's leading goal scorer from a season ago, really hurts. And more bad news came Saturday when Wayne Simmonds, who notched a season-high 28 goals last year, was an injured scratch after suffering a concussion in last Friday's setback to the Washington Capitals.
The Flyers began a youth movement a season ago when youngsters Brayden Schenn, Sean Couturier and Matt Read became regular contributors but it's possible Philadelphia is too reliant on its young core to contribute too much too soon.
Philly's goal-scoring woes are certainly exacerbated by the injuries to Hartnell and Simmonds but it simply reiterates the reality that the Flyers are lacking the proven goal scorers it will take to compete in the ultra-competitive Eastern Conference.
Philadelphia shouldn't mortgage its future to acquire the goal scorers necessary to compete now but don't be surprised if GM Paul Holmgren pulls the trigger on a deal in the coming weeks to bolster this team's slumping offense.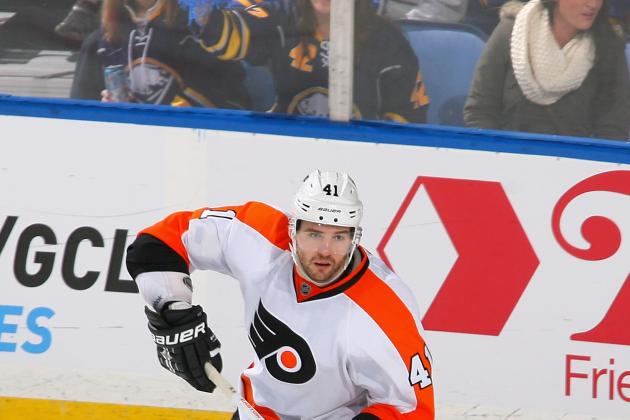 Rick Stewart/Getty Images

Many believed the Flyers had issues on defense heading into the 2013 season. Now that the lockout-shortened campaign has begun, those beliefs have become reality.
Philadelphia made a nice addition on the back end just before the season started when the club brought in Kurtis Foster but took a big hit when Meszaros suffered a left shoulder injury in just the team's fourth game of the season. That forced Philly to bring Andreas Lilja back to the big club and brought to light the lack of defensive depth on the team's current roster.
The good news for the Flyers is the answer may already exist in house. Youngsters Brandon Manning and Olivier Lauridsen are both cutting their teeth with the Adirondack Phantoms in the American Hockey League (AHL) and there's a chance Erik Gustafsson could return to the Orange and Black when he's healthy.
Those are some young question marks though for a team that will see Kimmo Timonen become a free agent at season's end and is likely facing either early retirement or a long-term injured reserve stint for Chris Pronger.
If Philly's current woes continue, it would behoove the Flyers to test some of its young blueliners this season to see if those young question marks become answers or simply present more questions on an already suspect back end.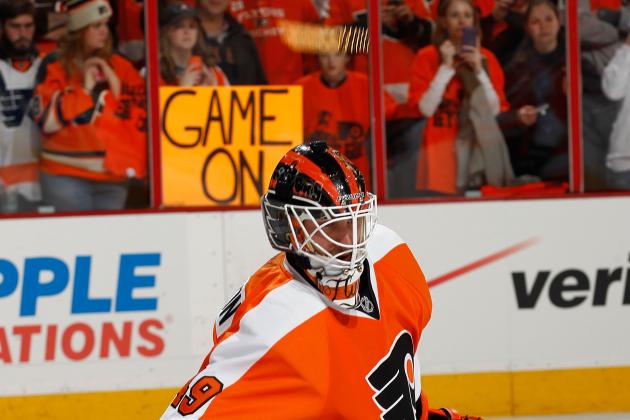 Jeff Zelevansky/Getty Images

Arguably the biggest surprise for the Flyers at the start of the 2013 season has been the outstanding play of enigmatic netminder Ilya Bryzgalov.
It's not at all unreasonable to say that Bryzgalov has been Philly's best player.
He's only won three games so far, but that's been more so due to a lack of goal support than anything else. The nine-year pro has compiled a 2.40 goals-against average coupled with a .920 save percentage and has already registered three 30-plus save performances.
And yet because it's Philadelphia, there must always be questions in goal.
This year those questions seem to center around Bryzgalov's backup and the secondary goaltending option in Philadelphia.
Veteran Michael Leighton was inked to a one-year deal on the first day of free agency last summer, which many believed was simply a filler until the Flyers found their true backup to Bryzgalov for this year.
But seven months after that signing, Leighton is still with Philadelphia and looked terribly shaky in his only start of the season so far. In a dismal 5-1 loss to the Tampa Bay Lightning, Leighton recorded just 21 saves on 26 shots and looked like a shell of the goaltender that saved Philly's season during the 2009-10 campaign.
The shortened 48-game season coupled with Bryzgalov's solid play helps to diminish the immediate need to address the role of backup goaltender. But the reality is this should be a serious area of concern for Philadelphia.
As Flyers' fans know, Bryzgalov isn't exactly known as the most consistent netminder the game has ever seen and in a traditional 82-game season, a team's starting goaltender will need considerably more rest and nights off than Bryzgalov will need this year.
It's a weakness that doesn't have to be addressed today but is one the Orange and Black will have to deal with sooner rather than later.