The Biggest Offseason Priorities for the Jacksonville Jaguars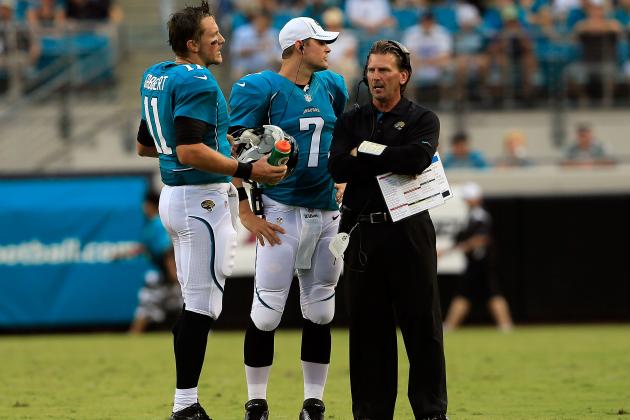 Sam Greenwood/Getty Images

2013 will be a year of change for the Jacksonville Jaguars.
Not only has the organization hired a new general manager in David Caldwell and head coach in Gus Bradley, it has also unveiled a new logo, and the team will don new uniforms this season.
All the change is a breath of fresh air for a franchise trying to distance itself from a dreadful 2-14 campaign in 2012. Along with the new era comes a new hope for the Jaguars, but the fact remains that the team still has a long way to go to become playoff contenders.
Caldwell and Bradley have a lot of work ahead of them to make this team competitive in 2013, as the team has holes at almost every position.
When a team is as bad as the Jaguars are, there are many areas that need to be focused on when it comes to improving.
Here are Jacksonville's six biggest offseason priorities to make sure the rebuild gets started the right way.
Begin Slideshow

»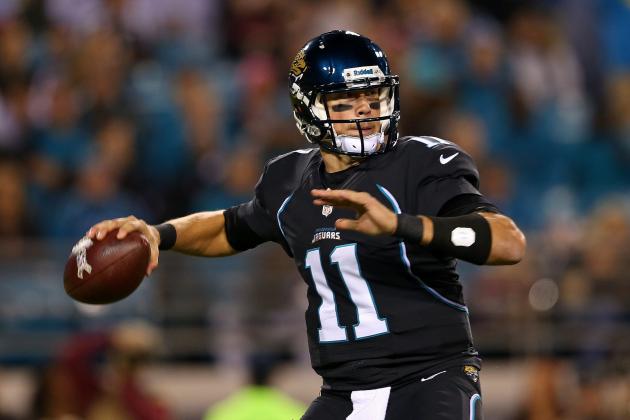 Mike Ehrmann/Getty Images

As the not-so-old adage goes, the NFL is a quarterback-driven league. That saying has been run into the ground, but that doesn't make it any less true. The best teams are the ones with the best quarterbacks.
The Jaguars quarterbacks struggled as much as any position did for the team in 2012. Neither Blaine Gabbert nor Chad Henne showed the ability to be Jacksonville's franchise quarterback.
Gabbert had an uninspiring sophomore campaign to follow up his poor rookie performance. He completed 58.3 percent of his passes for nine touchdowns and six interceptions before ending the season on injured reserve with a torn labrum in his non-throwing shoulder.
Gabbert would often check down and pass the ball to players coming out of the backfield and had the 32nd-ranked yards per attempt (5.98).
Henne didn't fare any better. After getting off to a hot start, coming in for an injured Gabbert against the Houston Texans in Week 11, Henne cooled off through the remainder of the season and became wildly inconsistent.
He finished the season with the 32nd-ranked completion percentage (53.8), 30th in quarterback average (72.2) and with the same amount of touchdowns and interceptions (11).
Finding a quarterback who can lead the team is a major priority this offseason. GM Caldwell said (via The Florida Times-Union, h/t Pro Football Talk) Gabbert still has upside, but he hasn't ruled out (via Pro Football Weekly) drafting a quarterback.
Whether it's trying to develop Gabbert or finding a new player in free agency or the draft, the Jaguars have to find a good quarterback to have a successful rebuild.
Whoever the quarterback is will have a good coach to work with in offensive coordinator Jedd Fisch. Fisch spent the last two seasons with the Miami Hurricanes as the offensive coordinator and quarterbacks coach, and the offense improved under him during his time there. He will be asked to work with and make the most out of whoever is taking snaps.
The Jaguars will need to find a solution to its quarterback problem to become a competitive team, and it needs to be their top priority to find one.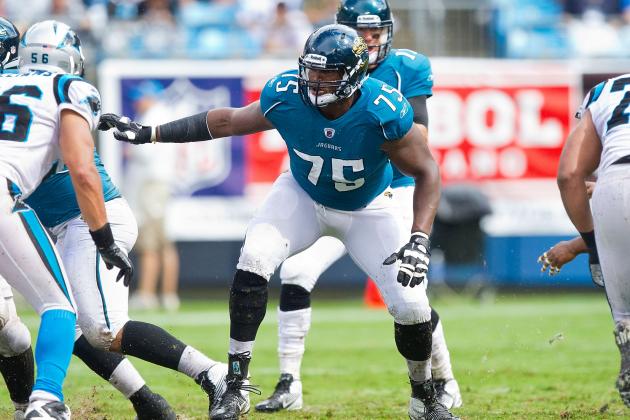 Brian A. Westerholt/Getty Images
Left tackle Eugene Monroe may be the only offensive linemen whose job is safe.
The Jaguars offensive line was atrocious in 2012. The unit gave up the third-most sacks (50) and quarterback hits (103) in the NFL while not being able to open up holes for the running game.
The offensive line is going to need to be almost completely overhauled. The only player who played consistently well was left tackle Eugene Monroe, and his job might be the only one that's safe.
Jacksonville will need to find a quality right tackle and help in the interior of the line this offseason.
Luckily for the Jaguars, there is plenty of offensive line talent in both free agency and the draft.
It would be best for the team to bring in a veteran right tackle in free agency, while addressing the interior of the line though the draft.
The tackle free-agency class is deep and boasts such names as Ryan Clady, Jake Long, Andre Smith and Sebastian Vollmer. Each of those players would provide good line play and veteran leadership to a unit that is severely lacking both.
The draft class for interior offensive linemen is deep, too. The Jaguars will be able to find a starting guard or center in the middle round of the draft. The best pick would be Kentucky's Larry Warford. He would be able to step in and start at right guard, which would allow the Jaguars to slide Uche Nwaneri to center, where he has had some experience playing.
No matter who the Jaguars decide to go with, there is no question they will have to find players who can upgrade the line to improve the team.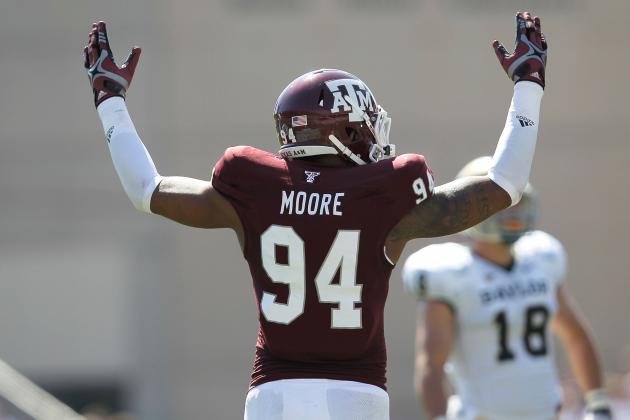 Sarah Glenn/Getty Images

In addition to a weak offensive line, Jacksonville's defensive line needs a lot of help, mainly at defensive end. The Jaguars were last in the NFL in sacks (20) and were unable to get consistent pressure on the opposing quarterback.
That is going to have to change in order for Jacksonville to become competitive. Finding a dominant pass-rusher has to be a top priority this offseason.
While there are several good pass-rushers available in free agency, the best route for the Jaguars would be to draft one. The draft is rich with talent at defensive end, and it shouldn't be a problem for Caldwell and Bradley to find their guy early in the draft.
Some of the top prospects are Florida State's Bjoern Werner, Texas A&M's Damontre Moore, LSU's Barkevious Mingo and BYU's Ezekiel Ansah. While they all would be a major improvement over what the team has now, the best selection would be Moore.
Moore thrived at defensive end during his final year as an Aggie. He finished the year with 12.5 sacks and 21 tackles for loss, earning him spots on the All-SEC First Team and the AP All-American Second Team.
The Jaguars have been without a dangerous pass-rusher for years, and there is enough talent available this offseason to fix that problem.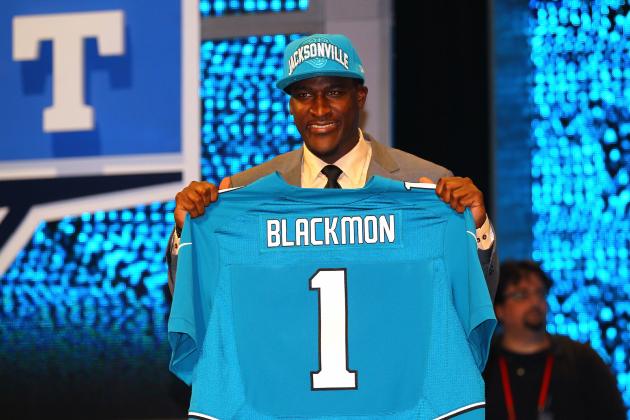 Al Bello/Getty Images

This should be obvious, but having a good draft is one of the top priorities this offseason. The players drafted will make up the foundation for the franchise's rebuild.
The Jaguars are in prime position to have a great draft this April, as they possesses one of the top two picks in each round, including the No. 2 overall selection. They will be in perfect position to draft a dominant pass-rusher or a franchise quarterback.
The best-case scenario would be for the Jacksonville to trade down and pick up additional draft picks, but that will be difficult to do without a standout player in this draft class.
The Jaguars do have the first pick of the second round, and that will be a selection that will be easier to deal. The Jaguars will need to acquire as much talent in the draft as possible to make the rebuild successful.
A good draft will set up the Jaguars for long-term success. The Jaguars could have a very bright future with the correct moves in this April's draft.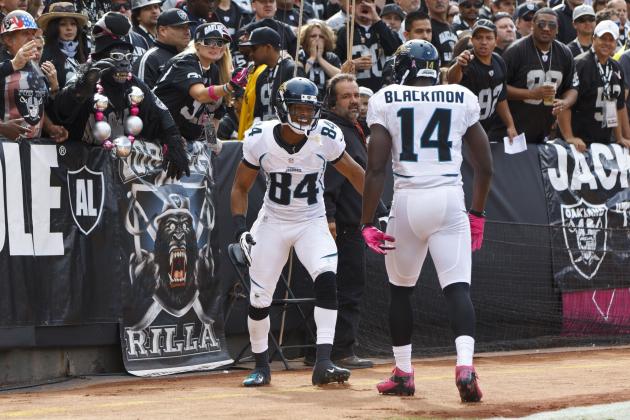 Jason O. Watson/Getty Images

The production of the wide receiver corps was one of the few bright spots in 2012, and it was led by Cecil Shorts III and Justin Blackmon.
Shorts had a breakout sophomore season, hauling in 55 catches for 979 yards and seven touchdowns. He showed he can be an explosive playmaker by finishing the year second in the NFL in yards per reception (17.8) and tied for ninth in receptions of more than 20 yards (17).
In addition to Shorts' stellar season, Blackmon had an outstanding rookie campaign. He led all rookies with 64 receptions, and set Jacksonville's franchise rookie records in receptions, receiving yards (865), and average yards per catch (13.5). He also tied Matt Jones for most touchdowns by a Jaguars rookie receiver with five.
Shorts and Blackmon have proven themselves to be playmakers for the Jaguars offense, but they cannot get complacent. Opposing teams will be focusing on them now, so they must continue to develop to make sure their production does not drop.
The Jaguars have gotten this continued development off on the right start by retaining wide receivers coach Jerry Sullivan. He helped Shorts and Blackmon blossom into the playmakers they were, and he will be asked to keep them playing at a high level.
Even with poor play from their quarterbacks, Shorts and Blackmon have proven themselves to be able to make big-time plays. Once they get good quarterback play, the duo could become game-changers.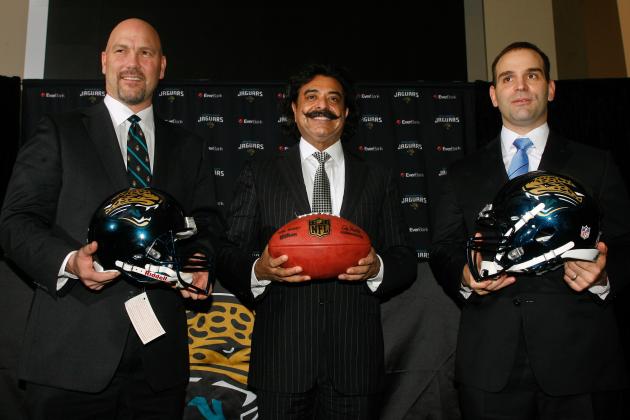 Phil Sears-USA TODAY Sports

"Just get better."
That was the M.O. laid out by Coach Bradley (via Michael Clinton of the Jacksonville Business Journal) during his introductory press conference. He said if the team just shows improvement, then everything else will take care of itself.
In the first year of a rebuild, improving from week to week is the most important thing. Nobody expects the Jaguars to be a playoff contender this year, but the future will look much brighter if the team is able to play well this season.
If the Jaguars are able to match Bradley's passion and excitement, there is no way they won't be better this season.
In a year where everything is changing for the franchise, showing improvement and just getting better would lay the foundation for bigger and better things down the road.