Detroit Pistons vs. New York Knicks: Live Score, Results and Game Highlights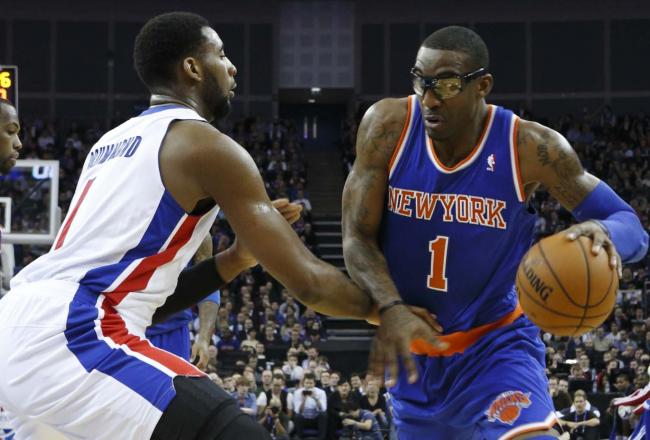 Amar'e Stoudemire continued his resurgence Monday against Detroit.
Paul Cunningham-USA TODAY Sports
The New York Knicks handily defeated the visiting Detroit Pistons as they closed out a perfect 5-0 homestand.
New York never trailed in this one, as Tyson Chandler recorded his third consecutive 20-rebound game. Carmelo Anthony and Amar'e Stoudemire each logged 20-point contests, and the Knicks trio of stars is finally looking among the NBA's elite.
The Knicks climb to 31-15 and are just percentage points behind the Miami Heat for the Eastern Conference's top seed. Detroit falls to 18-31.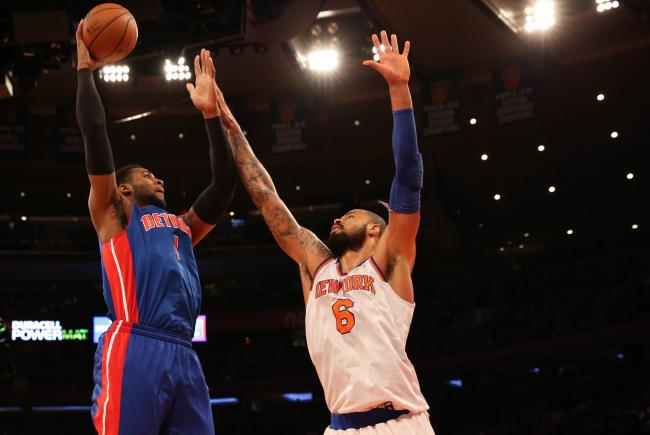 The Knicks took down the Pistons tonight at the Garden to cap off a 5-0 homestand, and this one was never even close.
The Knicks led wire-to-wire. Carmelo Anthony's 27 and Amar'e Stoudemire's 20 led the way for New York as Tyson Chandler logged his third straight 20-rebound game.
For Detroit, Jose Calderon looked good and was productive in his first game as a Piston. He added 15 points and three assists.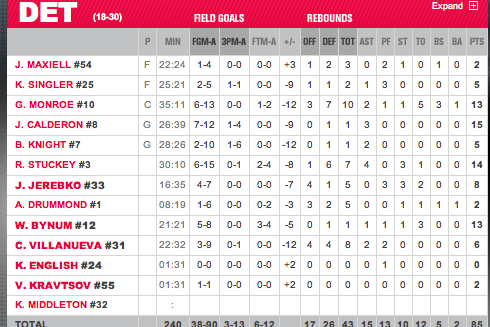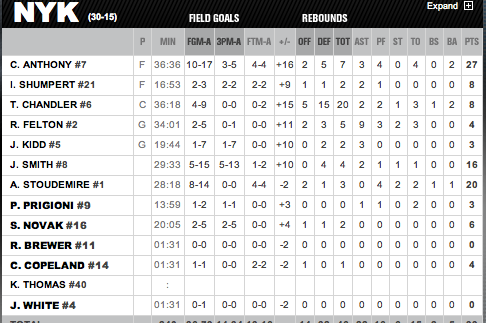 Here are tonight's final box scores courtesy of NBA.com.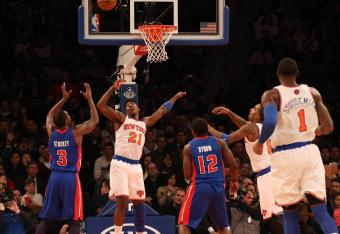 James White misses the Knicks final field goal attempt of the night, and Bynum lays it up for the last points of the night.
The Knicks never trailed, and they'll take this one 99-85.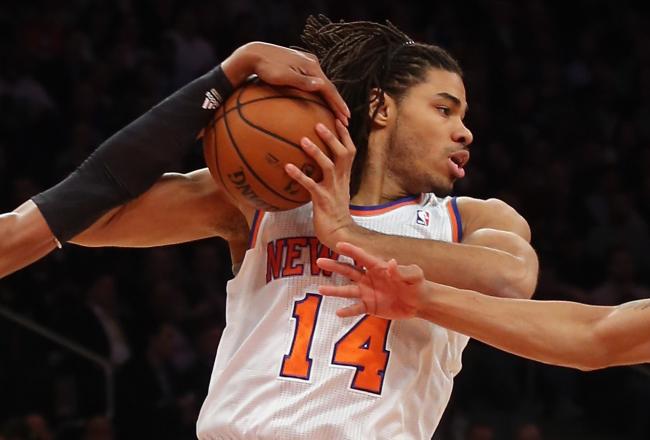 The Knicks bench is now emptied.
Prigioni, James White, Ronnie Brewer, Steve Novak and Chris Copeland man the floor for Woodson to finish off the team's 5-0 homestand.
KNICKS 99, PITONS 81 — :48.5 LEFT IN THE 4TH QUARTER
Amar'e Stoudemire has secured another 20-point game. Him and Anthony (27 points) lead the way for New York.
KNICKS 95, PISTONS 79 — 1:31 LEFT IN THE 4TH QUARTER
Will Bynum tosses a pass directly to Ray Felton, who takes it coast to coast to drain a jumper. Just four points for him on five shots.
KNICKS 95, PISTONS 77 — 1:30 LEFT IN THE 4TH QUARTER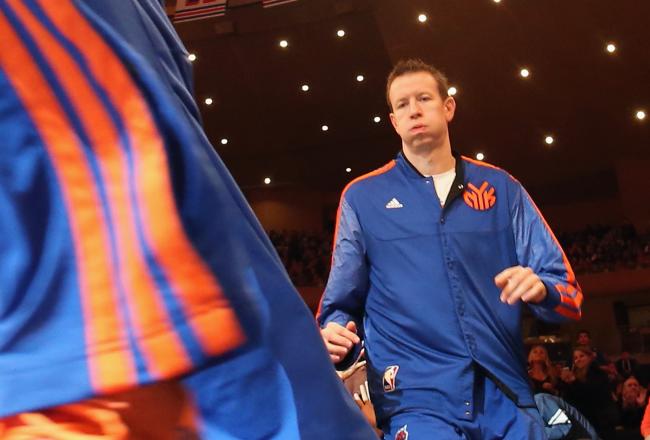 Back-to-back 3's from Smith & Novak to extend the #Knicks lead to 91-75 over the Pistons. 3:18 left in the 4th quarter.

— NBA New York Knicks (@nyknicks) February 5, 2013
The Knicks have quietly stunk up the place in the second half. The Pistons just cut the deficit to 12, but have been bailed out by back-to-back Smith and Novak three-balls. Lead's back up to 16.
KNICKS 91, PISTONS 75 — 3:18 LEFT IN THE 4TH QUARTER
Tyson likely takes his final exit to an MSG applause. He finishes up with 8 points and 20 boards—what seems to be his usual stat line nowadays.
KNICKS 85, PISTONS 73 —3:40 LEFT IN THE 4TH QUARTER
Drummond, (sore back) is out for the rest of the game. No PT issues there. #Pistons
— Vincent Goodwill (@vgoodwill) February 5, 2013
Some news on the Detroit injury front.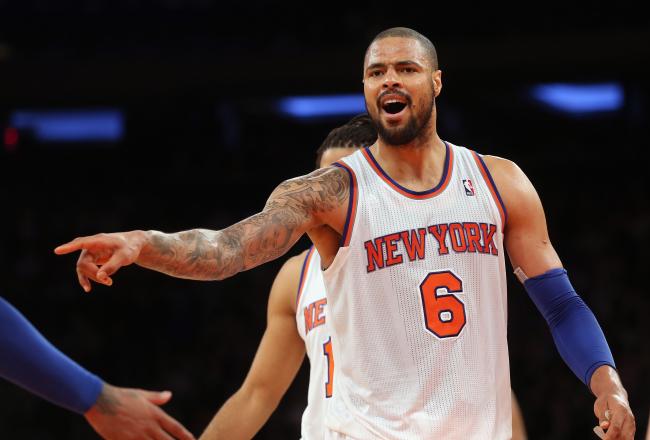 Tyson Chandler has just pulled down his 20th rebound. It's his third game in a row with 20 boards, marking the first time in 43 years a Knick has accomplished such a feat.
KNICKS 85, PISTONS 67 —5:49 LEFT IN THE 4TH QUARTER
MVP chants rain down on Carmelo Anthony as he tosses free throws, if for no other reason, simply because these Knicks fans have nothing else to do at the moment. Just six more minutes of game action, and this one will be in the books.
KNICKS 85, PISTONS 67 —6:05 LEFT IN THE 4TH QUARTER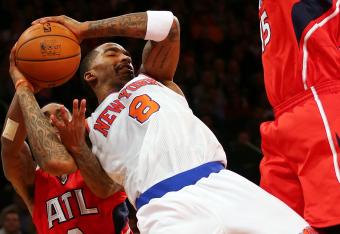 Smith misses again. If there's Good JR and Bad JR, this may just be the Worst JR. He's 4-for-14 and 4-for-12 from three. Fortunately for the Knicks though, this version of the scorer is rearing its ugly head in a manageable matchup.
KNICKS 83, PISTONS 64 —6:40 LEFT IN THE 4TH QUARTER
The Knicks have taken their foot off the gas and are laying in the back seat.

— netw3rk (@netw3rk) February 5, 2013
This is a pretty good summation of what's going on in MSG right now, too.
Blowout do not make for a compelling post game. We need your help.

— Al Trautwig (@AlTrautwig) February 5, 2013
MSG's Al Trautwig speaks for all Knicks fans with his last tweet.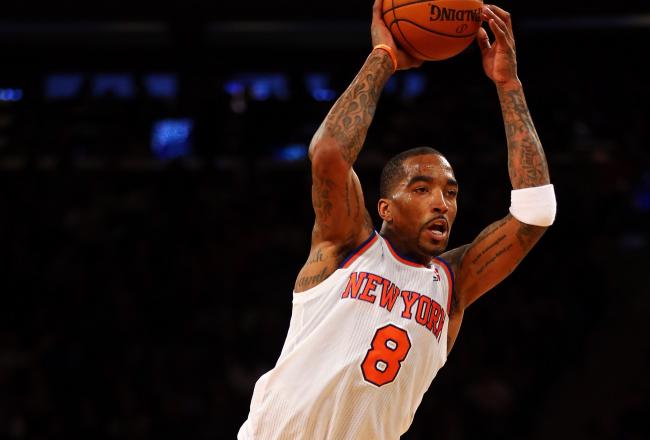 Smith now misses his last three attempts from beyond the arc. He's gonna have to drive to the hoop if he wants more than the 13 he's at right now.
Detroit gets another bucket to fall, and the lead is down to 15.
KNICKS 79, PISTONS 64 —9:00 LEFT IN THE 4TH QUARTER
JR Smith starts the fourth quarter off with his fourth three, sending the Knicks back up by 20.
Detroit answers back with a bucket of their own, however. Knicks can't seem to finish the Pistons.
KNICKS 79, PISTONS 62 —10:20 LEFT IN THE 4TH QUARTER
Some unnecessary clock confusion at the Garden. As JR Smith was launching his quarterly buzzer-beater, an inadvertent buzzer went off with .07 left on the clock.
Thanks to the clock-manager's folly, we get another minute or so of basically nothing. JR fails to get the actual buzzer-beater of in time, too, and we're headed to the fourth.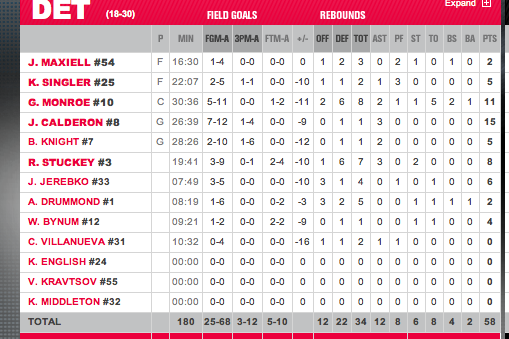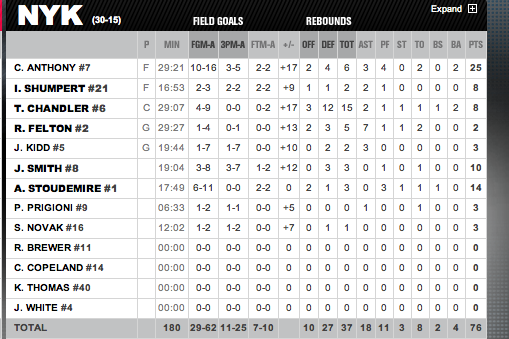 KNICKS 76, PISTONS 58 —END 3RD QUARTER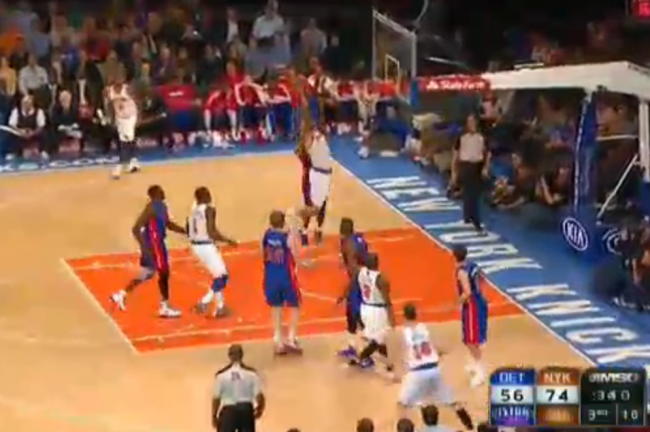 Another Felton-to-Chandler above-the-rim connection from New York.
Melo finds Stoudemire on the cut for a nice acrobatic layup (GIF) -twitpic.com/c0zl2w

— Jonah Kaner (@TheKnicksWall) February 5, 2013
Speaking of the Knicks' star-studed duo—Melo finds STAT on a sweet connection. Amar'e has 12 thanks to Melo's 3rd dime on the night.
KNICKS 72, PISTONS 54 —2:50 LEFT IN THE 3RD QUARTER
The Knicks are racking up the fouls. Carmelo has 4 and Amar'e has 3. It'd be in their best interest to rap this one up A$AP.
KNICKS 72, PISTONS 54 —2:55 LEFT IN THE 3RD QUARTER
Should keep an eye on the chippiness as this one progresses. Pistons are trying to claw their way back into this one.
Jason Maxiell jawing with Amar'e now - which is more than the Kings offered Saturday. Amar'e swung an elbow after blocked shot.

— Steve Popper (@StevePopper) February 5, 2013
KNICKS 70, PISTONS 52 —4:06 LEFT IN THE 3RD QUARTER
Calderon's sweet jumper is the only thing keeping Detroit fans' eyes on this one. He's shooting 70 percent, but Carmelo's 25 points on 10-of-16 shooting has this one under the blowout category.
KNICKS 68, PISTONS 48 — 4:55 LEFT IN THE 3RD QUARTER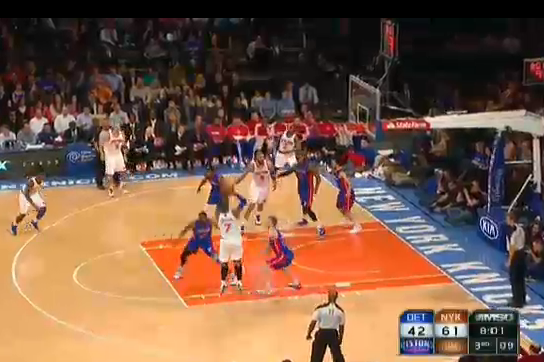 Carmelo shoots over the Detroit double team for his 22nd and 23rd points of the night.
KNICKS 63, PISTONS 44 — 7:00 LEFT IN THE 3RD QUARTER
#Knicks are playing defense like they got this game already. Sleepy transition defense. Piston have 17 fastbreak points; Knicks only have 1.

— Jared Zwerling (@JaredZwerling) February 5, 2013
Chandler has a mini-lapse in transition on D after a miss—gives up an easy bucket to Monroe and hears it from Mike Woodson.
After an easy Calderon layup, Woodson calls timeout as the lead trickles down to just 19.
KNICKS 61, PISTONS 42 — 8:15 LEFT IN THE 3RD QUARTER
This article is
What is the duplicate article?
Why is this article offensive?
Where is this article plagiarized from?
Why is this article poorly edited?

New York Knicks: Like this team?