Every Big 12 Coach's Best Recruiting Pitch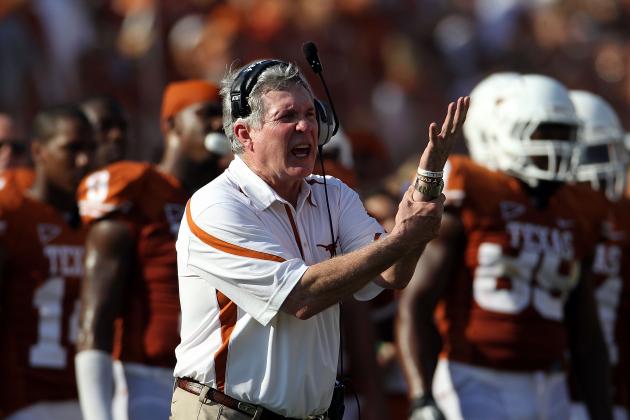 Ronald Martinez/Getty Images

Recruiting pitches are a big part of this time of year and they help head coaches land the recruits that are at the top of their list. The better the pitch, the more likely you are at picking up a handful of elite talent and turning your program into a true contender. College football all starts with successful recruiting classes, and it is important that the head coach is selling the right things to these young players.
The Big 12 has a lot to offer and is quickly becoming one of the premier conferences once again. Thanks to conference realignment and a bunch of coaches that are making a name for themselves, this is becoming a popular place for elite recruits to play. You have your big name programs such as Texas and Oklahoma, but there are a number of schools that are moving on up the ladder.
So what is that one recruiting pitch that each coach in the Big 12 can present its recruits?
With high school seniors ready to make their announcement soon, here is the No. 1 thing each Big 12 coach should be selling.
Begin Slideshow

»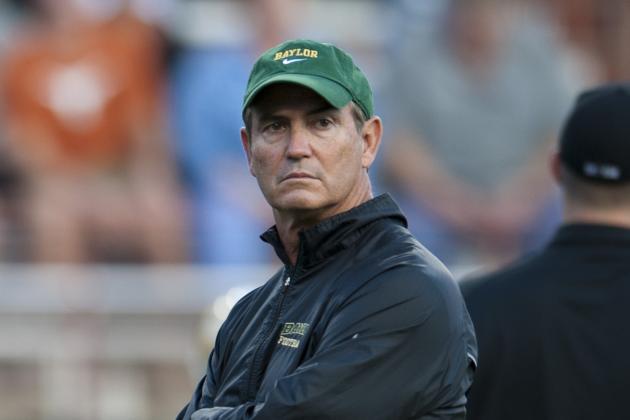 Cooper Neill/Getty Images

Pitch: Be Part of Moving Forward
For the first time in school history, Baylor has reached three consecutive bowl games. It has been ranked inside the AP Top 25 Poll in each of those three years and has become that Big 12 team that many fail to talk about, but opponents don't want to play.
Art Briles is doing a wonderful job with the program and obviously seems committed to turning the Bears into a winner. Slowly and slowly, recruits are buying into what Baylor is selling, as top 2013 recruits Brian Nance and Robbie Rhodes have already committed to the program.
Baylor doesn't have the consistent track record of success as some of the other teams in this conference, but they are clearly on the rise. We're seeing recruits pick Ole Miss because there is something special going on, but the same case can be made for the Bears.
You can be a part of that.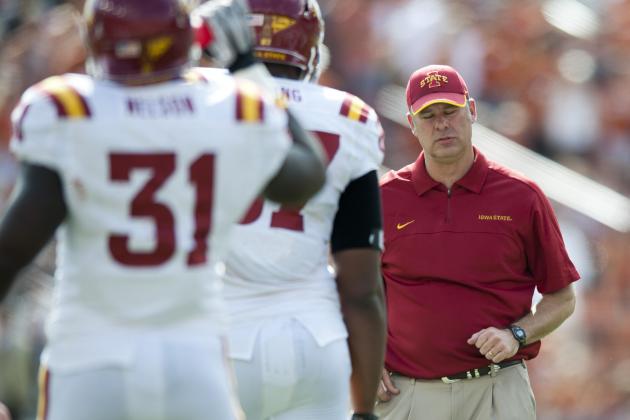 Cooper Neill/Getty Images

Pitch: We Are Oh so Close
Much like Baylor, Iowa State is the team that everybody tends to look over. Well, the Cyclones actually get less credit because at least Baylor has produced a Heisman winner a couple of years ago.
Listen, this program isn't known for winning a ton of games and actually has produced a losing season in each of the last three years. However, Iowa State always plays its opponents tough, beating a ranked TCU team, losing to Kansas State by only six and hanging in there tough with Oklahoma last year. Iowa State has built the reputation under head coach Paul Rhoads to pull off a few upsets each season.
With a few elite pieces in place, the Cyclones could turn the corner and begin competing at a higher level than they already are. Baby steps are being made, but the progress can speed up with better players taking a chance on this program.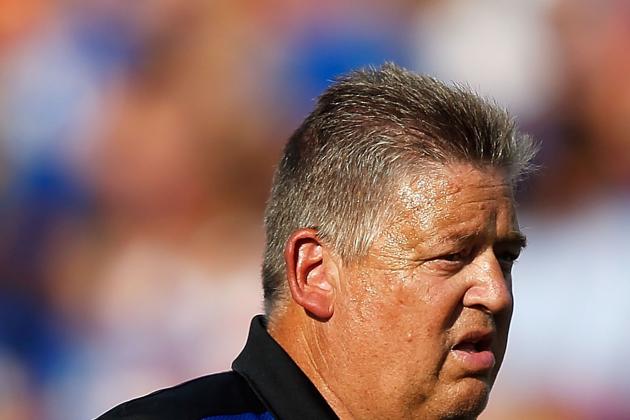 Jamie Squire/Getty Images

Pitch: I Sell Myself
Besides being able to take in a top-notch basketball program, there aren't many reasons for recruits to attend Kansas. The program has become the laughing stock of the Big 12, not reaching a bowl game since 2008 and hitting a new low last season with only one victory.
Since the product on the field isn't convincing, it is important for head coach Charlie Weis to sell himself. Seriously, where else could you go to a program where football is the second sport, and still play for a high-profile head coach?
Weis has been all over the map, including spending many years in the NFL and spending time as the head coach at Notre Dame. He built a reputation as an offensive genius and is somebody who could teach recruits a thing or two.
Usually you have to go to a contender to be around an accomplished head coach. Kansas is one of the few low-profile schools that already provides that.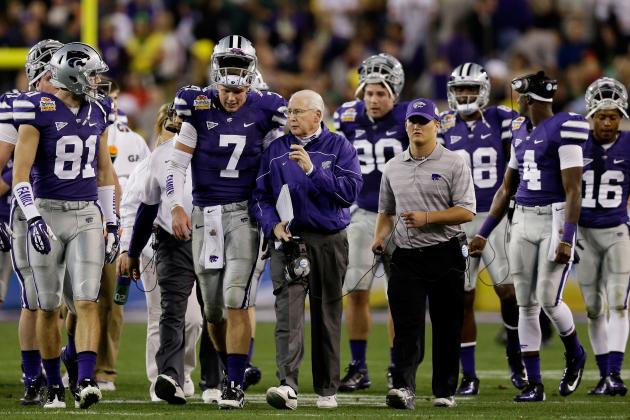 Ezra Shaw/Getty Images

Pitch: Momentum Is in Our Favor
It's been a while since Kansas State was on the map as a national program that was capable of competing with anybody. After finishing with arguably the most successful season in program history, 11 wins and a BCS bowl, the Wildcats have the momentum riding in their favor.
Head coach Bill Snyder has led this program to two straight AP Top 25 Poll finishes for the first time since the 2002-2003 seasons. He also had the team in national championship contention with only a few games left to play in the regular season.
It will remain an uphill battle for Snyder and his team, but if you saw any part of last year, you know what this program is capable of and how special things can turn out.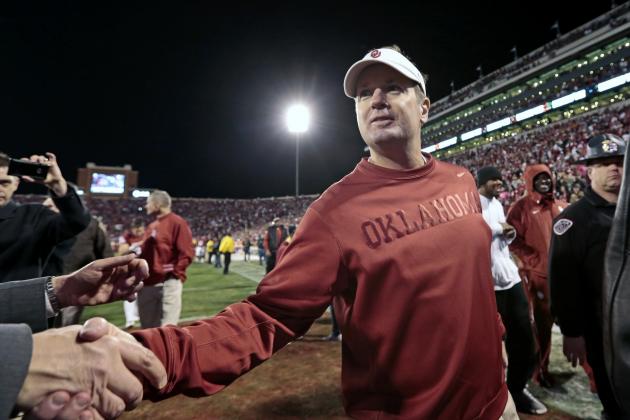 Brett Deering/Getty Images

Pitch: Do You Want to Play in the NFL?
Quality recruits nowadays have bigger dreams than just playing for a prestigious school and winning national championships. They want to know that the coaching staff can get them prepared for life in the NFL and help put them in position to be drafted rather early.
As far as Big 12 schools, Oklahoma has produced the most next level players with 310, which is also more than Miami, Texas and even Alabama. Recent guys that have left and become successful with the help of Bob Stoops are Sam Bradford, Gerald McCoy, Adrian Peterson and Jermaine Gresham.
Not many schools produce more NFL players than the Sooners, and you could be next on the lengthy list of guys who have gone on to have a productive professional career.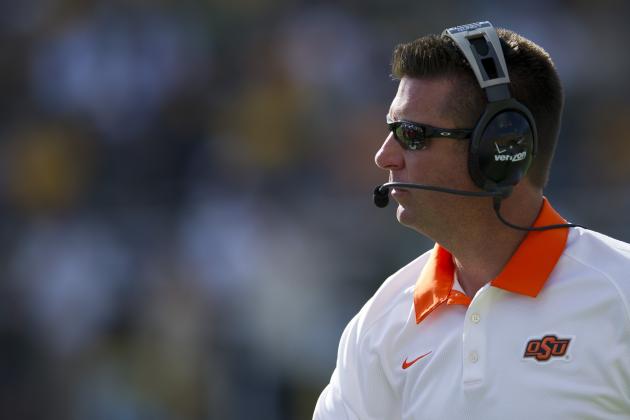 Cooper Neill/Getty Images

Pitch: We Know What to Do with Your Speed
In the last three seasons, Oklahoma State has been ranked no worse than second in total offense in the Big 12. Head coach Mike Gundy has proven to be an offensive mastermind and he knows how to put skill position players in the position to thrive.
The Cowboys are still currently without an offensive coordinator, as Todd Monken has taken a head coaching position at Southern Miss. However, many have told Gina Mizell of News OK that the explosive Air Raid offense isn't going anywhere:
He never wavered. Said Ricklan Holmes, Ross' coach at John Tyler (Texas) High School. Whoever they bring in to replace Monken, in reality, we all know who runs that offense. So as long as the main piece (Gundy) stays there, the offense stays the same.
Recruits want to be in the spotlight and have the opportunity to produce big plays and score touchdowns. There isn't a better place in the Big 12 than Oklahoma State to become the next offensive superstar.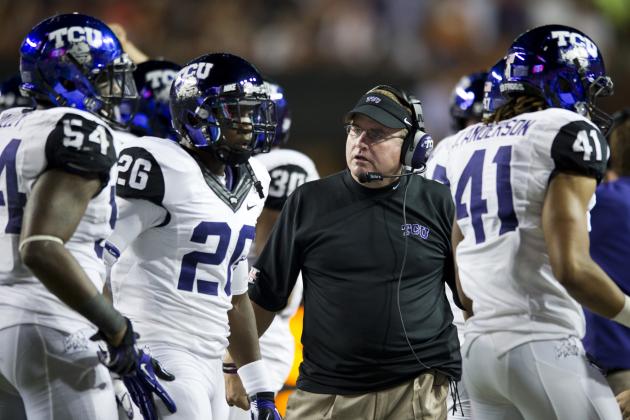 Cooper Neill/Getty Images

Pitch: We Are That New Texas Team on the Rise
With four of the 10 teams in this conference located in Texas, recruits have many places to choose from if they would like to remain in the home state. The Texas Longhorns have been the popular choice over the years, but with TCU fresh on the scene, the Horned Frogs should continue to make a strong case for why recruits should pick them instead.
TCU has had nine seasons of at least 10 victories and has reached two BCS bowls in the last four years. On top of that, the program has finished in the Top 10 of the AP Poll in three of the last five seasons. With the success of head coach Gary Patterson, many think he would have left by now, but he has said numerous times that he is committed to TCU.
If the 2013 recruiting class has shown us anything, it is that recruits are leaning more towards the programs that are turning the corner. TCU is certainly one of those that are on the rise.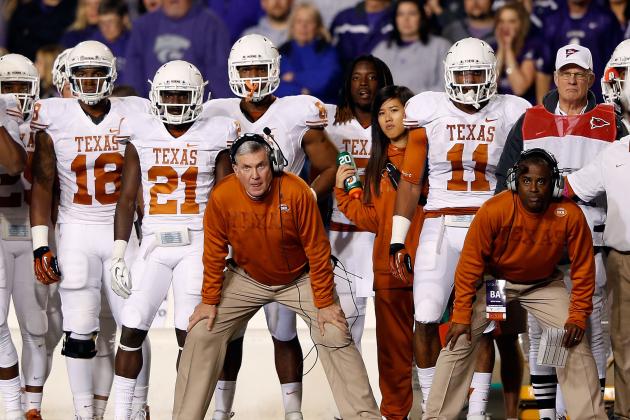 Jamie Squire/Getty Images

Pitch: It's Texas, Duh
It doesn't matter who the coach of Texas is going to be in the next couple of years or how the program is looking because this is a school that can recruit based solely off of its name alone. The coach doesn't have to do a bunch of talking; he just needs to ask the kid if he would like to become a Longhorn. Besides, most recruits already have it in their mind if they are going to wear the burnt orange anyway.
Texas has a long tradition of winning conference titles and national championships, and has produced countless NFL players. The history and tradition that comes along with being a Longhorn is something that recruits already know about.
A recruiting pitch isn't needed. It all comes down to a simple yes or no once the coach walks through the door.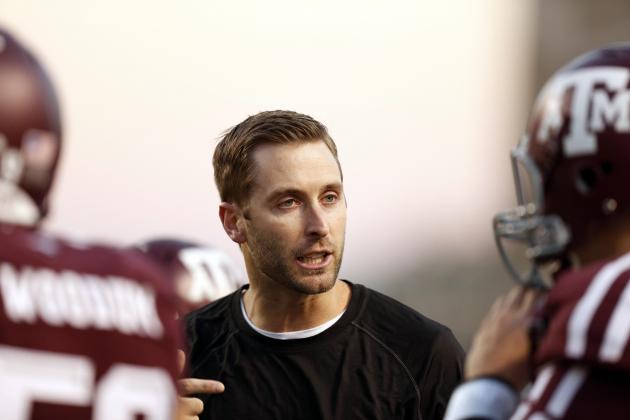 Thomas Campbell-USA TODAY Sports

Pitch: A Young and Committed Head Coach
Much like Charlie Weis at Kansas, Kliff Kingsbury can do a good job of selling himself to recruits. A young coach at 33 years old, he has put himself on the map as an offensive coordinator once he helped Johnny Manziel win the Heisman Trophy at Texas A&M. Running the Air Raid offense, Kingsbury has become one of the most promising coaches in all of college football.
Another thing that the first-year head coach has going for him is that he is coaching his alma matter. Usually a dream job for any coach in the country, there isn't a reason for Kingsbury to leave anytime soon. In a business where it is hard to trust if a coach is going to be around four years down the road, recruits should feel confident that Kingsbury isn't going anywhere.
Texas Tech has a lot to offer with the new hire, it is just a matter of the players believing in a young coach who is in his first-year on the job.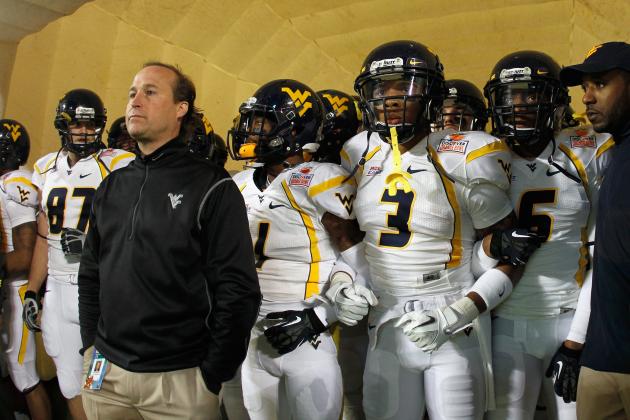 Mike Ehrmann/Getty Images

Pitch: We Have a Quality Stadium
Mountaineer Field has undergone many renovations over the years and now holds up to 60,000 screaming West Virginia fans each Saturday. It is by far one of the toughest places to play in for a visiting team and can be very intimidating for the visitors. The Mountaineers fans are also more than willing to sleep in tents outside just so they are guaranteed a spot to see the big game.
Talk about passion.
West Virginia may not have the biggest stadium in the world, but it is one of the nicest and the closeness to the field makes it deafening on game day. If you prefer big crowds and a true home field atmosphere, Morgantown is where you want to be.