College Football: 12 Coaches Most Desperate to Beat Nick Saban
Streeter Lecka/Getty Images

College football is desperate for Nick Saban to be overthrown. Three national championships in four years isn't fun for anyone outside the SEC to watch...in fact, it's basically only fun for Alabama and its fans.
Saban has only been around at Alabama since the 2007 season. His first complete recruiting class followed him to the Capstone in 2008. Despite his short time at Alabama, he has made it clear that he is the man to beat.
He has not made a mockery of many coaches yet, but the key to winning the SEC (and a national title) is defeating the Crimson Tide. There are other teams near the top of the heap, but Alabama is king of the hill.
There are two ways to beat Saban, and you can't do one consistently without the other:
1. Winning the on-field battle against him.
2. Winning the recruiting battle against him.
Each coach on this list is competing against Saban either on the recruiting trail, the field or both. If these men aren't desperate to beat Saban, perhaps that explains why they aren't consistently beating him.
There is a fine line between desperation and hopelessness. Desperation implies that these coaches are still in a place where a victory over Alabama is possible, but yet another loss could tip the scales toward hopelessness.
All these coaches have hope, but the light is fading if they don't maintain the high energy level they currently have at their programs. Here are the 12 coaches who are most desperate to beat Nick Saban.
*Rivals recruiting info from these pages: 2008, 2009, 2010, 2011, 2012 and 2013.
*ESPN recruiting info from these pages: 2008, 2009, 2010, 2011, 2012 and 2013.
*Scout recruiting info from these pages: 2008, 2009, 2010, 2011, 2012 and 2013.
Begin Slideshow

»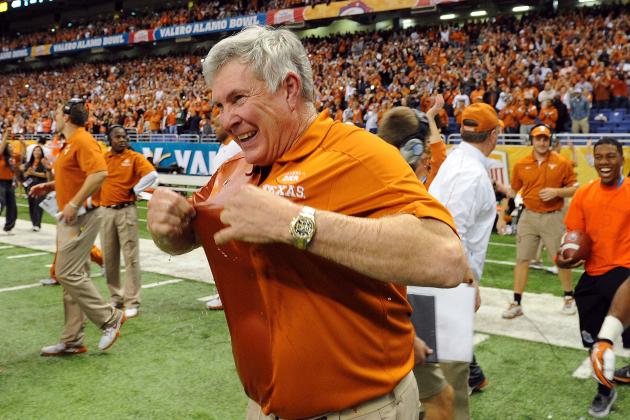 Stacy Revere/Getty Images

Mack Brown of the Texas Longhorns comes in last on this list for one reason: He's beaten Nick Saban on the recruiting trail three out of six seasons.
He was ranked ahead of Saban's Tide in 2010 (ESPN), 2011 (Scout) and 2012 (Scout). Of course, Brown has only faced Saban once on the field and lost that encounter.
Brown has turned the Longhorns into a national-championship afterthought at best, and he needs to get the Longhorns back to being good enough simply to meet Alabama in the postseason.
Brown is the least desperate coach on this list because his desperation is not only directed at Saban. Brown has a lot of games on his schedule that he should consider instant job interviews.
Brown needs to meet major teams in the postseason that are consistent with his level of recruiting over the past few seasons. Saban is the current benchmark for college success, and Brown should be desperate to beat him.
He has done OK on the recruiting trail, but if he doesn't meet someone of Saban's caliber (preferably Saban) in the postseason soon, he could lose what little recruiting advantage he still has.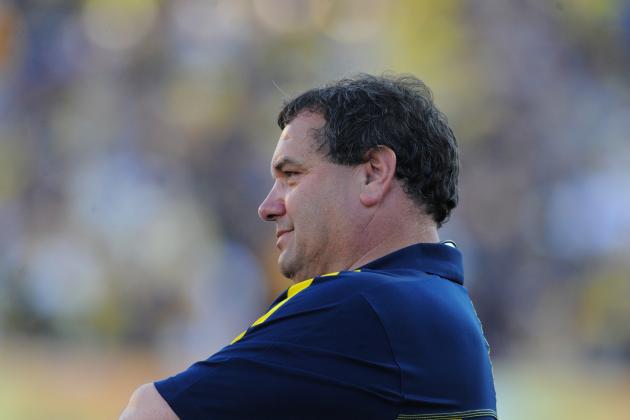 Al Messerschmidt/Getty Images

Brady Hoke is in a similar position to Mack Brown: He has only met Saban once on the field and lost. He's currently beating Nick Saban on the 2013 recruiting trail, though, according to Scout.
That's good for Hoke, because his 2014 class could suffer from his inability to beat either Alabama (Week 1) or South Carolina (Outback Bowl) in 2012. (Of course, in his defense, he did come closer to beating the Tide than Notre Dame did.)
Hoke is in a difficult situation in that he has to recruit players not away from just Saban, but away from the SEC in general. That places him at a bit of a disadvantage. His advantage is that he's with Michigan.
Michigan and Ohio State can out-recruit the top half of the SEC just based on their historical power. A great coach can out-recruit Saban.
Where Brady needs to get desperate is on the recruiting trail, where he's already doing well. He needs to add distance to his recruiting base, and he needs to ensure that his coaching staff is capable of getting the most out of the recruits.
Next time Hoke faces Saban in a season opener, the score had better be closer (or the outcome entirely different) if he wants to maintain an advantage over the rest of the Big Ten.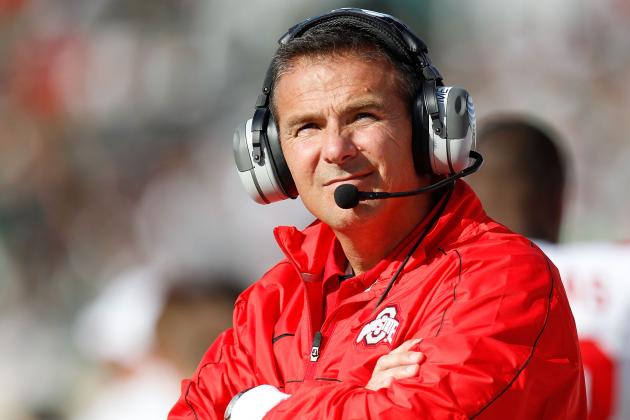 Gregory Shamus/Getty Images

Urban Meyer is tied for third on this list head-to-head against Nick Saban on the field. Meyer beat him in 2008 while at Florida, but lost to the Tide in 2009 and 2010.
Meyer out-recruited Saban in 2010 (ESPN, Rivals and Scout) and is currently ahead of Saban in 2013 (Scout). Meyer is desperate to beat Saban simply because he hasn't done it since 2008.
Yes, Meyer took some time off, but that was after back-to-back losses to Saban in the SEC. Meyer is desperate to beat Saban because he hasn't done it since two years before he retired.
Meyer needs a win over Saban post-Florida simply to prove that he's still an elite coach no matter where he is. Meyer can usher in a new era for the Buckeyes, but he will at least need to beat Saban to prove it.
He's done it before, so Ohio State fans shouldn't be extremely worried.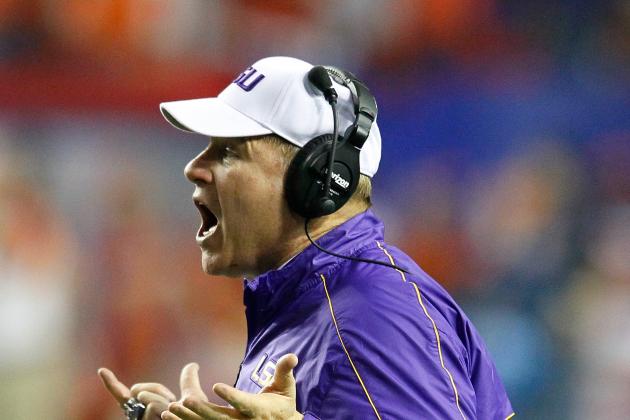 Kevin C. Cox/Getty Images

Les Miles has the best head-to-head record against Nick Saban of any coach on this list. Miles is 3-4 ATS (against the Saban) on-field, and he's beaten him another two times on the recruiting trail.
He out-recruited Saban in 2009 (ESPN), and he's currently ahead of Saban for 2013 (Scout). Miles is enjoying a current two-game skid against Saban, one of which was last season's national championship game.
Miles is one of the best coaches in the nation, but he can't keep proving that Saban has his number. If that's the case, then LSU will find someone who can beat Alabama.
Fortunately for Miles, Alabama loses the majority of its offensive line to the NFL this April. That will give him a great chance of turning the tables in 2013.
Miles needs a win over Alabama this season, or his rank in the SEC could begin to suffer. Once you start losing your foothold in any major conference, it's difficult to regain it.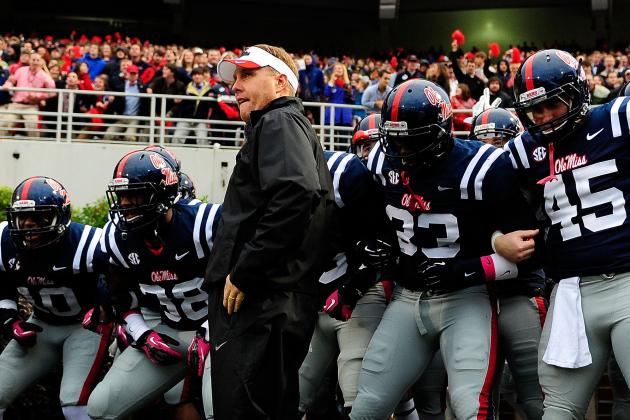 Stacy Revere/Getty Images

Hugh Freeze already turned Ole Miss into a bowl-contending program in his first year. While it would be great for him to beat Nick Saban on the field in 2013, a more realistic first goal is simply to overtake him on the recruiting trail.
Freeze is 0-1 against Saban on the field, but so are a lot of coaches that didn't even make this list. Ole Miss has taken the first step of a long journey toward success in the SEC.
Ole Miss faces Arkansas, LSU, Texas A&M and Alabama every season as part of the SEC West. While Freeze has plenty on his plate between him and national success, he needs to be confident enough to aim for Saban.
Freeze's desperation to beat Saban can drive the Rebels to new heights quicker than aiming for any other coach, with the possible exception of Kevin Sumlin. (Sumlin is the only coach in the SEC with a winning record against Saban at the moment.)
Freeze needs to aim for Saban on the recruiting trail first, and take aim at on-field Saban with whatever he has each year. If he can beat him in either venue, the other will follow suit.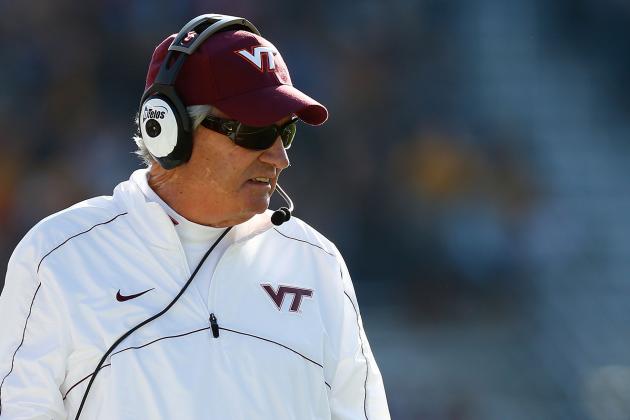 Jared Wickerham/Getty Images

Frank Beamer starts the 2013 season off against Alabama for the second time in four years. Beamer and the Virginia Tech Hokies lost the first anti-Saban contest in 2009 34-24.
Beamer needs to win any big game he can, but knocking off Alabama would instantly give him a shot at a national title via the ACC championship.
Beamer and the Hokies either need to bring desperation and adrenaline to the table against teams like Alabama, or they need to stop scheduling teams like the Tide.
Beamer's desperation doesn't stop at Alabama, either. The Hokies need to step up big-time throughout the entire season. Any season will do, and 2013 is the first opportunity.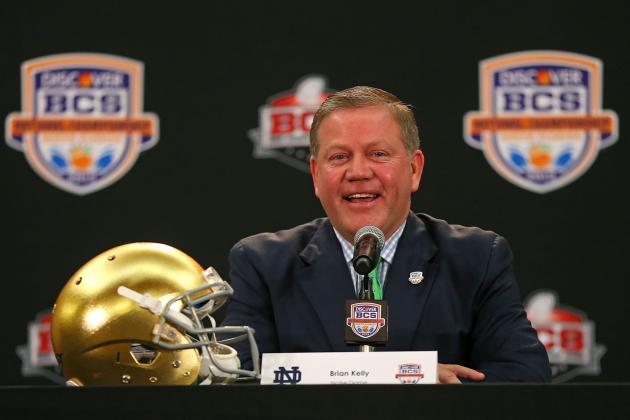 Mike Ehrmann/Getty Images

Brian Kelly has a new-found desperation to beat Nick Saban after the 42-14 thrashing Alabama handed him in the national championship game.
Kelly needs the desperation in order to fuel his recruiting speeches. Notre Dame established dominance in 2012, but fell far short of a title. Kelly can use that to heavily recruit on a national scale.
If Kelly can translate that title appearance to recruiting success, his road is half-traveled. Kelly isn't desperate for a win on the field yet, but he's in the middle of his best chance at knocking Saban off on national signing day right now.
Currently, Notre Dame is ranked ahead of Alabama by Rivals and Scout for the 2013 class.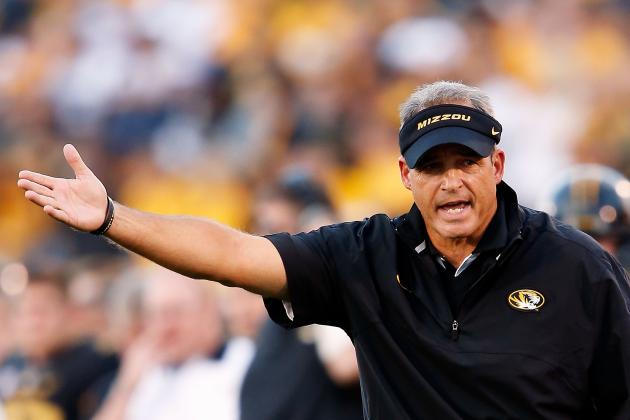 Jamie Squire/Getty Images

Gary Pinkel is only 0-1 against Nick Saban, and his team was riddled with injuries at the time. Missouri was missing its starting quarterback, and there was a bit of a monsoon on the field as well.
Pinkel may not be desperate for a victory on the field, but he's been in major FBS football since 2001. Saban has out-recruited him for six straight seasons beginning in 2012 according to all three services used in this article.
Pinkel needs to step up recruiting now. If he combines improved recruiting with a little luck, he can show up healthy against the Tide next time they meet.
Whatever happens, he needs to be desperate to compete against Nick Saban.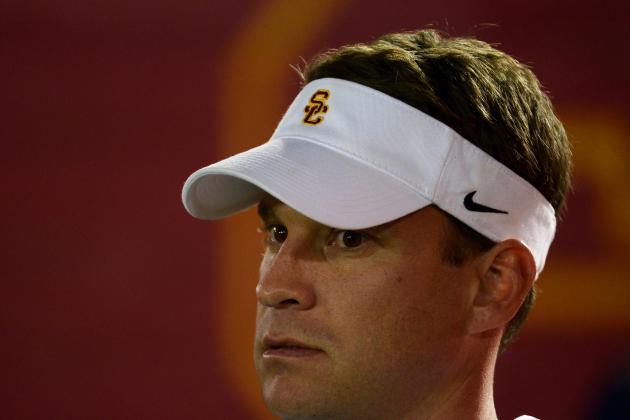 Harry How/Getty Images

At the beginning of the 2012 season, USC was favored to meet Alabama in Miami for the national championship. That didn't come close to happening, but USC did show that it is far from competing on the national level.
Lane Kiffin faced Nick Saban once at Tennessee, and the Volunteers fell victim to the Tide. As far as recruiting goes, Kiffin beat Saban back in 2011. That was the only time, whether he was at Tennessee or USC, that Kiffin bested Saban at anything.
Kiffin had better be desperate for a win over Saban. He's going to be thought of as inferior to him until he does. Unfortunately, since Kiffin left Tennessee, his chances are much slimmer than if he'd stayed.
There's always the recruiting trail. Kiffin had better be able to pull off a win over Saban there, especially from USC.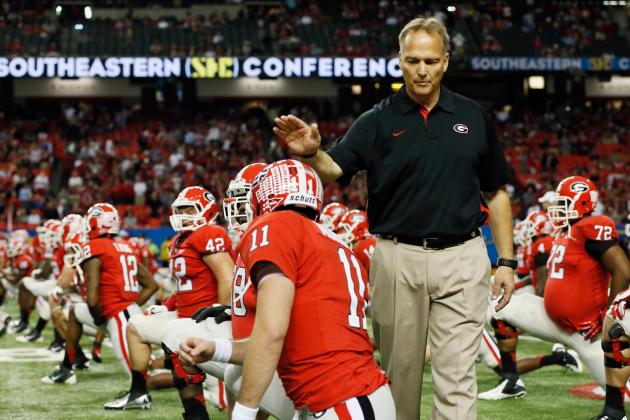 Kevin C. Cox/Getty Images

Mark Richt had a lot of things just go Alabama's way in the SEC title game in December of 2012. Richt faced Saban on-field in 2007 and 2008 as well, splitting that series 1-1.
Richt is one game back in the head-to-head series, but he's two seasons behind in recruiting. Richt beat Saban in 2011 (Scout) and is ahead of Saban in the current 2013 Scout rankings as well.
Richt almost beat Saban this past season, and that means one thing: Richt is close to winning either on the recruiting trail or the field. Once he wins on either, the tables can begin to turn toward the SEC East.
Richt is one of two coaches who could tip the scales eastward, and he's as close as anyone to defeating Saban (with the exception of Kevin Sumlin).
Saban stands between the SEC East and the national championship. If not Saban, then the coach from the West that beats Saban. Either way, Richt needs a hint of desperation to break a four-year chain of SEC West national champions.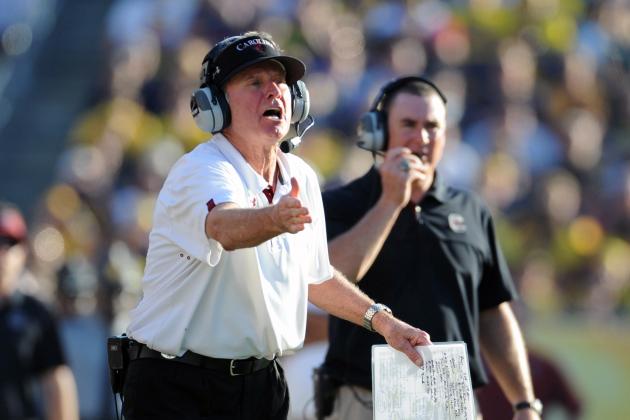 Al Messerschmidt/Getty Images

Steve Spurrier has been kept out of the SEC title game for the last two seasons due to Georgia's weak SEC West schedule. (South Carolina beat Georgia in both seasons.)
Spurrier has faced Saban twice and split the series 1-1. Part of the reason for that is that South Carolina hasn't beaten Alabama on the recruiting trail in any season that Saban's been at the helm.
Spurrier is desperate to beat Saban. He's been held out of the SEC title game by circumstances for two seasons, and he's eager to take the Gamecocks to the Sugar Bowl or better. If he can beat Saban on the field, he can then build a dynasty on the recruiting trail.
Nick Saban will likely stand in his way, and a win in that conference championship will likely mean a berth in the national championship.
Spurrier is desperate to simply get a chance to beat Alabama, it's unlikely that he wouldn't be motivated to win that match.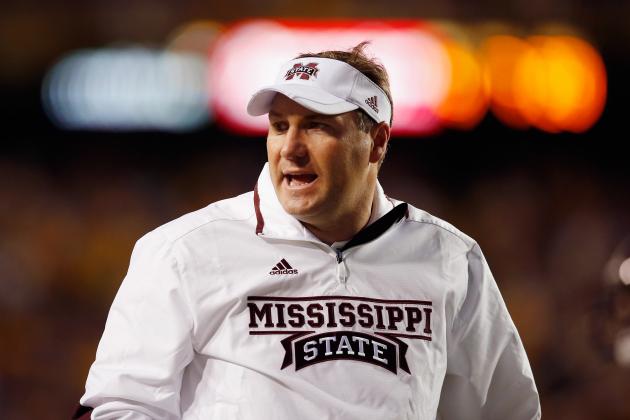 Chris Graythen/Getty Images

Dan Mullen has not beaten Nick Saban on the field or on the recruiting trail since he became Mississippi State's head coach back in 2009.
Mullen and the Bulldogs had a great start to the 2012 season, but Alabama started a skid that took Mississippi State from 7-0 to 8-5 in six short games.
Mullen is going to face Saban every season, and if he isn't desperate to beat Saban, it's not because he shouldn't be.
Mullen is up against elite coaches all across his division, and he needs to be improving to beat them all. Mississippi State will have more tolerance than other programs, but success will be required sooner rather than later.
He's on the right track, but a victory over a top-tier coach would certainly cement him in his position over the Bulldogs. They don't get any more top-tier than Nick Saban.