Brad Jones: Is Liverpool's Reserve Keeper Good Enough to Wear the Shirt?
Use your ← → (arrow) keys to browse more stories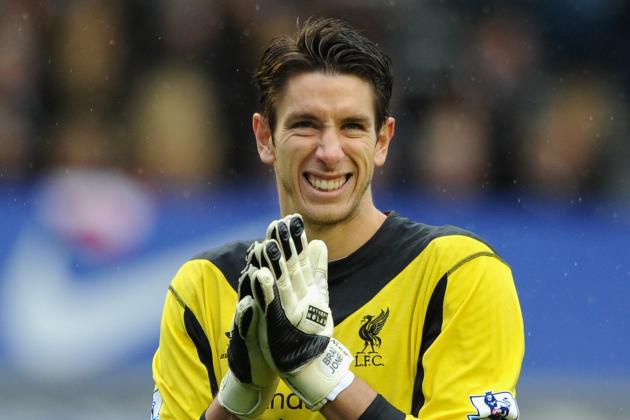 Chris Brunskill/Getty Images

In what some would say was an all too rare moment over the past couple of seasons, Pepe Reina would have sensed what was coming.
As Sergio Aguero rounded the Liverpool goalkeeper in an area closer to the far touchline than the goal on Sunday afternoon, Reina must have known what was going to happen next.
Had Aguero done what 99.9% of the professional footballers on the planet were only capable of doing then the fact that Reina had prematurely wandered from his goal would have been forgotten, but seeing as Aguero is part of the gifted 0.1% who are capable of scoring a goal from such a ridiculous angle, then the inevitable was going to occur.
Reina was about to attract more scrutiny.
Suddenly another promising Liverpool performance wasn't going to yield the three points that it deserved, with Reina left to take the blame from many and shoulder the burden that disappointment often brings.
It isn't the first time that Liverpool's first-choice goalkeeper has been questioned over recent seasons, and as a result it has led many to wonder about just how much longer the Spaniard will be Liverpool's No. 1 in between the posts. Considering the uncertain alternative, it will be a position he holds until the summer at the very least.
This isn't a piece designed at attacking Brad Jones, the Australian goalkeeper kept in reserve by Liverpool who―largely due to Reina's out-of-character suspension and injury problems―has now played 17 matches for the Reds in all competitions since signing in 2010.
Those appearances include league outings at Goodison Park and Stamford Bridge, whilst it was Jones who kept goal for Liverpool in last season's FA Cup semifinal victory over Everton following red cards picked up in successive matches by Reina and the Brazilian Alexander Doni.
He did as well as could be expected of him, and has throughout all of his appearances for the Reds―although it is difficult to overlook the error just before half-time that swung the recent FA Cup tie with Oldham the way of the underdogs―but Jones isn't the answer to Liverpool's long-term goalkeeping question, and you sense that the player himself, manager Brendan Rodgers and the club all know that.
However, Jones did sign an extension to his contract in December, and so all parties must agree that he is doing a good job as the Reds' backup custodian―as, of course, he has been doing―but being a backup is surely the best that he can hope for.
There can't have been a heartstring that wasn't tugged when Jones came back from the tragic loss of his six-year-old son Luca to leukaemia to play a starring role at the tail end of last season—just after the birth of another son, Nico.
The sight of the Australian international pointing to the heavens after coming off the bench to immediately save a penalty from Yakubu at Blackburn, before repeating the gesture at the end of the Everton semifinal win was both heartbreaking and heroic at the same time. It was a true moment of sporting emotion.
The sense that these were to be fleeting appearances in the Liverpool first-team only heightened that emotion even more, and regardless of what happens to Reina in the summer―with a parting of the ways looking increasingly like an option that a player who might be in need of a fresh start should consider―the Reds aren't going to turn to Jones from the start of the next campaign.
Should Reina depart then, a new goalkeeper will be brought in―although the identity of that man remains both a mystery and a difficult problem to solve―and so Jones will have to be content with his place back on the bench.
It is a place that he's already used to, of course, and that familiarity doesn't look like changing.