Malaysian GP 2009: The Kimi POV
April 6, 2009
There has been plenty of talk already about the disastrous start of the 2009 season for Ferrari. So I thought it would be interesting to recap the Malaysian GP from Kimi Raikkonens point of view.
Lights out!
Kimi gets a great start but not as good as Alonso who goes from ninth position to third! Kimi goes from seventh to fifth at the start. Timo Glock, who started in third place, said at the press conference that he had a good getaway but suddenly Kimi and Alonso was past him on both sides and he just couldn't believe it.
After a couple of laps, Kimi is stuck behind Alonso together with Webber and Glock losing a lot of time. The Spaniard is hardly easy to pass and especially not with KERS on-board the Renault. Alonso is on a one-stopper so Kimi needs to get by him quick. They get close in the corners but Alonso pulls away immediately after.
On Lap 11 though, Raikkonen pulls off the best overtaking move of the race. He goes high in a corner then snaps back down on the inside of Alonso, pushes the KERS button and away he was. Alonso probably did the same to defend but too late.
And that was it when it comes to highpoints of the race for any Kimi fan. Well almost. But I will get to that later.
Before his first pitstop, Kimi has fought his way up to fifth place. Not a bad position. There is reports of rain coming but no clear sign yet. Raikkonen pits on lap 19 and Ferrari then decides to put him on full wets on a completely dry track...As most of you know the wet tires are very soft and will quickly be destroyed on a dry track. A seemingly wild gamble.
Kimi had to run almost three laps in the dry on full wets before the rain came. That cost him at least a minute in lap time. People pass him left and right. When rain hits on lap 22 everybody pits for tires. But we hear Kimi on the team radio saying his tires are completely destroyed. No surprise there.
He still fights like a champion on worn and destroyed tires. He is doing 1.57-1.58 laps while those around are doing 2.01-2.02 and 2.03 laps on fresh wet tires. Quite a feat actually. But he is about 40 some seconds behind the car in front of him, so he is too far behind to make up any places. I believe he was in 14th position at that time.
However, the Ferrari strategists are not done yet. It has been raining at a normal pace up til now and Kimi is due for another pitstop. As he pulls into the pits the heavens really open up and its just torrential rain now. Ferrari only have the intermediates ready for Kimi and they have to put the wrong tires on - again. But as it turns out, it didn't matter much in the end.
Now everybody is pitting for full wets. They go out and it is just mayhem on the track. People spinning off here and there. Even Vettel spins and has to retire. SC is deployed on lap 32 and the race is red flagged on lap 33, never to restart again.
People drive to the grid, some hoping for a restart, some not. We hear desperation and frustration in Massas voice over the team radio as he screams for another visor for his helmet. Rob Smedly tries to calm him down by calling him "Felipe Baby". Come again Rob?
The Ice(cream)Man
Kimi goes straight into the garage. Takes off his race gear, hits the shower, grabs a coke and an icecream and are just his cool self as ever. Reports are coming in of a problem with his KERS system again. Luca is talking to the press stating that they might get Kimis car ready for the restart. At the same time images of Kimi maxing and relaxing in shorts are rolling over the screen. His critics rant about it. His fans love him for it.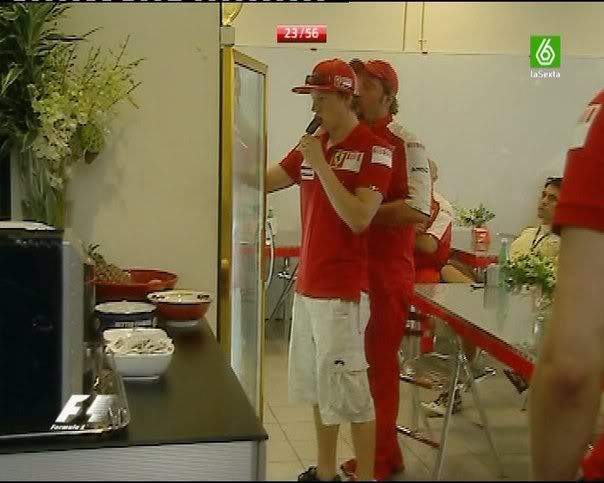 So another pointless weekend for Ferrari. Double meaning intended. Massa 9th, Kimi 14th. 0 points for Ferrari after two races. Their strategy failed miserably both in qualifying and in the race. If the tragic event of the earthquake had not hit Italy on Monday, the Italian press would have had an even greater field day with Ferrari.
And another great win for the Brawn team - even in chaotic conditions they pulled it off. The lap Button did to pass Rosberg in the first pitstop was just plain scary. 1.36.6. 1 second quicker than the next non-Brawn car! 1.8 and 2.6 seconds faster than Kimis and Felipes fastest laps respectively. Jenson is clearly on a roll and very comfortable in the car.
Aero updates will be coming to the F60 for China. Rumor has it that Ferrari is spending $30 million on a new chassis/rear end with the trick diffuser to have ready for Spain. But will that bring one second or even 1.5 second to the car? Not likely. It looks like the Tifosi are in for a long season.