6 Pending Free Agents That Will Be Traded Before the Deadline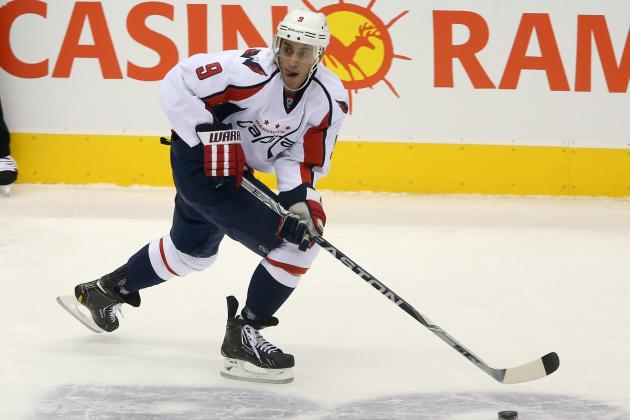 Tom Szczerbowski-USA TODAY Sports
Mike Ribeiro could be traded if the Capitals are not in playoff contention this season.
No general manager wants to lose a player to free agency without getting something in return for him.
Yet any general manager who has a free agent on his roster faces just that prospect if he holds on to him for the remainder of the season and doesn't get him to sign a new contract.
The best move from a business perspective is to trade a pending free agent for a draft choice or a player who will be under contract in future years.
Teams that are in the playoff mix or at least have a chance to contend for one are likely to hold on to their free agents just in case they make the postseason.
General managers may be more inclined to hold on to their free agents this year, because they saw the Los Angeles Kings clinch a playoff spot in the final week of the season and then win the Stanley Cup from the No. 8 position in the Western Conference a season ago.
With that in mind, here are six soon-to-be free agents who will be moved by the April 3 trade deadline.
All salary figures are from CapGeek.com.
(Take note of the Anaheim Ducks and their 5-1-1 start. Until they start to slump, we are going to look at the Ducks as a legitimate contender who won't be trading their free agents because they have a legitimate chance to play postseason hockey.)
Begin Slideshow

»
The Calgary Flames don't want to talk about Jarome Iginla's status.
General manager Jay Feaster doesn't want to talk publicly about his contract, which finishes at the end of the season.
Iginla has scored more than 500 goals in his career and the Flames simply aren't going anywhere. They need to rebuild and they also need to give Iginla a chance to play for a legitimate Stanley Cup contender.
Perhaps they should have traded him last year or during the offseason. But they need to trade him and his prorated $7 million salary and see if they can get draft picks from a team that has a legitimate chance to win this year.
Iginla is off to a slow start. He has not scored a goal in his first six games. That could drive his trade value down.
Alexander Semin was a free agent at the end of last season. He finished his contract with the Washington Capitals and was hoping for a long-term deal.
However, the market did not appreciate Semin. The best deal he could get was a one-year contract with the Hurricanes.
They were hoping that Semin would become a big-time scorer again and that the Hurricanes would be playoff contenders.
Right now, they are on the outside looking in. There is certainly plenty of time for Carolina to turn its season around, but if it doesn't happen, Semin may be more valuable as a short-term trade acquisition than he is as a long-term free agent.
This one would hurt big time.
If the struggling Flyers (3-6-0) are not a playoff team this year, they could be forced to trade outstanding defenseman Kimmo Timonen.
Timonen is in the final year of a deal that is paying him $6.333 million (prorated) this season. Timonen is clearly the Flyers' best and most reliable defenseman, but if they are not going to play postseason hockey they should get something for him.
There is no reason the Flyers couldn't trade Timonen now and then re-sign him when he becomes a free agent in the summer.
Mike Ribeiro has been a creative playmaker throughout his career.
The Capitals acquired him in a trade with the Dallas Stars in the offseason and they are paying him a prorated salary $5 million this season.
Through his first nine games of the season, Ribeiro has two goals and eight assists. The Capitals are in last place in the Eastern Conference and it seems that rookie head coach Adam Oates is having a hard time reaching his players and getting them to play the style he is advocating.
They could rally but the chances are the Capitals will not be a playoff team. The Caps should trade Ribeiro and at least get a draft pick from a team that needs a player who sees the ice well and can distribute the puck.
Michael Ryder could be among the most sought after players prior to the trade deadline.
As of this moment, general manager Joe Nieuwendyk has no inclination to trade Ryder or any of the other Stars' potential free agents. Nieuwendyk thinks the Stars can be a playoff team.
However, the Stars have already lost five games in regulation and one more in extra time. The Stars are currently out of the playoff picture and they could have a hard time stringing wins together this season.
If that pattern holds, Nieuwendyk may want to trade Ryder, who will be a free agent at the end of the season. He could have great value.
Ryder scored 35 goals last year for the Stars.
He also played a key role for the Boston Bruins in their 2011 Stanley Cup run. He scored eight goals and nine assists and also made a key defensive play in their opening round win vs. the Canadiens that demonstrates he is the kind of player who can make a difference in the postseason.
Stephen Weiss has been one of the Panthers' top players throughout his career.
Weiss, 29, is in the final year of a contract that is paying him a prorated salary of $3.1 million this season.
The Panthers won the Southeast Division last season, but they are off to a slow 3-5-0 start. The Panthers are struggling to keep the puck out of the net, having given up 30 goals.
If the Panthers can't turn things around quickly, look for general manager Dale Tallon to move Weiss rather than let him get away in free agency without any compensation.