Ranking the Top 10 Contenders for World Cup Glory in 2014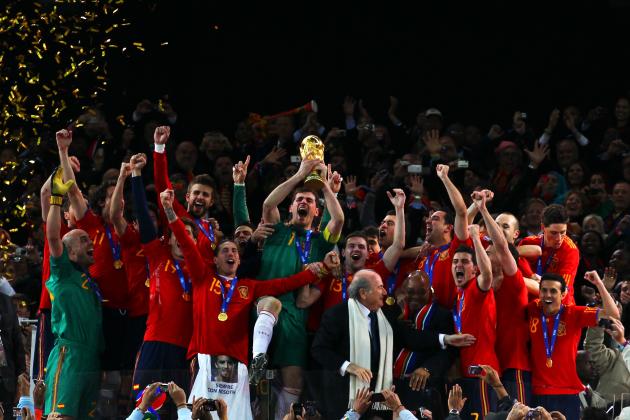 Lars Baron/Getty Images
Will Spain win their fourth straight tournament in Brazil?
We're just under 18 months away from world football's next major tournament.
The 2014 World Cup kicks off next June when Brazil hosts the biggest football extravaganza on the planet.
Spain have dominated international football for the last four or five years now and by the time they get to Brazil, they'll be looking to win their fourth straight international tournament.
The current Spanish side have been untouchable in recent years and they'll want to continue their dominance in 2014.
As usual, there will be a whole raft of other contenders looking to be crowned the best international side in the world.
The most likely winners will either come from Europe or South America because, as yet, no African or Asian team have won football's biggest prize.
Although we're still over a year away from the tournament, let's have a bit of fun and count down the top 10 contenders for glory in 2014.
The rankings will go in order from 10 to 1, based on the strength of their squad and their previous form in World Cup tournaments.
Let's get to it!
Begin Slideshow

»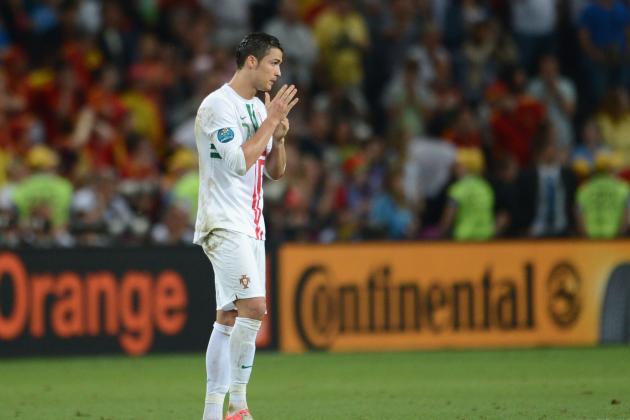 Jasper Juinen/Getty Images
Can Cristiano Ronaldo inspire Portugal to World Cup glory?
According to the latest FIFA rankings, Portugal are the seventh best side in the world right now and with players like Cristiano Ronaldo, Nani and Joao Moutinho in their squad, it's easy to see why.
Despite all of the flair players at their disposal, the Portuguese have never really delivered on the big stage at the World Cup.
Their best performance remains their third-placed finish at the 1966 World Cup.
Since then, they've only played in a further four World Cup tournaments: 1986, 2002, 2006 and 2010.
On paper, Portugal have all the tools to beat any team in the world.
The problem is that history shows they rarely deliver, especially when they really need to.
Don't get me wrong, they'll still be a dangerous side at next year's World Cup, but they're more outsiders than favourites.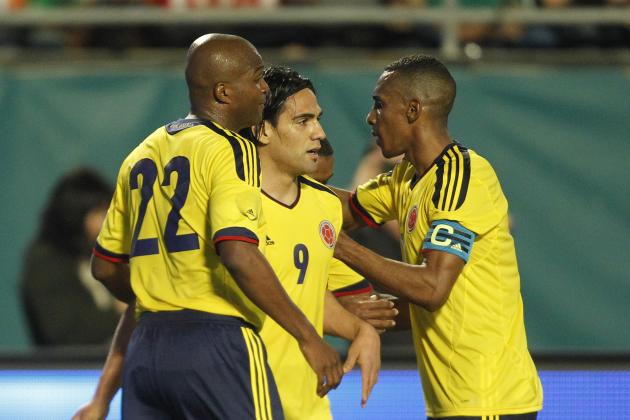 Joel Auerbach/Getty Images
Radamel Falcao will be a key man for Colombia at World Cup 2014
As things stand right now, Colombia are in a decent position to qualify for their first World Cup since 1998.
It's amazing to think that it's been so long since we've seen the Colombians grace the biggest stage in football.
Their record at previous World Cups isn't particularly good.
On the four previous occasions that they've qualified for the tournament, their best finish was when they made the second round in 1990.
For a country that's produced great footballers like Alfredo di Stefano and Faustino Asprilla, as well as amazing characters like Rene Higuita and Carlos Valderrama, it seems strange that they have such a poor record at big tournaments.
The current squad is full of players who are performing for some of Europe's biggest clubs.
Of course, Radamel Falcao's exploits for Porto and Atletico Madrid in recent seasons make him the stand-out of the group, but he won't have to do it all on his own.
In defence, Mario Yepes and Cristian Zapata are a part of the AC Milan side and Juan Zuniga is in sensational form as part of the Napoli side that's challenging for the Serie A title this season.
In midfield, Juan Cuadrado is coming along nicely at Fiorentina and up front, Porto's Jackson Martinez is an extremely talented forward, who is capable of causing problems for any defence.
Much like Portugal, Colombia's past form at these tournaments leads you to think that they'd provide a stiff test for the stronger teams in the tournament, but there's little chance of them winning it.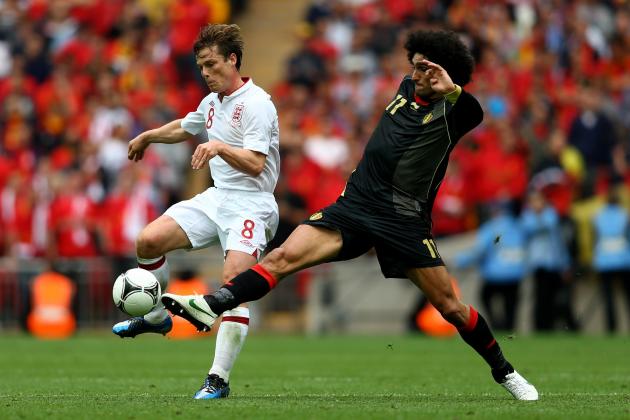 Clive Mason/Getty Images
Belgium's Marouane Fellaini can dominate in Brazil
Some of you will probably think I'm crazy for including Belgium in this list of contenders, but why shouldn't they be considered?
Yes, they're not a traditionally strong side at international level, but the current squad is full of top-class players, playing at the highest level on a consistent basis.
They're strong in every area of the pitch.
It's a toss-up between Sunderland's Simon Mignolet and Atletico Madrid's on-loan Chelsea keeper Thibaut Courtois for the number one jersey.
In defence, the likes of Daniel Van Buyten, Jan Vertonghen, Thomas Vermaelen and Vincent Kompany have all been playing at the highest level in Europe for the last few years.
Their midfield has the likes of Moussa Dembele and Marouane Fellaini, who have been two of the stand-out performers in the English Premier League over the last 12 months.
Axel Witsel and Steven Defour continue to impress at Zenit St Petersburg and Porto respectively, and up front, there's a plethora of talent including Eden Hazard, Kevin Mirallas, Kevin De Bruyne and Romelu Lukaku.
Yes these players are unproven in big tournaments at international level, but their squad is incredibly strong.
After qualifying for six consecutive World Cup tournaments between 1982 and 2002, including a fourth-place finish in 1986, the Belgians haven't qualified for the last couple of events.
If anyone goes in to the 2014 World Cup underestimating the Belgians, who look almost certain to qualify at this point, then they'll be in for a rude awakening.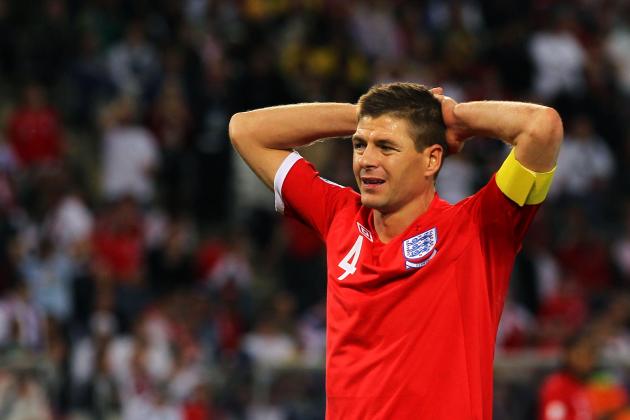 Clive Rose/Getty Images
Can Steven Gerrard lead England to glory at his last World Cup?
For a country that has produced so many talented individual players, it's a mystery why England have achieved nothing on the international stage since winning the World Cup in 1966, except for a fourth-place finish in 1990.
Prepare yourselves for a sharp dose of reality here, because it's time to share my opinion with you.
As someone who lives in the UK, I see the media circus that surrounds the English national team before every national tournament.
This is just my opinion, but it seems like the English national media, whether it be newspaper, radio or TV pundits, have this over-inflated sense of entitlement when it comes to their national football team.
It's as if the media expect England to win every match, regardless of who they play against.
The fact is that, apart from the one occasion I mentioned earlier, the English national team have achieved nothing on the international stage for over 45 years.
Generations have come and gone, and they've had to live with the unrealistic expectations placed on their players by the English media.
Don't get me wrong.
There's nothing wrong with believing in your national team, but the English media in particular should be a little more realistic about what England can achieve as a footballing nation.
This is an ageing squad and it might very well be the last time that the likes of Steven Gerrard, Frank Lampard, Ashley Cole and Michael Carrick play at a World Cup.
England have a squad full of talented young players and they'll be difficult to beat, but they'll come up short again in the knockout stages.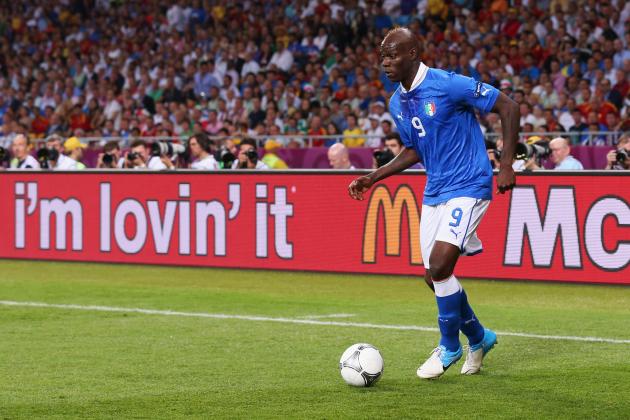 Alex Livesey/Getty Images
Mario Balotelli - genius, madman, talented footballer
Ah, the Italians.
They might be a national team that pride themselves on being defensively strong, but they shouldn't be underestimated.
There's a lot to be said for having a strong, disciplined defensive unit.
It might not be pretty to watch at times, but it's damn effective, as we saw when Italy won the World Cup in Germany back in 2006.
The Italians have won the World Cup four times since 1934 and they're usually a safe bet to get to the latter stages.
Although they went out with a whimper in the last World Cup (in 2010), in six of the last nine tournaments, Italy have reached at least the last 16.
That's an amazing record.
It would be fair to say that their squad isn't as strong as it was 10-15 years ago, but Italy still have some excellent players at their disposal.
Andrea Pirlo, Daniele De Rossi, Alberto Gilardino, Stephan Al Shaarawy and the enigmatic Mario Balotelli are all potential match-winners, so the Italians will be confident of having a good run in 2014.
And rightly so.
They were hugely impressive at last year's Euro 2012 tournament and Cesare Prandelli's side have every reason to be optimistic about their chances in Brazil.
Italy should easily qualify for the quarter-finals, and if the tournament was being played in Europe, they'd have more of a chance, but, in my opinion, they'll come up against stronger teams at next year's World Cup.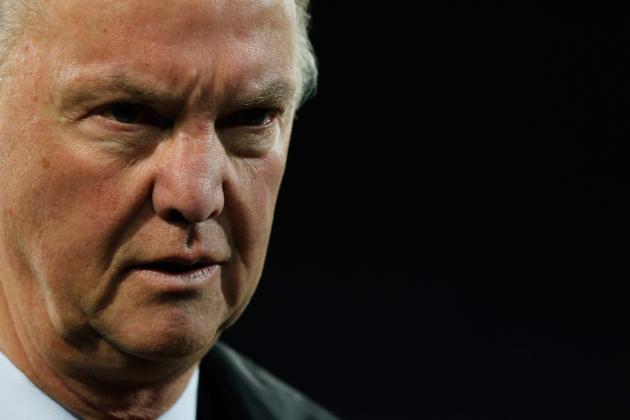 Dean Mouhtaropoulos/Getty Images
Will Louis van Gaal be able to deliver success for the Dutch?
One of the surprising things that we saw last summer at Euro 2012 were the dismal Dutch displays.
Before the tournament started, many fans, journalists and media pundits speculated that the Dutch would push the Spaniards all the way.
The truth was very different.
Holland were dumped out of the tournament with just two meagre goals to their credit and no points.
Since then, Louis van Gaal has taken over from Bert van Marwijk and the elder statesman seems to have unified the Dutch camp.
It goes without saying that they have one of the strongest squads in the game today, with world-class talents like Robin van Persie, Wesley Sneijder, Rafael van der Vaart and Arjen Robben at their disposal.
For too long now, the Dutch have been the nearly men of World Cup football.
They've been on the losing end of three finals so far – in 1974, 1978 and 2010.
The Dutch fans, players and staff must be sick of getting so close, only to have the chance of success ripped away from them.
If this list was written immediately after Euro 2012, the Dutch wouldn't have even been under consideration.
However, the start they've made under the guidance of Louis van Gaal leads me to believe that, once again, Holland will be there or thereabouts during the latter stages of the tournament.
Rich Schultz/Getty Images
Will 2014 be the year when Messi lifts the World Cup aloft?
By the time the Argentineans kick off in Brazil, it will be 28 years since they were last crowned World Cup champions.
At that time, Diego Maradona inspired his country to victory and this time around, it might be another little magician who leads his country to the top prize in world football.
He'll have a tough job on his hands to wrestle it away from some of his Barcelona team-mates.
I'm talking about the current holder of the Ballon D'Or: Lionel Messi.
When you watch Messi play football, it's frightening.
He ghosts past players with ease.
His touch and close control of the ball is unbelievable.
He can score all kinds of goals and when he kicks the ball, it's as if he just eases it to his team-mate, or in the direction he wants the ball to go.
Messi makes the game of football look deceptively easy and we all know that it isn't.
If Argentina are to end their World Cup drought, then others like Angel di Maria, Sergio Aguero and Ezequiel Lavezzi need to make the same kind of contribution that Messi undoubtedly will, both in terms of endeavour and goal-scoring.
After winning the tournament in 1986, Argentina have only gone further than the quarter-final stage once, and that was in 1990.
Since then, they've failed to get past the last eight in three of the last five World Cup events.
For a country that seems to produce an almost endless conveyor belt of talent, that's not good enough.
Argentina's success, or failure, depends on whether the players believe they're good enough to win the tournament.
Individually, they're good enough and on paper, you'd choose them above most other teams, but for some reason, it just doesn't seem to click at World Cup tournaments for the Argentineans.
They should at least reach the semi-finals and they'll want to give a good account of themselves, especially since the tournament is being held in Brazil!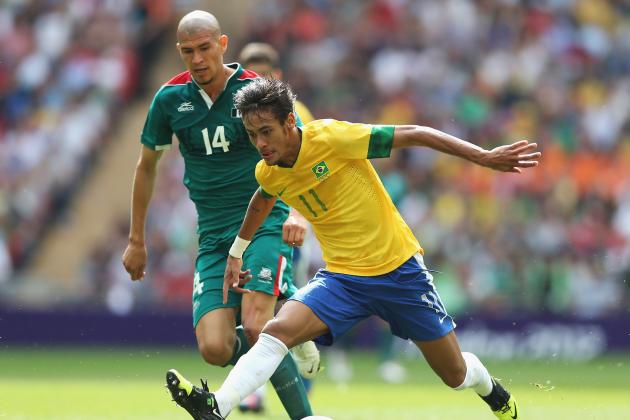 Julian Finney/Getty Images
All eyes will be on Neymar - can he deliver on the big stage?
Scraping on to the podium ahead of their South American rivals are the Brazilian team.
Make no mistake about it.
Brazil are no longer the force that they once were.
In fact, this Brazilian squad are only ranked 18th in the current FIFA standings.
Yes, the likes of Julio Cesar, Dani Alves, Thiago Silva and Ronaldinho are still involved, but they're not the influence they once were and the fact is that some of the other South American sides, like Colombia, have overtaken the Brazilians.
Don't get me wrong.
They have fantastically gifted players like Lucas Moura, Leandro Damiao, Oscar and Ramires, and Neymar is a superstar waiting to happen, but there's a distinct lack of a leader within the squad.
Someone who's likely to lead by example.
There's no obvious candidate for that role.
Although they're going through somewhat of a slump, especially in terms of their FIFA ranking (which I talked about before), Brazil's record in World Cup tournaments is particularly good.
They are the only country to have won the World Cup five times.
Every time that the World Cup has been held in South America since 1950, Brazil have reached, at least, the quarter-final stage.
The fact that they are the hosts of the tournament should stand them in good stead as well.
Let me explain.
In three of the last four World Cup tournaments, the host nation has qualified for at least the semi-finals.
France did it in 1998 (and went on to win the tournament), South Korea did it in 2002 and Germany did it in 2006.
While they might not have the intimidating presence that they once had, Brazil will still be one of the toughest sides to beat in the competition.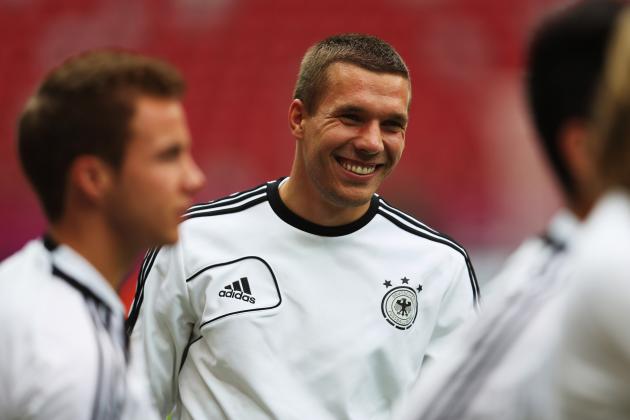 Joern Pollex/Getty Images
Lukas Podolski has already won 106 caps for Germany at the age of 27
We're down to the final two and just falling at the final hurdle are the Germans.
It would be easy to throw in some of the usual German stereotypes about efficiency, but all that needs to be said is that they are an excellent team with some fantastic footballers.
When you look at the nucleus of the German squad, most of their key players are in their mid to late 20s, but they're all hugely experienced internationals.
For example, Lukas Podolski is just 27 years old and he's already won 106 caps.
There are very few players in the squad over the age of 30, so their squad is reaching its peak at the moment.
They're defensively strong and going forward, they're capable of cutting teams apart with ease.
It's just unlucky that this German squad is playing in the same era as one of the greatest national sides ever—Spain.
The Germans' World Cup record is absolutely frightening.
They haven't failed to reach the latter stages of a World Cup tournament since 1938.
Yes. You did just read that.
1938 was the last time Germany failed to reach the latter stages of a World Cup and you'd get long odds on them failing to qualify for the knockout round in Brazil next June.
In my opinion, there's only one better team in the world than Germany at the moment and if Joachim Low and his players are to taste World Cup glory, they'll need to beat the final team on this list.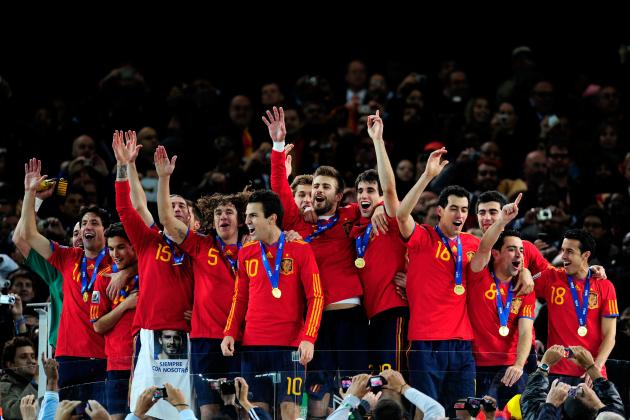 Jamie McDonald/Getty Images
Will the Spanish retain their World Cup crown in 2014?
If the current Spain squad are able to win the World Cup in roughly 18 months time, they'll become one of the most dominant football teams in history.
They're on a massive roll at the moment, which isn't showing any signs of stopping any time soon.
In the last four years or so, Spain have won Euro 2008, the World Cup in 2010 and Euro 2012 last summer.
The football that Spain play is a joy to watch.
It's easy on the eye, it's enjoyable and most of all, they've got success by playing the game in the right manner.
The list of champions in their squad almost rolls off your tongue.
Xavi, Iniesta, Pique, Ramos, Fabregas, Villa, Cazorla and Silva are astonishing players who, for the last few years, have stood head and shoulders above every other national team in the world.
You hear their names so often that you feel as if you actually know them!
Recent success aside, the record of the Spanish national side in World Cups isn't particularly good.
Before winning the World Cup in 2010, they'd made the latter stages on a regular basis without ever being a major threat.
That's the past though.
In recent years, Spain have become so accustomed to winning major tournaments that it will take a very special performance, and team, to stop them from winning the World Cup in Brazil in just under 18 months' time.