5 Ways the Leafs Can Deal with the Loss of Joffrey Lupul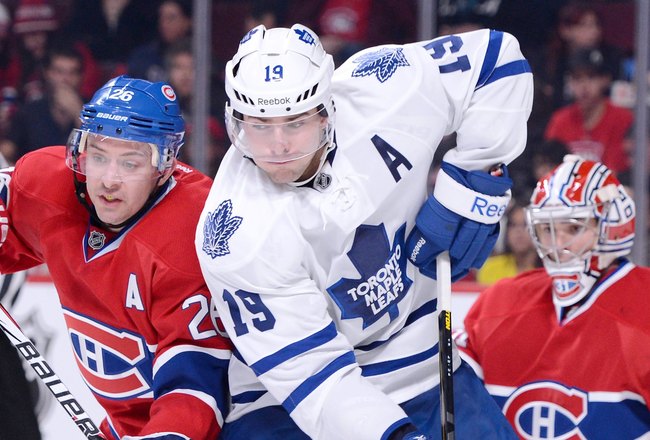 Richard Wolowicz/Getty Images
It has been almost two weeks since the Toronto Maple Leafs lost winger Joffrey Lupul to a broken forearm, and life without Lupul has been a blessing and a curse. The Leafs have two wins and three losses so far without the scoring left winger, and new faces James van Riemsdyk and Matt Frattin have emerged in his absence.
The Leafs have used these two youngsters effectively to fill the offensive gap left by the absence of the All-Star winger so far. They still have another month and a half or so to go without his presence in the locker room or in the lineup, and here are five ways they can continue to deal with the loss going forward.
JVR in Front and Down Low on the Power Play

Courtesy / NHLVideo

Lupul's size and skill in front of the net was key to the success of the Leafs power play last season, and the options have been limited without him. They are utilizing Phil Kessel on the side boards and Dion Phaneuf on the point as their main trigger men and have not had a down-low option to keep the opposing teams honest.
James van Riemsdyk has the size and hands similar to Lupul's, and they must use him with some down-low options to prevent opponents from staying high on Kessel and Phaneuf. If Phaneuf can get a handle on his shot and keep it low and in play for tips and rebounds, JVR can pick up the spoils and goals that Lupul got last year.
Nikolai Kulemin with Kessel and Bozak 5-on-5

Courtesy / p00njabiHD

The Leafs roster has been lacking a player with a good size and skill mix since Mats Sundin left town, and while Lupul is nowhere near the player Sundin was, he was starting to fit the bill. In his absence, the Leafs lose that mix on the top unit alongside Tyler Bozak and Phil Kessel.
JVR has been given the spot and has nice size and a presence in front of the net, but he doesn't possess the speed or ability to stretch to the defence out on the rush that Lupul does. Kessel and Bozak need that third member on the line to keep the defence honest on that side of the ice when at even strength.
Nikolai Kulemin could be the answer as the best even-strength replacement linemate that Kessel and Bozak can get to bring all the elements that Lupul brought. Lupul battled down low to get pucks, and Kulemin is very good at doing the same.
It could also act as a kick-start for Kulemin to find his lost scoring touch.
Move Around and Double-Shift Kessel

Courtesy / BigBadBoss

Phil Kessel found instant chemistry with Joffrey Lupul when Lupul arrived in the Leafs lineup late in the 2010-2011 season. The two fed off each other's speed and skill and were Toronto's two All-Star representatives last year in an otherwise dismal season.
Kessel has gone the first eight games of the season without scoring a goal, and without Lupul on the other side of the ice, opponents are keying on him more than they ever have. It is also apparent that the lockout has hurt Kessel's conditioning and timing coming out of the gate, and the Leafs need to try some things to get it back.
Without Lupul and the first line intact, they should move Kessel all over the lineup and spot him on all the lines and in different situations to get him going. The moving through the lines will make it tougher for opposing coach's to match D against him, and he could get some room against a third pairing on occasion.
The double duty would also boost Kessel's cardio and timing and get him to the top of his game as quickly as possible, something the Leafs need badly without Lupul's scoring as a second option.
Ride Youngsters Frattin and Kadri

Courtesy / p00njabiHD

Although Kessel, Bozak and Lupul are widely considered to be the first line on the roster this year, the Leafs don't really have a clear cut No. 1 and need to score by committee to get the win on most nights. Without that clear cut, consistent No. 1 line, the coaching staff must recognize who is hot on any given night and adjust the ice time accordingly.
Matt Frattin was called up to replace Lupul on the roster and has emerged immediately as a hot offensive weapon along side Nazem Kadri. These two are pegged as third-line players for the Leafs but are No. 1 and No. 2 in team scoring.
The Leafs need to ride these two youngsters while their hands are hot and their confidence is high and give them more minutes in key offensive situations for an opportunity to spell the loss of Lupul.
Trade D Depth for a Lupul-Like Forward

Courtesy / snoodawg

If the Leafs have depth anywhere on their roster it is on the back end, where they can boast eight or nine NHL-caliber defensemen between the Leafs and their AHL affiliate, the Marlies. The Leafs have established NHL defensemen Dion Phaneuf, Carl Gunnarsson, John-Michael Liles, Mike Komisarek, Mike Kostka, Cody Franson and Mark Fraser to fill six spots on any given night and Jake Gardiner, Korbinian Holzer and Paul Ranger waiting in the wings on the Marlies.
They could use one or two of this surplus in a trade to try to bring in a forward of Lupul's size and skill to fill the gap while he is away. It will be tough to land a player who is as good as Lupul, but there may be a team out there who is desperate for help on defense and may make someone available as a stop-gap solution.
Dwight Wakabayashi is a contributor to Bleacher Report NHL Toronto Maple Leafs and a Featured Columnist with Bleacher Report UFC.
Follow him on Twitter at wakafightermma
Keep Reading

Toronto Maple Leafs: Like this team?