NCAA Bracket Predictions 2013: Projecting the March Madness Field at Week 14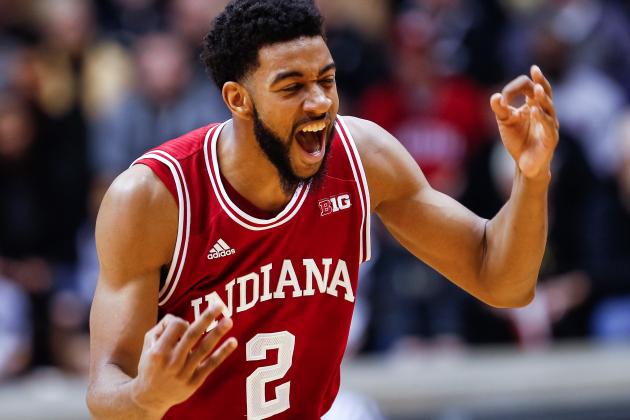 Michael Hickey/Getty Images

Flux (n.) — continuous change, passage or movement. Synonyms: instability, modification, unrest.
The past two weeks have been complete chaos. At this point, the last thing you want to hear is everyone talking about how good you are. Fruit flies in science labs have longer life spans than favorites to win the National Championship.
And if we shift the focus from the No. 1 seeds to the No. 12 seeds, the number of teams trying to play their way out of the tournament field dwarfs the number of teams that actually appear interested in playing their way in.
In other words: Welcome to another February in college basketball.
Here's where everyone stands with 40 days left until Selection Sunday.
Begin Slideshow

»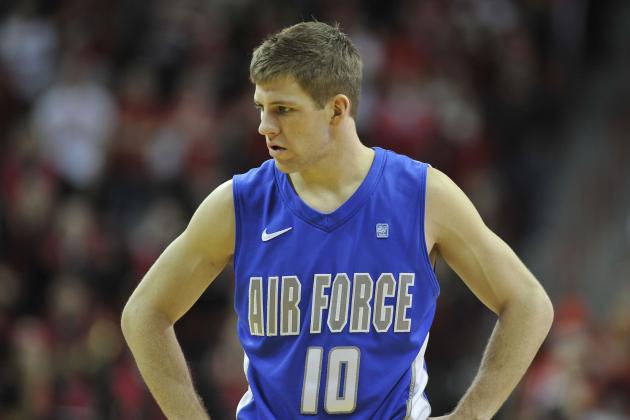 Jeff Bottari/Getty Images

Boise State (13-6, RPI: 52)
I'll be honest, I'm as surprised as anyone that the Broncos are back in the picture, but I guess that'll happen with a win over UNLV and a disturbingly weak bubble. They do have seven games remaining against the RPI Top 100 and already have a 3-4 record against that set of opponents, so they can absolutely still play their way into the field.
Temple (14-7, RPI: 56)
Did you know the A-10 has 10 teams in the RPI Top 80? The only other conference with more than eight such teams is the Big East. I currently have four A-10 teams in, and I think they eventually get five if someone from the second tier (Temple, Charlotte, Massachusetts or Saint Joseph's) can separate from the pack in the upcoming weeks.
Air Force (12-6, RPI: 64)
Welcome to the conversation, Air Force! The Falcons have the same story as Boise State: a home win on Saturday over one of the elites of the conference puts them in the discussion, but they have seven games left on their horizon against the RPI Top 100 that could push them into the brackets.
St. John's (14-8, RPI: 55)
The Johnnies will need to finish out the season with a 5-3 record to have a realistic shot at the tournament. From the looks of it, they'll only be favored in two of those games, so if they get a bid, they will have certainly earned it.
Alabama (13-7, RPI: 61)
Alabama has won six of its last seven games and should be able to win the next seven before running into Florida and Ole Miss in March. I think the Crimson Tide will either need to finish the season 9-1 or 8-2 with a deep run in the SEC tournament, because without some great wins to offset the losses to Mercer and Tulane, 22-9 won't cut it.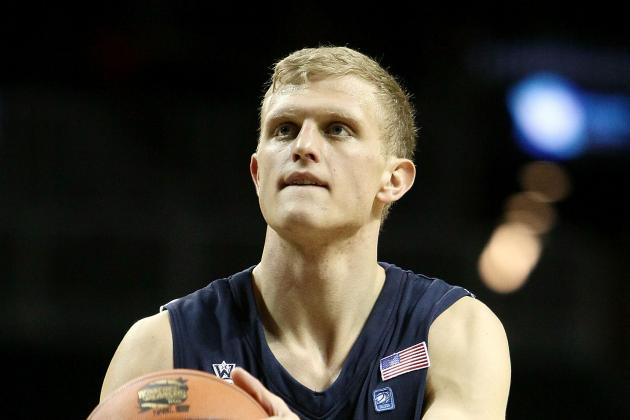 Alex Trautwig/Getty Images

BYU (17-6, RPI: 44)
BYU is the classic no-great-wins-but-no-bad-losses team. If the Cougars continue down the no-bad-losses path while picking up two wins in up to four remaining chances against Saint Mary's and Gonzaga, they would sneak in. Imagine how much different the bubble would be if Matthew Dellavedova hadn't hit that half court shot.
Illinois (14-8, RPI: 41)
If you need help understanding just how weak the bubble is, look no further than the Illini. They're 3-8 in their last 11 games, and yet I still can't find anyone better to put in their place. A win over Indiana or Minnesota this week would keep them in, but I have to hope a pair of losses would be enough to exclude them until further notice.
Saint Mary's (18-4, RPI: 59)
For a second straight week, the Gaels hold steady as the third-to-last team in the field. Upcoming road games against Santa Clara and San Diego won't do much to improve their RPI, but hopefully a pair of wins will warm them up for Valentine's Day's no-love-lost showdown with Gonzaga.
Colorado (14-7, RPI: 25)
If you think RPI is an antiquated pile of hogwash, you're going to really hate Colorado. If the brackets were created solely by that metric, these Buffaloes would be a No. 7 seed. There's simply no way they're that good, but they could go 5-4 the rest of the way and still get in. Feel free to start mentally preparing yourself for that scenario.
Arizona State (17-5, RPI: 58)
My man crush on Jahii Carson notwithstanding, ASU could just about guarantee itself an invite with a couple of home wins this week over Cal and Stanford. However, with a middling RPI and a worse than middling SOS (107), a pair of losses could mean the Sun Devils need to pick up a road win or two over UCLA, Colorado and Arizona.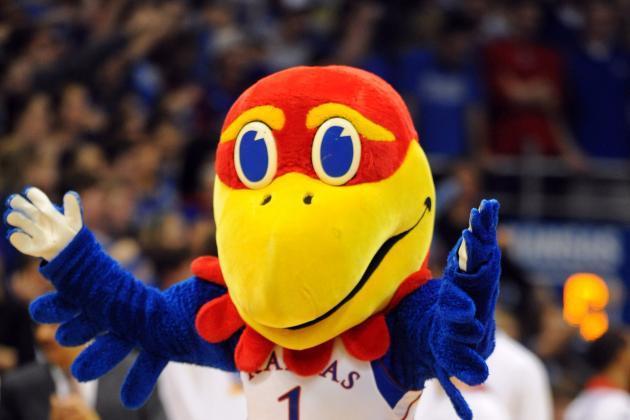 Denny Medley-USA TODAY Sports

No. 1 Florida (18-2, RPI: 4) vs. No. 16 Northeastern (Colonial auto bid)
Please see the final slide for a more in-depth analysis of the No. 1 seeds.
No. 8 Georgetown (16-4, RPI: 29) vs. No. 9 Wisconsin (15-7, RPI: 39)
The Hoyas could probably be a line or two higher than this, but the loss to South Florida and the blowout loss to Pittsburgh keeps me from thinking they're consistent enough to avoid stumbling a bit down the stretch.
I wrote about the Badgers in yesterday's bubble article, but I think they've got some work left to do and a tough slate of opponents to do it against. They can ill afford to lose at home against Iowa on Wednesday.
No. 5 Oregon (18-4, RPI: 26) vs. No. 12 Middle Tennessee (Sun Belt auto bid)
Wherefore art thou, Dominic Artis? The Ducks are hardly an average Pac-12 team without their freshman point guard, and there's still no telling when he will return. If they lose home games to Colorado and Utah this week, they could drop as low as a No. 10 seed.
No. 4 Ohio State (17-4, RPI: 17) vs. No. 13 Louisiana Tech (WAC auto bid)
The Buckeyes are 7-2 in the Big 10, but they're 2-2 in the four games that have come against the RPI Top 50. They'll play seven more games against the conference's elite, as well as a pair of games against Northwestern, which will tell us whether they belong this high.
No. 6 San Diego State (14-5, RPI: 32) vs. No. 11 Southern Miss (16-4, RPI: 38)
Despite recent losses to Wyoming and Air Force, the Aztecs are comfortably in the field, but they do still have four very difficult road games ahead. Would 19-9 (9-7) out of the Mountain West be good enough to get in? Only time will tell.
Southern Miss will need to win one of its regular-season games against Memphis to have a realistic shot at an at-large bid, and the home game this Saturday would certainly be the easier of the two opportunities.
No. 3 Minnesota (17-5, RPI: 9) vs. No. 14 Stephen F Austin (Southland auto bid)
I was ready to write off the Gophers' four-game losing streak to a difficult stretch in the schedule, right up until they needed some last-minute heroics to win at home against Iowa. If they don't pull it together in a hurry, the next six games could conceivably push them onto the bubble.
No. 7 Ole Miss (17-4, RPI: 47) vs. No. 10 UCLA (16-6, RPI: 42)
Ole Miss certainly didn't have a great week, but this is still a four-loss team with an incredibly easy remaining schedule, save for one road game against Missouri. A 26-5 record heading into the SEC Tournament is definitely in play.
UCLA had a great run from December 8 through January 17, but losses in three of the last four have pushed the Bruins to the brink of the bubble. A home loss this week to either of the Washington schools could drop them to the Last Five In next week.
No. 2 Kansas (19-2, RPI: 6) vs. No. 15 Long Beach State (Big West auto bid)
One week removed from the No. 1 overall seed, a home loss to Oklahoma State drops the Jayhawks to a No. 2 seed. You know, until another week of basketball is played and another two or three No. 1 seeds lose a game, as seems to be the trend this season.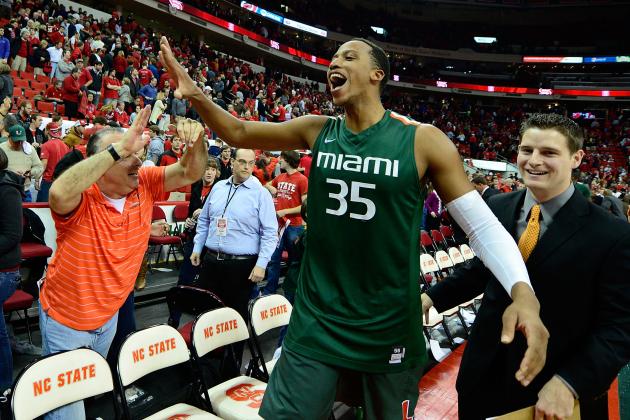 Grant Halverson/Getty Images

No. 1 Michigan (19-2, RPI: 7) vs. No. 16 Davidson (Southern auto bid)
Please see the final slide for a more in-depth analysis of the No. 1 seeds.
No. 8 VCU (18-5, RPI: 48) vs. No. 9 North Carolina (14-6, RPI: 31)
I don't usually comment on the actual pairings or future potential games from the projected bracket, but is there a worse possible pair of teams for Michigan to choose from in the Round of 32? Either VCU presses the life out of your core four that averages 31-plus minutes per game, or you get two days of Chris Webber flashbacks against North Carolina.
No. 5 Kansas State (16-4, RPI: 24) vs. No. 12 Illinois / Saint Mary's (Last Five In)
A 4-4 record against the RPI Top 50 is nothing to scoff at, especially when you consider that one of the wins is against the No. 1 overall seed and two of the losses were to the two teams fighting for that honor a week ago. Kansas State is poised to make a deep run.
No. 4 Butler (17-4, RPI: 15) vs. No. 13 North Dakota State (Summit auto bid)
Butler has dropped one line in each of the past two updates, but the Bulldogs should eventually work their way back up to a No. 3 seed before all is said and done.
No. 6 Oklahoma State (15-5, RPI: 30) vs. No. 11 Saint Louis (16-5, RPI: 57)
What a week for the Cowboys! Wins over Iowa State and Kansas propel them from the Last Five In all the way to a No. 6 seed. With four home games left against the top teams in the Big 12, they might not be done rising.
The Billikens also had a great week, picking up big wins over Butler and Dayton to move from "first team out of the field" to "in with room to spare." They're only going to get better as Kwamain Mitchell keeps returning to form. Depending on their draw, you could very well be looking at this year's VCU / George Mason.
No. 3 Louisville (18-4, RPI: 10) vs. No. 14 Harvard (Ivy auto bid)
For just about any other team, wins over Pittsburgh and Marquette would be among the top bullet points on their resume. For Louisville, we're just hoping it's a sign that they've recovered enough from that three-game losing streak to be a legitimate title contender again.
No. 7 Colorado State (16-4, RPI: 14) vs. No. 10 Kentucky (15-6, RPI: 46)
The computer numbers are outstanding, but I'd love to see Colorado State pick up a few marquee wins. If the Rams can get to 3-3 against UNLV, SDSU and New Mexico, maybe they'll receive a seeding that reflects their computer profile.
I already had the Wildcats in last week's field before they picked up their two best wins of the season, but they're a long, long way from becoming a lock. They have seven easy games and three doozies with Florida and Missouri remaining; it might take an 8-2 finish to feel safe about their ticket.
No. 2 Miami (17-3, RPI: 2) vs. No. 15 Canisius (MAAC auto bid)
If it weren't for that loss three months ago to Florida Gulf Coast, Miami would be in strong consideration for a No. 1 seed. As is, the Hurricanes have played and won three of the four toughest games on their ACC schedule. If the only game they lose the rest of the way is at Duke, I think they could still make it onto that top line.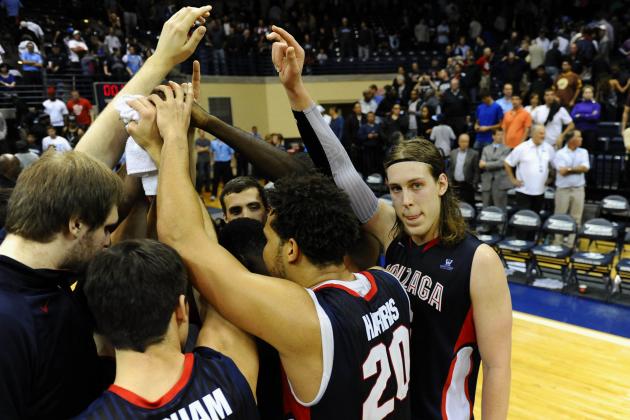 Christopher Hanewinckel-USA TODAY Sports

No. 1 Duke (19-2, RPI: 1) vs. No. 16 Charleston Southern (Big South auto bid) / Robert Morris (Northeast auto bid)
Please see the final slide for a more in-depth analysis of the No. 1 seeds.
No. 8 Iowa State (16-6, RPI: 36) vs. No. 9 Wichita State (19-4, RPI: 28)
Coming into Monday night, Iowa State and Oklahoma were virtually indistinguishable. After a 19-point win that was never remotely in doubt, the Cyclones have been solidified as the fourth-best team out of the Big 12. Saturday's game at Kansas State could push them even further into the field.
After losing to Indiana State and Northern Iowa, Wichita State drops from a No. 4 seed to a No. 9 seed. Such is life as a mid-major. Until the Shockers prove me wrong, I will keep insisting that they struggle on the road, and as such I feel safe in assuming they'll lose two more games at Indiana State and Creighton.
No. 5 Cincinnati (18-4, RPI: 19) vs. No. 12 Arizona State (Last Five In)
Of all the "middling" seeds in the Big East, the Bearcats might be the best. If last-second shots had gone their way against Syracuse, New Mexico and St. John's, they would be 21-1 and undoubtedly a No. 1 seed. They could absolutely win their next seven games and climb a few more lines in the next six weeks.
No. 4 Michigan State (17-4, RPI: 13) vs. No. 13 Bucknell (Patriot auto bid)
I will say that I originally had Michigan State and Minnesota swapped before I realized the committee wouldn't set up MSU/Kansas and Duke/Minnesota Sweet 16 showdowns, since those games already took place in November.
If we ignore the season opener in Germany, the Spartans are 18-0 when they aren't playing on the road against teams in the RPI Top 10. That's pretty good.
No. 6 Creighton (20-3, RPI: 33) vs. No. 11 Baylor (13-7, RPI: 45)
I'm not sure why their SOS (126) is so atrocious, considering they're 8-2 against the RPI Top 100, but if the Bluejays can score wins in upcoming road games against Indiana State, Northern Iowa and Saint Mary's, it should correct itself and move them up at least one line.
I said it in last week's update, but Baylor jumped out to a 5-1 record in the Big 12 by using up five of its eight easiest conference games. Games against Oklahoma and Iowa State led to losses last week, and I suspect there will be at least five more as the Bears stumble and play someone else into the field.
No. 3 Syracuse (19-3, RPI: 11) vs. No. 14 Valparaiso (Horizon auto bid)
The Orange beat Louisville and Cincinnati without him, but they've missed James Southerland in recent games. In the first 19 games, Triche and MCW combined to shoot 43 percent from the field, 31 percent from downtown and committed 6.3 turnovers per game. In the losses to Pitt and Villanova, those numbers have dropped to 29 percent, 22 percent and 7.5 TO.
No. 7 Missouri (16-5, RPI: 34) vs. No. 10 Memphis (18-3, RPI: 43)
It's bad enough that Missouri was without Laurence Bowers for a few weeks, but fellow big-man Alex Oriakhi played particularly awful while Bowers was out. In fact, in Missouri's last four losses, Oriakhi has a total of 14 points and 12 personal fouls. When both guys are at the top of their game, Missouri will be borderline unstoppable.
Memphis is on a 12-game winning streak since coming up short against Louisville. If they win at Southern Miss this weekend, it's only a matter of time before the Tigers settle into a No. 6 or No. 7 seed.
No. 2 Gonzaga (20-2, RPI: 12) vs. No. 15 Florida Gulf Coast (Atlantic Sun auto bid)
The Zags survived a scare against San Diego on Saturday to stay at a No. 2. I think either Louisville or Syracuse will eventually supplant them, but they're clearly one of the 10 best teams in the nation today.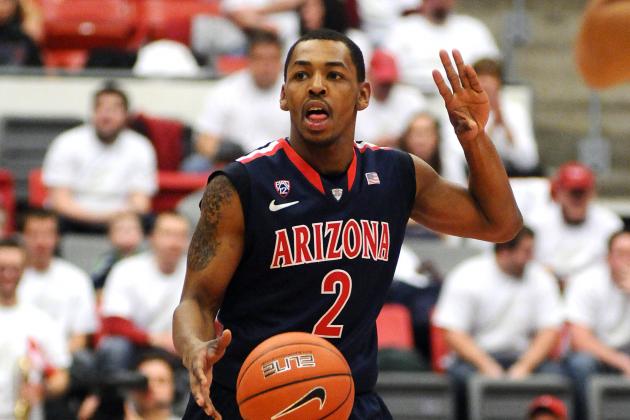 James Snook-USA TODAY Sports

No. 1 Indiana (20-2, RPI: 8) vs. No. 16 Southern (SWAC auto bid) / NC Central (MEAC auto bid)
Please see the final slide for a more in-depth analysis of the No. 1 seeds.
No. 8 North Carolina State (16-6, RPI: 20) vs. No. 9 Notre Dame (18-5, RPI: 40)
Two weeks ago, I pegged the Wolfpack as "the highest-seeded team in my bracket that I can still absolutely envision missing the tournament altogether." They haven't disappointed, having now lost four of their last six, with a road trip to Duke looming on Wednesday. It's getting dicey.
The Irish are 1-4 against the RPI Top 60 since January 7, and I think that's only going to get worse with home games against Louisville and Cincinnati and road games against Pitt, Marquette and Louisville upcoming. I still don't believe 9-9 in Big East play will cut it this year, but Notre Dame may be the litmus test for that theory.
No. 5 UNLV (16-5, RPI: 18) vs. No. 12 Colorado / BYU (Last Five In)
Way, way back on January 18, I picked UNLV as the No. 1 team outside the Top 25 that could do some serious damage in the tournament. (Never mind the fact that I had Miami in the "Others Receiving Votes" category.) It would be nice to see the Rebels win on the road, though—something they've only done once since December 17.
No. 4 Marquette (15-5, RPI: 16) vs. No. 13 Akron (MAC auto bid)
The Golden Eagles didn't look great at Louisville on Sunday, but they've got a favorable schedule the rest of the way. A 15-3 first-place finish in the Big East is within the realm of possibility.
No. 6 Pittsburgh (19-5, RPI: 37) vs. No. 11 La Salle (15-6, RPI: 27)
The Panthers haven't been particularly consistent on offense, but they've been fairly Virginian on defense, holding each opponent this season to 70 or fewer points in regulation. Sometimes jump shots don't seem to fall in some buildings, but defense always travels.
La Salle is on thin ice with road games against Temple and Saint Louis pending. I'm rooting for them, because they haven't made the tournament since I was five years old, but last week's loss to Massachusetts means the Explorers will likely need to finish out the season 7-1 to get in. On the bright side, five of the games are gimmes.
No. 3 New Mexico (19-3, RPI: 5) vs. No. 14 Stony Brook (America East auto bid)
They aren't getting much love in the polls, but I nearly put the Lobos on the No. 2 line in place of Gonzaga. They're 10-3 against the RPI Top 100, fifth in RPI and fourth in SOS. If they win both games this week (vs. Air Force, @ UNLV), they will absolutely be a No. 2 seed next week.
No. 7 Belmont (17-4, RPI: 21) vs. No. 10 Oklahoma (14-7, RPI: 23)
If the Bruins don't start losing games soon, they're going to have an awful lot of fans over the weekend of March 7-9, because the Ohio Valley would get two bids if Belmont runs the table but falters in the conference tournament.
After getting destroyed by Iowa State and with Kansas coming to town on Saturday, the Sooners are likely looking at a 14-8 (5-5) record with a relatively favorable schedule ahead. If this was a team that had actually made the tournament in the past three years, I'd feel a lot better about their odds.
No. 2 Arizona (19-2, RPI: 3) vs. No. 15 Montana (Big Sky auto bid)
The Pac-12 is falling to pieces, but if Arizona can get to 26-4 by the end of the regular season, it won't do any worse than a No. 2 seed on Selection Sunday.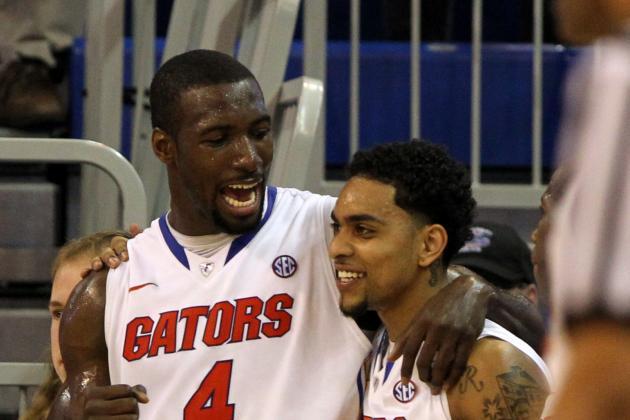 Kim Klement-USA TODAY Sports

Over the course of one crazy weekend, we went from two teams really deserving a No. 1 seed to six teams having an incredibly strong argument for being on the top line. Arizona didn't even lose a game, but still got bumped from the top thanks to a few other teams playing leapfrog.
No. 4: Indiana (20-2, RPI: 8, SOS: 20)
Apologies to the Indiana fans that I'm upsetting for a third consecutive week, but the resume isn't quite strong enough to beat out either of the other three teams. And honestly, it was a coin flip for whether Indiana or Kansas got this spot.
If a home loss in conference play is what caused Kansas to drop to No. 5 overall, we have to take the Hoosiers' home loss to Wisconsin into consideration, as they're the only No. 1 seed with a home loss. They also have fewer RPI Top 100 wins (eight) than any of the next three teams.
The opening for both Indiana and Michigan, however, is that if either team runs the table from here on out, there's absolutely no argument against it becoming the No. 1 overall seed. They each have several potential stumbling blocks remaining, whereas Duke and Florida each only have one or two theoretical losses left on the calendar.
No. 3: Duke (19-2, RPI: 1, SOS: 2)
I have little doubt that this will be an unpopular decision, but it's the right one. The loss to Miami was ugly to watch, but it's hardly a blemish on your profile to have a road loss to a team with the second-highest RPI.
Six road/neutral wins over the RPI Top 100, and still improving in the aftermath of losing a key player in early January. If they can get redemption at home against both NC State and Miami, the Blue Devils could be the No. 1 overall seed.
No. 2: Michigan (19-2, RPI: 7, SOS: 29)
A record of 12-2 against the RPI Top 100 is worth way more good than the "bad" of losing on the road to the current No. 1 team in the polls. They'll exact revenge over Ohio State at home this week before presumably going on the road and putting Wisconsin's tournament bid in doubt.
No. 1: Florida (18-2, RPI: 4, SOS: 11)
Despite two December losses to two very good teams, the Gators' average margin of victory is 22.9 points per game. Last year's national champions only had an AMOV of 17.7 ppg, and Florida has done it against the 11th-best strength of schedule in the nation. That's pretty ridiculous.