The power outage made the most waves during Super Bowl XLVII, but there were three players who surprisingly had their fingerprints all over this memorable game. These performances helped to shape a 34-31 victory by the Baltimore Ravens over the San Francisco 49ers.
Jacoby Jones
Baltimore's Jacoby Jones made arguably the two biggest plays on Sunday, coming just before and after halftime. Jones may have only hauled in one catch, but it was the timing of that catch and his spectacular return game that sparked his breakout performance.
His lone catch was a 56-yard touchdown, in which Jones hit the ground but hopped back on his feet untouched and shimmied his way into the end zone.
The most miraculous play of the game immediately followed Beyonce's halftime performance, with the second half kickoff. Jones stood deep in Baltimore's own end zone to receive the kick, and surprisingly took it out at full speed.
108 yards later, Jones was celebrating his touchdown which gave Baltimore a 28-6 lead just 11 seconds into the half. The return was the longest play in Super Bowl history, shattering the 100-yard interception return by James Harrison in Super Bowl XLIII.
This was not even the first time this season in which Jones had accomplished such a feat. He also had a 108-yard kickoff return in Week 6 against the Dallas Cowboys.
Jacoby Jones broke out with a huge game on the biggest stage of all.
Frank Gore
Mike Ehrmann/Getty Images
For the 49ers, Frank Gore quietly put forth a solid Super Bowl performance. He ran in a third quarter touchdown to pull San Francisco within just eight points of the Ravens.
After falling behind early, the 49ers were not able to fully utilize their rushing attack as time became an enemy. Still, Gore managed to gain 110 yards on the ground Sunday, his second time topping 100 yards in the 2013 playoffs.
Gore had the longest play from scrimmage for San Francisco, a 33-yard scamper, which happened late in the fourth quarter. He carried the ball just 19 times, averaging 5.8 yards per carry.
Despite a slow first half, Gore's touchdown was huge for the 49ers as the game began shifting in their favor after a delay due to loss of power in the Superdome. It put San Francisco right back into the game, cutting down a 22-point Baltimore lead.
Anquan Boldin
The Ravens proved to be just too much for the 49ers, especially with their passing game. Joe Flacco's favorite target on Super Bowl Sunday was the reliable veteran, Anquan Boldin.
Boldin scored the game's first touchdown, a 13-yard pass from Flacco, just over four minutes into the game. The Ravens receiver made some important catches, which heavily contributed to Baltimore's victory.
He grabbed six catches for 104 yards, none more important than the opening touchdown. Boldin proved to be a prime weapon for Baltimore in the playoffs, catching four touchdown passes this postseason.
Boldin was able to get himself a Super Bowl ring, after coming up short with the Arizona Cardinals back in 2009.
Summary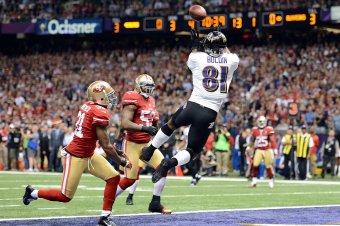 Harry How/Getty Images
Frank Gore played a large role in the 49ers dramatic comeback attempt, following the uncanny power outage, which lasted about 30 minutes. He was able to do the majority of his damage in the second half, but the 49ers attempt fell just three points short.
Instead it was Baltimore receivers Anquan Boldin and Jacoby Jones whose breakout games gave the Ravens their second Lombardi Trophy this century.
Joe Flacco was on the same page with his receivers, and they in turn made some remarkable plays. Jones' kickoff return will go down as arguably one of the most memorable plays in Super Bowl history.
It was bad enough for San Francisco, being down by 15 at the half, then Jones started the second half off with a boom. His addition to this Baltimore roster added some firepower to an already dynamic team.
Baltimore and San Francisco put on a great show for the country on Sunday. It was the big plays, like those by Jacoby Jones, which put the Ravens in control to win Super Bowl XLVII.