With one of the most-hyped Super Bowls in history finally over, the game did not exactly go as planned.
Many experts predicted the San Francisco 49ers would win, but the Baltimore Ravens marched to a huge early lead before just hanging on at the end to win, 34-31.
Ravens quarterback Joe Flacco certainly did not disappoint, as he continued his dominant form en route to Super Bowl MVP honors. He finished with 287 yards, three touchdowns and no interceptions.
Unlike Flacco, here are some of the biggest letdowns from Super Bowl XLVII:
The Mercedes-Benz Superdome
The Superdome was the site of one of the strangest events in Super Bowl history, as half of the lights went out in the stadium for 35 minutes.
The blackout was probably due to Beyoncé's electrifying halftime performance overwhelming the entire stadium and its lighting system, although more likely due to a piece of sensing equipment correctly detecting an abnormality in electrical load.
Regardless, this power outage had a massive impact on the game.
The Ravens cruised their way to a 21-6 halftime lead. They followed that up by returning the opening kickoff of the second half for a touchdown.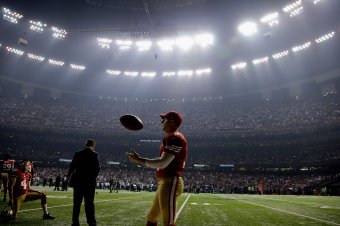 Ezra Shaw/Getty Images
After quickly putting the lifeless 49ers in a 3rd-and-13 situation, the power went out.
When the power came back, the momentum completely switched sides, as the 49ers reeled off 17 unanswered points and a 23-3 run. The Ravens were able to barely hold off an aggressive 49ers team, but if they had lost, then this blackout may have become a much bigger deal.
However, the blackout should conceivably be thanked for saving the 49ers from an embarrassing defeat and making the Super Bowl much more exciting.
But the blackout ruined the entire dynamic and flow of the game, and it could put a huge damper on the town's bid for the 2018 Super Bowl.
In Lewis's final game, he went out with a bang but did not give nearly his best personal performance.
Lewis finished with seven tackles, which is a very low number for him.
Even more, the 49ers finished the game with 187 total rushing yards. Although hampered by the loss of big nose tackle Haloti Ngata toward the end of the game, the Ravens still struggled far too much, especially Lewis.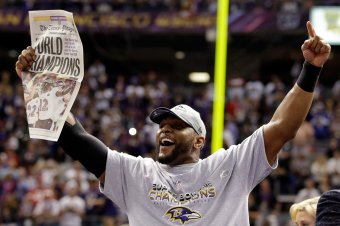 Ezra Shaw/Getty Images
Lewis missed a number of tackles throughout the game that went for many extra unnecessary yards. Also, receivers Vernon Davis and Michael Crabtree had a field day over the middle. They both finished with over 100 receiving yards. A lot of that is due to Lewis's well-documented lack of speed, but more surprisingly his missed tackles let those two get a huge amount of yards after the catch.
Lewis is one of the best leaders and team players in history. He may know he had a poor game all-around, but he will definitely sleep happy knowing he can ride off into the sunset as a Super Bowl champion.
Torrey Smith
As a speedy, downfield receiver, Smith will give incredible games and also games where you forget he's even on the team.
In the Super Bowl, Smith was non-existent.
He finished the game with six targets for a mere two catches and 35 yards.
The 49ers game-planned around stopping this Raven from making a big play, which is Smith's bread and butter. The two roaming safeties did a very good job of completing this game plan down the sidelines, but left many holes for big players over the middle like Anquan Boldin to go for huge gains.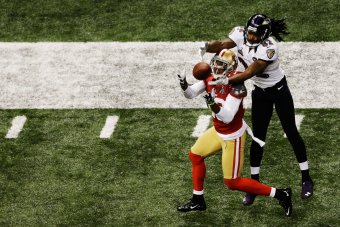 Rob Carr/Getty Images
Even more, when a receiver did manage to get behind the defense for a huge play, it was not Smith, but rather star return man Jacoby Jones.
Jones made an acrobatic falling catch and had the presence of mind to get up and avoid two tacklers as he went in for the 56-yard score.
Smith was held in check the entire game, and those who wanted to see him be the one making the huge, acrobatic touchdown catch were surely be disappointed.
Aldon Smith
I haven't forgotten that the Ravens were the team that actually won the Super Bowl, as Smith is one of the biggest disappointments from a talented 49ers defense.
After gaining an incredible 19.5 sacks through the first 13 games, Smith has not recorded a single sack since. This run extended through the Super Bowl as well.
A lot of this is due to a shoulder injury Smith has been laboring through.
However, he was healthy enough to play through it. But Smith has not been productive for the past month and a half. Even though the shoulder injury is likely a huge cause of this lack of production, the fact still remains that Smith was a huge liability during the Super Bowl.
Smith finished the game with only two tackles, no sacks and one QB hit.
Even more, the Ravens had success at times running to Smith's side. They were able to bounce it outside with shifty players such as running back Bernard Pierce for medium gains and first downs.
It is sad to think that such a talented pass-rusher like Smith could have had a much better game without an injury.
Nevertheless, Smith still was a non-factor this game, and Flacco and the Ravens took advantage of this lack of pass rush on their way to becoming Super Bowl champions.